Turkey season on as usual, new decoys ready for the test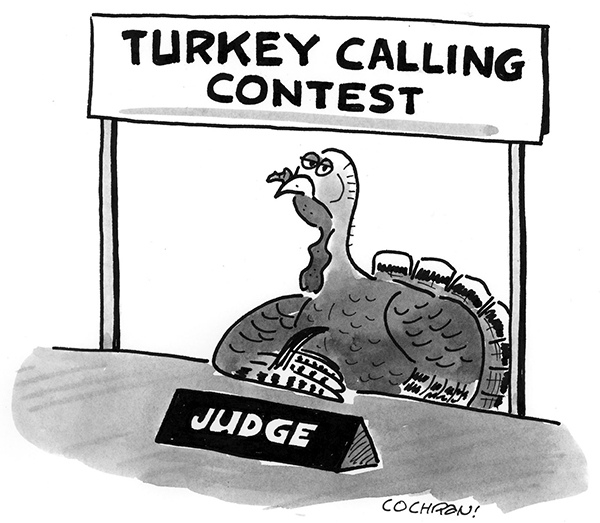 The 2020 Spring Turkey Season will proceed without changes to the season dates or management zones under the Safer at Home order, according to DNR media releases received at OWO April 6. All current regulations for the season apply. Licensed hunters should hunt the zone and period stated on their harvest authorization.
The 2020 spring turkey season will run April 15 - May 26, with six seven-day periods beginning Wednesday through the following Tuesday. All seven turkey management zones will be open for hunting.
I will be heading southwest to Grant County with my brother John Ellis and hunting Zone 1 as usual this year during season 2. I hope to also purchase a later season over the counter tag and head to Marathon County to hunt the bigger forest. The rolling agriculture fields and woodlots of Grant County and unending woods of the north country offer different challenges and I really can't say which I prefer. I can fail in either area quite nicely.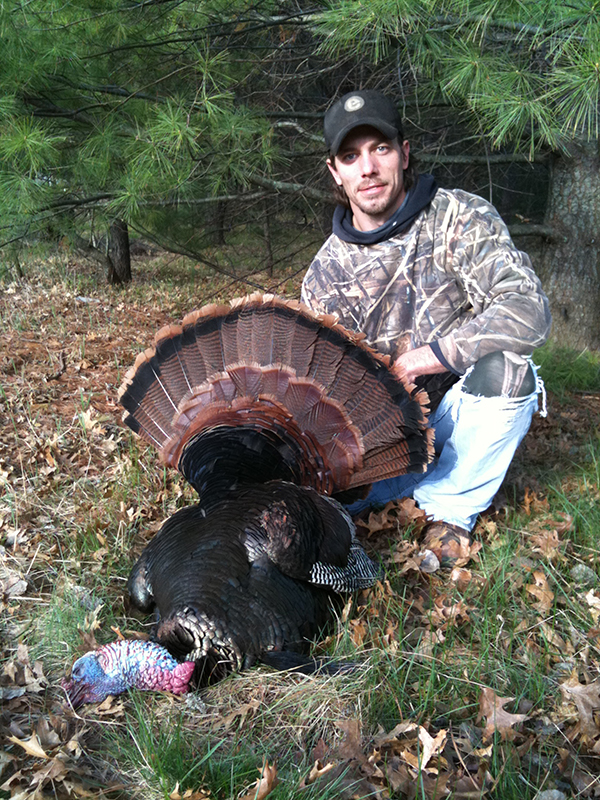 Mike Ellis and a Tom taken in Wisconsin's northern forest country.
There are still turkey hunting permits available as of this writing in five of the seven management zones covering most of the state. This provides opportunities for people to select new zones to reduce travel distances and stay closer to home. Permits are available online.
The remaining permits are generally for later in the season, which is an excellent opportunity to spend time in the woods during the spring season when the hunting can also be very good. All sales directly benefit critical conservation efforts including developing, managing, preserving, restoring, and maintaining the wild turkey population in Wisconsin, according to the DNR.
Flatline Your Bird Series Decoys . . .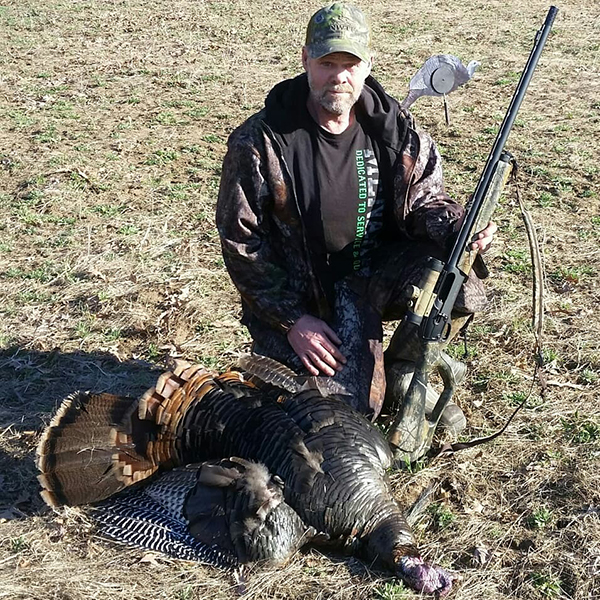 Darrell Bartel with a gobbler that fell to one of his patented decoys.
Darrell Bartel, founder of Flatlineyourbird Series Decoys, came to On Wisconsin Outdoors this winter and advertised his lighter, patented and made in Wisconsin products with the confidence of a hunter who has seen them work in the field. The least we could do is purchase a few of his decoys and put them to the field test.
I am looking forward to writing a success story. We will, of course, bring you the exact stories and photos that play out. You can also watch Darrell's video and Toms reacting to his decoys during an actual hunt right on this OWO homepage.
In the spring of 2002 Bartel started making his own decoys and to this day still produces the original Jake's Tail Holder (JTH). "Ours is the only design that holds, displays and is used as a field decoy to spin and turn in the slightest breeze to antagonize the gobblers," he said. "And when you tag a bird, our holder becomes a wall kit for your trophy tail, spurs and beard. Until next season and you do it all again".
After field testing and refining the manufacturing of his products for many seasons, he applied for his first US Patent in spring of 2015. In January of 2018 Darrell received that US Patent and two US Registered Trademarks. In December 2018, he applied for his second US Patent and introduced Jen the Hen in two styles, a turkey fan tail, an owl, and other seducers. His four types of goose decoys, Darrell said, are currently in prototype stage. In 2018 they also added the Jake's Tail Holder II, including turkey wings to an already deadly arsenal.
All Flatline products are one-inch thick and made of HDPE plastic, a PVC-foam cored plastic which makes them all-season weather resistant. Because they are ultra-thin and light, three decoys just three inches thick snug nicely into your backpack; perfect for both ground blind hunting and/or "running and gunning".
Connect with their website at Flatlineyourbird.net.
Spring Crappie Time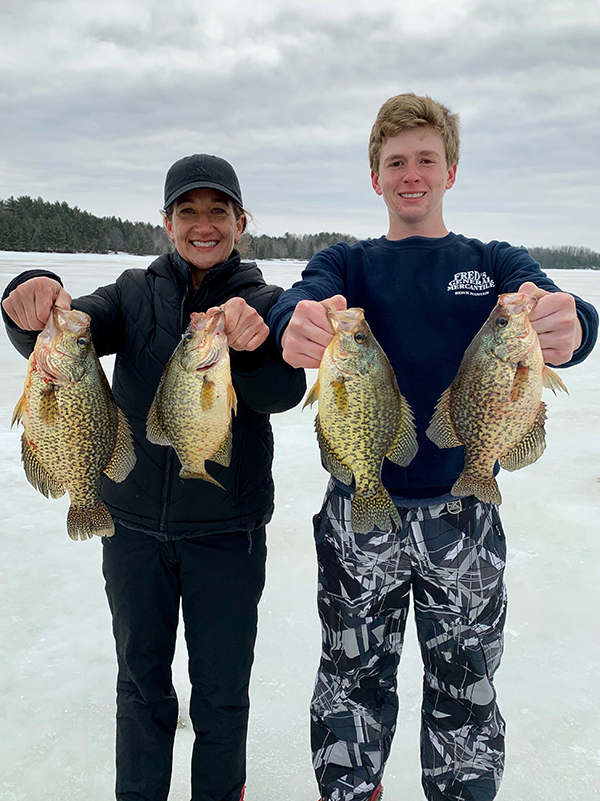 In March, mom and son Laura and Bryson Jones traveled out on the ice of the Wisconsin River with OWO super guide Phil Schweik and had the experience they were hoping for. Great crappie action and big fish is what anglers working the water with Phil and company expect. Open water spring fishing if it's possible will be even better.
Catch Schweik's weekly fishing reports including lots of photos of crappies and basses and pike…oh my…on this website at Outdoor News or Inland Fishing.
Thanks for Connecting with On Wisconsin Outdoors. Shoot straight.
Dick Ellis