Turkey Tales from Marathon, Grant Counties
First, would you like to read a very entertaining turkey tale from north central Wisconsin near Wausau, with some fish tails as usual thrown in to boot? Connect with Upland Game Hunting on this website and scroll to Central Wisconsin Outdoor Reports (4-26-2016) for photos and stories by OWO writer and super guide Phil Schweik that puts a new twist on the turkey stalk. I promise a good read. While you're there, we also just posted Schweik's report for 4-28-2016 too.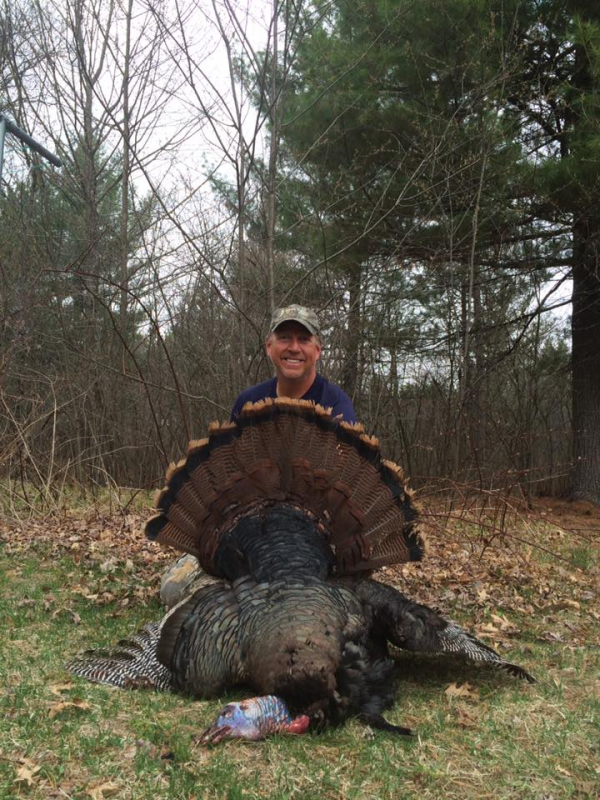 Phil Schweik with big Tom taken after a long, unorthodox stalk through an open field.
While you're surfing this website, we have the May-June issue of On Wisconsin Outdoors posted on our homepage for the online reader with 70,000 copies of our 40-page publication due to begin hitting the shelves Friday throughout Wisconsin. Don't forget those Kwik Trip special food offers in the paper when you grab your copy in one of 270 Wisconsin stores.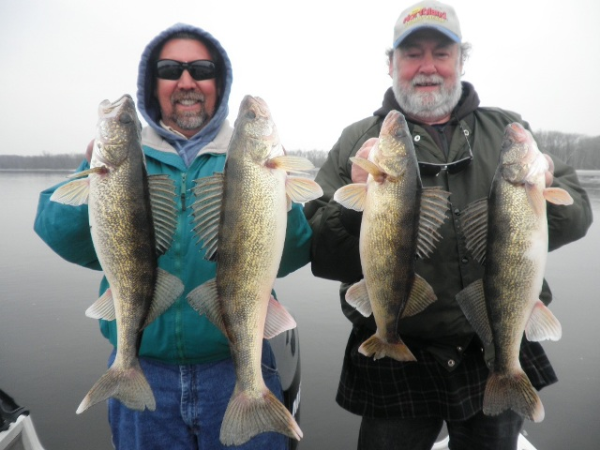 Phil Schweik clients find walleye fishing good in north central Wisconsin. Read more under Central Wisconsin Fishing Reports under Inland Fishing on this website.
John Ellis Season 2 , Zone 1 turkey tag meant we would head for Wisconsin's southwest late Thursday morning, April 21, and if we didn't score that afternoon, spend the night in Fennimore and the next day on the rolling hills, croplands and woodlots of Grant County. I would help my brother call and photograph the hunt. John would call and if given the opportunity, take the shot.
It's a 2-1/2 hour ride from our homes in southeast Wisconsin, and we went into the field ready. John's over-and-under Baikal was sighted in and nicely patterned for a #5 load to 40 yards. We both went in with the new mouth diaphragm calls singly sweetly, and morning dawned dry and warm for the first time in a few days; mid-60s temperatures and sunshine waited for us. By sunset, our day in the field would fall into my top three most memorable turkey hunts. Almost non-stop action will do that for a hunter.
We drove up to the high ground on a farm we have permission to hunt, parked the truck and hiked in a half-mile to work rolling alfalfa splitting bordering woodlots. Far below, distant farms and grazing livestock dot the landscape. I would take my position as photographer tucked away in the woodline about 50 yards to John's left. Even as he set a lone decoy and set a stick as an outside shooting boundary at 40 paces, two Toms gobbled in the distance.
Great action over the afternoon ended with one well-placed shot at 30 yards for John Ellis on this 23 pound Grant County gobbler.
Over four hours though, what would be the most striking was the banter of two boss hens, the first a stone's throw behind us to the left, and later, another from a great distance that I believe played a crucial role in the hunt.
In early afternoon, John stirred the pot with his calling and riled up the gobblers. I sat it out and watched the field show unfold with the camera in my lap. The hen behind us had an extremely loud yelp delivered with rhythmic cadence delivered almost non-stop. She was incredibly consistent. If you were an imitating hunter on a slate call, you would have been simply playing out the non-stop stick-on –slate …"scratch"…"scratch"…"scratch"…"scratch" with each note delivered every second for several minutes at a time.
In came a monster Tom to the alfalfa, which appeared on the green carpet and immediately inflated to show the decoy that Elvis had arrived in all his glory. His beard lay on the ground, he displayed in all of God's glory and colors, and I'm betting the scale would have tipped at 25 pounds or more under his glorious fat. For the first time, with Tom right in front of me at 30 yards, I understood what is meant by the description of a gobbler spitting. He was spraying gob all over the place. At 50 yards to my right, John would never see the display, and after 15 minutes the gobbler deflated and hurried from the stage. I'm still not sure why, but John never saw the bird.
Within an hour, two Toms that I guess were 2-year old 20 pounders with seven inch beards cautiously took the spotlight. These were shoot-able gobblers, but John never had them close enough to take the shot. One of the birds began the dreaded, "Putt…Putt…Putt…" of an alarmed bird after 10 minutes on the field, and of course, continued sending out the alarms although he seemed in no hurry to move on. His partner did quickly move on in the alfalfa and eventually our Tom in the spotlight shut up and caught up to his distant friend on the rise of the next hill.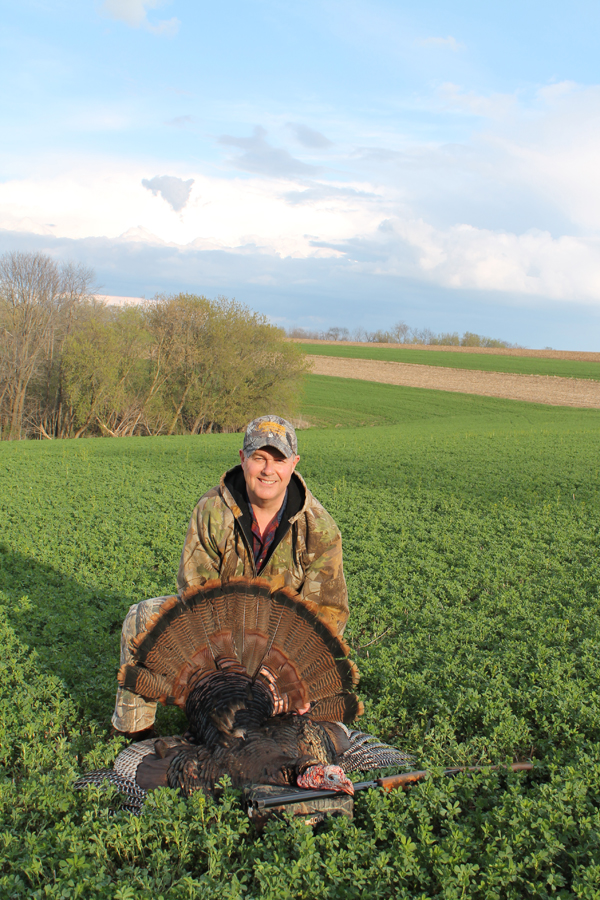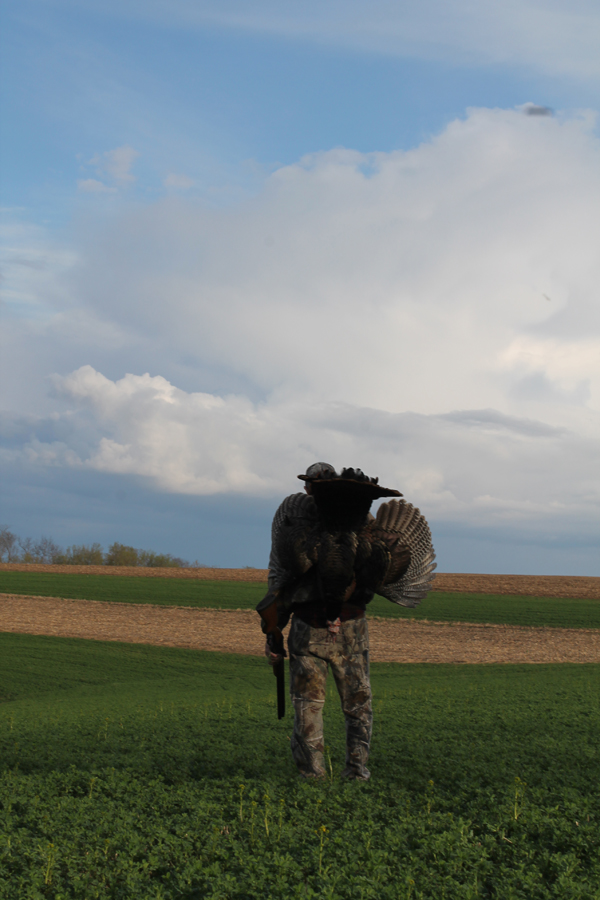 Tom was pulled 400 yards from several other gobblers and a boss hen with a big mouth to the waiting gun.
No hens would make an appearance at any time directly on our strip of field, but hens vocally let us know they were all around us, all day. With John's calling, two jakes did take the field to show off for our decoy. Notable about these birds was their enormous bodies but nearly non-existent beards. Picture two 7th grade Wisconsin farm boys sporting maybe 3 whiskers and three or four chins, but they can still lift a tractor if their dad tells them to. One-inch tufts of attempted beard sprouted from our Jakes, and my guess is that they were pushing 17 or 18 pounds each. I think they must have been some of the first chicks breaking the egg last spring. They were also as you would expect from Jakes…dumb as two bricks…and stood around the decoys "pitching woo" to Henrietta about 15 yards from John. "Those were big jakes," John would say later. "But they had almost no beards."
Off they went and our fields became dead quiet for an hour. At about 400 yards through a rising woodlot we could eventually make out several gobblers exiting the wood and display on a dirt field to our east. On occasion, a gobble would fall on us. Several more gobblers joined the party from different directions, but more important for our purposes, the raspy, echoing voice of our second obnoxious boss hen carried over the landscape to our ambush. Even after 20 years of bird hunting, I would not have believed a hen's chatter could carry such a distance.
We aimed our arsenal of calling directly at her. Like a little brother who imitates his sibling until he pays the price, we tried to imitate her exact dialogue, note for note. We were trying to irritate her and it was obviously working; she was directing her long distance retort at us. She screamed at us to shut up or join the group. We screamed at her immediately afterward to shut up, or join our group. We were working the mouth calls as loudly as the air in our lungs would allow. The surrounding countryside went from silent 15 minutes before to the escalating chorus of gobbles and hen clatter from everywhere. If you don't become a hunter after an encounter like that, you just aren't meant to be a hunter. You're calling is in another arena.
Eventually, two of maybe seven gobblers on the distant field began to drift toward us. We couldn't see them because of the woods, but it was clear from the gobbles that it was two birds coming and that one of those was significantly ahead of the other. If I thought boss hen was riled before, she went berserk when she knew two of her boyfriends were leaving, and we poured fuel on that fire by mimicking her every scream for them to come back.
The second gobbler drifted back further and became silent, and our lead boy cut off his talk too but made his appearance at 150 yards in the alfalfa coming around the corner of the woods below us. Unlike the other gobblers we had encountered on this day, this big Tom saw our decoy and came through the thick, high alfalfa with his fat body waddling to get to her. We changed our dialect to a soft, "where have you been big boy….you're the handsome-ist bird in Grant County" type of talk.
What I didn't know was that my stand allowed me to see Tom coming from a great distance. John's stand to my right restricted him to see the gobbler for the first time at 50 yards as his bright red head came over the rise fixed on the decoy…and his position. His over-under rested in his lap. As the gobbler came to the decoy and inflated to a magnificent strut, I wondered why John had not shot. The strut closed to within 15 yards of my brother. When Tom came out of the strut at 30 yards, John's 3-inch number turkey load finished it in a hurry.
All that was left was photos and handshakes….and a discussion on just how that bird was going to taste with John's new recipe that he had found online.
"I didn't see him until he was right on top of me," John said. "I couldn't move the whole time he was out there and decided just to wait until he spun and walked away from me to get the gun up. That's what he did."
My only advice? Sometimes that boss hen with hung-up gobblers can work for you. Stand by. My turkey hunting period is on the horizon. And so is that big gobbler. If I miss…like any modern journalist…I'm lying through my teeth.
Thanks for connecting with On Wisconsin Outdoors. Shoot straight.
Dick Ellis