Turkey Hunting with a .410 & TSS Shot
With Spring Turkey season just around the corner, Henry USA sent us a video now posted on our homepage that I know you'll get a kick out of. The point is though, young hunters and smaller hunters won't get a kick out of it at all.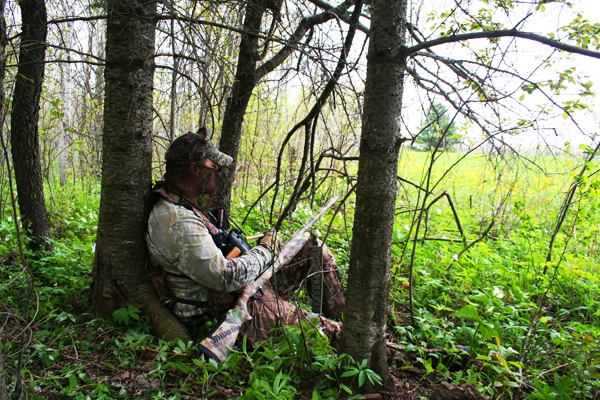 The wait for a gobbler can be too long to question whether or not you're packing the right turkey load when he does show up (Dick Ellis Photo)
Henry wanted to test the viability of their beautiful .410 bore shotgun for turkey hunting. Henry's Single Shot .410 Shotgun is chambered for up to 3-inch rounds and weighs in at less than 7 pounds. When I first saw the video, filmed in Tennessee which is into its second year of offering the .410 as a legal choice for turkey hunting, I thought, "Can we even use that here?"
A quick review online of the Wisconsin turkey regulations and then calls first to one of my friends in wildlife at the Department of Natural Resources and then a standard DNR customer service call all led me to the same hoped-for conclusion. Wisconsin hunters can use the .410.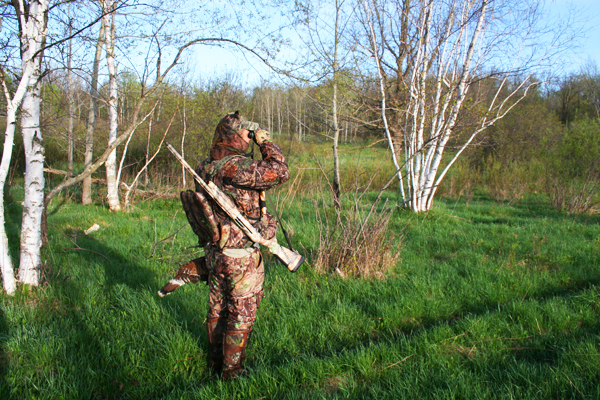 The Wisconsin spring turkey season is just around the corner. Are you ready?
Next hurdle…just because it's legal doesn't make it right. A hunter's first responsibility is to prepare pre-hunt and then make every choice during the hunt that will make the probability of a quick kill high. So would the .410 do the job? I was glad to see that the Henry video host was voicing the same precautions as he sighted in using TSS Turkey loads.
MJ Gunsmithing, one of On Wisconsin Outdoors appreciated firearms advertisers, call their Federal TSS Turkey loads 'the latest and greatest product in the sport" in their column (Page 39)now available on stands in our March-April 2019 issue, and posted on this website homepage.
"TSS is a heavy shot tungsten pellet that packs a punch," according to firearms expert Bill Foster in the MJ Gunsmithing article. "The advantage of these loads is their ability to increase pellet count on target and still hold the same energy as your standard lead shot shells. These are available in #7s and #9s. Number 9s for turkey may not seem right, but #9s in TSS carries the same energy as #5s in lead, while increasing your pellet count substantially."
Number 9s targeting turkey did not seem right to me, but after watching the Henry video and talking to the experts at MJ Gunsmithing (1292 State Road 175, Hubertus, 53033 or 262-628-4200), I purchased a box of Federal TSS for my 12-gauge. It is an expensive purchase. Your own budget and evaluation of turkey loads will determine what goes in the field with you. My own priority places quick kill first. MJ Gunsmithing delivers a TSS load with a punch… and a convincing closing argument.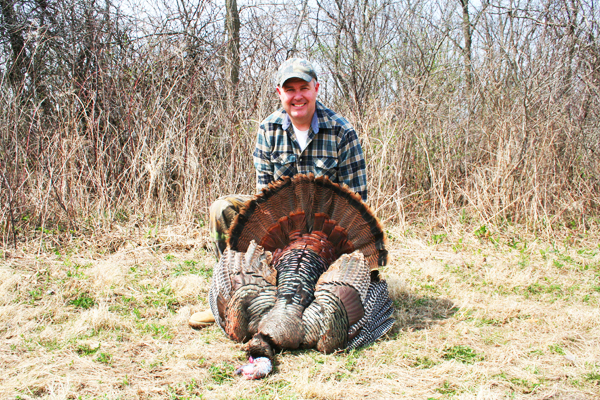 John Ellis has reason to smile after a recent hunt in Grant County.
"For example, Foster concludes, "one ounce of #5 lead will deliver 172 pellets, while #9 TSS will deliver 362! That means denser patterns, which is a huge advantage. Couple this with the new TSS chokes from Carlson, and you have yourself a deadly combination."
For visual evidence delivered by the Henry .410, check out the video on this homepage. And order a free Henry catalog at: https://www.henryusa.com/catalog/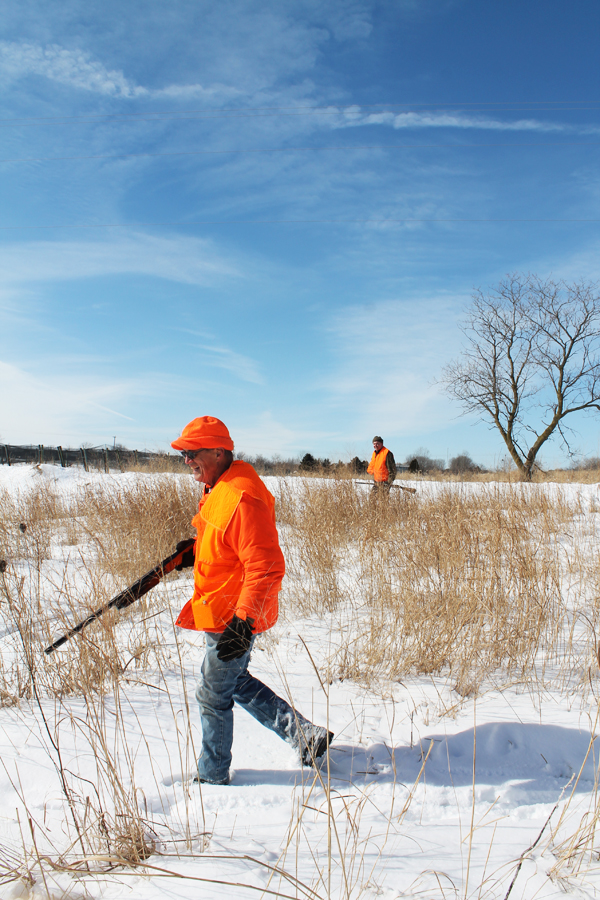 Lifelong friends Tom Gatzke and Steve Ellis begins a hunt at Wern Valley.
Speaking of guns and firearms experts, let's do that shall we? On Wisconsin Outdoors is very fortunate to work with national and Wisconsin-based gun companies that advertise with us every issue. That means, for 11 years, you pick up our hunting and fishing and travel publication throughout Wisconsin and northern Illinois at absolutely no cost. Obviously, you are looking for the best buy in quality guns, ammo and accessories like anything else in the outdoors you have a need for. But before making your decisions, thanks for looking closely at our advertisers.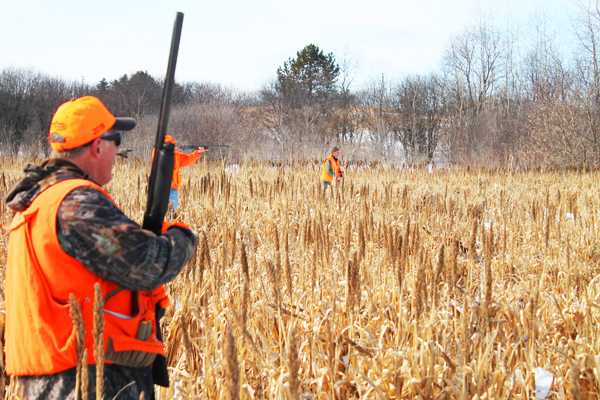 Tom Gatzke takes aim on a breaking bird as Lee Gatzke (foreground) and Steve Ellis prepare to criticize.
In addition to Henry and MJ Gunsmithing, OWO firearms advertisers include Midwest Industries Inc ( W292S4498 Hillside Rd., Waukesha 53189, 262-896-6780 www.midwestindustriesinc.com or info@midwestinductries.com) Shorty's Shooting Sports, (2192 South 60th Street, West Allis 53219, 414-545-3323 or www.whortysshootingsports.com), SKB Shotguns (skbshotguns.com, 800-752-2767). And Midwestern Shooters Supply in Lomira.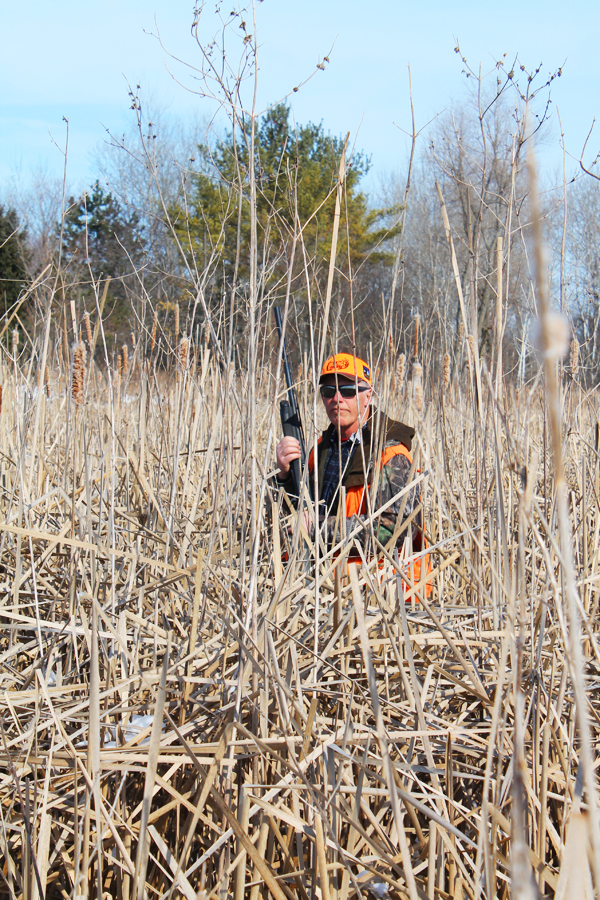 Lee Gatzke works the cattails at Wern Valley.
Two columns in the current OWO issue by Ron Stresing, Trap Chat-Join a summer league and Patterning Your Turkey Shotgun for Success, both introduce you to SKB shotguns, and also brings to mind OWO advertisers where you can sight in. Connect with Milford Hills at W5670 French Road, Johnson Creek 53038, 920-699-2249, Milfordhills.com or info@milfordhills.com. Enjoy pistol and rifle range, handgun rentals and instruction, Sporting Clays, and Archery ranges. Check out their game bird membership opportunities.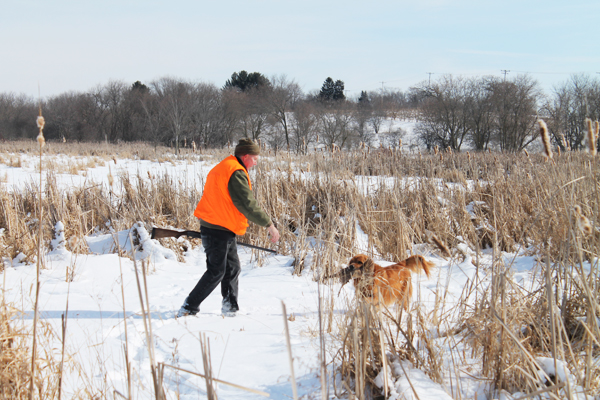 Steve Ellis says thank you to Micah for a nice retrieve at Wern Valley.
McMiller Sport Center www.mcmillersportcenter.com 100 Walters Rd., Eagle, 53119, 262-594-5900, offers public shooting ranges for rifle, pistol and clays. Wern Valley (www.wernvalley.com, 262-968=2400) is located in Waukesha and offers a nationally recognized sporting clays course and the finest in upland bird hunting.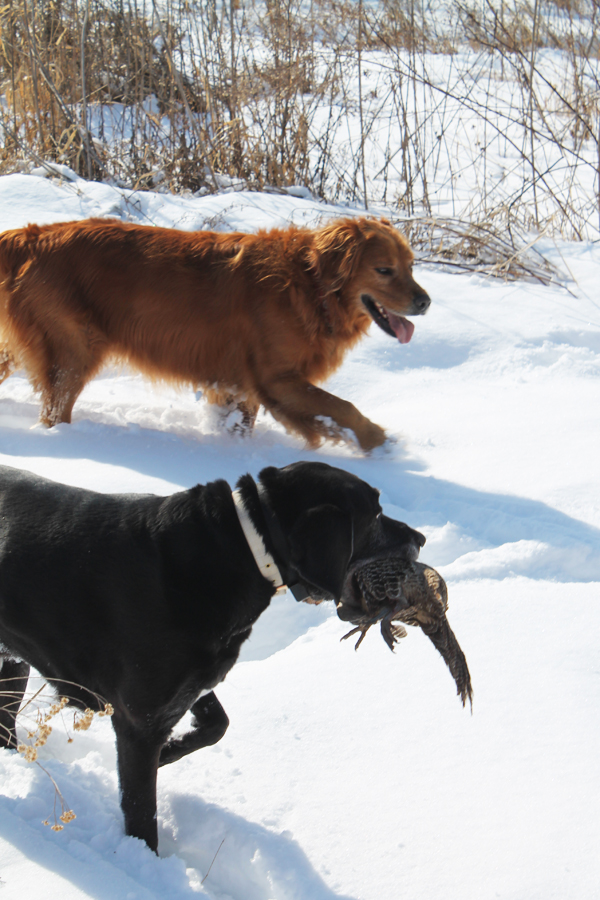 Rocky makes the retrieve after another bird falls at Wern Valley.
Last week, longtime family friends Tom and Lee Gatzke joined Steve and John Ellis and me for a great bird hunt at Wern Valley. John and I served as dog handlers with Micah and Dylan and let the three old guys be responsible for any misses. Pure fun as usual, and the staff and facility at Wern Valley are always great. I particularly appreciate the dog shower after a muddy or wet day in the field.
Our group ended the 3-hour afternoon hunt with seven birds and several misses. Dogs and hunters had their fill in the field, and an appreciation that such hunting preserves exist in Wisconsin, with facilities available on the properties to prepare for a Wisconsin big game season like the spring turkey season.
Thanks for connecting with On Wisconsin Outdoors. Shoot straight.
Dick Ellis