To the Hunt…For a Cause
On occasion, On Wisconsin Outdoors is asked to participate in various events to help raise funds for the disabled, blood drives, children in need of healthcare, wounded veterans or many other worthwhile campaigns that people in Wisconsin get behind with a passion.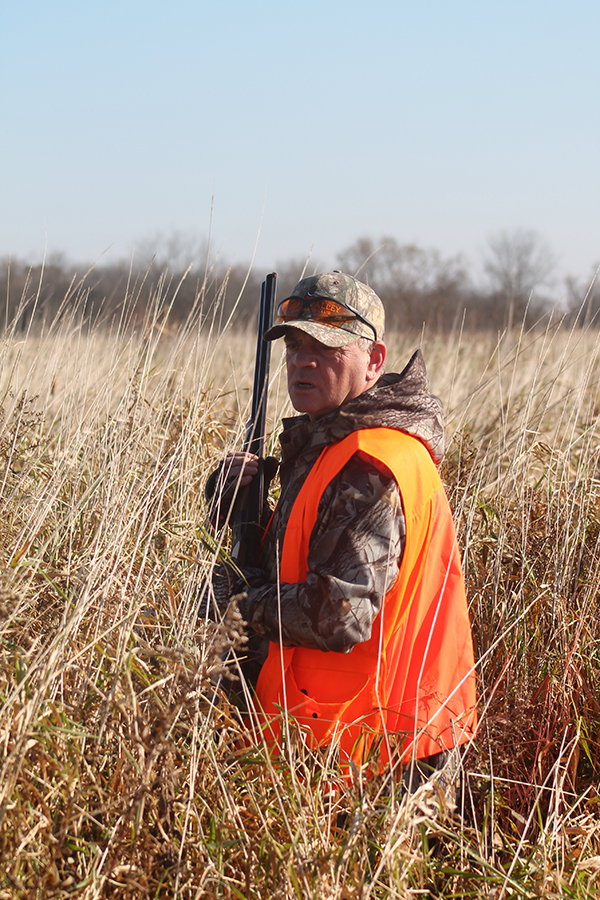 Silent auction winner John May works Wern Valley during a pheasant hunt to benefit New Berlin West athletics and activities.
It might be trapshooting, or a fishing event, or whatever. When we get involved, we hope 1) the guests we might be entertaining are successful in whatever we might be doing that day in the field, and 2) They like us and we like them. After all, we have to spend a day together. Imagine spending a day with a Viking fan? Really, without exception these are good times for good causes, some more serious than others, as was the case recently with John May and Jim Kluck of New Berlin pheasant hunting Wern Valley in Waukesha County.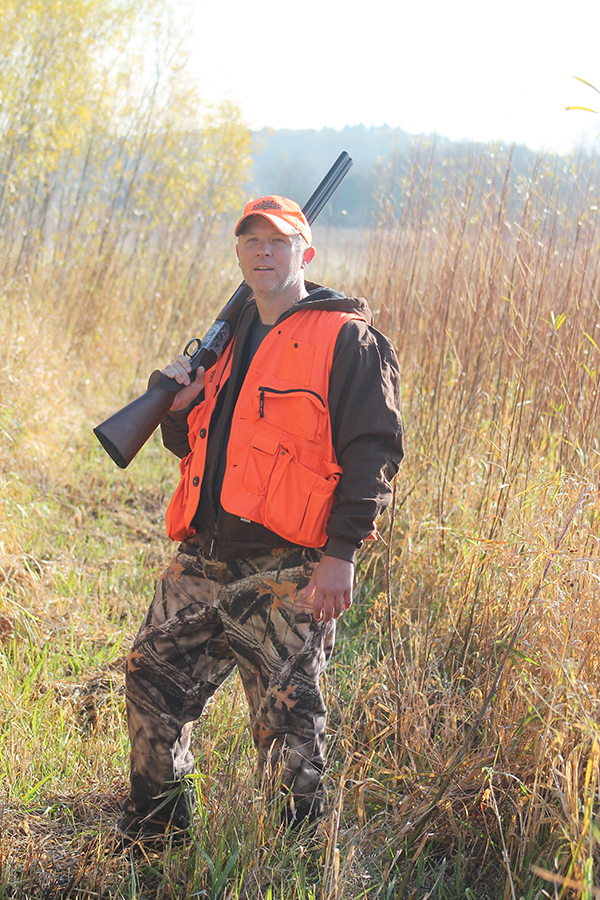 Jim Kluck walks the cover at Wern Valley and hopes for another flush.
May was the high bidder during the Annual New Berlin West Booster Beer & Wine Tasting silent auction to spend a day in the field with my brother John Ellis and me hunting birds at Wern Valley, a premiere Wisconsin hunt club that knows how to take care of their members, guests, and dogs. This annual event benefits New Berlin West High School Athletics and activities. I am an alumnus of New Berlin West…it was the best 6 years of my life as a matter of fact. As a point of interest my wife Lori asked, since May and Kluck had to spend the day with me, why I wasn't paying them. I'm not sure what she meant but I bet it wasn't good (see 6 year comment above).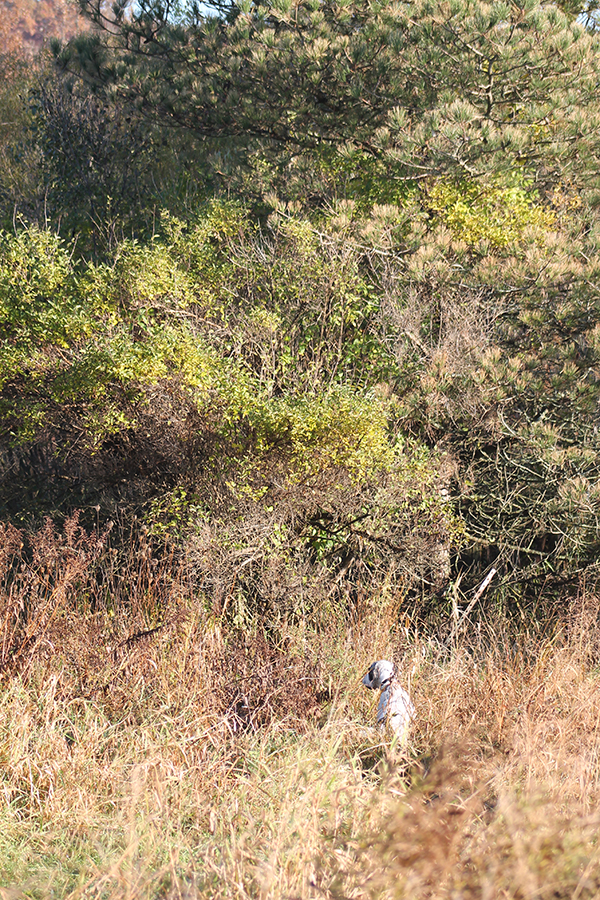 English Setter Lucy holds on point at Wern Valley just before a rooster breaks cover.
Our dogs Micah, Dylan, and Lucy would be the MVPs charged with finding birds. John Ellis and I would be the dog handlers and photographers, which means we get to walk along and shoot the bull with May and Kluck as we wait for a flush. If they do miss a shot, I always like to assure guests I have been there, done that. Little do they know I have been there, done that…about 9 out of every 10 chances. That's why I write about others.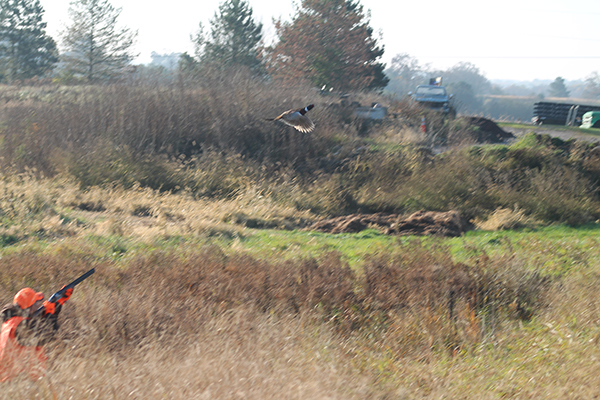 Kluck shoulders the gun and prepares to take down a breaking rooster.
Our Wern Valley hunt with Kluck and May was a lot of fun, simply because our guests were a lot of fun and courteous, safe hunters who brought a lot of good discussion to the day. May moved to New Berlin almost four years ago from Stoke on Trent, England, home of the Pottery industry and the legendary Stoke City Football (soccer) Club. He met his wife, Jeannine in Mad Town on Halloween, 1985.
"We corresponded for a couple of years before we lost contact due to our circumstances," John said in his thick Brit accent. "Jeannine being at UWM and myself serving in the Army. We reconnected around seven years ago and began to rekindle our relationship. We were married in 2016 at Hales Corners Lutheran Church. Since being here, I have embraced the outdoor lifestyle and have been made so welcome by everyone here in Wisconsin. I am now of course, an honorary Packers fan."
In addition to Jeannine, May introduced us to another of his passions, a 1990 Land Rover Defender which he recently imported from the UK. "These vehicles are a great passion of mine having taken my driving test in one whilst serving in the British Army during the 1980s," he said. "The iconic Defender is still used today by the military as an operational vehicle around the world due to its incredible off-road ability and durability, if not for its lack of reliability. They say the only tool you need to fix a Defender is a hammer!"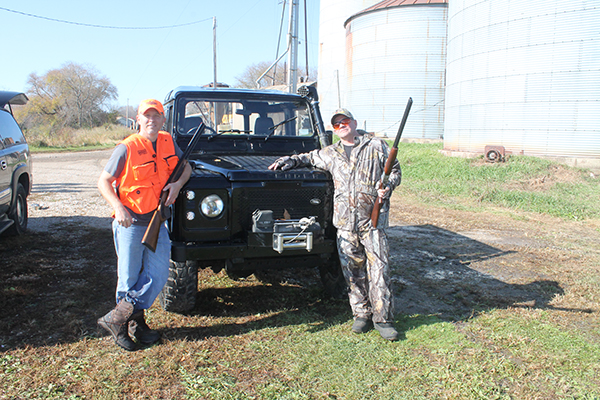 After the hunt, Kluck and May with May's Land Rover Defender brought to America from the UK.
As for the hunt itself, Jim and John were both appreciative of Wern Valley and the work of the dogs, and just good conversation on a Saturday morning. They scored and missed and held their shots too when safety was in question. They had an opportunity to participate in both the tracking and flushing work of Golden Retriever Micah and yellow lab Dylan, and the fabulous pointing work of English setter, Lucy.
May and Kluck said they have known each other since high school sophomore daughters Isabel and Makenna became friends and soccer teammates in elementary school. Which led to Jim's wife Mandy and Jeannine becoming good friends and volleyball teammates. Kluck is an engineer who works on controls and automation for cranes and hoists in material handling. He has been hunting since he was a teenager, including pheasant hunts both at Wern Valley and in North Dakota.
"The hunt was great," Jim said. "Wern Valley has a convenient location with a great clubhouse to relax in and recap the details of the hunt. The weather was perfect for a Saturday morning hunt. Having the dogs is a must have in the tall cover. The birds can easily hide or escape hunters. Thanks for bringing them. I would recommend Wern Valley to others looking for a pheasant hunt. Having the opportunity to hunt with John and ride in his Land Rover Defender is a great memory. He even let me drive it. We did see a number of birds, got some shooting in, and landed one bird. The day was a success seeing that a successful hunt is not always about the amount of birds, rather the time spent with each other making memories and sharing the outdoors."
Ditto, Jim. Thank you both for coming.
The 2020 6th annual New Berlin West Booster Beer & Wine Tasting event will be held February 15 from 7-10PM at Muskego Circle/Lake Point Church, S63W13694 Janesville Road Muskego, 53150. Tickets can be purchased online at NBWVikings.org/tasting. $30 Tasting ticket, $20 soda/water ticket or $40/$30 at the door respectively. You must be 21 or older to attend. Sponsors include Burghardt Sporting Goods, Van Westen Orthodontics, Jimmy John's New Berlin, NBW Booster Clubs.
Thank you for connecting with On Wisconsin Outdoors. Shoot straight.
Dick Ellis