To The Hunt…
Mourning Doves serve as door to new seasons
Micah and I will walk again into a new hunting season this afternoon like we've walked together into eight Septembers before. Mourning doves are calling us now, more as a way to shake the dust off and welcome a new autumn than anything else. Later it will be more "serious" pursuits of pheasant and duck. Almost certainly, my brother John and his lab Dylan will join us again today as the sun drops.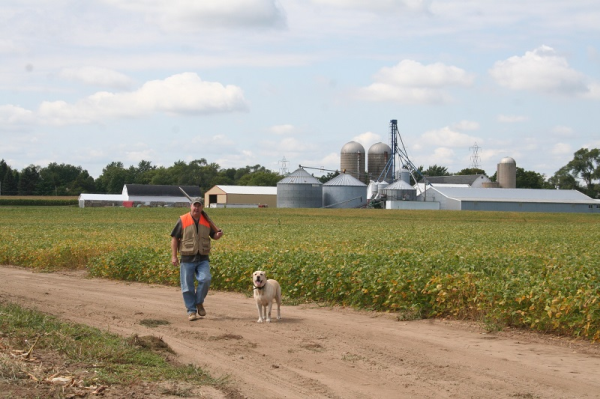 John Ellis and Dylan walk towards the standing cornfields in front of the Waukesha County farm where they had just gained permission to hunt during the first week of the mourning dove season. A small gift of appreciation was left for the landowner.
Micah knows these games. Sometime after that day we brought him home when I could hold him in one cradled arm…yesterday it seems….he became a true field veteran. In addition to flushing birds, he will lean close against me or my brothers and friends in duck blinds north and south and simply watch the skies for ducks. He probably sees more approaching waterfowl before we do, and we rarely lose a downed bird because of his pure expertise mixed with his diligence and refusal to lose.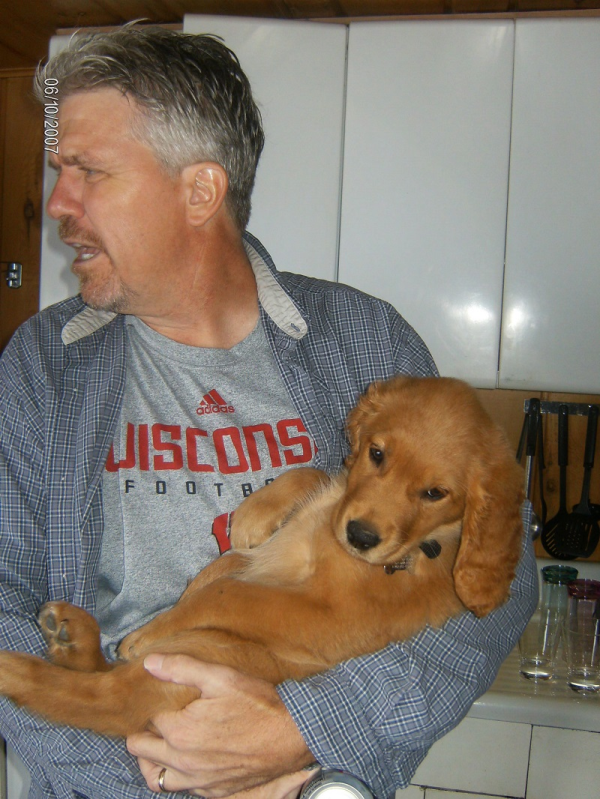 If the writer would cradle his 100 pound boy today, it would mean a certain hernia.
I remember clearly the day in Winnebago County when Micah at 14 weeks told me he was going to be a very good hunter. Scott Heitman and I had separated on a friend's farm to hunt these doves that serve as doormat to all seasons new. Without a dog, Scott would take a stand in corn and watch for approaching doves. My puppy and I would move to the east, hoping to flush doves already in.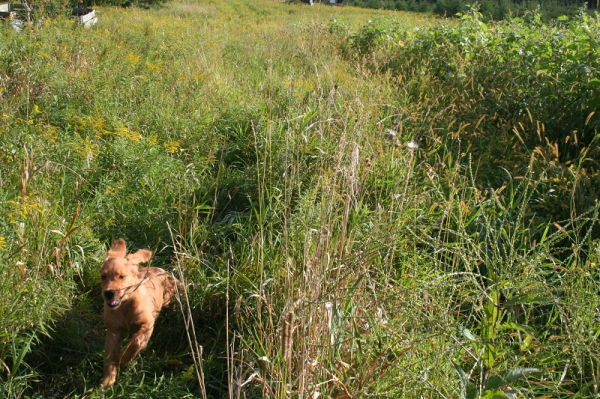 Ears flapping with new energy and feeling his bloodline, Micah lets it all loose in a hunt for…well he has no clue yet. But 30 minutes later he would make his first mourning dove retrieve on the Winnebago County farm.
Soon, the report of Scott's shotgun also reported that the season was officially on. Micah and I spent the next 15 minutes slowly hunting our way back 200 yards to Scott and hopefully a first whiff of bird scent for a hunting puppy. "Did you connect?" I asked. "I dropped one," but I can't find him," said. "The pumpkin patch is waist high. He's in here somewhere."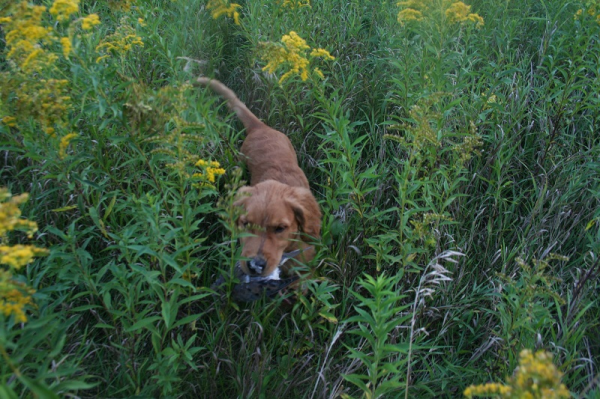 In 2010, 14 week old Micah returns with a first mourning dove that fell in a pumpkin patch.
Scott and I rehashed that first memory of 14 week old Micah this week, nine years later. "You sent Micah in that huge pumpkin patch and he came out with the dove in his mouth no more than 20 seconds later," he said. "That was unbelievable."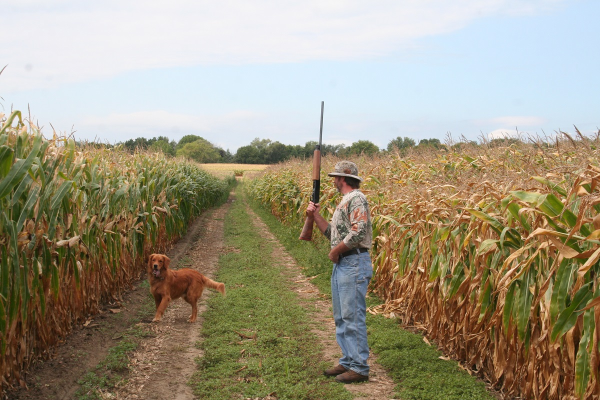 With the passing years, Micah will turn to expert in the field and on the waters of Wisconsin, as Scott Heitman knows well.
Micah is a student of the game. From his earliest days, he would sit and watch, fascinated for lack of a better word, as older, veteran dogs hit the water after a shot and returned with ducks that he had watched tumble. In North Dakota that first October, still the puppy, my brothers and nephews had video-taped something special on a hunt I could not join. They had kidnapped Micah for the trip, who had plunked down on his rear-end to watch as black and chocolate labs left the shore to return time and again with the many species of ducks that North Dakota produces.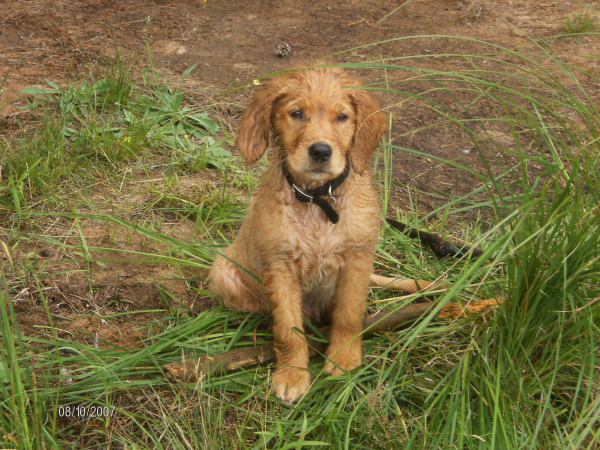 Ever the student, Micah has always instinctively taken a seat to watch and learn from veteran retrievers and labs in the field.
Then, the door opened. Labs left and labs to the right were retrieving ducks when a bluebill fell in front of Micah's watch, with no adult dog on duty to complete the new job at hand. Without prompting, but to the sheer delight of my family, Micah found the water and found the Bluebill that was almost as big as he was. With just a wingtip in his mouth because his mouth was too small, Micah dragged the prize home, to the appreciation of the first of many waterfowlers who would come to rely on his expertise over the years.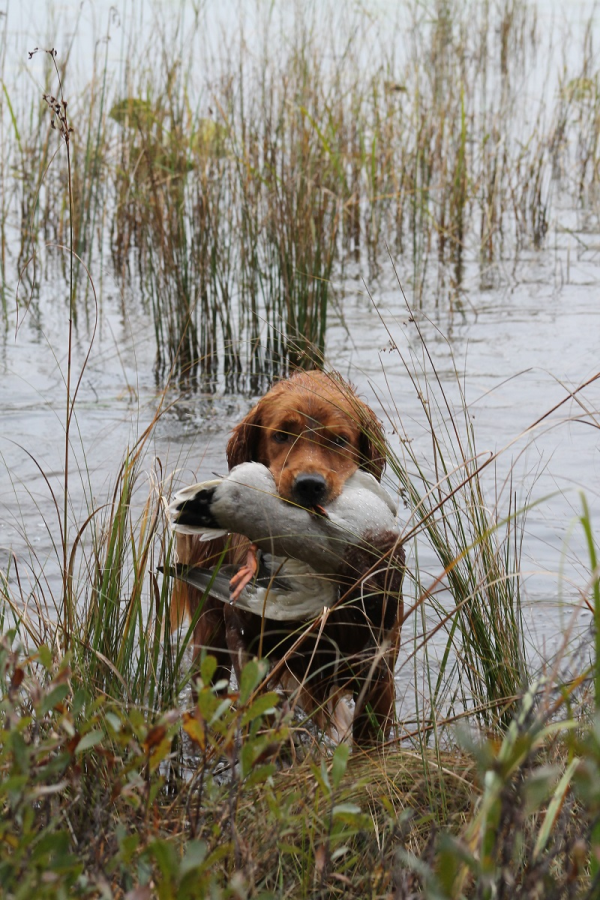 Even on blind retrieves, the smart money today is on Micah when a bird falls.
So here we go again. The dove season that launched September 1st and will conclude in November was earned by Wisconsin sportsmen after a long, hard won battle over the issue in the state legislature in the early 2000s. Rightfully so. Banding and harvest data from the United States Fish & Wildlife Service (USFWS) indicate that four to five million doves migrate through Wisconsin each fall. The bird is prolific, with the nesting season running from April to September and each pair producing multiple broods annually. According to the Wisconsin DNR website, "the mourning dove population in Wisconsin can sustain hunting without limiting the population."
Mourning doves are one of the most abundant and widely distributed birds in Wisconsin and throughout North American. The breeding range extends from central Canada in the north to central Mexico in the south and encompasses all of the lower 48 states. Continent-wide hunting mortality is estimated at 10-15 percent of the fall population annually. That level is believed to be below the level which would significantly decrease long-term dove abundance or hinder expansion of geographic area. Natural mortality is high. Approximately six of 10 birds do not survive from one year to the next, with dove mortality caused by a variety of factors including predators, disease, accidents, hunting and weather extremes. Nationally, 41 million doves are harvested each year.
Our state manages fields specifically for dove hunting mainly in the eastern and southern parts of Wisconsin. Typically, sunflower seeds provide attractive feeding areas for dove and cover for hunters. The state has managed fields located in Dane, Green, Rock, Jackson, Kewaunee, Columbia, Richland, Grant, Dodge and Jefferson County. Check the DNR website with GPS coordinates included.
According to recent stats, 10,000 to 20,000 Wisconsin hunters annually harvest between 100,000 and 200,000 doves. Most hunters, like Micah and me, don't access the state fields groomed for mourning doves but rather private lands where the birds feed on weed seeds or grain. Preferred weeds seeds in addition to sunflowers include pigweed, ragweed and foxtails. Preferred grains include corn, sorghum and millet.
Mourning doves are highly adaptable to a variety of habitats including coniferous forests, deciduous forests, residential, urban, and agricultural landscapes. Habitat needs include trees for nesting and roosting, a food source and a source of water. Doves move an average of two to eight miles for food. It's that ritual both in the early morning and toward dusk that allows the hunter to set up on food sources or roosting areas, respectively, to set the ambush.
Dove hunters must be HIP certified to be in compliance with state and federal law. The certification can be requested when purchasing a small game license. The national HIP registry allows biologists to more accurately survey hunters about important harvest information and participation. Because they are migratory birds, hunters must use a plugged shotgun with a capacity not to exceed three shells in the magazine and chamber combined. Non-toxic shot is required to hunt doves on all DNR managed lands.
My family had fun Labor Day weekend and shortly before on the waters of Wisconsin. Ms. Lydia Ellis, my 16 year old great niece, rowed out by herself on a secret Iron County Lake, scored this northern pike that didn't stand a chance, and released the critter to fight another day. Nicely done Lyds, as your Grandpa Steve would say.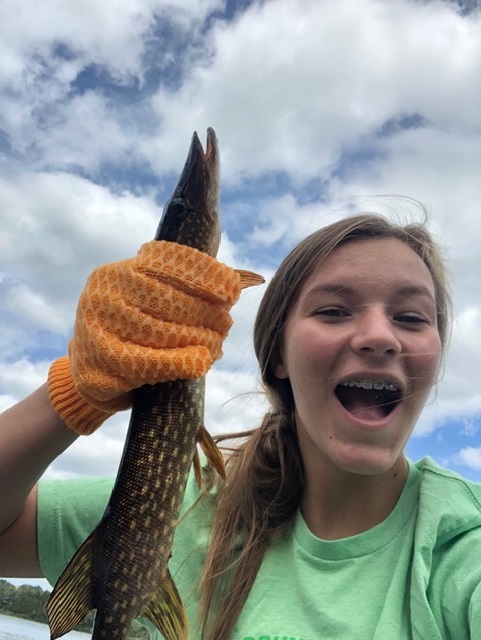 Lydia Ellis's selfie shows clearly that catching this northern alone on the water was expected and nothing to get excited about. The pike was released. Nice glove Lyds! You should take up golfing.
Lydia's grandpa, Steve Ellis, and Uncle Mike Ellis, caught and released this fat 42 inch musky in August. Because I am an outdoor writer and rely on good interviews to best serve our readers, my brother and nephew help me out all they can. The fish was apparently taken somewhere south of Ashland and north of Janesville on a #0 Mepp's spinner.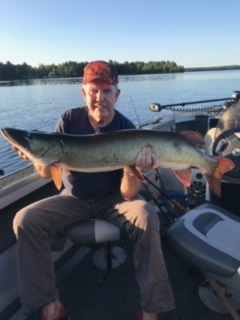 Steve Ellis takes time for a photo by Mike Ellis just prior to release of a 42 inch musky.
My brother Jim Ellis was fishing with his son Luke and grandsons Grant, Tate and Beau on the Manitowish Chain Labor Day weekend when Tate Ellis fought and won the good fight with a feisty 20 inch walleye. Tate would have gladly given this reporter his thoughts on the matter, but it is feared there might not be enough tape in the recorder to end the interview. Tate is a great conversationalist.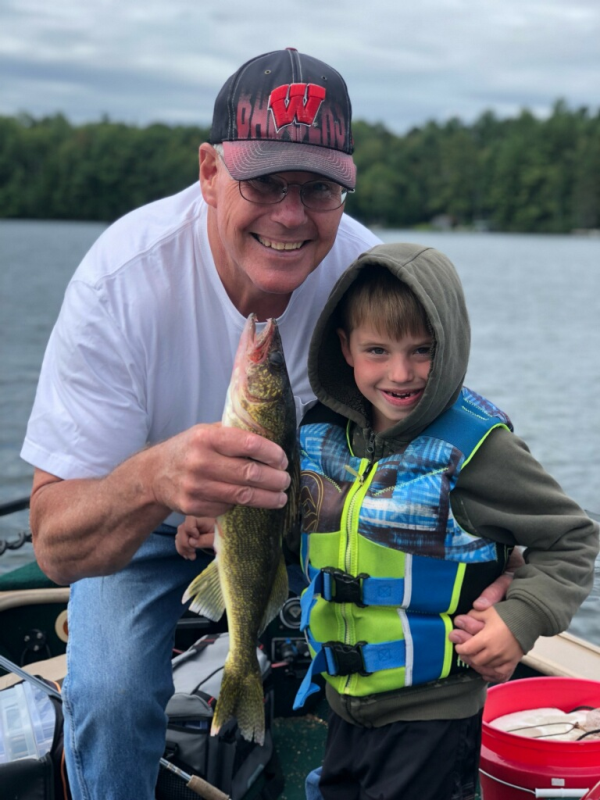 Tate Ellis lets Grandpa Jim Ellis sit in on a photo with the 20 inch walleye that put up a good fight…but not good enough….before Tate landed him on the Manitowish Chain.
Thank you for connecting with On Wisconsin Outdoors. Shoot straight.
Dick Ellis