To Freeze or Not To Freeze?
That is the question for sane and insane sportsmen alike across time when deciding whether or not the final days of deer season are really worth "weathering" some of the most vicious temperatures Mother Nature can spit our way. The answer, for Scott Heitman, his son Ty Kinziger, Mike Ingram , and Chad Figueroa last weekend, was "Yes". No problem, in fact.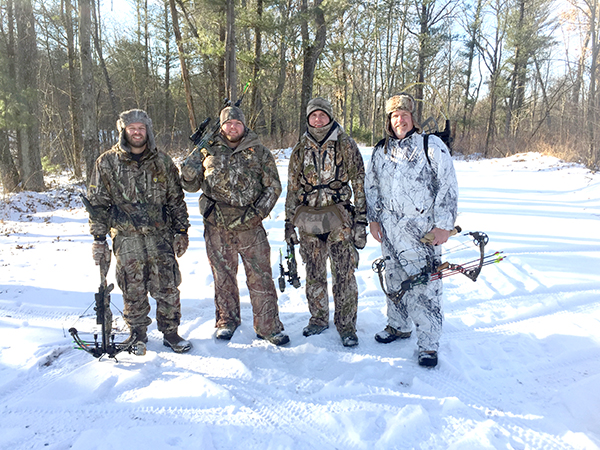 Mike Ingram, Ty Kinziger, Chad Figueroa, and Dick Ellis are ready to work the Adams County cold of -15 degrees for one more crack at a deer. Photo by Scott Heitman.
I joined these bowhunters in a final trek to Adams County near Adams-Friendship. Too many of us still had no venison in the freezer to keep a little thing like 15 degrees below zero, literally, keep us out of the woods. Anyway, there was little wind, and it warmed up to a balmy 11 below on Saturday with the mercury actually crawling above the zero mark on the season's final day, Sunday.
The young guys; Ty and Chad, were in all honesty the only hunters who hit the field before first light on Friday morning. Scott and I filled a trailer of split wood for the long winter ahead. Mike joined the group in time to set late-morning tip-ups on the long and narrow Roche Cri, and we all hunted that Friday afternoon, hoping to fill tags with either buck or doe. We ate great too, with Chad providing the venison from a previous hunt, and Ty using his skills over the grill. It is my opinion as a professional eater with decades of experience that there is very little that compares with venison steaks that come off the grill still slightly bleeding.
We went into this hunt extremely optimistic despite the plummeting temperatures. Tracks and sign lay everywhere on the 96 acre private parcel we had access to. Just a lone "false-alarm" flag had sprung over the shiners and hardwater, so surely our luck would change in the field. We separated this first weekend in January carrying both crossbows and compounds, and the cold did not prevent us from a full three hour stand each time out. It was totally enjoyable.
Four of five hunters never saw a deer. The girl magnet though, Mike Ingram, saw 15 does collectively in groups of six, three, and six, despite abandoning his initial creek bottom stand to watch a food plot. He had great action from both stands, with several of the deer bedding down off the field he watched, but never offering a probable kill shot. Mike's hope that one of us would bail out of their stand early and push a deer to his crossbow never materialized. We were all sticking in to the last hurrah.
I had practiced shooting broadheads in the cold just prior to leaving on the trip, and was comfortable that a shot, within my personal 30 yard limitations anyway, would lead to a dead deer. Despite the offer to use one of the many permanent stands on the property, I used my portable climber brought in on my back and chose my own stand placement. I also only had to mention to my wife Lori after being hit by snow during a November rut hunt that I sure could use some white camo. "Walla", like magic my light and noiseless Gamehide pullover camo present appeared under the tree at Christmas. This was the first opportunity to use it, and man is it nice. Inexpensive too…according to expert shopper Lori. And no, Gamehide doesn't sponsor us.
So goodbye to cold, cold Adams County, and the Wisconsin bow deer season. As the irritated loser bad guy says to Doc Holliday and the Earp boys in Tombstone though…"We'll see you again……"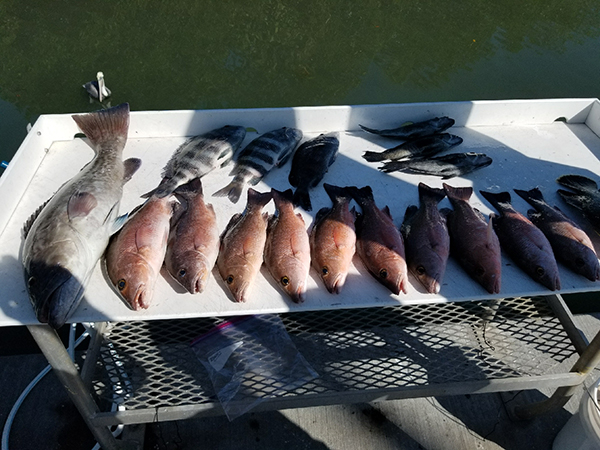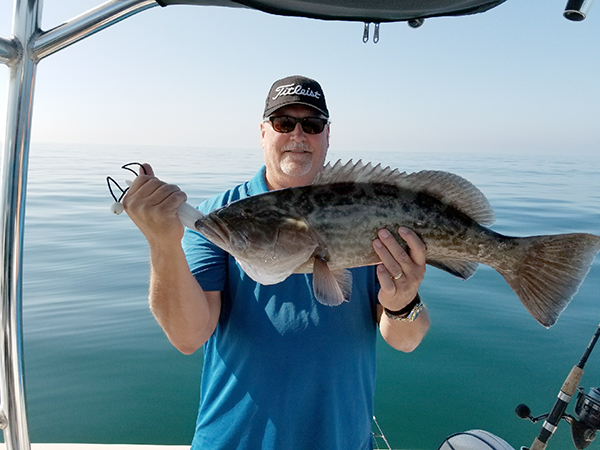 Bill Radek is happy with both the weather and the fishing off of Siesta Key, Florida.
To freeze or not to freeze? Longtime family friend Bill Radek recently scored some great fishing off Siesta Key in Florida and shares it here with us. Although a good freshwater and saltwater angler who on this trip caught grouper, sheepshead, mangrove snapper and trigger fish, Downers Grove, Illinois native Radek is also a bit of a mystery. Yes, yes… he's a Bears and Cubbies fan…we know…but yes, he also graduated from college. So does his brain work or not?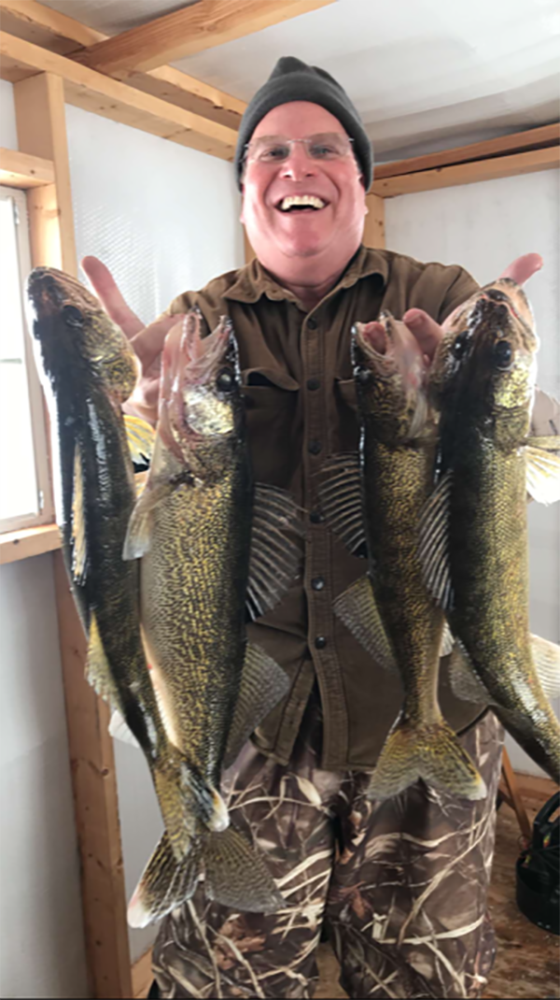 Roger Mayer enjoys a warm shack and some cooperative walleyes while fishing the Big Green hardwater.
To freeze or not to freeze? Good family friend Roger Mayer sends these photos of beautiful walleyes taken through the hardwater fishing with buddy Jay Kramer on Big Green. That actually looks pretty cozy in the shack doesn't it? The fishing sure was hot enough to keep anyone warm. Roger was jigging.
Speaking of shacks, watch for all of the ongoing sturgeon forecasts and ice condition reports on this website right up and through the spear-chucking season in February. I know at least the initial report came in already from the Department of Natural Resources and is posted under "Outdoor News" and "Inland Fishing" right here at www.onwisconisnoutdoors.com. The DNR and the protective communities around the Winnebago system are doing a great job with the Lake Sturgeon population since days not so long ago when the fish was in trouble from over-harvest. There is a reason why this population is the finest in the world, from spring spawning to the hardwater harvest. And if you have not witnessed it personally, get to Lake Winnebago and the adjoining lakes to experience it live and in color. You will not regret it.
What else to do in winter except go to a warmer climates and fish or hunker over a cold hole here and fish? In the January-February 2018 issue of OWO on page 10 you will read a column by one of our deer hunting experts, Lee Gatzke, entitled "Planning Your 2018 Out-of State Hunt…Targeting deer, elk this fall begins now."
Well that is absolutely right. Like so many OWO writers that I rely on to steer me right on the water or in the field, Gatzke really knows what he's doing. I've known him for more than 40 years, and he is such a dedicated deer hunter that it makes him better and better and better, particularly with the bow. I would listen to him if I was you.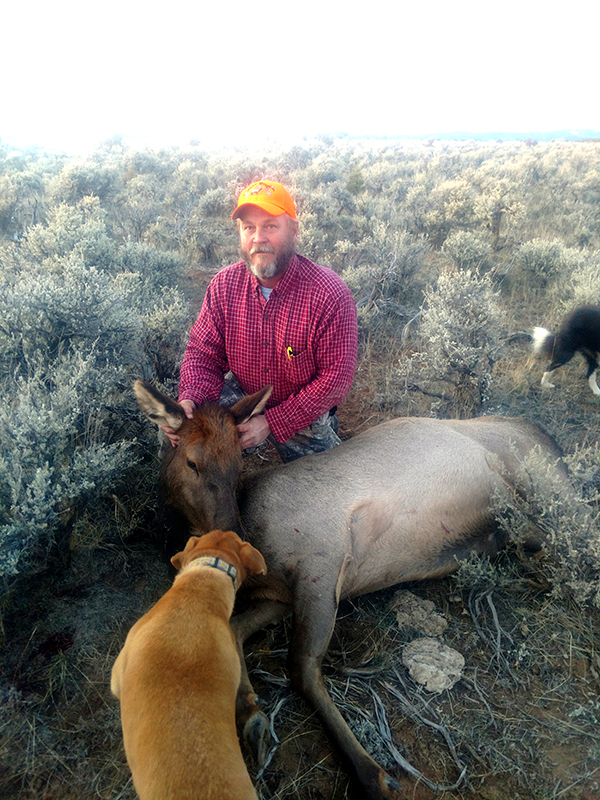 Wapiti Cross owner Scott Paul with a 2017 Colorado cow elk.
I already do. You may remember that my brothers and I planned our own muley and elk hunt in Colorado in October 2016 on a budget, which we also spotlighted in the January-February 2017 issue. We're going back to Colorado in 2018, and again planning that trip with Wapiti Cross Ranch. Now, like Wisconsin or any state, circumstances change and the odds of hunting success change. For example, when we applied as a group in 2016, we had over a 90 percent chance of drawing permits. This year, due to a tougher winter in Colorado and correlating deer kill, we have just over a 50 percent chance of success drawing as a group. But we're trying anyway. We had such a great time hunting the sage and mountains that even seeing significantly fewer deer would be plenty for us. All four Ellis brothers have hunted northern Wisconsin for decades, and that may also play a role in our degree of satisfaction remaining high even if we find comparatively less deer. In 2016 deer were everywhere, including big bucks. I hope we draw the permits. And I'll bet we fill at least 50 percent of our tags, especially after a year's experience. I'd put it at 75 percent but I'm going to be there too.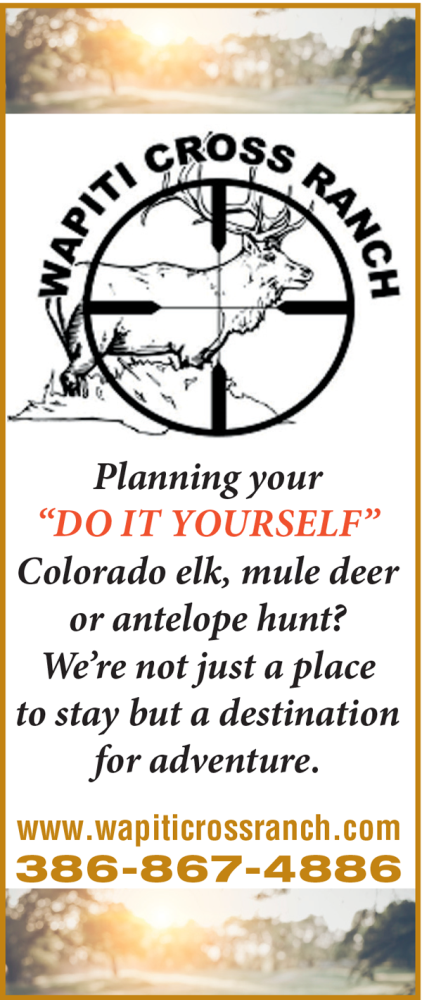 Thanks for connecting with On Wisconsin Outdoors. Shoot straight.
Dick Ellis