Thoughts from a Deer Camp
If you follow the Ellis deer camp at all over the years in Vilas County near Boulder Junction, you know we're not baiters or feeders. We scout terrain to locate deer, and then carry in portable tree stands on our backs to set ambushes, and move again.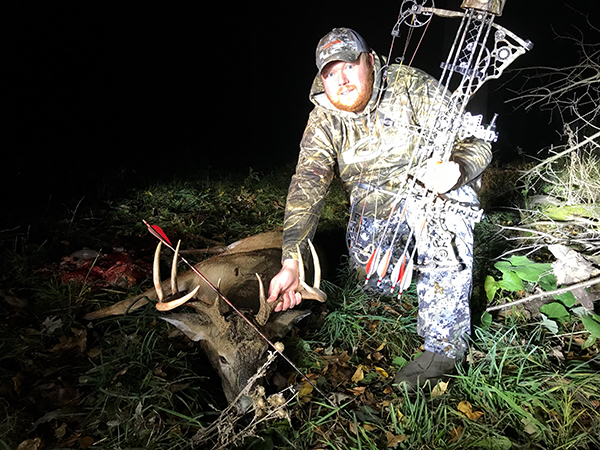 Peter Bratz took this fine 3-1/2 year old Waukesha County buck during the rut with a Mathews Z9 bow on Halloween weekend. Bratz dropped the deer where it stood with a heart shot. "I shoot Muzzy broadheads because Muzzy is a great Wisconsin company ad I could not be happier with the results," he said.
In the far north, we work isolated acorn stands, natural funnels, swamp edges, or a personal favorite, a mix a pine and scrub oak with heavy "buck brush" on the floor that makes hunting from an elevated stand a must. By paying our dues years ago in the form of learning the country, this camp after years of hanging nothing, hovered at about a 50 percent success rate (6 to 8 hunters) over two decades of bow and gun hunting before the bottom fell out more than a decade ago.
We have not hung a deer since, but things have taken a turn for the better directly due to bucks-only regulations and a ban on baiting and feeding. Where allowed, baiting and feeding drastically alters the natural movement of deer and those of us who do not wish to participate still pay the price. There were seasons when eight hunters would see three deer over 9 days, and those seasons would be followed up by antlerless only seasons.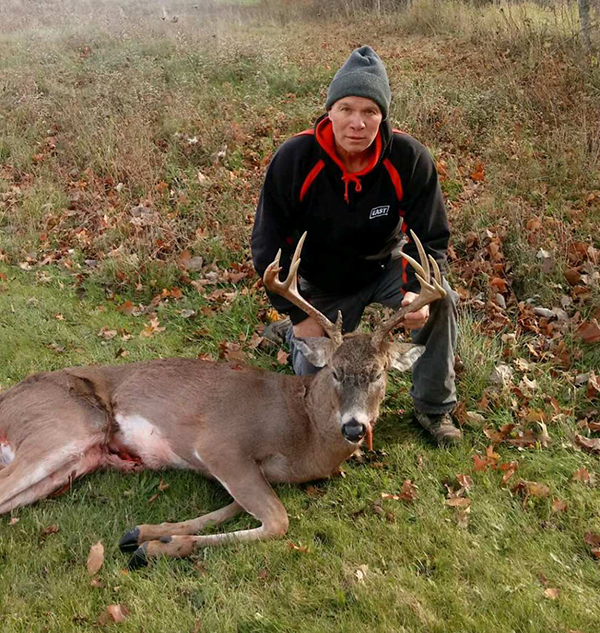 Lifelong Ellis family friend Terry Duvall made a great shot on this beautiful Ohio buck during the rut after grunting him in.
We did not hang a deer again in 2017 (with the muzzleloader/bow seasons still to be played out), but the game is slowly changing for the better. I hunted with three brothers during the bow season. We saw does consistently. All of us flirted with shots at bucks, although none of us took a shot because the deer didn't present a probable kill. When a party of four hunts hard though and expects to see deer again, that is pure medicine for the soul.
It is so true that you don't know what you have until you lose it. I am going to savor every second of this, and every deer that I see and hear. And I will be fighting in print for a continued ban if baiting and feeding are ever introduced again when the deer population stabilizes.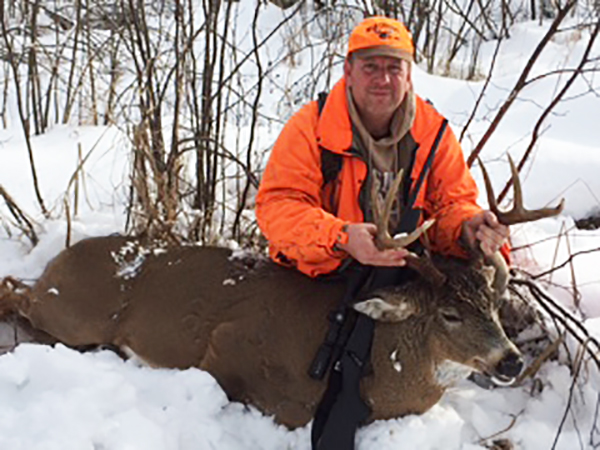 Eric Pacey took this great buck during the gun season hunting in Iron County.
Let me tell you about my encounter with a buck, the same kind of story that occurred five years ago in Winnebago County. Out early in the afternoon to take full advantage of the rut, my bow and camera lay on the ground when I locked my climbing stand in place and began to pull up the rope tied to my belt. A snapping branch behind me brought my immediate attention to the doe that was coming hard at 50 yards and so exhausted and close that I could see five inches of tongue hanging out the side of her mouth.
All I could do was hope that the buck was 10 minutes behind. But he was 20 seconds behind. And all I could do was watch as the nice, healthy 8-pointer stood grunting and broadside at 20 yards to my stand for five seconds, my bow and camera swinging gently a few feet below the stand, my rope tied around the limb.
But that was a beautiful thing. I had gone to heaven again. When I saw several does opening gun morning, although they would be the only deer I saw, I was satisfied that we are on the road to recovery in northern Wisconsin.
This is not farmland or southern Wisconsin. We don't expect to see scores of deer every day. We do expect the occasional encounter, a reasonable chance to put a deer in the freezer, and a quality hunt that doesn't domesticate the herd. When we see deer scavenging again, or scrutinize their tracks in the deep forest as they forage for natural food, you know they are not gathered around a feeder.
Let the deer be wild, let us be hunters, and let the young people following learn properly. That is heaven, Wisconsin style.
Thanks for connecting with On Wisconsin Outdoors. Shoot straight.
Dick Ellis