The weather is hot, and so is the fishing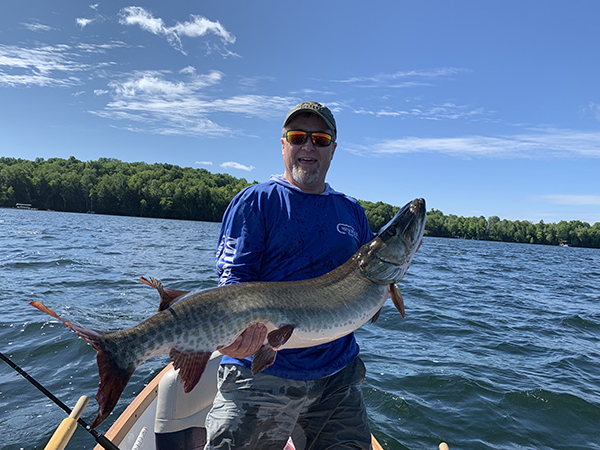 Kevin Wallenfang and his tournament winning, 46-inch musky just prior to release
Fishing has been as hot as the weather for our circle of family and friends, and anglers participating in the 16th Annual Bob Ellis Row Trolling Classic.
The Classic was started in 2003 by fishing guide Patricia Strutz to memorialize Bob Ellis, a legendary northern Wisconsin row troller inducted into the National Freshwater Fishing Hall of Fame in 2008 for his impact on the sport. Bob, my uncle, was killed in a collision on Papoose Lake in 1989, the lake where he also took his largest musky row trolling at 41 pounds.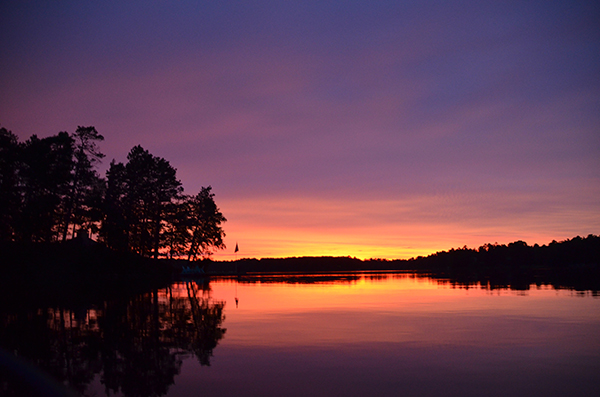 The sun rises on some great fishing in Vilas County. Photo by John Kubiak from his row troller.
Action started heating up with the calendar turning to July when my brother-in-law, John Kubiak, caught and released a large musky row trolling on the Manitowish Chain fishing at night. John was inspired as a boy to row troll when he visited the Bob Ellis cabin on Island Lake and was introduced to the big fish on Bob's walls and the homemade lures used to catch them.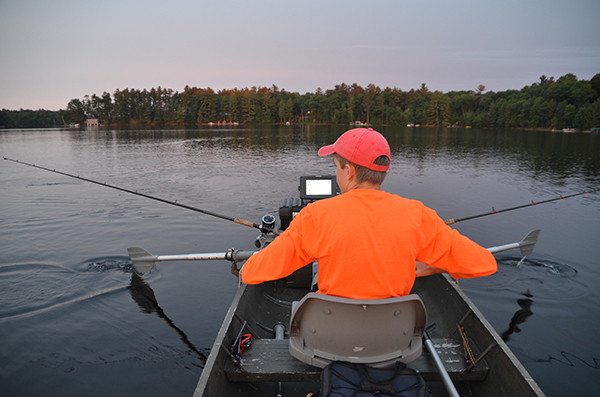 Andrew Kubiak row trolls the Manitowish Chain.
Today, John catches his own share of big fish row trolling, with many coming nocturnally in November. He often chases the big fish chasing the spawning ciscos, and does extremely well.
"I put in at 9:00 pm," John told me. "It was warm, no wind, flat calm, perfect for row trolling. I was marking a ton of fish but couldn't tell if they were ciscos. I figured they were schools of walleyes on the bottom in 35 feet of water. I was using deep running lures to 25 feet with nothing happening, and thought maybe those fish were below the thermocline where there isn't enough oxygen for muskies."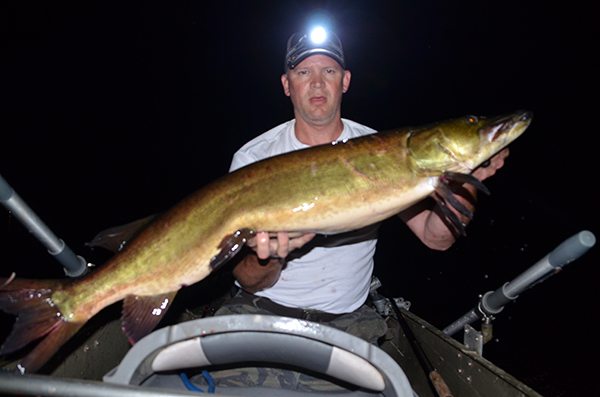 John Kubiak takes a selfie with his 44 inch musky taken and released row trolling at night.
"I went to a Big Fork Reef Digger, a jointed lure that runs shallower at about 8 feet or where you want it to by adjusting the metal lip. I have lights on the rod tip and was really bouncing and feeling good. Within five minutes, I went over a hump to 25 feet and the fish was on. It was pulling my boat around so I had hopes that it was a 50-inch fish. I saw it with the headlamp and knew it was a nice fat fish.
As it turned out after netting…44 inches worth of beautiful fat. The fish was released.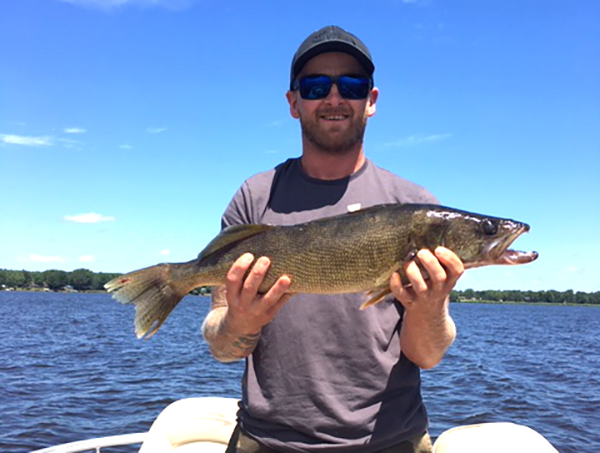 James Wallace with a 26 inch walleye caught on the Wisconsin River.
My brother Steve Ellis entertained family on the Wisconsin River system near Wausau by targeting walleyes over the 4th of July celebration and caught quantity and quality. 100 fish give or take a few were caught mainly on jigs and crawlers, including a couple of real notables. Southeast Wisconsin fishermen James Wallace caught and released a 26-inch fish and Tom Wegner caught and released a 25-inch walleye.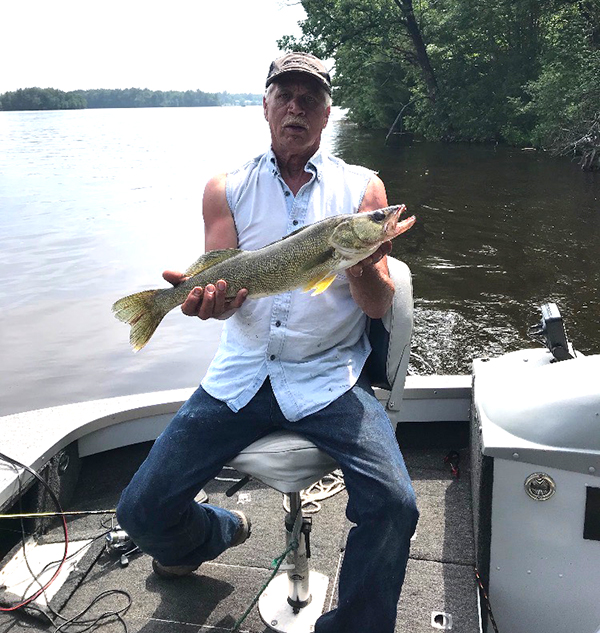 Tom Wegner with a 25-inch walleye taken on the Wisconsin River system near Wausau.
Which brings us to the Bob Ellis Classic held July 13th.
"The 16th Bob Ellis Classic was really one for the books," said Classic coordinator Kevin Wallenfang in a summary report to participants sent from his row troller. Thank you to all who attended and participated in a fantastic day of fishing, friends and food. 42 of us enjoyed gorgeous weather and a dinner under the big top admiring beautiful boats and telling stories of Bob Ellis, fishing, and life in general.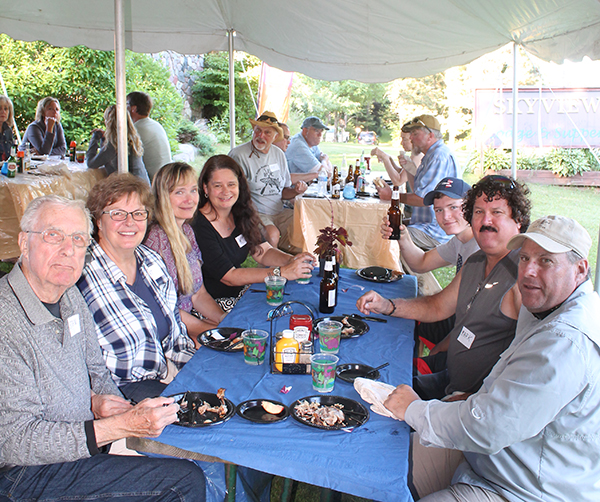 Members of the Ellis Family celebrate the 16th annual Bob Ellis Row Trolling Classic at the Skyview Restaurant in Presque Isle.
"It didn't hurt that we had a great day of fishing with seven muskies caught, plus two big bonus walleyes! When during most years a 38" fish was likely to win, who would think that a 42" wouldn't make the top 3? The day included 30 and 34 inch fish from Crab, 35" and 42" from Big, a 42.5" from Crab, and 45 and 46 inch muskies from Presque Isle!"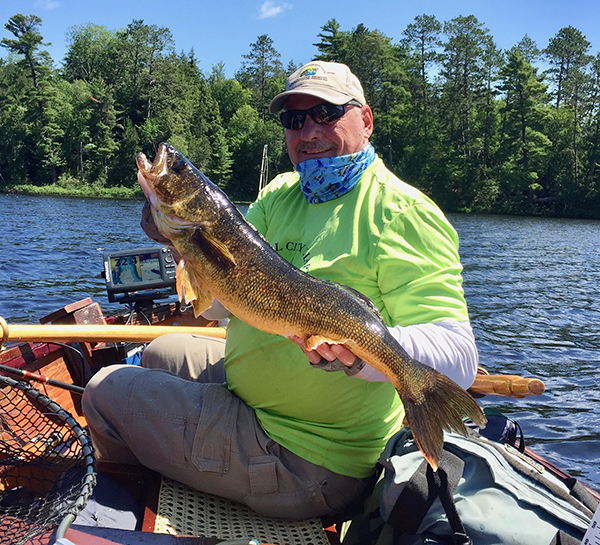 Steve Reinstra shows off a fish of a lifetime, a legitimate 30-inch walleye before release.
Moon phases impacting fishing also proved true on this day, with almost all of the fish taken within the 2-hour window designated by the experts as the major feeding time.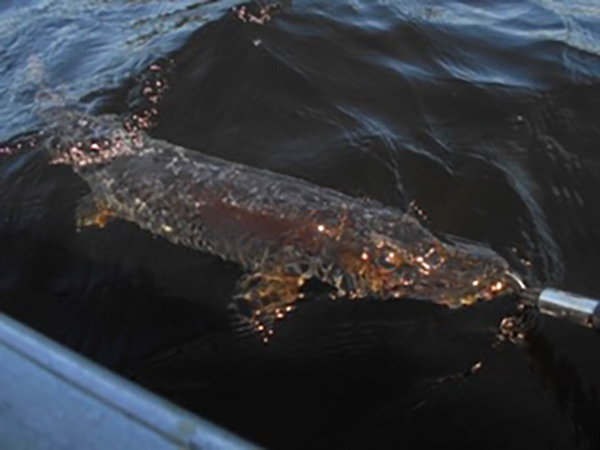 Bob Ellis nephew Jim Ellis caught and released a 42 inch fish on one of the hand-crafted lures he makes routinely.
Big musky awards went to our host Kevin Wallenfang and Jeff Pritzl at 46-inches for first place, Ted Scharel at 45-inches for 2nd, and 42.5-inches for my cousin, Dave Dlobik at 3rd place. Tournament organizers Geoff Crandall and Steve Reinstra, named Bob Ellis Conservationist of the year, caught the true "fish of a lifetime" with a 30-inch walleye from Crab. Also very notable, my brother Jim Ellis makes lures in honor of our uncle Bob, and his homemade landed a 42-inch fish while the homemade he had given to Wallenfang and Pritzl that morning landed a 27-inch walleye.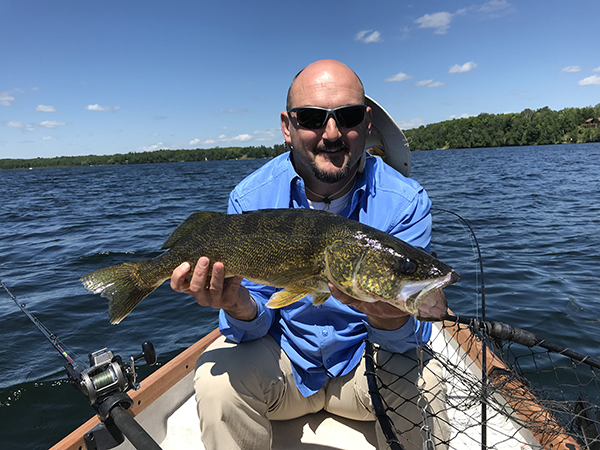 Jeff Pritzl with a 27 inch walleye taken on a home-made Bob Ellis special crafted by his nephew, Jim Ellis.
"Special thanks to all of the Ellis/Dlobik family for continuing to make the event especially meaningful with their participation," Wallenfang said. "To Geoff Crandall, Steve Reinstra and Jeff Koser for doing the majority of the work to make it happen; to Skyview for the accommodations and great food; to all of you for your dedication and enthusiasm that keeps the row trolling passion alive; and to the memory of the man who shared his knowledge of the open water musky with the rest of us.......Bob Ellis."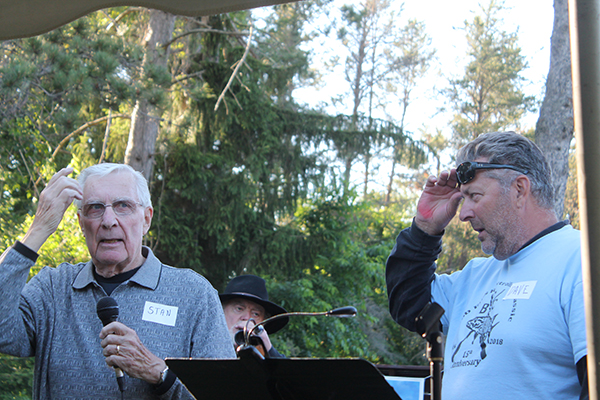 Bob Ellis brother Stan Ellis talks about the legendary fisherman while Bob Ellis nephew and 3rd Place BEC winner Dave Dlobik prepares to talk about the 43 inch musky he caught and released.
Next year's Bob Ellis Classic is tentatively set for July 11. Please mark your calendar and make plans to attend. The BEC is all row trolling, all release, with no money awarded and a ton of fun. Thanks for connecting with On Wisconsin Outdoors.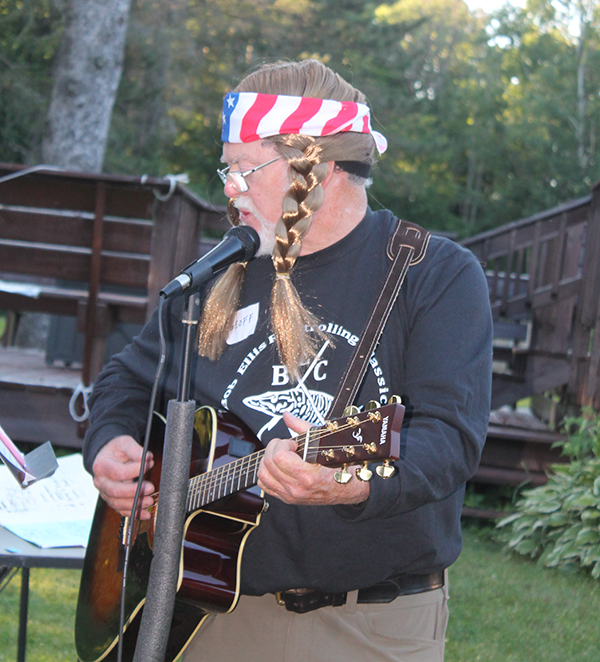 Willie Nelson….or BEC Co-Coordinator Geoff Crandall, entertains attendees during the dinner and awards banquet at Skyview.
Shoot straight.
Dick Ellis