The Nuts of Winter
And I thought I was a bit off my rocker for my January outdoor excursions, one of which you will read about to conclude this blog. Meet John Luthens and Jerry Kiesow, both trout fishing addicts and On Wisconsin Outdoors' writers. So yes, to venture out in search of trout in January, they are nuts. But, as we say…they're our nuts. And we wouldn't trade them even for more stable people.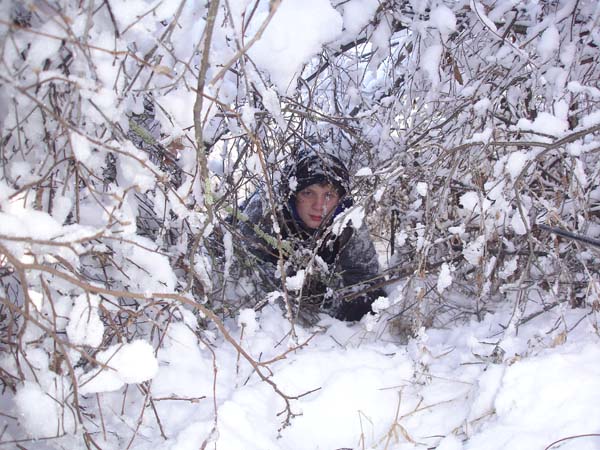 Tyler Luthens tunnels along the banks of the Ounce River. (Photo by John Luthens)
Luthens was introduced to trout fishing by his late, great father, often working the Lake Superior tributary back country to catch the beauty and isolation of the far north as well as their share of browns, brookies, and rainbows. Now, John is passing on the heritage to his own son, Tyler, most recently on the first day of the catch and release only Wisconsin early trout season.
John and Tyler visited the Ounce River which carries over part of Douglas and Bayfield County and, as John puts it, is hidden in a tangled bog on the edge of northwest Wisconsin's Pine Barrens. We'll link here to John's story and let you read for yourself the Luthens boys' foray to find and fish open water through a mountain of new snow. But these photos, at least to start, should tell you why John has earned the legitimate title of "Nut".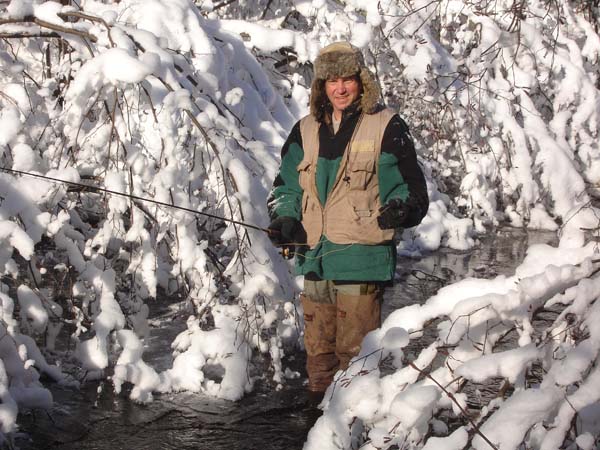 John Luthens and the first open water of the new season. (Photo by Tyler Luthens)
John Luthens is a freelance writer from Grafton, Wisconsin. His first novel, Taconite Creek, is available on Amazon or at www.cablepublishing.com or by contacting the author at Luthens@hotmail.com
Jerry Kiesow is our other designated Nut. If there is open water, Jerry is the first one in scouting it for trout and posting the reports for any other anglers of similar sound mind looking to also jump in with both waders. Like John, Jerry is also one of our talented writers you can read in almost any issue of OWO print paper. Last week, Jerry embarked on his "river checking".
The Sheboygan , he writes, "was open but had ice flows and shore ice so getting in and fishing it would be tricky and challenging, dodging all those flows. The Onion looks good. Then that evening, too late to go, a Snowy Owl was seen just east of Fredonia."
Jerry ventured out the next morning (Thursday) to find the Snowy. "Obviously from the Photos," Jerry writes, "I ended up at the Onion."
Although Jerry isn't dressed right, or equipped right, the water was open and that meant the possibility of fish, and that is all Jerry needs. He caught and released browns, as you can see with his photos below. Follow all Jerry's trips and stories at www.jerrykiesowoc.com.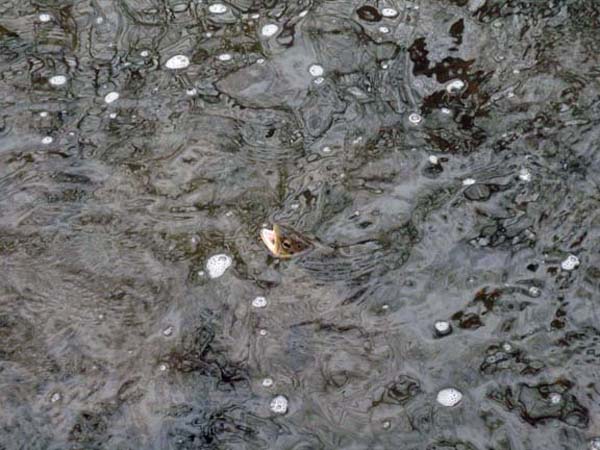 Kiesow catches and releases brown trout on the Onion. (Photos by Jerry Kiesow)
On January 3rd, I couldn't help but think I was a bit nuts trudging through eight inches of Winnebago County snow to sit for five hours in a tree in a last and ultimately futile attempt to put a deer in my freezer. I carried my bow, a treestand on my back, and a bag of gear including a decoy in an attempt to "disarm" any deer, buck or doe, that might venture near. That was a stupid move, and why and how I did it, even stupider. (This grammar courtesy of your editor)
I took to the decoy use for the first time after my brother, Jim Ellis, had experienced very good success this year using one in Minnesota. Of course, he used the flat, ultra-light, easy-carry-in doe and small buck during the rut. I was trying to fill an extra doe tag or my buck tag in the heart of winter two months post-rut.
"How much did that decoy cost you?" I asked Jim from Gander Mountain the night before the hunt. "$90," Jim said. "Too steep for me," I said, before picking up a cardboard bow target of a flat (half-inch) 8-point buck that I could place directly in the snow. Cost: $8.00.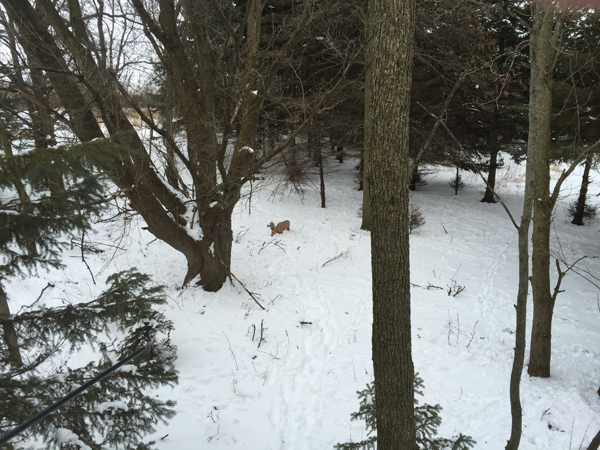 This 8-point cardboard buck target sends a big doe running for cover.
There was no need to place a decoy. Walking in, I have never seen so many deer tracks or deer beds on one piece of property. It was obvious why the DNR was offering extra doe tags in this agricultural region. And for a hunter just off a bow and gun season in northern Wisconsin's Vilas County without seeing a deer, I had fallen into southern Wisconsin heaven. A decoy was unnecessary, especially one sporting a large rack like my cardboard target. That, it would turn out, was indeed a bonehead move.
An hour into the hunt, I had seen 10 deer including a big half-rack, but was offered no shots. A big, fat doe wandered in from over my right shoulder, totally disarmed and ready to take my arrow in two more steps. In fact, in my mind she turned into medium rare tenderloins surrounded by bacon wrapped asparagus and mushrooms. I could smell her…I could taste her. (Is this sick? You know you're getting old when the antler size takes a distant second in "reasons why we hunt" to venison on the grill.)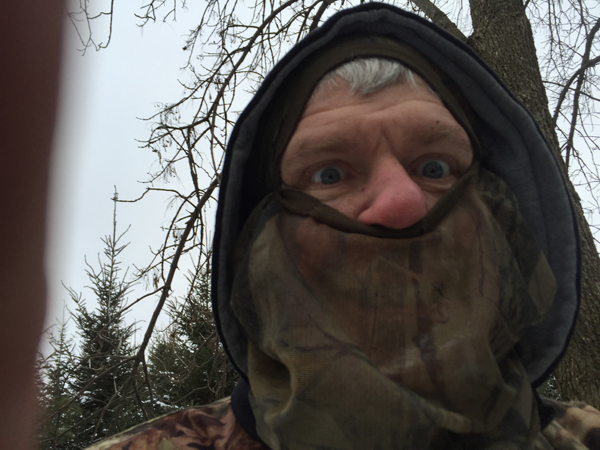 Ellis proves he is a legitimate nut by sending this handsome selfie to his brothers while bowhunting the last day of the season January 3.
She took a half step before locking on to my target. I have no doubt she was sure it was a real buck. She went from lazy and unconcerned to high alert, circled my stand and used the wind to figure this "animal" out. Two minutes later, she fled the scene, high-tailing it across 200 yards of turnips. Maybe she winded me. But I know she didn't like "him".
In the dark, I jacked down from the tree and my last hunt of the year, disappointed in another season's end and the reality that I would not be eating venison this winter. I had seen 20 deer. The only other deer that had given me a shot at 15 yards was a fawn no bigger than a coyote. I didn't shoot. "Runt" is a good descriptor of the excuse of a deer that stood in front of me. She moved on, hopefully to survive a Wisconsin winter in Winnebago County.
As for me? Next year, I thought.
Thanks for picking up our papers at any Wisconsin Kwik Trip. Thanks for connecting with On Wisconsin Outdoors. Shoot straight.
Dick Ellis