The Monsters of Winnebago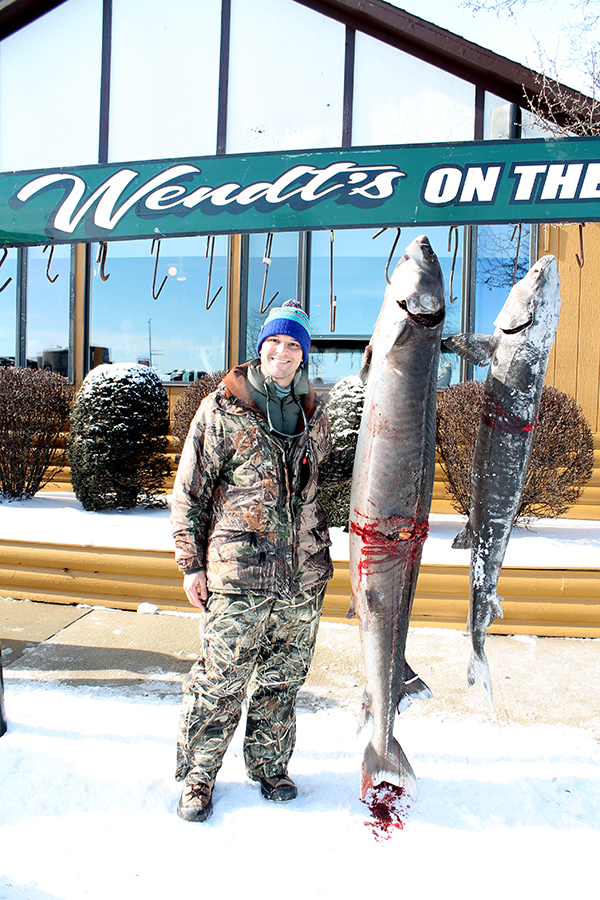 John Eiden took advantage of one big opportunity opening morning on Winnebago when he speared this 171 pound, 84-1/2 inch sturgeon while holding vigil with his father, John.
Good buddy Scott Heitman and I took our traditional ride north from the Milwaukee suburbs to the ice of Winnebago Saturday to be there with cameras and notebook in hand when the first sturgeon speared on opening day started to hit the registration stations. When we arrived at Wendt's on the west side of the big lake mid-morning, only two fish had been registered by the 4-man DNR team that included Fish Biologist Dave Bartz, Water Resources Supervisor Marsha Burzynski and Fisheries Technicians Tom Burzynski and Scott Bunde.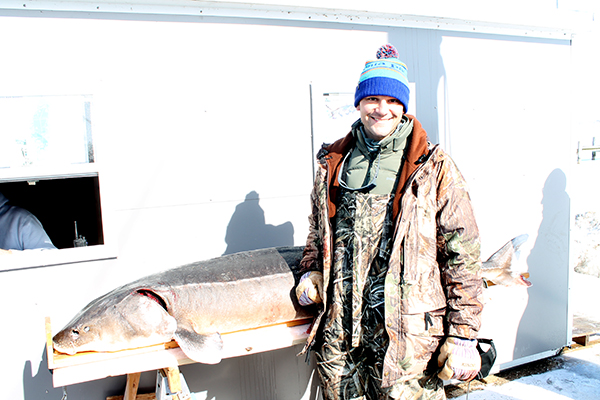 John Eiden at the registration station at Wendt's with his monster sturgeon.
We showed up at about 10:30 a.m., and were surprised with the light registration at Wendt's due to poor water clarity. By comparison, in 2018 at the same registration station, a long line of successful spearers and their fish were waiting for the fisheries experts to weigh, measure, and age the harvest. For every aspect of what happens on Winnebago during the sturgeon season, the DNR does a fabulous job of submitting to media including On Wisconsin Outdoors detailed daily reports which we post under Outdoor News and Inland Fishing on this website. From Day 1 on, check out everything including photos of some of the Monsters of Winnebago.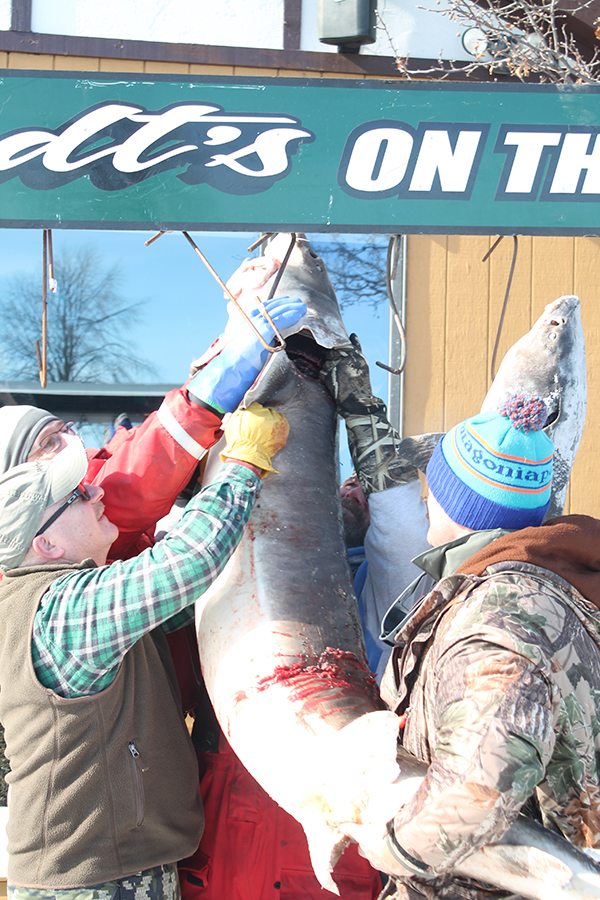 When the sturgeon is 171 pounds, it takes two to haul it out of the hole and three to hang in on the hook at Wendt's.
Although spearing was light opening day at Wendts, it was worth the drive. We interviewed John Eiden and photographed his 84-1/2 inch, 171 pound mammoth that aged out at, well….read. DNR Senior Fisheries Biologist Ryan Koenigs comments below on that and much more. Koenigs has some really interesting facts on Eiden's fish, and on the bruisers in general that are showing up in Winnebago in particular more and more in recent years.
Eiden was fishing with his father John north of Oshkosh near Menomonee Park when the big girl came through and gave the hunter a peek at 8:45 in the corner of the hole. She came back in to allow the good shot, which Eiden took advantage of. It took both father and son to horse the fish out of the hole. It was number five for John, with father John still leading the way with six sturgeon tagged.
Paul Wojahn of Oshkosh speared his first sturgeon in two years of trying with his father-in-law, a 73 inch beauty that weighed in at 117.8 pounds.
Paul Wojahn of Oshkosh was the other success story we met at Wendt's. Paul speared his fish, a 117.8 pound, 73 inch sturgeon at about 10:00, just when he was about to pass the job of holding vigil over the hole to his father-in-law. Paul says he needed a Bloody Mary. The fish cooperated before they made the switch. It was Wojahn's first sturgeon in just two years of trying. I think most spearers would welcome a 50 percent success rate, although it seems like with most sports, the sturgeon spearers who find success often find it again and again, and know the tricks of the trade. One of those tricks is to find the red worms in the mucky bottom that the big fish loves to forage on. These sturgeon nuts scout before the season for any advantage much like we who consider ourselves deer nuts do. I guess that makes us Wisconsin's assorted nuts, the perfect gift for Valentine's Day and our lucky wives.
From the DNR report, Day 1 started as a cold morning but turned into a pretty nice afternoon according Senior Fisheries Biologist Koenigs. "Coming into the season, we were anticipating a full 16-day season on Lake Winnebago and a shortened season, likely 4-7 days, on the Upriver Lakes," he said. "After seeing today's harvest, I think those forecasts were spot on. There were 97 fish registered from Lake Winnebago today with the northern registration stations of Stockbridge Harbor and Payne's Point leading the way with 30 and 18 fish respectively."
"Our registration stations on the Upriver Lakes were a bit busier as 130 fish were registered. Indian Point and Critter's were the two busiest stations registering 58 and 54 fish respectively. This season's opening day harvest is strikingly similar to last season, where 83 fish were registered from Lake Winnebago on opening day and 130 fish were registered on the Upriver Lakes."
"Today's harvest puts us at 4-5% of the harvest cap for each of the three categories of juvenile females, adult females and males, so it looks like spearers will have 15 more days to fish on Lake Winnebago. Today's Upriver Lakes harvest reached 40% of the adult female cap and 30.4% of the male cap. More than 25% of the spearers have now tagged out so effort will decrease moving forward. At this point, I would guess that the Upriver Lakes season will last 5-7 days."
"For the past 5-10 years we have been talking about the increasing number of big fish within the sturgeon population on the Winnebago System. During that time there have been two fish that have been discussed the most, the current state record (212.2 pound, 84.2") fish that was harvested in 2010 and an 87.5" female lake sturgeon that was captured below the Shawano Paper Mill Dam in April 2012. Today there were rumors circling of a very large fish on the ice on Lake Winnebago. The fish was brought into Wendt's to be registered and measured 85.5" and weighed 171.0 pounds. Further, the fish had a PIT tag and when referenced against our database I learned that this fish was the large fish that was handled in 2012 below the Shawano Dam. The 2-inch difference in measurements is likely attributable to a combination of measurement error (spring time with fish thrashing and harvest with the fish being partially frozen) and approximating the last few inches of length as our measuring boards only go to 84 inches."
"We have already been asked numerous times how old this fish may be. This is really a tough question to answer as age on these larger fish can be extremely variable. One thing is for certain, this was a very old fish. The fish was first handled in 2004 on the Wolf River and at that time it was measured at 84". If we look at growth based on the recapture measurement from today, that fish grew 1.5" in 15 years. If we go from the measurement in 2012, the fish grew 3.5" in 15 years. Either way the fish had to be very old. I would estimate that this fish was between 100-130 years old, possibly even older."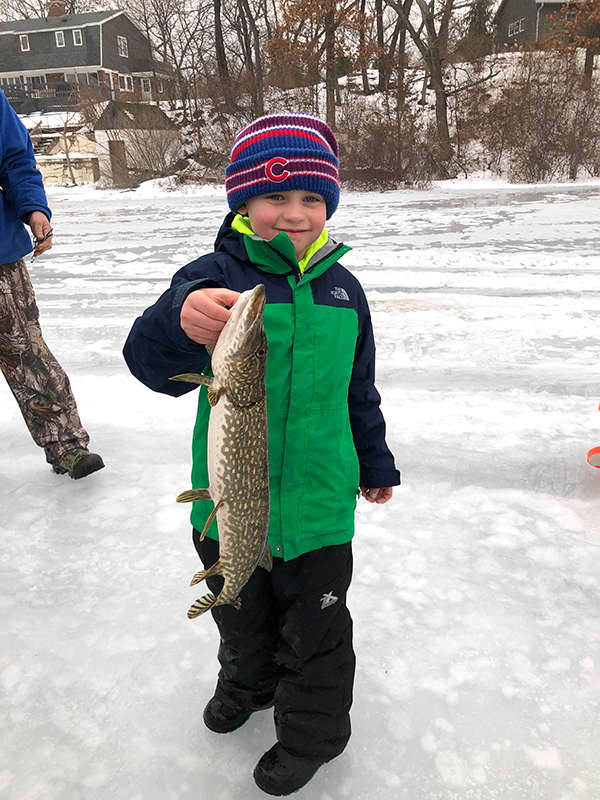 Cameron Dettman teaches a Moose Lake Pike just who's the boss on this piece of ice.
This reporter also joined Heitman and a group of friends on Moose Lake in Waukesha County a few days before the Sturgeon opener for a tip-up assault on whatever wanted to cooperate. Scott's son, Ty Kinziger, Dean Figueroa and son Chad Figueroa, Jay Humbert, Mike Ingram, Patt Delaney, Craig Nettles, and his son, Cameron Dettman made up the group.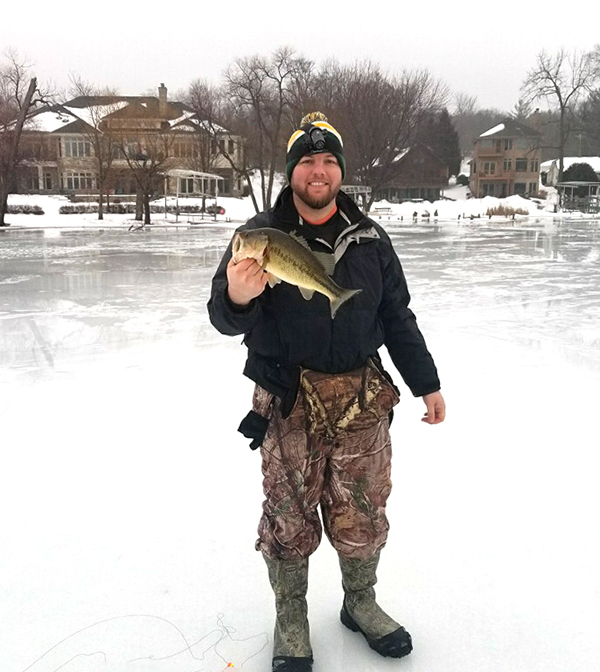 Ty Kinziger is ready to release a nice largemouth that took a shiner on Moose Lake.
The ice was slick and snow-free, and the fish of Moose on this day were slicker and in no hurry to get caught after tripping the flags. Most were hitting light on the shiners and dropping it before the hook was set, but enough pike and bass did cooperate to make it a nice few hour trip.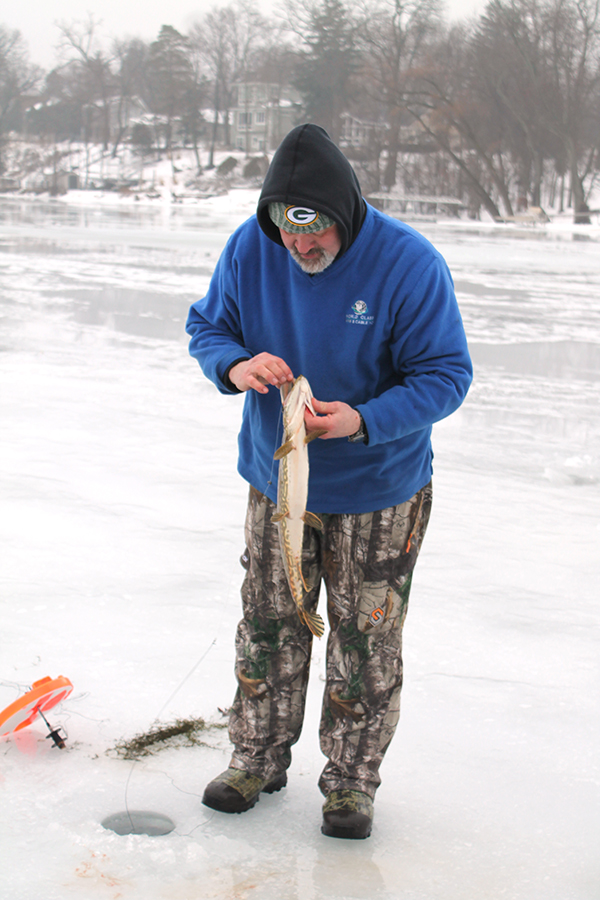 Dean Figueroa will release another pike into Moose.
Without Cameron Dettman, in my opinion this group would not have scored at all. Thanks for saving this report Cameron.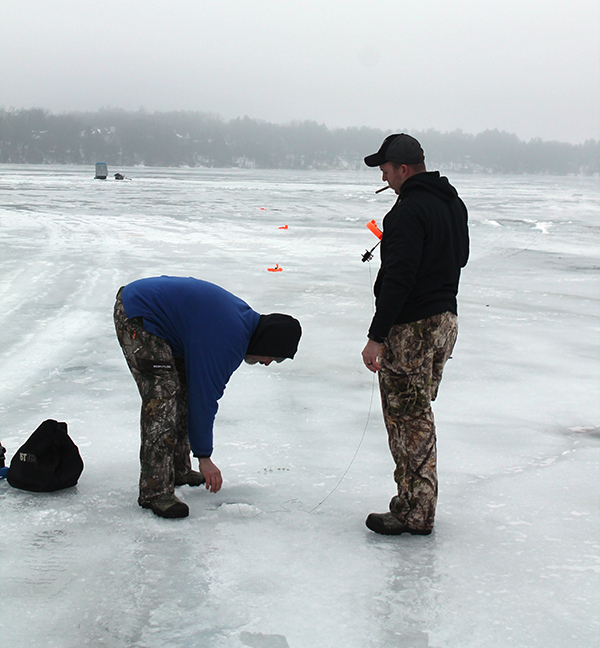 Father-son team of Dean and Chad Figueroa wait to see what tripped the flag on Moose Lake.
Thanks for connecting with On Wisconsin Outdoors. Shoot straight.
Dick Ellis