The Keys to a Great Florida Trip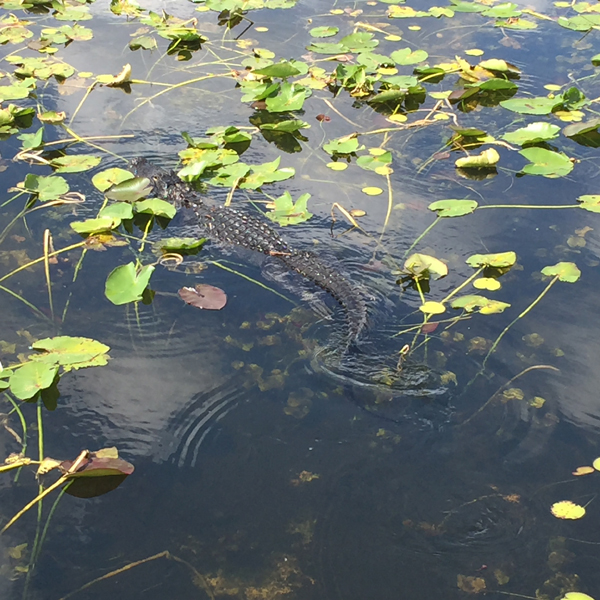 This alligator was one of many seen in the Everglades on the way to the Florida Keys.
Located in the heart of the Florida Keys between the more famous Key Largo and Key West, Key Marathon was our target last week for a 7-day great escape. Lori and I experienced the Keys for the first time with little more than catching fish, catching rays, and exploring on the docket. We found our beach. Everything else flowed down hill and easy. With one notable exception.
On the way to the Keys after landing on Fort Lauderdale we spent a day in Everglades National Park. According to information provided in the Everglades visitor stations, the Park is 1.5 million acres protecting an unparalleled landscape that protects important habitat for numerous rare and endangered species including the manatee, American crocodile and elusive Florida panther. Visitors can hike, canoe, bike, camp, participate in ranger-led programs or take tram or boat tours. Abundant air boat tours are also available close to the park through private business. We chose a self- guided tour via foot and car and saw a half dozen alligators, one within 10 feet that surprised us and the abundance of wildlife you would expect in such a unique paradise.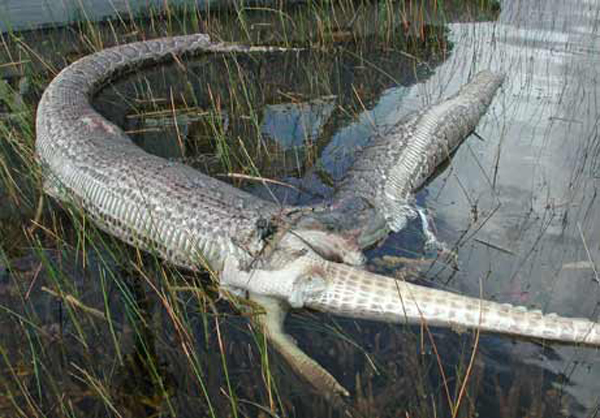 Wildlife researchers with the South Florida Natural Resources Center in 2006 found the dead, headless python in October 2005 after it apparently tried to digest a 6-foot-long American alligator. The mostly intact dead gator was found sticking out of a hole in the midsection of the python, and wads of gator skin were found in the snake's gastrointestinal tract. The gruesome discovery suggests that the python's feisty last meal might have been simply too much for it to handle.
The most interesting, and sad, fact we learned from a ranger and then more searching on the web during our visit regarding the Everglades and all of Florida has been the introduction of the exotic Burmese python. Released into the everglades by owners not knowing how to care for a snake that grew so fast or to such immense sizes, the Python now numbers in the tens of thousands just in the everglades, causing a grave threat to small and even larger mammals. Originally, the small snakes were purchased primarily from Asian marketers.
Scientists fear the invasive species might wipe out certain native mammals. Raccoons, rabbits, foxes and even the Florida panther could all be at risk. According to "our" ranger, a python can take a deer to 80 pounds, and it is estimated that 98 percent of small mammals throughout all of Florida have already served as prey for the snake. The Python has essentially no natural predators in Florida to keep them in check. That fact is not hard to believe when you see the largest Python captured in Florida was nearly 17 feet long. In reality, I think, these snakes could take any meal, of any size, any time.

Wildlife officers hold a 16-foot, 10-inch Burmese Python caught by a Fish & Game officer in Florida during the 2016 Python Challenge, a state sanctioned hunt.
In January of 2016, the snake finally faced its own predator, with 600 human hunters scattering across this subtropical wilderness to bag as many Burmese pythons as they could. The Florida Python Challenge 2016 encouraged hunters to register with Florida's Fish and Wildlife Commission to hunt the snakes, which obviously is a true enemy of Florida. Would you let your small children alone on the swing-set in Florida even for a minute, or let your 100 pound dog out without at least easy access to the double barrel...or chain saw?
Our trip continued on the Royal Plum Club on Marathon. After discovering that Sea Beans and not shells were the real treasure to be found on the Island, Lori went right after it and with great success. "Sea Beans" is a common term for any of the various drift seeds and fruits which are stranded on Florida's beaches. Once thought to be the products of underwater plants, the origins of these "sea beans " generally remained a mystery until the 1800s. Most of the seeds and fruits originate in rainforests of the West Indies, and northern South America, with some coming from as far away as Western Africa.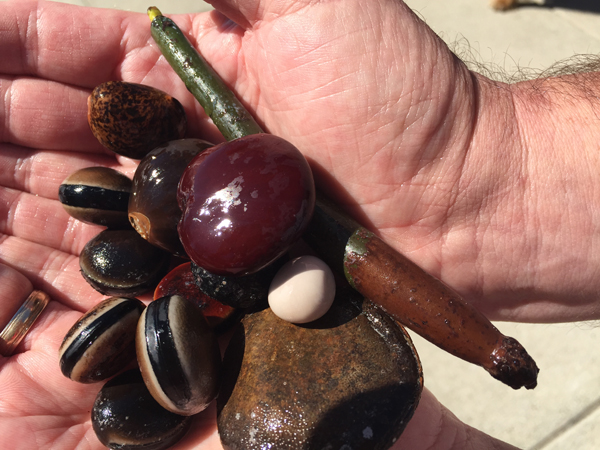 Lori finds them all. Drift seeds and fruits including Nicker bean, Antidote vine, sea purse, true sea bean (hamburger seeds shown), red mangrove, sea coconut and sea heart.
According to the locals, some guests to the Keys search for weeks without finding a "true sea bean", which can float on the seas from the Amazon for decades and take on the appearance in various colors of an American hamburger. Really, I thought, we're looking for sliders? Lori found a half dozen on the isolated shores, along with other sea beans including Nicker beans, sea purse, red mangrove, sea coconut, and sea heart along with Antidote vine. Known for bringing good luck, Lori is passing on the true sea beans to close friends and relatives. I found nothing, with the exception of the occasional Corona.
Walking the beach in search of those elusive sea- beans, we did "uncover" a small nudist colony of men scrambling to cover up. I got by that by staring ocean-side and acting as if, like Sargent Schultz… "I saw nutting". Lori must have peeked by mistake though. She's still laughing.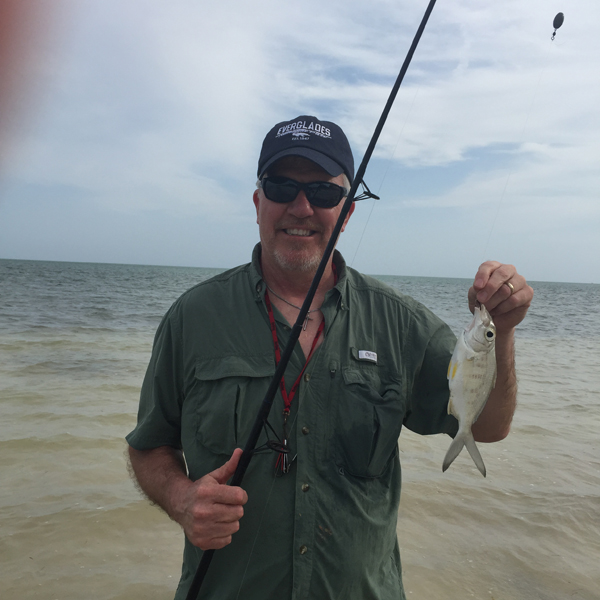 Ellis prepares to release another yellow tailed snapper. Snapper caught on shrimp provided great meals, and barracuda provided great fights on spoons sent on the trip by OWO advertiser Williams Lures.
Fishing while in the surf was a true blessing although the story heard from a pier fisherman who claimed taking a 16 foot shark the night before had me on notice. Lori and I had no trouble finding a beach where the only intrusion was a shore wanderer or two every 30 minutes or so. My wife relaxed in the sun with a book and took the occasional swim while I waded in with rods and reels we had brought on the flight from Wisconsin as carry-ons. The seven-day license purchased on line cost $20. I had brought about 30 spoons provided by On Wisconsin Outdoors' long time advertiser, Williams Lures of Canada, and also used live or frozen shrimp with a variety of set-ups. I was looking for snapper of various strains as great table fare, and too many other ocean fish to try to mention all the way up to barracuda and shark.
Barracuda and "Jack" loved the Williams spoons and my needle nose hook-remover was put into frequent action. Barracuda teeth, and the teeth of most ocean predators including snapper for that matter, will do a number on you if you don't use caution.
My barracuda were smaller in the 20-inch range, but we saw barracuda to four feet while snorkeling. I also beached plenty of those snapper (10 inch minimum) to allow Lori to create a home-made, great-tasting fish and scallop dinner. Staying in the condo or going out, we took advantage of the ample sea-food available on the Keys, and also feasted on conch fritters, oyster, shrimp, grouper, and stone crab over the course of the week. If ocean wading or fishing from fabulous bridge perches found frequently along Highway 1 connecting the Keys is not your idea of fishing, there are more charters for the gulf, Atlantic or inland fishing that you could ever imagine. Tarpon were also in during this trip, and I saw many fish cruising the harbors of Key West that I estimate at 60 pounds or more.
A trip five miles out to America's only living coral reef with Spirit Snorkeling was a true adventure. For $29 per person, we were dropped off on Sombrero Beach Lighthouse with snorkeling gear provided and cut loose to work the reef for two hours. We literally dropped into a multi-species, multi-color aquarium of life. In addition to the fish of every size and color that we did see, sharks, octopus and eels are always the possibility. But not on this trip. Lori and I also snorkeled on our own at Sombrero and Bahia Honda state parks with conch, snapper, barracuda, and dolphin making up part of our swimming partners in an average of four feet of water. Water temperature was luke-warm with air temperature all week hovering in the mid-80s to 90s with blue skies.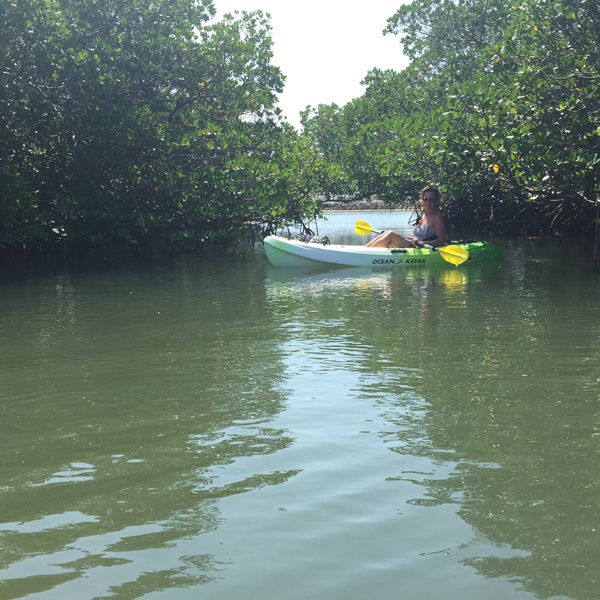 Lori Ellis kayaks through a wider part of the mangrove cuts just prior to entering the narrow nightmare of things that crawl.
We saved the scariest for last when we rented two kayaks to explore Marathon Key inland and its surrounding ocean over the course of a day. Inland, the unique mangroves called us in and ultimately spooked us out. According to a Florida state brochure, mangroves are trees that grow in intertidal salty environments because they can tolerate frequent flooding and are able to obtain fresh water from salt water. Florida's estimated 400,000 to 500,000 acres of mangrove forest contribute to the overall environmental health of the state's southern coasts.
Mangroves provide protected nursery areas for fish, crustaceans and shellfish. They also contribute to the food web, aiding a multitude of marine species such as snook, snapper, tarpon, jack, sheepshead, red drum, oysters, crabs and shrimp. The branches serve as rookeries (nesting areas) for coastal birds including egrets, herons, brown pelicans, and roseate spoonbills and animals find shelter in mangrove roots and branches. We would find that out, close up and personal.
Paddling through the wider cuts and man-made channels posed no problem and offered yet another opportunity for close up encounter with fish, including a three foot reddish-colored shark. But then we floated in front of a tighter tunnel of mangroves that obviously would require careful negotiation of the kayaks though and around fallen timer and low hanging branches. I found reasons for staying out. Lori found reasons why I should lead on.
Think of the cowardly lion outside the witch's castle. "Okay….I'm going in there," I said. "I just want you to do one thing…. talk me out of it…."
Now think of the cowardly lion crashing through the window after a long run down the hallway from the Wizard. That was me exiting the mangroves…with a screaming Lori about 50 yards ahead creating a kayak wake as she went. Here's why:
A few minutes into the jungle, something dropped quickly and loudly through the thick foliage down from the treetops toward my kayak. "Snake!" my brain screamed as I caught a glimpse of huge striped tail. The home-run swing of the paddle missed the fast moving target but accomplished its intent. The iguana estimated by Lori at four feet from nose to tail sounded like a whitetail in the Wisconsin forest moving at warp speed through the mangroves away from us. Maybe it's true that an iguana is not going to hurt you as I would later be told, but like I said thoughts of "snake" will get the adrenalin moving quickly without room for debate. Besides, no four foot iguana is visiting my kayak in the jungle.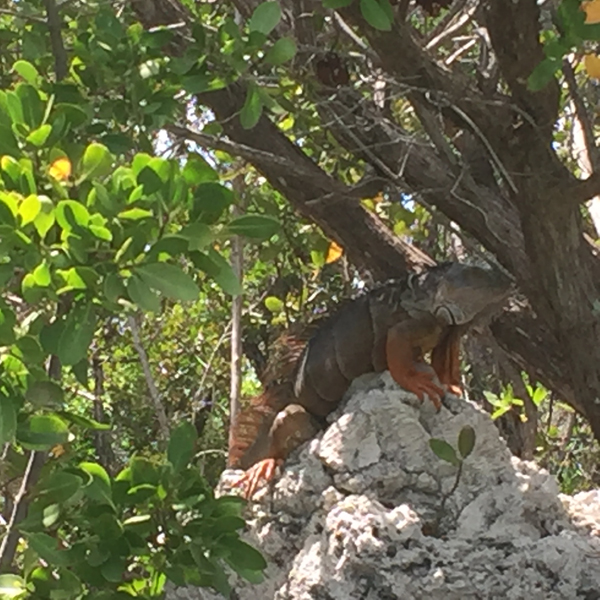 Lori takes a photo from her kayak of an Iguana estimated at four feet from head to tail sunning itself on a rock just hundreds of yards from where a similar-sized iguana dropped from the treetops in the tight mangroves. To offer perspective, wrapping your hands around the belly of this beast would be the equivalent of wrapping them around the belly of a Wisconsin 30 pound musky.
The mangroves held another surprise. Floating in the shallows with beating g heart, I looked at the first spider about six inches from my face clinging to a tree branch. He would have fit nicely in the palm of my hand. Backing off, I located more slow moving, monster spiders everywhere. And that moment marked the exact time that our calm and orderly exit from the Florida mangroves began.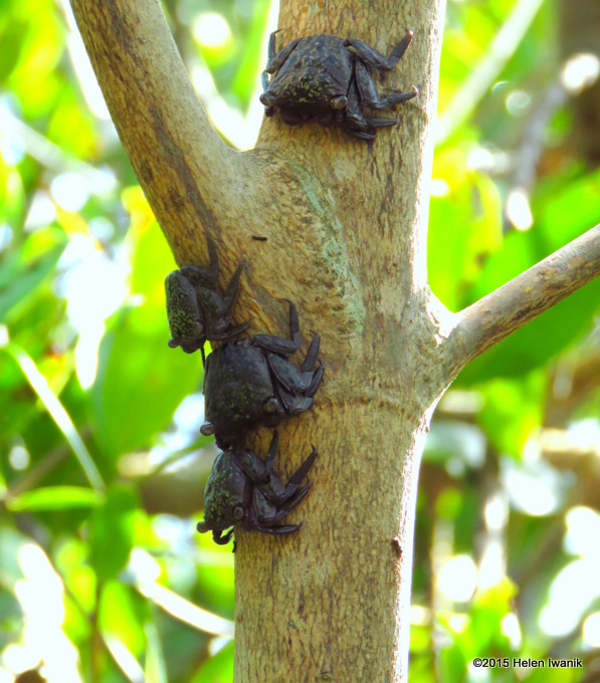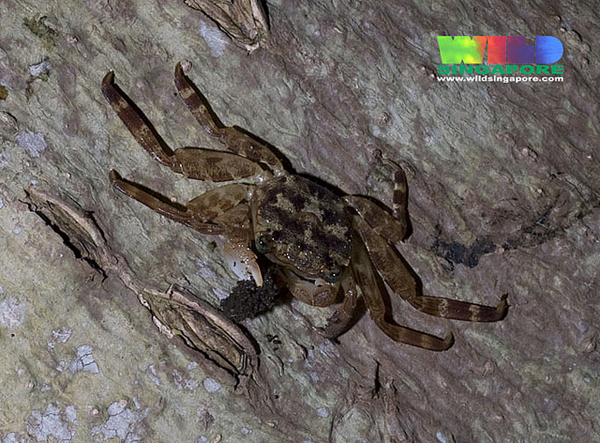 As it turned out later, after a trip to google, those thousands of companions in the mangroves with us weren't spiders at all….but "tree crabs". In my book, that's not much better. Look them up, and check them out. But certainly, visit the Florida Everglades and Keys if you have not yet.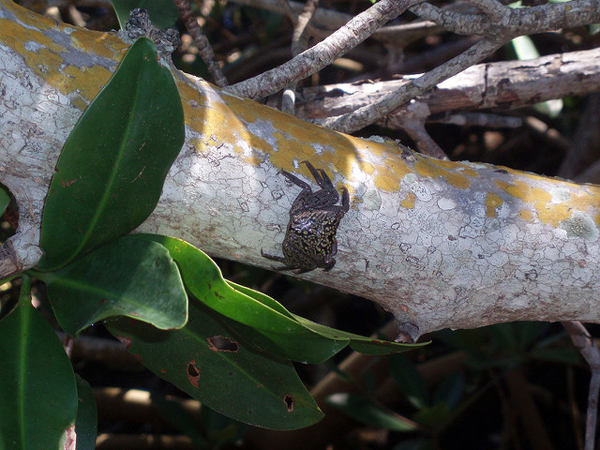 For more information connect with www.floridakeys.com.
Thank you for connecting with On Wisconsin Outdoors. I realize many Kwik Trips and other locations are out of our original stocking of the March-April issue and we are currently restocking many locations with the 5000 papers we have left. Don't forget, our expanded version is also available on this website homepage for the online reader at no cost.
Shoot straight. Especially if your looking dead into the eyes of a Mangrove tree crab. Or don't even think it…the Everglades Python.
Dick Ellis