The Buck Stops Here…and so Does the Turkey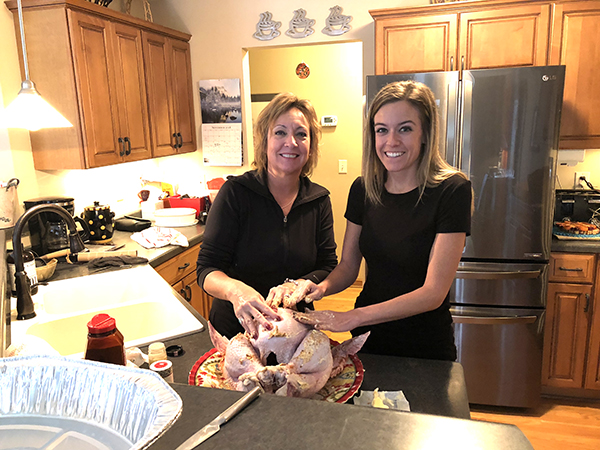 Lori and Taylor Ellis do not pardon the Thanksgiving bird.
As I embark on my work-out of three sit-ups to make sure I have plenty of room in my version/excuse for a stomach hanging over my belt for the 22 pound Thanksgiving bird, Lori and Taylor are preparing that gobbler for the feast. Although Donald Trump followed tradition by pardoning the White House bird yesterday while issuing a warning that a democrats subpoena may follow, our turkey found no such sympathy.
He's dead and staying dead. May your feast be as incredible as what we have scheduled to hit the dining room table at 5:30 pm. May your reasons for Thanksgiving be many. And may your New Year leaving harbor soon carry health to everyone close. God's blessing on you.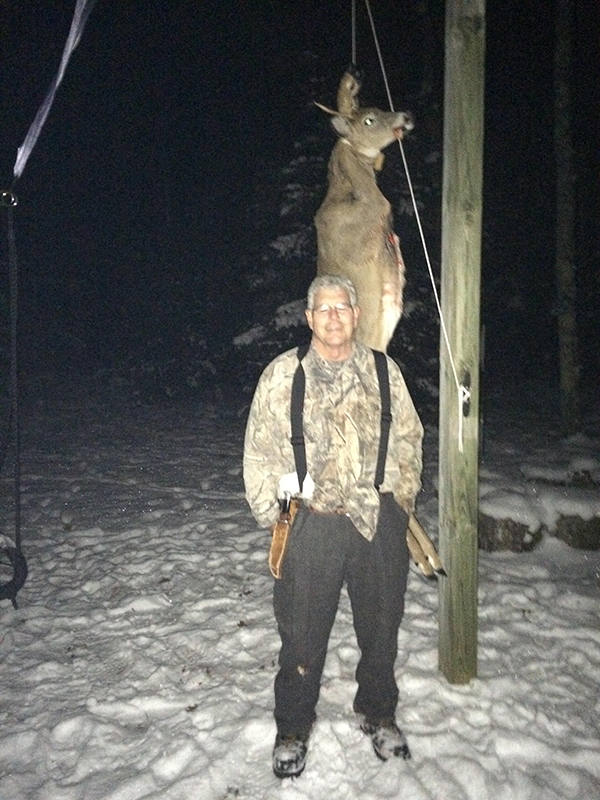 Jim Ellis breaks the cabin ice during the last days of bow season.
Thanksgiving for us began last week. We have venison in the freezer. The Ellis cabins in Vilas and Iron Counties found action during the waning days of the first archery season and sliding right into the first days of the gun season. Jim Ellis broke a long, hard string of nothing on the meat-pole (because of my loser brothers) in Vilas County with a bow kill at 15 yards on a spike near Boulder Junction. Steve Ellis followed suit with the rifle on a beautiful 8-point chasing a doe near Hurley past his stand.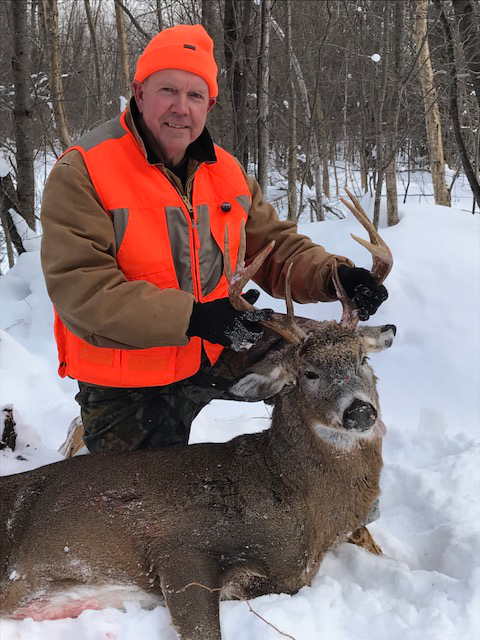 Steve Ellis took this 8-point buck chasing a doe.
"While grouse hunting we saw that a storm had knocked enough trees down across the logging road to keep other hunters from driving back in that area," Steve said. "I took a stand back in that area and ended up in deer central. I passed up a smaller buck on opening day that I had the scope on, which isn't like me. I thought I was going to regret that. On Sunday morning a small doe came flying over the ridge and when I saw another deer following behind I thought here comes mama. But I was still ready when I saw the antlers. The shot was 40 yards. He didn't go far."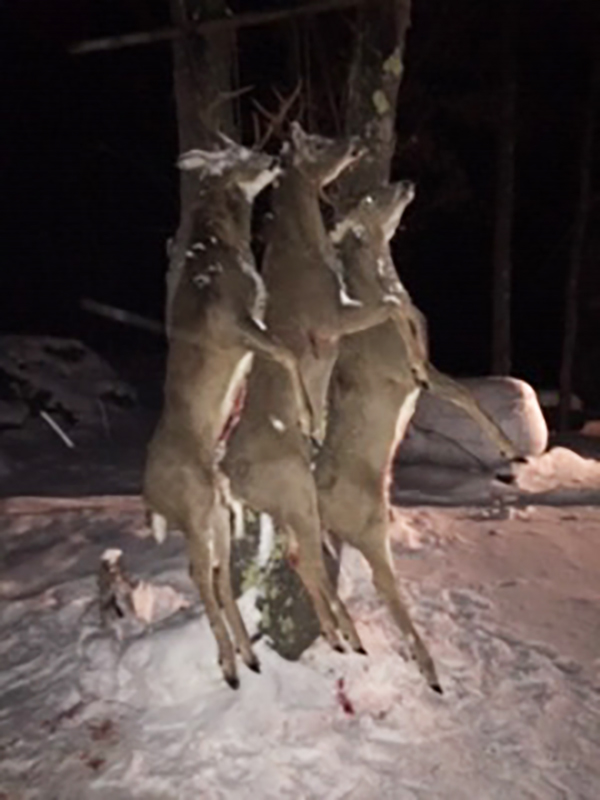 The Iron County meat pole is looking good with three bucks.
After a few days, the Iron County camp had three bucks hanging, including a beautiful 8 taken by Eric Pacey of Wausau, and a nice fork tagged by Eric's sister, Dawn Soucek of Stevens Point. That is an exceptional year in the north country, where deer numbers have been rebuilding for years and hunting has seen better times.
Meanwhile, back at the Vilas County ranch, John Ellis and I both had close encounters with bucks while archery hunting the last Thursday and Friday prior to the gun season. I watched a very nice 8-point buck the last 5 minutes of the last day travel 100 yards to end up directly facing me at 15 yards. I couldn't even consider a shot the way he approached with high probability to wound, and he never did offer the shot with a probable chance to quickly kill. "Loser" I said to myself as he finally winded me and imitated an Amtrak destined for anywhere but here. But I was thankful for the encounter to close the season. No regrets.
Larry Calvi was our only camp hunter who did not see a deer in his three days with us. "It's tough to see deer through your eyelids," Lawrence said.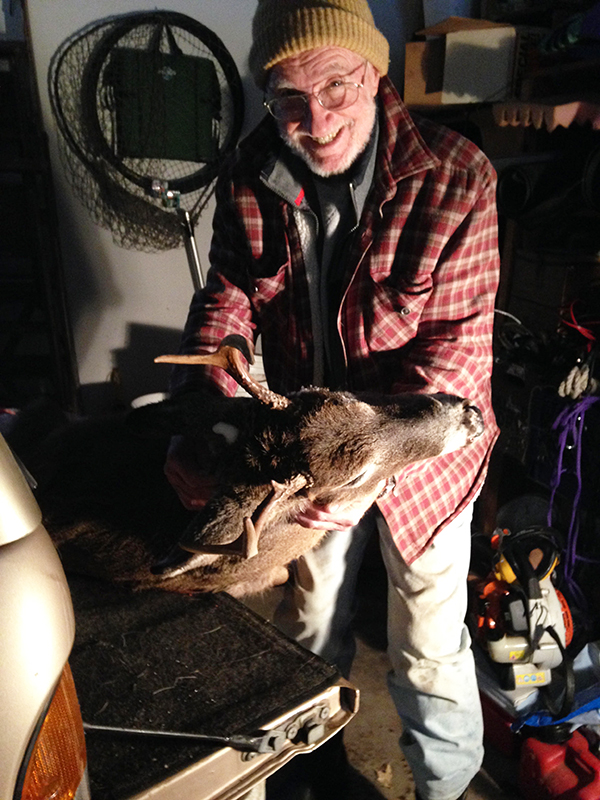 83-years young, Dick Henske of Manitowish Waters, alias the Energizer Bunny, takes a buck with his crossbow.
A stone's throw from our cabin, my father-in-law, 83 years young Dick Henske tagged a fork horn the last day of the archery season with his crossbow. I believe with the exception of 4 weeks off (that's all, really) for knee replacement surgery, Dick never missed a day of the seasons starting with September grouse with tenacious English Setter Lucy.
Hunting Wisconsin Rapids property with bow and gun, my cousins' crew at the Dlobik Camp had an exceptional year including several big bucks. Johnny tagged a 10-point buck with an estimated 17-inch spread with his bow during the rut, his son Zach took a beautiful 8 during the gun, joining his uncle, Jim Dlobik who had also tagged a great 10 with estimated 18 inch spread.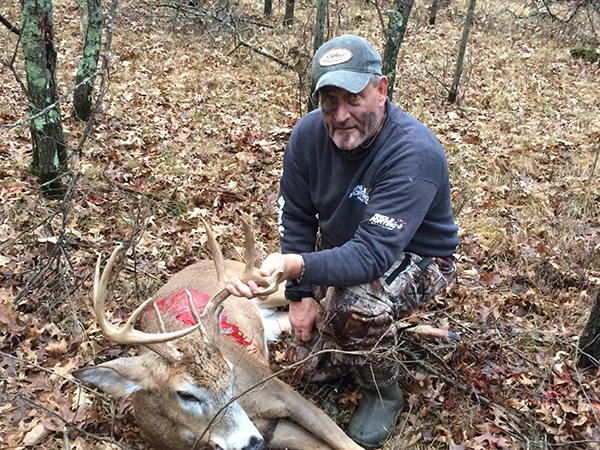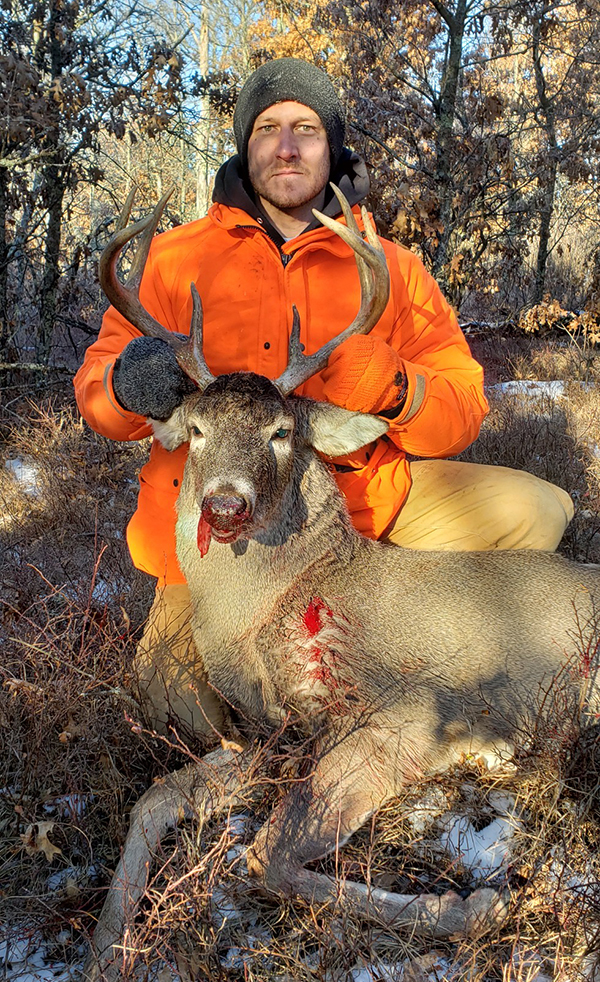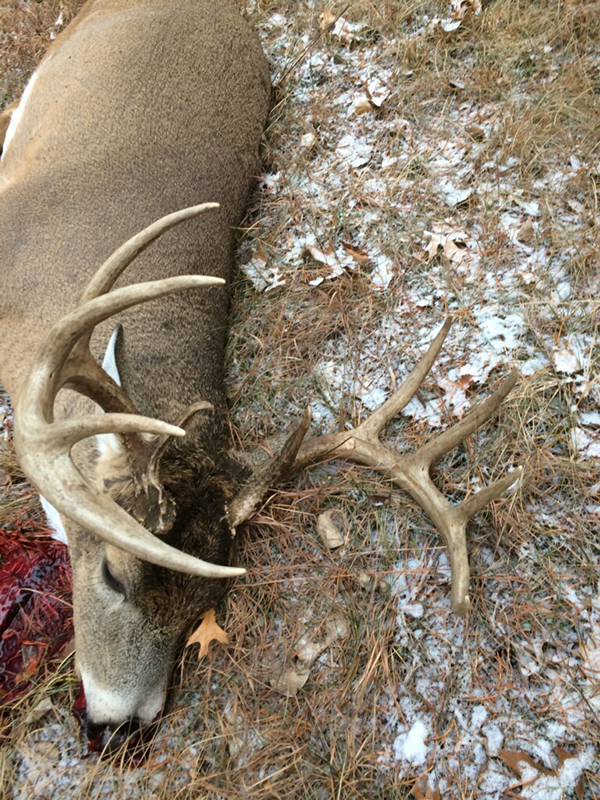 The Dlobik camp in Wisconsin Rapids found big bucks cooperating during the bow and gun seasons.
The Heitman camp in Adams County put venison in the freezer and one big buck on the meat pole. Eight hunters participated, including photographer Dick Heitman. Left to right they are Scott Heitman, Zak Mackin, Pat Delaney, Jake Budlow, and Ty Kinziger. Better looking and better smelling hunters Savannah Heitman and Kaylynn Mann-Wasley are in the foreground.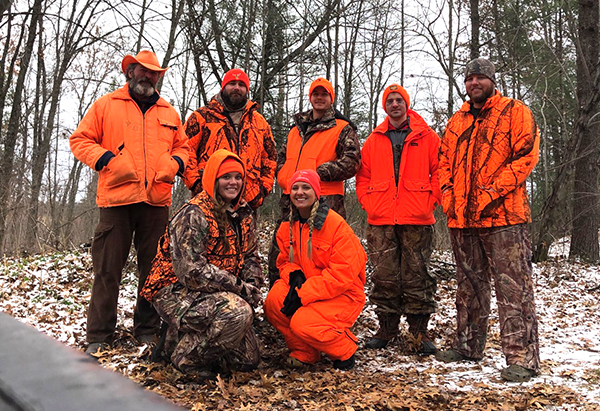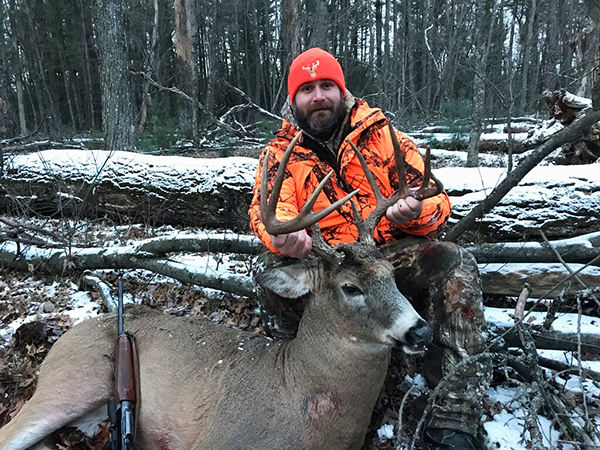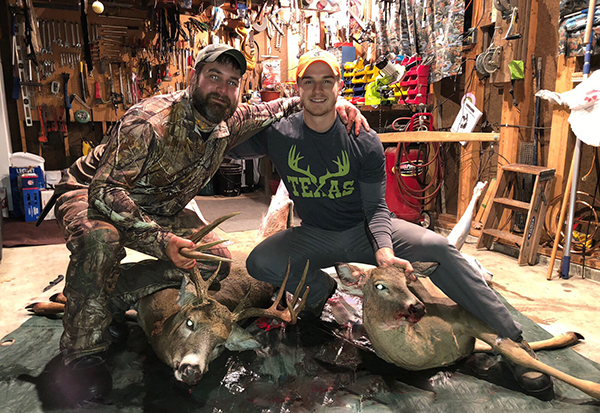 Zak Mackin took this monster 10 and Pat Delaney tagged a big doe for camp bragging rights.
New Berlin-based Ojibwa Bowhunters Club member Bill Coons came in big with this opening day gun season Vernon County buck.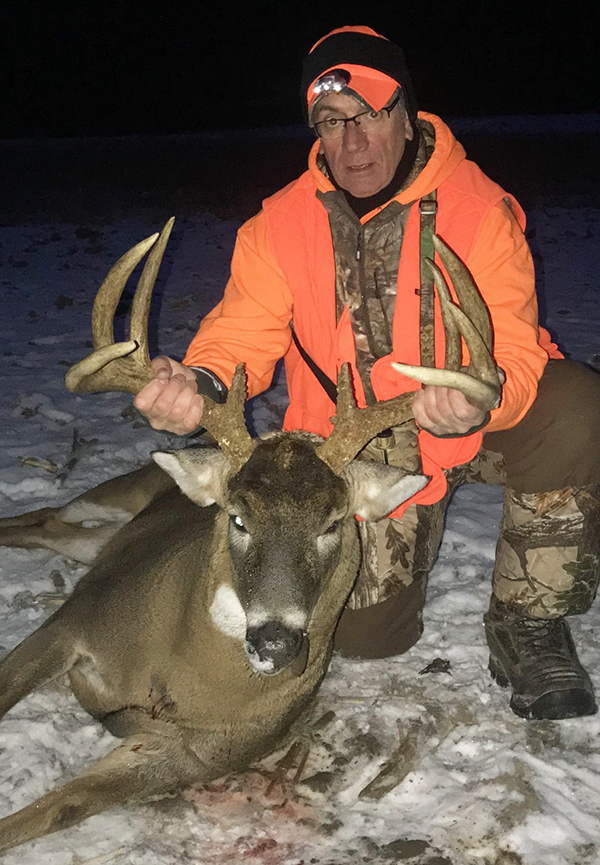 OWO columnist and super guide Phil Schweik tagged a very nice 8 point buck opening morning at 7:30 near Wausau as he worked the edge of a woodlot making his way to his bedding area. The buck was about 110 yards out and only went a few steps after being hit.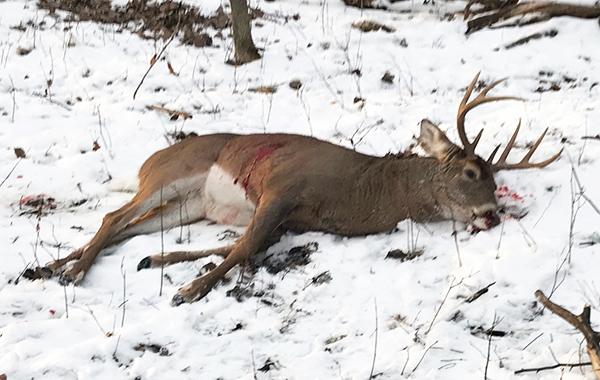 Phil Schweik's season didn't last long with this opening morning buck offering the shot at 110 yards.
Schweik's mind immediately went back to his first love, fishing. He reports a few brave ice fishermen have been hitting the ice and the bite has been pretty good for most species including nice pike, crappies and walleyes being caught, and as always good bluegill fishing on first ice.
"If you are planning on heading out on the early ice please remember to take two things into consideration," Schweik writes. "One, use a buddy system and don't go alone. And two, bring along items to help if you get into trouble like ice picks, rope, life jacket, etc… anything that may help if an incident occurs. Early ice fishing can be fun and very productive but you have to remember to use a little common sense and some caution.
If you do want to catch fish but you don't know as much as you'd like on the ice or open water, connect with Schweik. You will catch fish:
Phil Schweik
Hooksetters Guide Service
web: www.hooksetters.biz
Phone: 715-581-2620
In our circle, the friends and family that were not hunting also hit the ice or what was left of open water. Brother-in-law John Kubiak caught some really nice walleyes on the Manitowish Chain, and his son (my nephew) Andrew Kubiak caught and released a musky on Thanksgiving.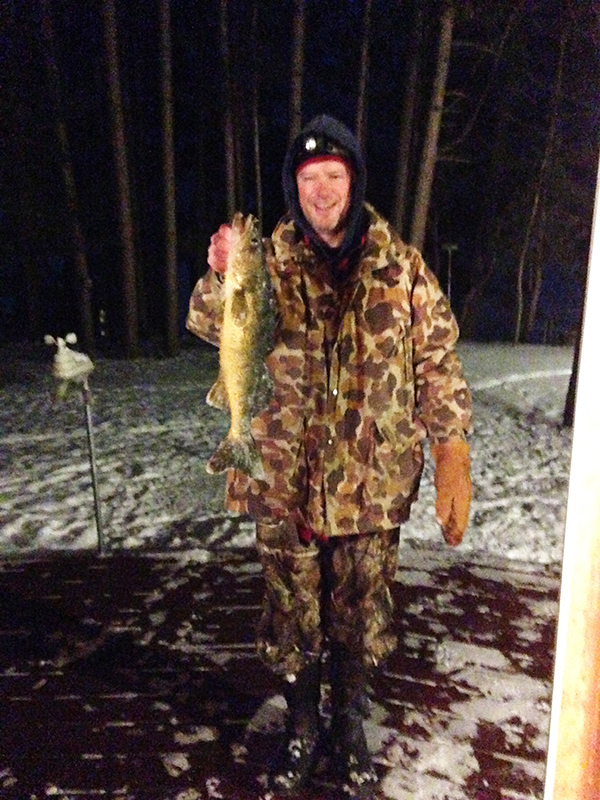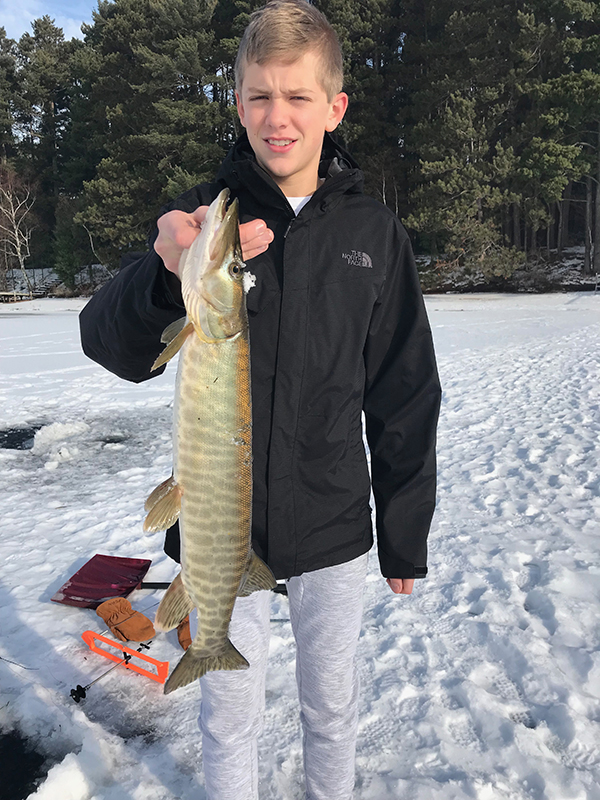 Near Presque Isle, Paul Schultz also found the walleyes cooperative to a jig and minnow and a little finesse. Shultzie usually knows what he's doing any season when targeting walleyes.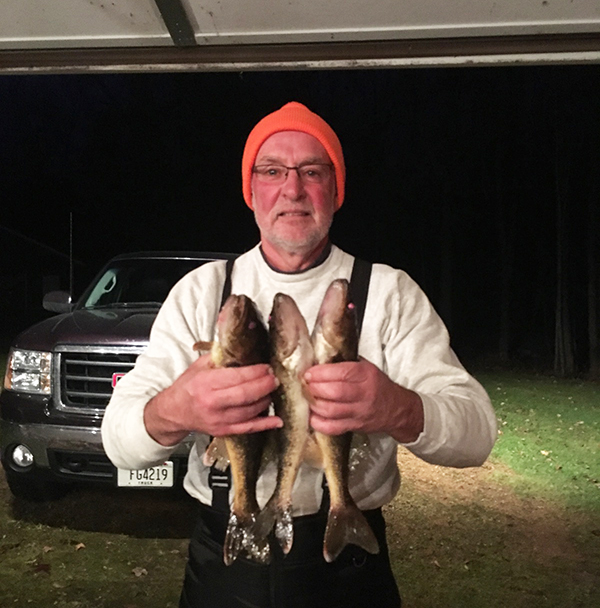 Thanks for connecting with On Wisconsin Outdoors. Shoot straight. The muzzleloader season is just days away, and then we pick up the bows again….and a few tip-ups.
Dick Ellis