Tanks in a Mine Field
Publisher's Note:
As referenced in the May-June 2020 print issue of On Wisconsin Outdoors, the Ellis column Memorial Day-Trading it all… directs the reader to this website for stories of Americans in battle during World War II and Vietnam.
Immediately posted below, Tanks in a Mine Field is the eye witness story of 709th Tank Battalion gunner John "Mike" Kunnen during the bloody battle of the Hurtgen Forest in November, 1944 near Kleinhau, Germany. Discovered online, the account includes the graphic description of the battle and the deaths of three soldiers including Lt. Charles Ellis, one of six brothers from Wisconsin Rapids serving.
Posted immediately after Tanks in a Mine Field, please find A Survivors Grateful Story of Selflessness in Battle. This eulogy was given by Warrant Officer and LOH scout pilot Steve Ellis for Lou Rochat prior to Rochat's burial in Arlington National Cemetery. Shot down, severely wounded in Vietnam and under intense ground attack, Ellis and two door gunners were saved by Warrant Officers and cobra pilots Dan Rager and Rochat. Learn what the heroic and unselfish actions of the two 21-year olds in 1970 meant for Ellis, of Wausau, and his family over the next five decades.
---------------------------------------------------------------
Tanks in a Mine Field
By John "Mike" Kunnen
Hurtgen Forest, November, 1944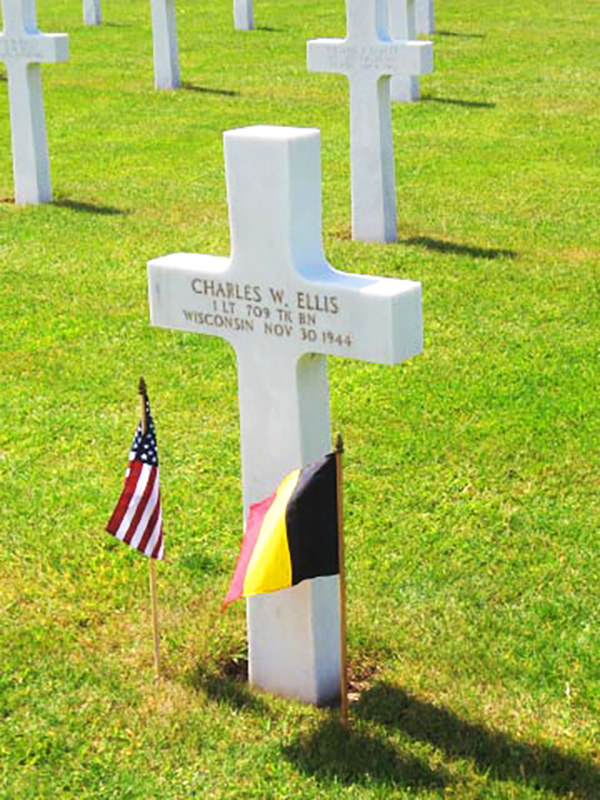 The grave of Lt. Charles Ellis rests under a white cross in the Henri-Chappelle American Cemetery, killed in a bloody tank battle in November, 1944 near Kleinhau, Germany.
I was the gunner in Walter "Happy" Baun's tank. He was thirty-seven years old. Our platoon leader was temporarily relieved of the platoon. Lt. Truman Sylvest took over. He asked me if I was the gunner and I said yes. He then said I should take bow gunner's position in the next tank allowing "Happy" Baun to be the gunner.
The tanks then proceeded up the road toward the village of Klienhau. Lt. Sylvest's tank, the lead tank, ran into a minefield and immediately lost a track. An 88 hit the tank injuring Francis Healer, bow gunner, almost severing his shoulder. Lt. Sylvest attempted to jump from the turret to the ground, landing on a mine blowing off his leg. He rolled in a ditch and placed a tourniquet on his upper leg. Horace Barrett, driver, was asked by "Happy" Baun to straighten the turret because the gun was over his hatch. Barrett proceeded to do this when the tank was hit by another 88, cutting "Happy" Baun in half. Horace Barrett crawled over Baun to get out of the tank.
The tank I was in backed off after Lt. Sylvest's tank hit the mine. Sgt. Dave Dinardo, Sgt. Murdock Mitchell and myself then went on foot to get Lt. Sylvest. Before this though, Francis Healer limped back to our tank and collapsed to the ground. I picked him up and placed him on the rear tank to be evacuated to the aid station. Then we went to get Truman Sylvest about a hundred yards forward. We alternated positions to hurry the Lt. Back.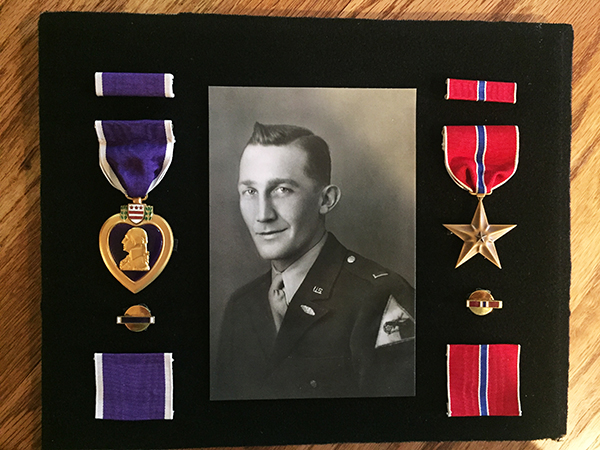 Lt. Charles "Chug" Ellis. Purple Heart. Bronze Star.
The following day, Lt. Charles Ellis returned to our platoon. In an attempt to flank the village, Lt. Ellis' tank slid into a bomb crater with four feet of water and flipped over. Lt. Ellis was crushed to death attempting to jump clear. The gunner Arnold Lien drown while Sgt. Oberdan Arizzi tried to talk driver Stewart and bow gunner Hullet out through the escape hatch on the bottom of the tank. Both got out.
-----------------------------------------------------------------------------------------------------
A Grateful Survivor's Story of Selflessness in Battle
Lou "Rocket" Rochat Eulogy

Steve Ellis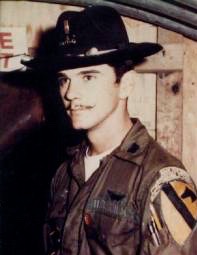 Warrant officer Lou Rochat
For those of you who don't know me, I'm Steve Ellis. Lou and I flew together in Vietnam and we became friends as a result of that experience. I'll never have another chance to speak to you all together like this, so I want to tell you the story of me and Lou, in the hope that it will allow you to feel a little better in a difficult time like this.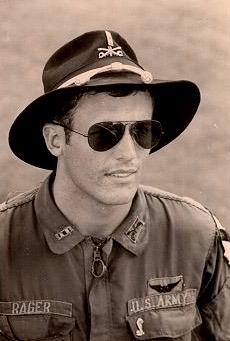 Warrant Officer Dan Rager
As many of you know, when someone dies in battle, or really for any untimely reason, the circle of pain that reaches out through family and friends can literally destroy dozens if not hundreds of lives. But that's not what happened in the case of Lou and me because when I needed him the most…to save my life…he was right there to do it. He didn't ask me what I was going to do with it, or if the risk was going to be worth it…he just did it.
The effect of my extended family up in Wisconsin has been 40 years of happiness as opposed to 40 years of misery. In my whole life I've never bought a single lottery ticket or put the first quarter in a slot machine. I'm an airline pilot and I fly into Las Vegas and Reno all the time.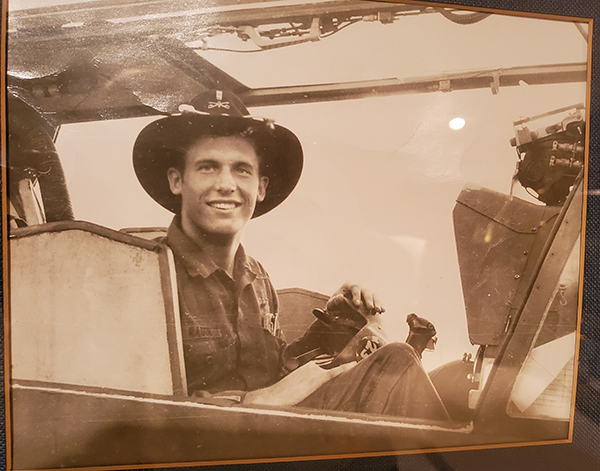 Cobra Pilot Dan Rager, who made the call to rescue the 3-man crew of the scout helpicopter shot down and under intense enemy fire.
But not once have I ever tried to hit it big. The reason is that on October 17th 1970 I hit the lottery when I had Dan Rager and Lou Rochat covering me in their cobra when I got shot down in Vietnam. I was a scout pilot, working in the treetops against what we were told was a regiment of Viet Cong. Rager and Lou were watching over me from above when I took 17 rounds through my helicopter.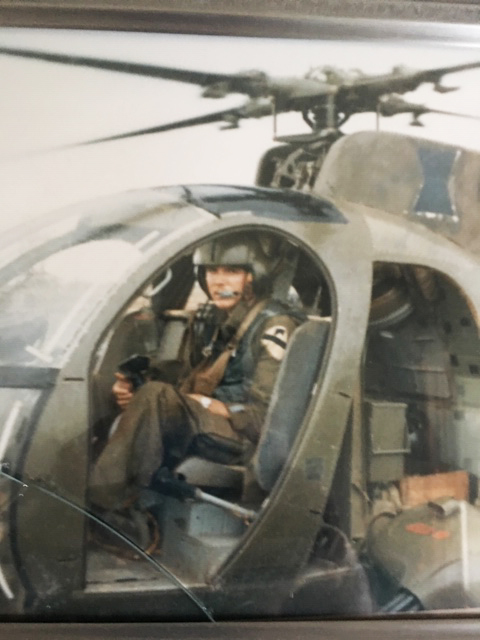 Warrant Officer Steve Ellis, the author of this eulogy for Lou Rochat prior to his burial in Arlington National Cemetery, in a Light Observation Helicopter (LOH) in Vietnam.
One of those rounds went through my left forearm, one went through my left hip, and one grazed the front of my helmet, which rang my bell pretty hard. When I got my wits about me, the helicopter was settling into the treetops and my left hand wasn't working because of the bullet hole through my arm. I hooked my forearms under the collective and pulled it all the way up. I heard the engine groan down, but the poor little thing managed to pull itself up and we were flying again.
I was really hurt.
The bullet that went through my arm went between the tendons and the bone and severed every major blood vessel in there. Every time my heart beat (and it was beating fast), blood squirted all over the instrument panel and the windshield. That windshield is probably about 2-1/2 feet from my arm.
Also, the helicopter was running real bad. I didn't know why, but I found out later that one of the rounds had gone straight through the combustion chamber of the engine. Why it kept running at all I will never know, but it did…
I was hurt so bad that all I could think of was that I had to get on the ground before I passed out from blood loss.
I called Lou and Rager, and told them I was hit and that I had to land. I asked them to get me a medivac. I didn't know it but my radios were all shot out and they didn't hear my call. However, they could see by the way I was flying that I was hit. Then they saw me land straight ahead in the nearest clearing…which was only about 100 yards from the Viet Cong who shot me down.
On the ground, my two door gunners helped me out of the helicopter, threw me an oil rag for me to try and stop the bleeding with, and went to work fighting off the Viet Cong, who were by then coming out of the tree line in very large numbers. I had left the helicopter running.
In assessing the situation, I realized there was no way help was going to get to me before I either bled to death or the Viet Cong overran us. I can't describe the feeling of depression that came over me. I could see that this was the end of the line for me, and the feeling I had was as if I was mourning myself at my own funeral.
And then I heard a helicopter behind me…
When I turned to look, Rager and Lou were coming in on short final to land next to me in this blazing firefight, with absolutely no one to cover them, and in a situation that really looked like certain death for all of us.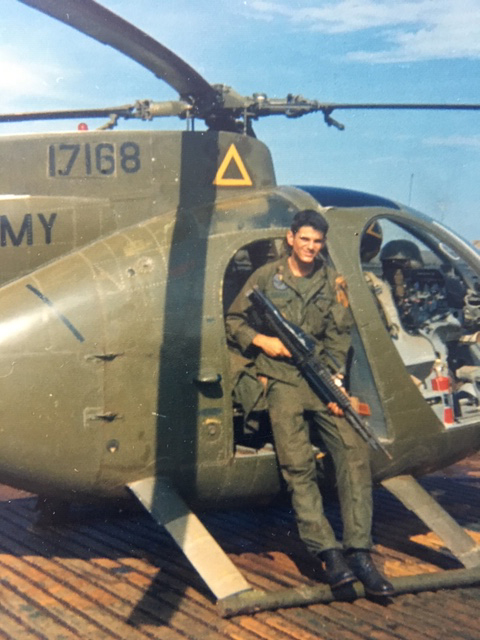 Rochat would ride outside the Cobra under intense enemy fire being piloted by Dan Rager to rescue a badly wounded Ellis and two door gunners shot down and on the ground.
What should be no surprise to any of you, is that while their cobra was still 50 feet in the air, Lou was already out of the front seat, standing outside of the helicopter on the steps they used to get in and out of the thing…holding on from the outside, and looking just like John Wayne.
When I saw that, I went from the pits of depression to some form of euphoria and started thinking, "Wow! Maybe we're going to get out of this yet!"
Lou ran over to me and helped me climb up into his seat, which I want you to understand was one of only two good seats with 5 guys needing to get out of this very bad spot. After he gave me his seat, he ran back to my helicopter, with no idea if it would fly, got in, and flew it out with my door gunners.
All of this under intense Viet Cong pressure.
For example, as he was pushing me up into the front seat of the cobra, I heard a real big explosion behind us.
Later, when I asked Rager what that was he told me he saw one of the VC stand up and fire an RPG at us. It missed and hit the trees behind us.
After Lou was up and out of there with my crew, Rager lifted off and took me to the First Aid station at Phouc Vinh. That was a bout a 10 minute flight, where they got me stabilized and sent me on my way home through Bien Hoa, and Japan.
Lou got my helicopter back to our base at Lai Khe and when he landed in the company area and put the collective down…it quit.
As Lou liked to say, "End of story…"
But not really.
Because of what Lou and Rager did for me that day, I've gone on to have a heck of a wonderful life. I got to marry Sandy, my high school sweetheart and we had three kids, a girl and two boys…who grew up to be fine happy people. They have four grandchildren for us, between them, and as many as you know, there are few pleasures in this world better than grandchildren.
I have three brothers and three sisters. You can see that I have a very large extended family, and there isn't one of them that doesn't realize that the happy life that we all live is because of what Lou and Dan Rager did for me that day 40 years ago.
In fact, to show you what I mean, when Lou died on Saturday, Sandy and I were at our cabin in northern Wisconsin with our kids and our grandchildren. When we got the news, I told everyone, and my seven year old granddaughter asked my grandsons, "Who's Rocket?"
The two boys are 13 and 10, and all on their own they sat down with the girl and told her the whole thing. They said "Rocket saved Grandpa's life when he got shot down in the war. If he didn't do that, then your dad, and our dad, wouldn't have been born. And if your dad wasn't born, then you wouldn't be here, and if our dad wasn't born, then we wouldn't be here."
I told you when I started talking that I hoped to help you feel better.
This is the way it is up in Wisconsin. There is this whole extended Ellis family living a very happy life all because of what Lou did a long time ago.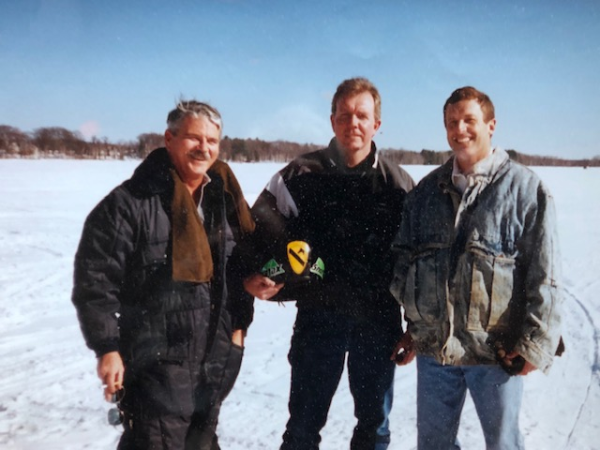 Because of the heroic actions of Rochat, left, and Rager right, seen here on Wisconsin's Lake du Bay in 1995, Ellis has had decades of fun with family and friends, and a long carreer as a United Airlines pilot.
We all understand the magnitude of what Lou means to us and we hope you'll find comfort in knowing how badly missed he is going to be up north….
He really was the best kind of friend.