Surf & Turf Time for Anglers, Hunters
Springtime means fun time when open water river fishing competes with turkey hunting for our hours spent in Wisconsin's great outdoors. Personally, we walleye fished the Wolf, leave this week for our gobbler hunt in southwest Wisconsin, and as a bonus took advantage of spring break to work the Gulf of Mexico for anything willing to snap up our shore offerings. We're also receiving reports from successful turkey youth hunt participants.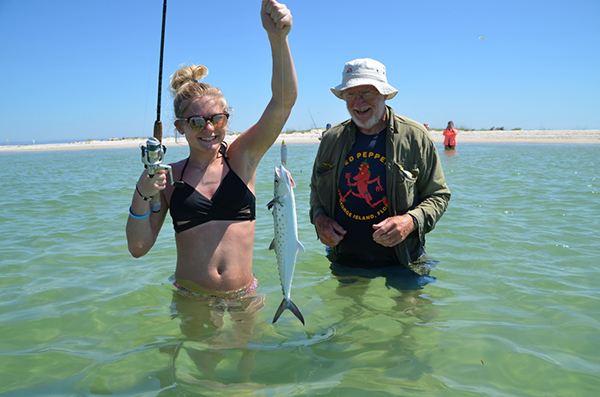 Photo by John Kubiak
First grade teacher and super-wife Lori had her spring break the last week in March, and we headed south to visit her parents wintering on Florida's Georges Island near the panhandle. We'll post the story in more detail, but the most fun and inexpensive part of seven days in the sun was wading with spinning gear and throwing lures to mackerel and the occasional pompano.
We hit the mackerel migration run perfect. One large group of anglers walked past us with a four man limit of 60 fish, or 15 per man. The mackerel is a hard fighting fish that lets you know when she pounds the lure. We simply waded out in crystal clear shallow water and threw to the dark drop-offs and waited for another fight. Those fish don't like to come in either, but with exception of bite-offs, we won most of the wrestling matches.
The photo above and below are of my niece Julia, with Grandpa Dick and a feisty mackerel and my niece Lauren and me with Lauren's Mackerel after another great fight.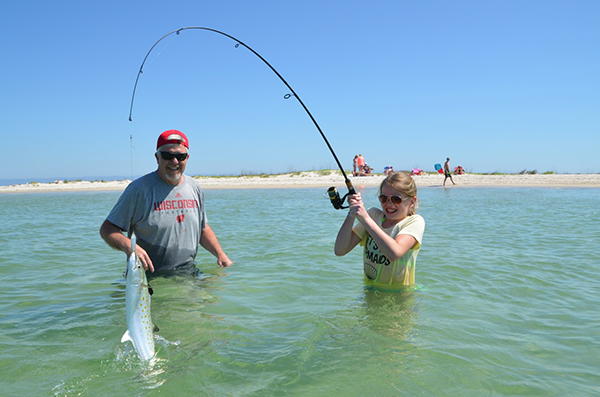 Photo by John Kubiak
My brothers Steve and John and I headed to New London and the Wolf River based on fishing reports from John Faucher, owner of Johnny's Little Shoppe of Bait, and friends who had visited the river two days before. Faucher and a fishing buddy had taken a 10 walleye limit of nice eaters on Tuesday. And also on Tuesday, a friend fishing with two of his friends has sent a photo of their 15 nice fish. Just about everybody releases the spawning females here.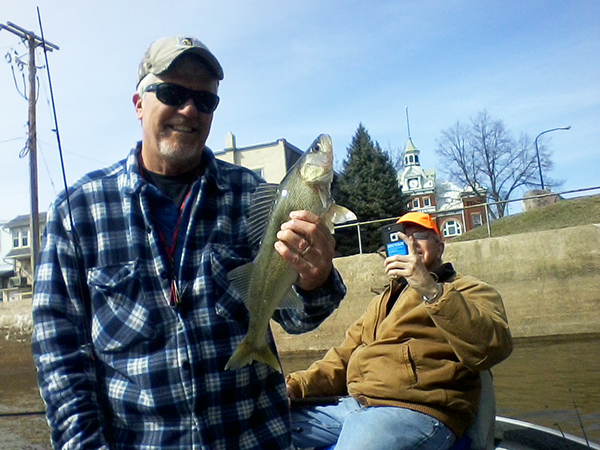 Dick Ellis before releasing a nice female on the Wolf.
Literally hundreds of anglers were working the Wolf. The public launch with three ramps next to Johnny's Little Shoppe of Bait was jammed with vehicles, and many more anglers worked the water from shore.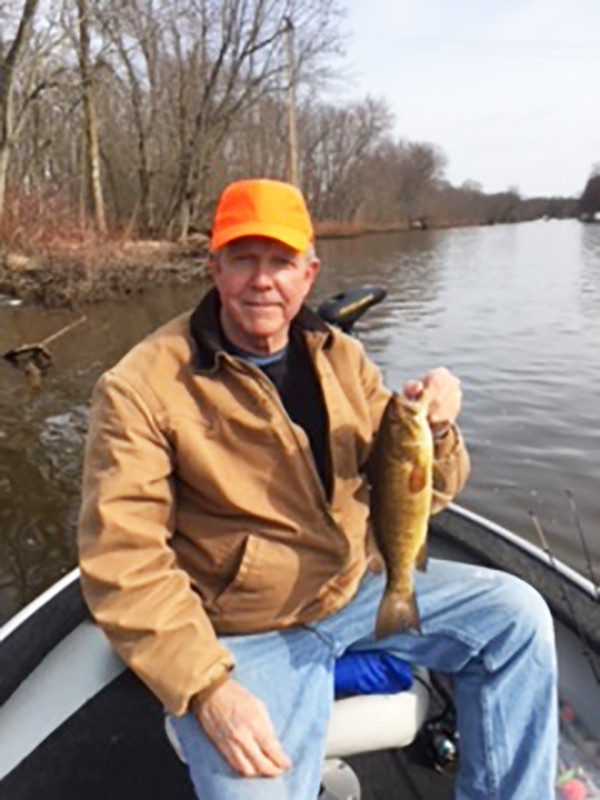 Steve Ellis catches and releases a bonus smallie while working the Wolf with jigs and minnows for walleyes.
I talked to many fishermen and the large majority had just one or two fish. One boat angler reported catching five walleyes, and one shore fisherman also held up a nice stringer of five fish. The Wolf has no size restrictions, with a five fish limit. At days end, brothers Steve and John and I had caught and released one beautiful, egg-laden female at 24 inches, lost another heavy fish, and caught one smallmouth. But it was nothing to write home about. We're going back though, and I would recommend staying in touch with Johnny's:
920-982-4802 or www.johnnyslittleshoppeofbait.com.
Tyler Hart, 14, outlasted the weather to tag a 22.5 pound Tom opening morning of the Wisconsin youth hunt in Adams County.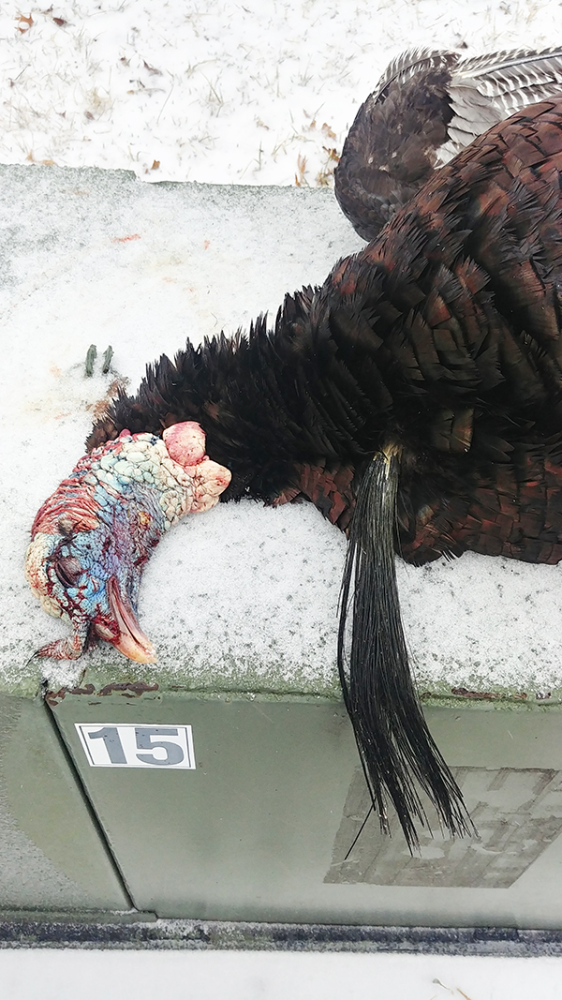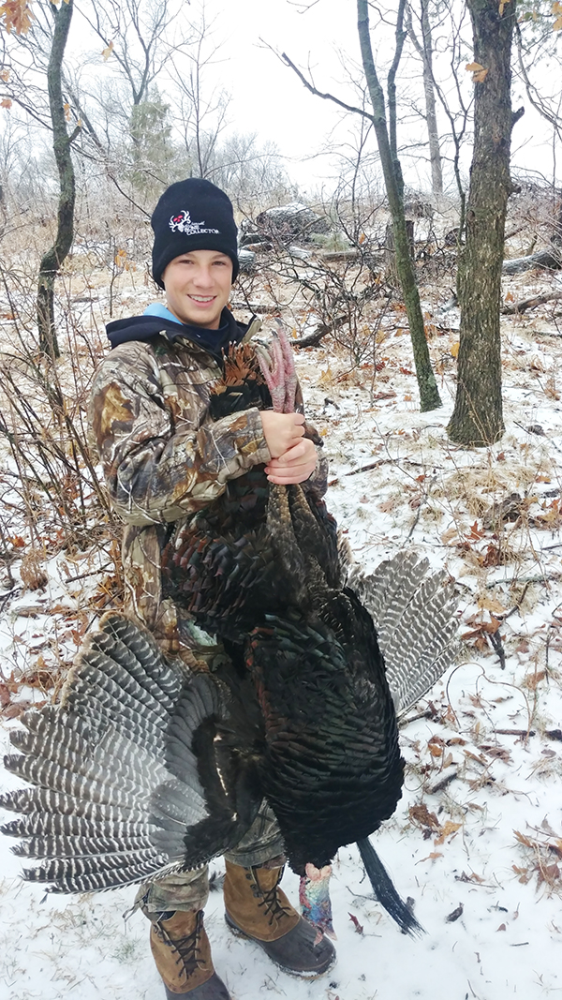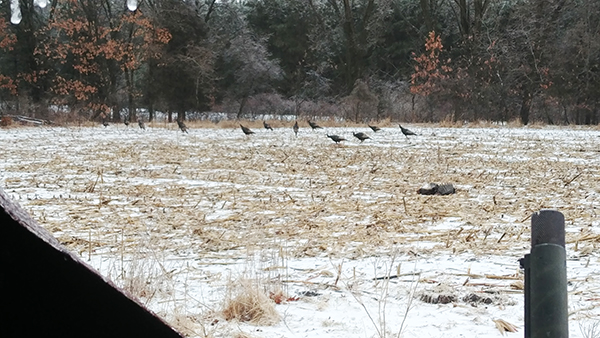 Tyler Hart tagged this nice Tom on the first morning of the Wisconsin youth hunt. (Photos by Tom Hart)
"We were hunting the edge of a cut corn field that had been getting a lot of turkey action," said Tyler's dad and frequent OWO contributor Tom Hart. "We were set up in a blind which was tucked into some spruce trees to keep out of the elements. We set the blind up the night before and it was covered with a thick layer of ice. The wind was howling with a mix of sleet and snow. Actually, the zippers were frozen and it took us about 10 minutes to get into the blind that morning."
At about 6:40 a.m., Tom said, three gobblers crossed in front of the hunter but didn't present a shot as they kept on moving. The birds were out of range before presenting an opportunity. A few minutes later the Harts heard hens and jakes yelping and Tyler readied the gun on the shooting rest inside the blind.
Tyler located the flock first and let 10 jakes walk past within 20 yards of the blind followed by a few hens. Tyler, who was at the ready, let his Dad know that a gobbler was following behind the hens.
"The tom was walking at a pretty good clip so I gave a few soft yelps on a mouth call and it put him into a partial strut," Tom said. "While strutting, he stopped and looked in our direction. He started to come out of strut and he had a hen stop to feed directly in front of him. After waiting for a few seconds for the hen to clear, Tyler dropped the hammer on the tom at about 30 yards."
Tyler's bird had an 11-inch beard, sported 1-1/8 inch spurs, and had pitched down from the roost with frozen tail feathers after spending a night in snow and sleet.
"A bad night on the roost got worse on the ground," Tom said.
Thanks for connecting with On Wisconsin Outdoors. Shoot straight.
Dick Ellis