Sturgeon spearing season begins February 13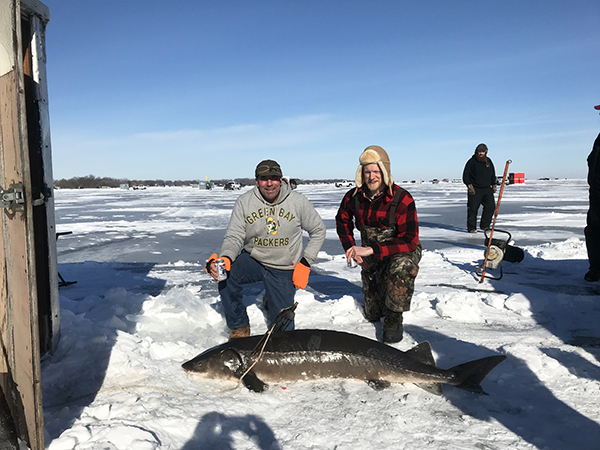 Paul Wojahn of Oshkosh, right, speared this near 74-inch sturgeon weighing in at 117.8 pounds during the 2019 season on Winnebago fishing the inside of the island near Wendt's. Paul was spearing with his father-in-law, Tim Miller, of Oconomowoc.
The information below is courtesy of Wisconsin Department of Natural Resources.
Sturgeon Humor Diary by Ellis to Follow
The Winnebago system is home to one of the largest lake sturgeon populations in North America and hosts a unique winter spear fishery. The system is one of only two locations where lake sturgeon can be harvested with a spear (Black Lake, Michigan being the other). The first modern sturgeon fishery took place in 1932 and, although regulations have changed through time, the premise of using a spear to harvest a sturgeon through the ice has remained constant.
There is not a residency requirement for participating in the sturgeon spearing season, but license holders are predominantly Wisconsin residents residing within 60 miles of the Winnebago system. Over the years, the season has grown into a unique cultural event that is rich in tradition. Most spearers fish in groups comprised of family and friends. Each spearing group has their own traditions that they celebrate with each passing year and the season for most is defined by the time spent with loved ones, not the harvesting of a fish. Harvesting a fish is a bonus for spearers with good fortune, and each fish comes with a unique story that will be shared countless times over the hours and years that follow. It's the social and traditional aspects of the sport that keep most people coming back year after year.
The spearing season and how you can participate
There are two separate spear fishing opportunities for lake sturgeon on the Winnebago System, both of which require a spearing license to participate. One fishery occurs on Lake Winnebago where the number of licenses sold for that fishery is not restricted and an individual spearer can only purchase one license per season.
The other fishery takes place on the Upriver Lakes (Butte des Morts, Winneconne, and Poygan) and is restricted to 500 license holders per season due to a much higher success rate of licensed spearers (62% vs 9% on Lake Winnebago). Spearers interested in fishing the Upriver Lakes must apply for a permit or purchase a preference point prior to an Aug. 1 deadline. Permits are then issued through a drawing where priority is granted to applicants with the most preference points. All applicants that were not awarded a permit accumulate a preference point for use in future drawings.
Spearers must purchase a spearing license for Lake Winnebago prior to an Oct. 31 deadline, but there is not a deadline for purchasing licenses on the Upriver Lakes since the number of spearers is already restricted through the drawing.
The minimum spearing age is 12 years old. Youth who turn 12 years of age between Nov. 1 and the last day of the spearing season are eligible to purchase a spearing license after the deadline. Military personnel home on leave can also purchase a license after Oct. 31. Licenses for both fisheries are $20 for Wisconsin residents and $65 for nonresidents and can be purchased through the GoWild system or at any license sales location.
The 2021 spearing season
The spearing season begins on the second Saturday in February and lasts for 16 days or until any of the sex-specific harvest caps for that fishery have been reached. The 2021 sturgeon spearing season will open on Feb. 13 at 7 a.m.
Spearers can fish from 7 a.m.-1 p.m. each day the fishery is open and are required to register their fish at a DNR operated registration station by 2 p.m. of the same day the fish is harvested. Length, weight, sex, and tagging information are collected from each registered fish and that information is used to determine season length.
Changes for the 2021 season
Registrations Stations. - All DNR registration stations will be drive-thru only for the 2021 season. Spearers must remain in their vehicles throughout the registration process. To help with this new registration process, the DNR asks that all harvested sturgeon be placed on the tailgate or in an easily accessible location. Please follow the signs and cones at each registration station to ensure a smooth registration.
Registration stations will be relocated to boat landings, city parks and government building for the 2021 spearing season. The DNR remains committed to returning registration stations to businesses for future seasons once the pandemic is over.
Spear Head. - The maximum width of a spear head is restricted to 18 inches or less and tines can only be arranged in a single straight line.
Harvest Photos. - Photos are a great way to capture special moments. This year, the DNR is looking for spearers to submit their photos through a photo submission form. Photos could be of spearers with their catch, cutting in, shanty life, scenic views observed during the season or anything else that captures the spearing tradition. Please be sure to include a brief description of each image. Be aware by submitting photos, you are granting the DNR a non-exclusive license to use and reproduce the submitted photos for any purposes the DNR may deem appropriate, including in future outreach efforts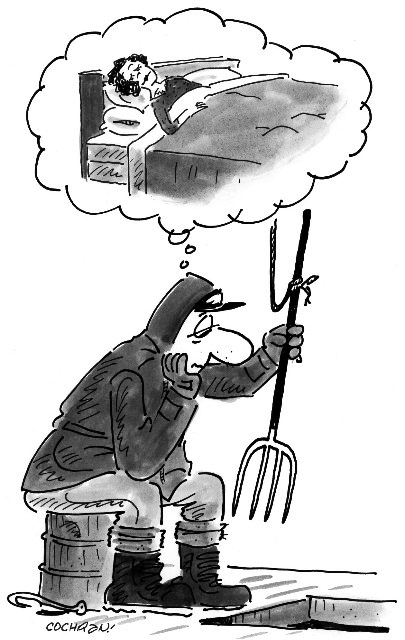 A Wisconsin Sturgeon Spearer's Diary
Humor By Dick Ellis
4:30 a.m.: Opening morning. Heading north on Highway 45 toward Winnebago with just the stars as my companions. Mentally sharp. Ready. Enthusiastic. I haven't seen a sturgeon in eight years of sturgeon spearing. Today's the day.
6:30 a.m.: Met my guide, Bill Jenkins in Pipe, Wisconsin on the east side of Winnebago. Every year I give Bill $50.00. He lets me stare down into a hole. Show me a better bargain.
6:45 a.m.: Jim Sullivan of Jefferson gives me a ride out to my one-man shack far out on the ice of Winnebago. Jim's been spearing for a decade, with hundreds of hours staring into the water. He thinks he saw one nine years ago. I'm in the presence of greatness.
7:00 a.m.: All settled in now, in my six foot by eight foot shack. The trap door in the floor has been lifted back and I can sit on this folding chair and stare down at a refrigerator sized hole. Above the hole hanging down from a nail is a heavy, iron, five-pronged spear, with a rope attached poised to drop when the monster appears. The gas heater has been lit by my guide. It will soon be toasty warm in here.
7:15 a.m.: Fire's out. It's freezing.
7:20 a.m.: It's quiet now, and black. I can see about 12 feet down into the swirling green hues of Winnebago and if I tilt this notebook just right, I can scribble by that hue almost legibly. At about eight feet my guide has suspended my decoy, a two-foot long white piece of plastic pipe. What a stupid fish to rise to a piece of PCV pipe I think as I stare down at a piece of PCV pipe. Unexplained, brief flashback to my beautiful wife, Lori, in a warm bed that I left on a Saturday morning so I could drive up here alone and sit in a cold shack and stare at this pipe. Yep…that's a stupid fish all right.
8:30 a.m.: Well, at least it's warm now. It's been 90 minutes and Mr. Big no doubt is just a minute or two from arriving underneath the ice. I'm still mentally sharp.
8:32 a.m.: A bubble just came all the way up. I watched it.
8:33 a.m.: Nuther one.
8:35 a.m.: John Jenkins, Bill's son and veteran spearer, just showed up. He has many sturgeon under his belt. He wants this reporter to get one too. I don't know why but year after year after year after year after year John wears the same look of pity around me. He gives me his secret weapon decoy. It's a…and please keep this quiet so everyone's not utilizing it….a plastic pail. I thank John profusely as the pail is lowered to hang next to the white pipe. John tells me that Paul Wargowsky is on his first sturgeon hunt, his shack just 100 yards from mine. Old Paul (who's actually only about 30) flipped back the lid this morning and there was a 58-inch sturgeon. Just three minutes into his first season, and his tag is filled. I tell John to congratulate good old Paul Wargowski of Whitewater for me. Although I don't know him.
8:36 a.m.: John just left. I don't like Paul Wargowski of Whitewater.
8:37 a.m.: I'm humble, a little emotional as John leaves the shack. I mean, how many guys give you a pail? I make a note to give John a can, or maybe even a bottle some day.
8:46 a.m.: Well no wonder it's a secret weapon. I stare down and the pail is going round and round, twirlly, twirlly, twiirrllly in the green hues. The pipe just sits there like a lazy pipe. "Pull your weight, man," I yell. No reaction.
9:45 a.m.: Twirrlly, twiiirrrllyyy, twwwwiiirrrrllly. Still mentally sharp. But I think there may be someone in here.
9:48 a.m.: He's here all right. Somewhere in the dark. Lurking. I'll act unalarmed.
10:30 a.m.: If I stand on my tip-toes, I can just barely squash my hair on the ceiling.
11 a.m.: Discussing things with myself for an hour now. Made unsettling self-discovery. I'm pretty boring. Not good. This shatters my whole self-image. Little wonder I never had a date in high school.
11:30 a.m.: Tried playing 100 questions about my life. Only missed seven. Self-esteem rising again.
11:37 a.m.: Just checked my notes. 27 pages of "all work and no play makes Dick a dull boy." What the heck does that mean? That guy in the shack is messing with me.
11:45 a.m.: It is indeed toasty warm in here. Should have worn Lori's skirt. That short, black leather number.
11:55 a.m: I'm down to my T-shirt, sweating. There's a fly climbing up the wall. Yea, right. In February. In Wisconsin. Like that's not a "plant." Now I know someone is in here, watching, watching, watching me. Watching me to see if I kill the fly. To see if I'm sane. I saw "Psycho". Norman Bates. Dressed in his Mother's clothes (you wouldn't have caught me in that outfit). He wouldn't kill the fly either. He knew "they" were watching, too. I'll wait this thing out. I will not touch that fly.
NOON: Just smashed the fly with the spear. I knew they were watching. A siren just went off.
12:30 p.m.: Bill Jenkins is here. Spearing's over for the day. Bill wants to know why I look so flushed. He pries my fingers off the spear handle. "Dick…Dick…Are you all right?" I hear his distant voice. "Am I all right?" I hear my answer. "Am I all right? I will be just as soon as you sign me up for next year."