Sturgeon spearing opener results in lower harvest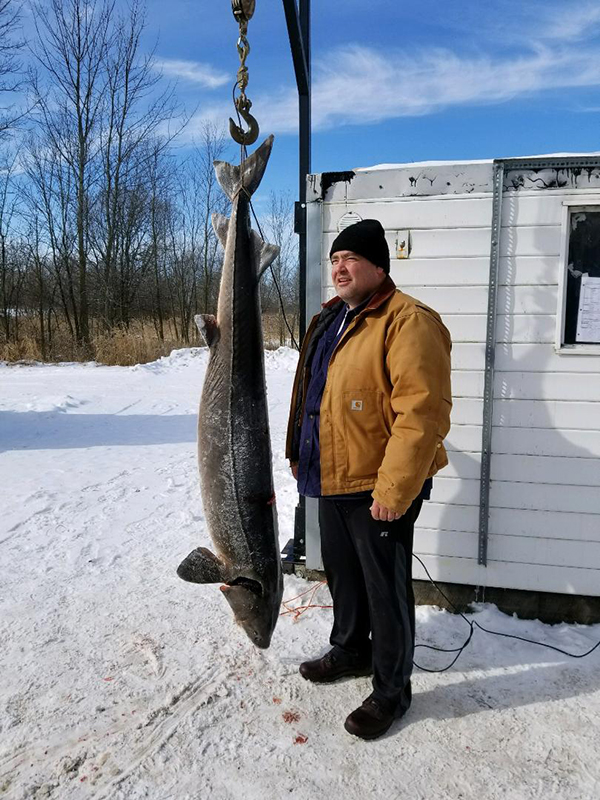 Joseph Orlando with the largest sturgeon speared opening weekend, at 147.3 pounds.
Hanging out at Wendt's Landing opening morning with camera and notebook on the west shore of Lake Winnebago to greet successful sturgeon spearers at that registration station has proven to be an annual event for Scott Heitman and me. 2018 was no exception. According to Fisheries Biologist Dave Bartz of Wautoma during our mid-morning interview at Wendt's, registration numbers were better than expected early Saturday with forecasted low water clarity not stopping eight successful sturgeon hunters from registering their fish after just a few hours on the hardwater.
"The spearers that have registered are reporting visibility of eight to nine feet which is better than expected," Bartz said. "We've registered eight fish so far, with the largest 110.8 pounds and 72 inches. Water clarity is always the determining factor in the harvest."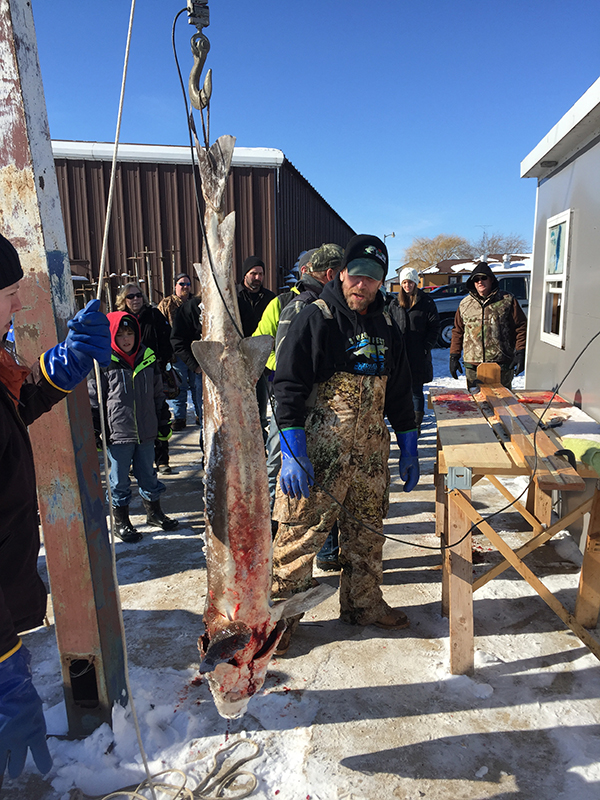 Another sturgeon is weighed during registration at Wendt's Landing.
The state record, he said, is a 212 pound monster speared in 2010. Successful spearers Saturday taking time for OWO photos and small talk included David Batterman of Beaver Dam, with a 58.5 inch, 38.8 pound sturgeon speared at 9:45 after the 7:00 am start. It was David's second tag filled, with his first fish harvested in 2015. Also, Kayle Makufat of Green Bay scored his first fish ever at 10:25, a 61.3 inch, 67 pound fish that would have looked real nice, I thought, on a kaiser roll with kraut.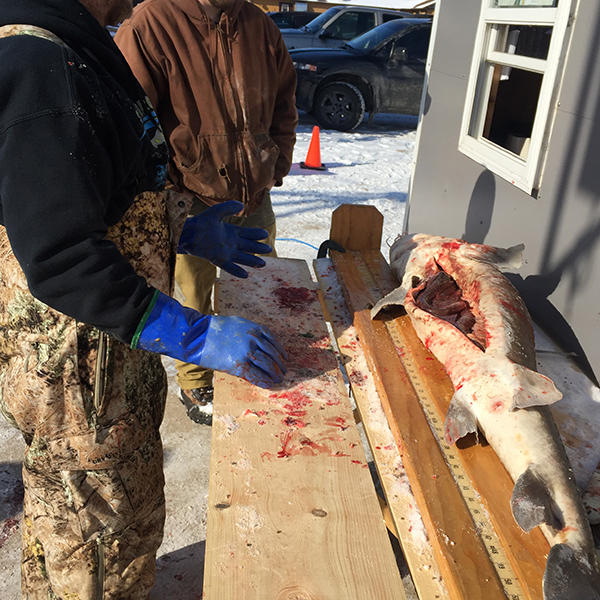 A sturgeon is registered including an electronic scan to determine if the fish has been fitted earlier in life with an acoustic tracking tag.
Biologist Bartz, whose son Jeremy was one of thousands of spearers participating on opening day on the Winnebago system, also said that Senior Fisheries Biologist Ryan Koenigs, who has done an excellent job leading a team of experts in managing the sturgeon population on the Winnebago system, was hunting too Saturday with a coveted upriver lakes tag. Among the duties of Bartz's team at Wendt's when fish were registered Saturday was checking fish for acoustic tags. Many fish have previously been net captured during spawn in shallow water and fitted with one of the electronic implants. Acoustic tag readers located throughout the system track the movement of the prehistoric fish, and the tags when recovered from harvested fish can often be re-implanted in other sturgeon at a later capture date.
A day later, we learned opening weekend of the 2018 sturgeon spearing season on the Winnebago System saw a comparatively lower kill number on the big lake but a good harvest on the upper lakes, according to Biologist Koenigs. Lake Winnebago saw 56 fish taken but the Upriver Lakes gave up 68 fish, he said.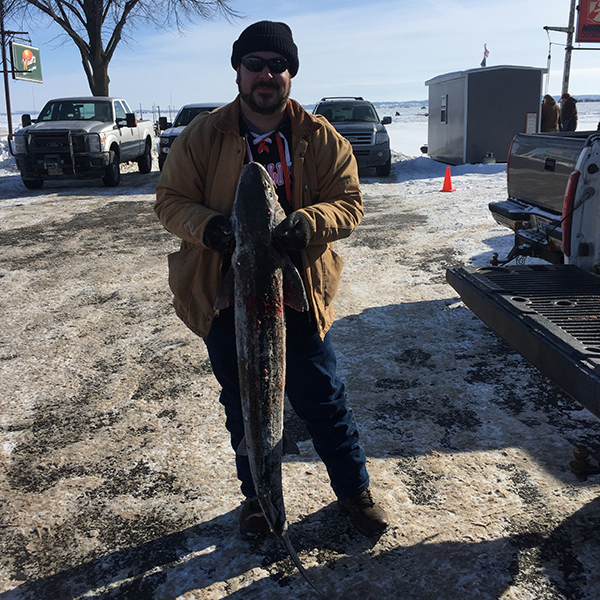 David Batterman of Beaver Dam with his second sturgeon speared in four years
"We have now reached 66% of the adult female harvest cap for the Upriver Lakes and are 23 adult females away from the 90% trigger," according to Koenigs. "This may not seem like that far off, but more than 40% of spearers have already tagged out so effort will be reduced during the remainder of the season. I anticipate the Upriver Lakes season will go at least into mid-week."
The big fish on the system Sunday was 147.3 pounds, 77.5 inches harvested by Joseph Orlando. Joseph registered his fish at Critter's, Koenig said, meaning that the two largest fish of the season have been registered at that station. The largest fish of the day on Lake Winnebago was a 122.1 pound, 72.1 inch female registered at Wendt's by Joseph Kowalkowski. Joseph is originally from Wisconsin, but currently resides in South Carolina and represents 1 of 358 non-residents that purchased a spearing license for this season. Non-resident license sales represent 2.8% of total purchases with sportsmen and sportswomen from 31 states and 1 Canadian Province purchasing licenses this season.
Now, we didn't get that sturgeon sandwich, but watching the action did inspire some dietary thinking. Heitman and I decided on the ride home that a minimum of one whitetail in the freezer, with a sturgeon bonus and sprinkled liberally with pheasants, walleye, salmon and ducks, is a must for any Wisconsin hunter to see us through the year. So we vowed to apply for a spearing tag next year. Heitman's father, Dick Heitman, is a well-known Wisconsin spearer even during lean years with an estimated 30 fish registered over the decades. So, we have the equipment to borrow, and hopefully, the Heitman luck is hereditary. Actually, Mr. Heitman would work hard for his fish, drilling multiple holes and stirring up bottom muck until red worms were discovered and that sturgeon forage determined an ambush spot.
Until next year, we made stops at Kwik Trip on the ride home and went with the donuts, milk and the egg and sausage croissant. I can honestly say, by the time we hit Milwaukee I was challenging that monster sturgeon for state record status.
Thanks for connecting with On Wisconsin Outdoors. Shoot straight.
Dick Ellis