Sport Shows- Cabin Fever Breakouts
It seems a bit untimely or at least premature, with this office in the path of up to 8-inches of snow starting at 6 pm tonight, January 18th, but let's talk winter breakout and spring fever, shall we? If you missed the All Canada Show in Milwaukee or Green Bay (I did not), there are still plenty of outdoor shows also in our path during the coming weeks and months. With a beer or soda in hand and a loaded wallet ready to cut a deal or six, these shows are just what the doctor ordered as a remedy for the epidemic known as Spring Fever. That plague is expected in on a gentle southerly wind in mid-winter, or the first time your snow blower doesn't start.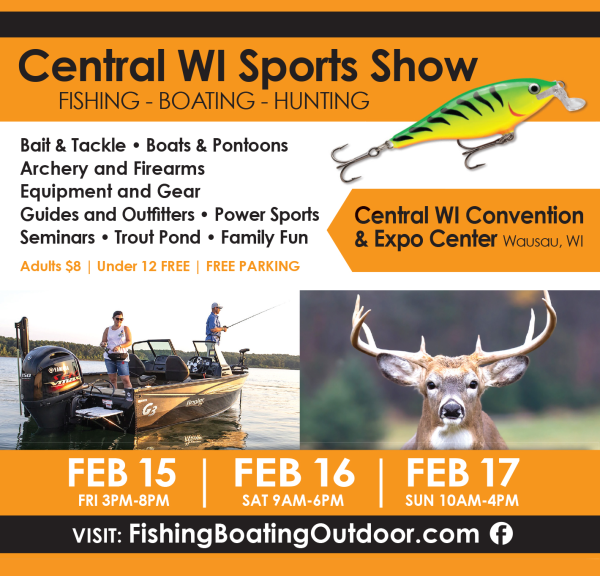 The 2019 Central Wisconsin Sports Show promises to be a high quality outdoor show featuring fishing, boating and hunting at one location. This complete Show is scheduled for February 15th -17th at the Central Wisconsin Convention & Expo Center in Rothschild (Wausau), WI and combines the former Deer & Hunting Expo with the 9th annual fishing/boating Sports Show. The Show is targeted to men, women and families who enjoy the total outdoor experience.
"The Central Wisconsin Sports Show will feature a wide selection of regional, national and international retailers, outfitters and organizations related to all aspects of fishing, boating and hunting," said Show Producer Chuck Collins, a great guy that OWO will vouch for.. "The Show includes fishing tackle from panfish to musky; hunting equipment from archery and firearms to scents, blinds and food plotting; eleven boat, pontoon, paddle sports and dock dealers and many outdoor destinations.
A full lineup of fishing, hunting and outdoor seminar presenters includes Art and Michelle Helin, Joel DeBoer, Jim Gibson, Gregg Kizewski, Mike Mladenik and others, Collins said.
"Show features include Pope & Young/Buck & Bear antler measurement, the NRA Wall of Guns, a concealed carry class and free Bugsy spoons to the first fifty families atttending each day he said. "Family activities include a trout pond and Bill's Musky Club kids' casting, the Rib Mountain Bowmen archery range, and gun safety instruction by the Hunter Education Instructor Association."
Central Wisconsin Sports Show hours are Friday, Feb. 15th from 3 PM to 8 PM;
Saturday, Feb. 16th from 9 AM to 6 PM; and Sunday, Feb. 17th from 10 AM to 4 PM.
Adult admission is $8.00; youth under 12 are free. Parking is free. The Expo Center is located off of I-39 Rothschild Exit 185 in the Cedar Creek Mall with four lane access from throughout the state.
The Central Wisconsin Sports Show is produced by Fishing-Boating-Outdoor of Lakewood, Wisconsin. Primary sponsors include Leinenkugel's and Pepsi. Show information is available at www.fishingboatingoutdoor.com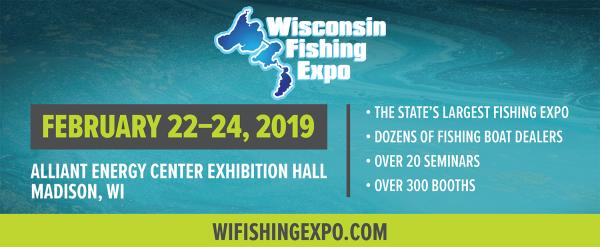 The Wisconsin Fishing Expo (WFE) will be held February 22-24, at the Exhibition Hall at the Alliant Energy Center, in Madison, WI. , according to show producers Jeff Bast and Dan Durbin. The Expo has expanded again, with the addition of more booths on the main and second level. The Expo will also kick-off at 3pm on Friday, an hour earlier than previous years.
"Consumers told us they wanted to beat the beltline traffic on Friday so we're opening up an hour earlier to make it easier for them," said Bast. "We'll also close the doors on Friday at 8:00 p.m., as the Expo naturally slows down by then and it gives our vendors time to rest up for the huge weekend days."
The WFE offers over 150,000 square feet of fishing equipment, boats, and seminars-all under one roof. "Last year the big addition was the kayak corridor and we're bringing it back again," said Durbin "We're also adding booths to the main floor and the second level up by the Fish/Wildlife Gallery and lure display."
Several new seminar speakers will be adding to the wide variety of topics on most freshwater species. Attendees can expect to see Jonathan VanDam, Jason Miller, Mark Menendez, Jason Przekurat, Max Wilson, Lee Tauchen, Tom Dietz, Tyler Thiede, Garret Svir, Kendall Kamke, Adam Nickel, Gene Jesen "The Flukemaster", Dave Roew, Pete Jopke, Alan Wiedmeyer, and Nichole Stone.
"One totally new concept this year are two seminars from DNR Fish Biologists on rules and regulation changes, as well as, lake health on the Madison Chain, Winnebago, Koshkonong, and the Wisconsin and Mississippi rivers," Durbin said.
People looking for a boat will find over 20 brands on hand from 18 different dealers and over 300 booths with hard to find lures, major manufacturers like Daiwa and St. Croix, and several popular local bait shops with great deals on tackle.WFE has always prided itself on giving back to the community.
"Last year we cut a check for $10,000 to the non-profit Madison Fishing Expo that was distributed to nonprofit fishing groups and a veterans fishing camp," Bast said. "We also let in dozens of nonprofit fishing groups so they can grow their membership and help continue to grow our sport. In reality, we're giving much more back to the community than the $10,000 check – we like to think we're helping the sport grow."
As always, kids $12 and under are free. Current and inactive military will receive $3 off the price of a ticket. Go to www.wifishingexpo.com for details.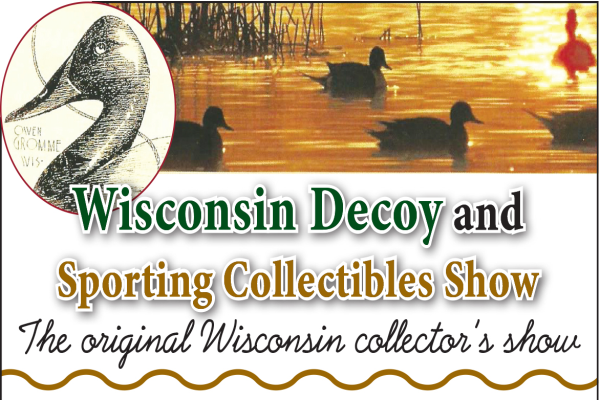 OWO good buddy and Lake Winnebago duck hunting extraordinaire Roger Ludwig is once again producing the annual Wisconsin Decoy & Sporting Collectibles Show on Saturday March 9 at the Hilton Garden Inn in Oshkosh. Receive free appraisals on old and new decoys, duck calls, hunting knives, animal traps, wildlife paintings, prints and related art, cartridges and fishing tackle. The Hilton Garden inn is located at 1355 W 20th Avenue, Oshkosh Wisconsin 54902. Call 920-966-1300 for room reservations.
The fun really starts several days before the big show during a room by room showing, bartering and selling of merchandise at the Hilton Garden Inn in Oshkosh that is open to the public. That includes Wednesday night, March 6, Thursday afternoon and night, March 7, and Friday afternoon and night, March 8.
Display tables cost $60, including admission for two and memebrship to the Wisconsin Decoy & Sporting Collectibles club. To sell out of a room, cost is $60, and you must be a member. Cost is $60 and includes admission for two. Cost of admission for two and club membership is $20. Show admission only for one is $10.
Roger requests that you "Kindly reply by March 1, 2019 to guarantee your Saturday show tables. For a show registration sheet, see Outdoor News on this website. Make checks payable to Roger Ludwig, 3792 Leonard Point Rd, Oshkosh Wisconsin 54904. For more information, connect with Roger at 920-233-0349. Cell is 920-428-3765. Email rogfuzz@charter.net.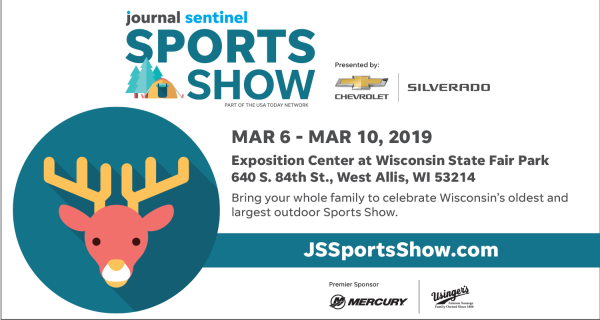 The Journal Sentinel Sports Show will be held March 6 through 10 at the Exposition Center at Wisconsin State Fair Park, 640 S. 84th Street, West Allis. Bring your entire family to celebrate Wisconsin's oldest and largest outdoor sports show. Connect with JSSportsShow.com for more information, and this website where we will post periodic media releases as they are received from the show in coming weeks.
Thanks for connecting with On Wisconsin Outdoors. Shoot straight.
Dick Ellis