Show Time!
Golden Eagle Log Homes' Log & Timber Home Show offered free to the public will kick off a number of fabulous hunting, fishing, and other outdoor-related shows produced by On Wisconsin Outdoors' advertisers throughout the state.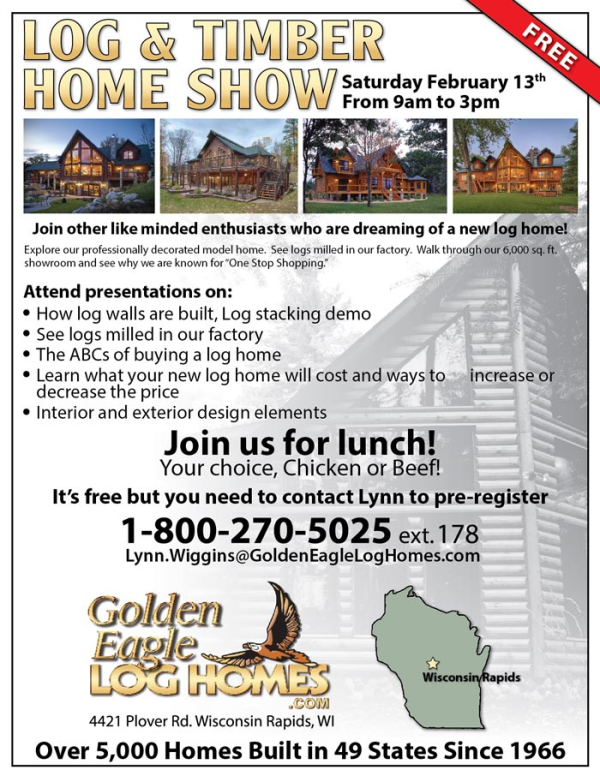 Learn everything you need to build and own a log home with Golden Eagle Log Homes.
As a side note, in the March-April issue of On Wisconsin Outdoors, OWO writer Stuart Wilke takes you on a journey with Golden Eagle Log Homes as he learned the ABCs of building log homes at the Wisconsin company's corporate headquarters in Wisconsin Rapids. Now, on Saturday, February 13, from 9am to 3pm you too can tour Golden Eagle's model home and showroom…at no cost… in Wisconsin Rapids and join other like-minded enthusiasts dreaming of building and owning a new log home.
The Log & Timber Home Show allows you to attend presentations on:
How log walls are built with a log stacking demo.
See logs milled in Golden Eagle Log Homes' factory.
Learn the ABCs of buying a log home.
Learn what your new log home will cost and ways to increase or decrease your price.
Interior and exterior design elements.
Warning! Golden Eagle Log Homes' shows and seminars fill up fast! Interested attendees must pre-register with Lynn at 1-800-270-5025 or info@GoldenEagleLogHomes.com. Golden Eagle Log Homes is located at 4421 Plover Road, Wisconsin Rapids, Wisconsin. Golden Eagle Log Homes has custom designed and built over 5000 full-log, half-log and exposed beam homes since 1966 in every state with the sole exception of Hawaii. Weekly, they are open Monday through Friday from 8am to 5pm and Saturdays, 9pm to 3pm.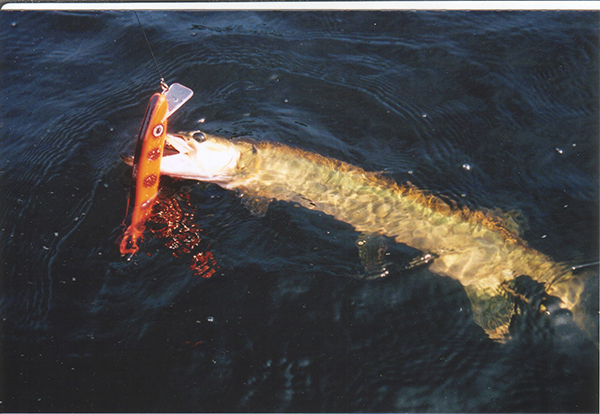 Baits, guides, boats and muskies, muskies, muskies…find it all at the 2016 Muskie Expo.
Wisconsin's long running Muskie Expo has taken up new residence for their February 12, 13 and 14 show in the larger Washington County Fair Park and Convention Center.
According to Show Producer Doug Reuter, the Convention Center is located just 30 minutes north of Milwaukee on Highway 45, at Exit 65. "The Washington County Fairgrounds and Convention Center is located in West Bend, Wisconsin and will offer an incredible 10,000 square feet of additional exhibition space," he said.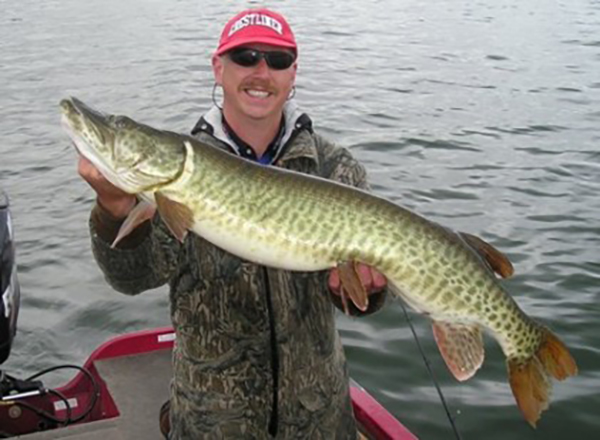 The Muskie Expo will fuel the musky addict with more information to put more fish in the net.
"As the popularity of the Muskie Expos has surged dramatically, this move will allow more space for additional booths and boat manufacturers as well as adding additional rooms for more hands-on workshops and seminars. These additional workshops promise to further increase the educational adventure attendees enjoy."
For complete directions and maps, please visit www.wcfairpark.com.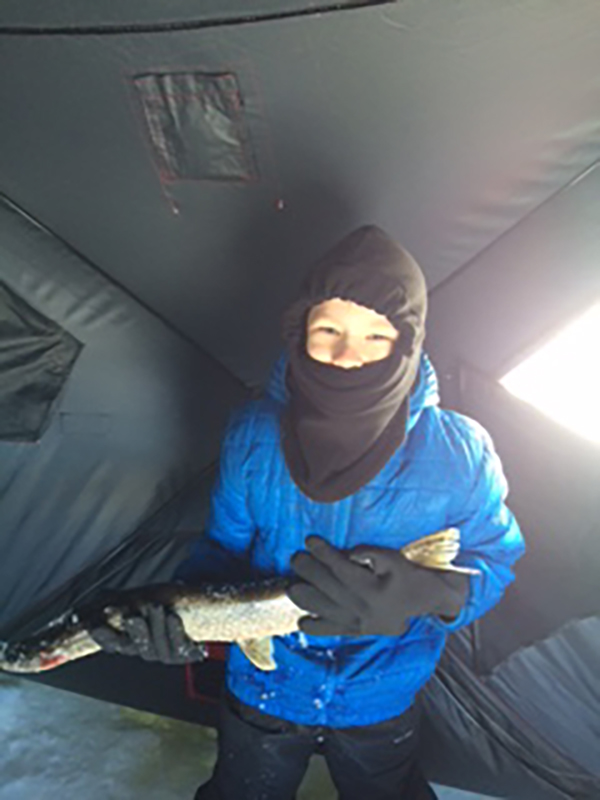 Sam Klick takes a northern this week on the hardwater that was released…right on to his dinner plate. Kids of all ages can take fish at the trout pond at the Wisconsin Fishing Expo or just dream about the open water to come.
The Wisconsin Fishing Expo (WFE) "has spawned", according to Dan Durbin, one of the owners, from the Madison Fishing Expo (MFE) and will have all the things anglers have come to expect from the show. A variety of new vendors, speakers, and attractions for 2016 will make the show, to be held February 26-28 at the Alliant Energy Center in Madison, even better.
There's no question that anglers can be confident that they will see all the nonprofit fishing groups and "staples" they have come to expect from the years' past, but there are exciting new things for people to enjoy. A few of the NEW exhibits will be from Berkley, Fenwick, Trilene, Stren, Shakespeare, Gamakatsu, Ray Marine, Garmin, Carrot Stix, and many other vendors that have been absent in years' past.
The Speaker line up, Durbin said, offers world class speakers from Speaker Room Sponsors Hard and Soft Fishing and Frabill/Plano. Joe Bucher, John Gillespie, Tommy Kemos, Pete Maina, Rob Manthei, Eric Haataja, Marianne Husky, Pat Kalmerton, "Bro", Bill Schultz will all be there. Greg Karch will also give 101 seminars for the kids and new parents to fishing with free rod and reel combos and other gifts while supplies last.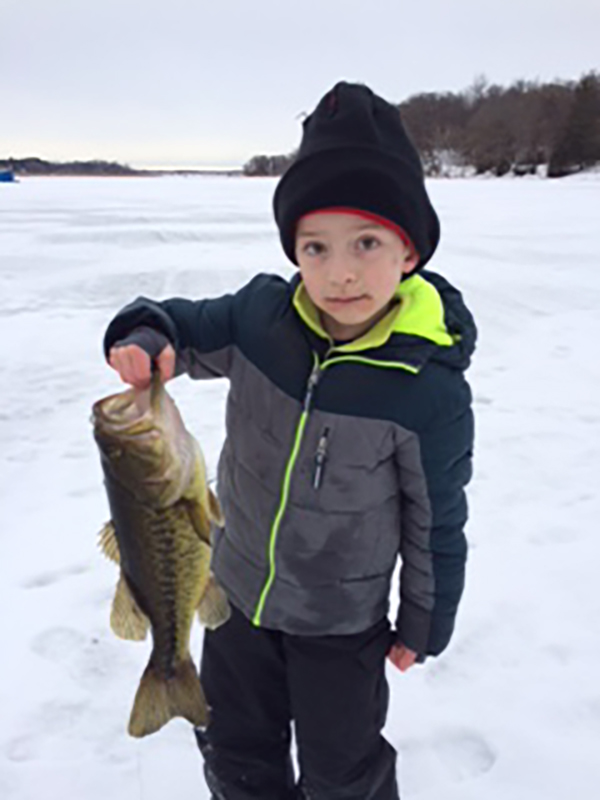 Grant Ellis prepares to release a real beauty on the ice this week. The 20-inch largemouth was released.
"The MFE had great seminar speakers of course," said Jeff Bast, one of the WFE owners. "But we wanted to give people a taste of some speakers that have never before spoke at the Expo. From bass, to salmon, to panfish, to walleye, there's something for everyone."
Also new is "Muskie Friday," for Esox anglers who want all things muskie. Friday will have three total muskie seminars including a new Round Table Format giving people access to their muskie heroes like never before! Anglers who attend these seminars will have access to free gear at the seminars and can also sign up for their local Chapter of Muskies Inc.
Another new feature is a live performance Saturday at 5:00 p.m. from Hall of Fame Angler, Joe Bucher, and his band, the Top Raiders! It's a cool "night club" blues concert that everyone will enjoy! As a bonus, anglers who attend Muskie Night will be given a free ticket to the Expo the next day if they show up at noon or later- this gives them time to shop for deals from all the muskie vendors before Bucher performs.
Also new will be tagged fish at the trout pond, so along with a nice trout to bring home, anglers have a chance at a tagged fish that will award them free prizes. A new Rock Climbing Wall is also sure to please adventurous kids, and don't forget about a chance to win an awesome fishing Kayak from Rutabaga!
"This year we're going to blow people away with all the new features of the Expo," said Kristen Monroe, one of the Show Coordinators, of the Expo. "People will walk away energized about fishing for the year." It doesn't matter if a person is new to fishing or an advanced angler- there is something for everyone at the WFE! For more information go to www.wifishingexpo.com
Wisconsin Decoy and Sporting Collectibles Show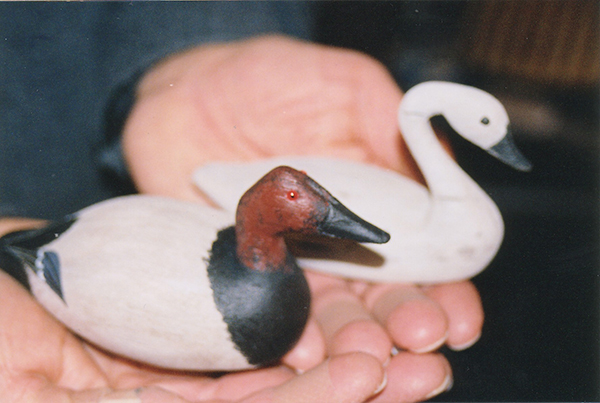 Buy, sell, trade at the Wisconsin Decoy and Sporting Collectibles Show!
The original Wisconsin collector's show will be held Saturday, March 12 from 8:30am to 2:00pm at the Hilton Garden Inn, 1355 West 20th Avenue, Oshkosh Wisconsin. According to Show producer Roger Ludwig, attendees can buy, sell or trade old and new decoys, duck calls, hunting knives, animal traps, wildlife paintings, prints and related arts, cartridges, fishing tackle and more.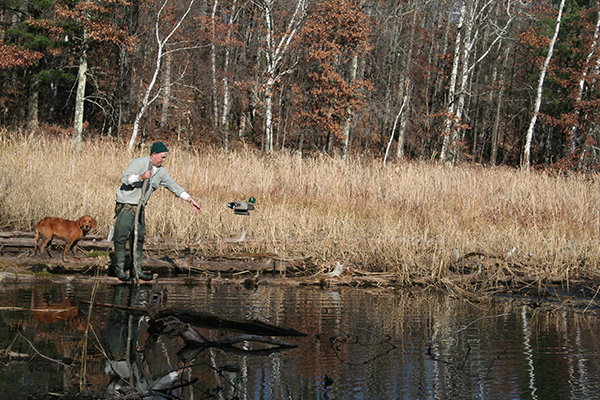 Decoys new and old and other collectibles will be showcased at the show.
Free appraisals will be provided on Saturday. In addition, room to room merchandise displays, selling and trading will be available Wednesday night, Thursday afternoon and night, and Friday afternoon and night. For table information and appraisals call: Roger Ludwig at 920-233-0349 or (cell phone) 920-428-3765. E-mail Roger at rogfuzz@charter.net.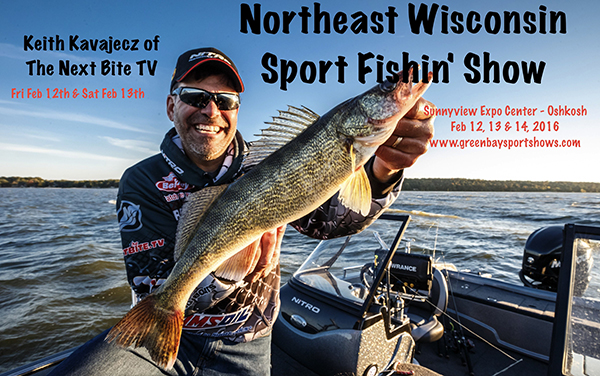 Northeast Wisconsin Sport Fishin' Show
The Northeast Wisconsin Sport Fishin' Show is now in Oshkosh at Sunnyview Expo Center on the Winnebago County fairgrounds. Exit south on to Hwy 76 from Hwy 41. Then look for Stanley, a 15-foot sturgeon, and turn left to the fairgrounds entrance. Parking is free.
Show dates are February 12, 13, and 14. Friday 3pm to 9pm, Saturday 9am to 7pm and Sunday 10am to 4pm. Admission is $8. Kids under 12 are Free. Enjoy a Friday night perch fry for just $12. Try the Trout Pond with tagged trout for a chance to win a salmon charter or guided fishing trip!
Over 40 seminars will be presented on everything from using your electronics, to tips on fishing the Winnebago system, Green Bay, Lake Michigan, and more. Featured expert speakers include Keith Kavajecz from "The Next Bite' TV, walleye champion Korey Sprengel, and the crew from Honest Musky TV. Don't miss the kids' seminar, Saturday morning at 10am on the Cabela's main stage by Greg Karch and sponsored by Learn 2 Fish With Us and Angler's Avenue. We will give away combo spinning rods and reels to the first 100 kids to attend!
Boats, motors, electronics, baits, custom tackle, rods, reels . . . everything you need to be a successful fisherperson will all be featured at the Northeast Wisconsin Fishin' Show. Plus local and Canadian guides and outfitters, all ready to make you nearby or distant fishing trip easier and affordable.
For more information, connect with:
http://greenbaysportshows.com/fishin-show-home/
https://www.facebook.com/northeastwisconsinfishinshow/
Thanks for remembering your local Kwik Trip stores for your gas and merchandise needs as a thank you for carrying On Wisconsin Outdoors for you at no cost throughout Wisconsin. Look for special Kwik Trip ad specials in each On Wisconsin Outdoors issue. Thank you too for connecting with OWO. We appreciate your visits.
Shoot straight.
Dick Ellis