September Bliss Means Bears, Deer, Doves...and Fish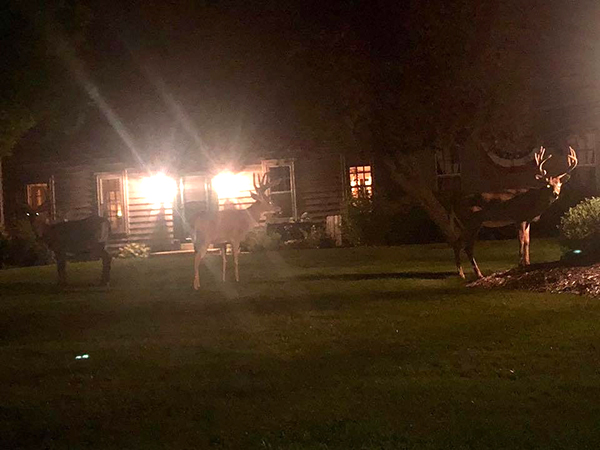 Let them go, and they will grow.
What is that slogan of Quality Deer Management (QDM)…Let em go, let em grow? Even though there's not a lot of deer hunting going on in Brookfield, this photo sent to OWO from buddy Dean Pavletich and taken near Brookfield Square verifies that growing older also allows bucks to grow their headgear higher… wider… thicker. Throw in the right nutrition and genetics, shake well, and now you have something.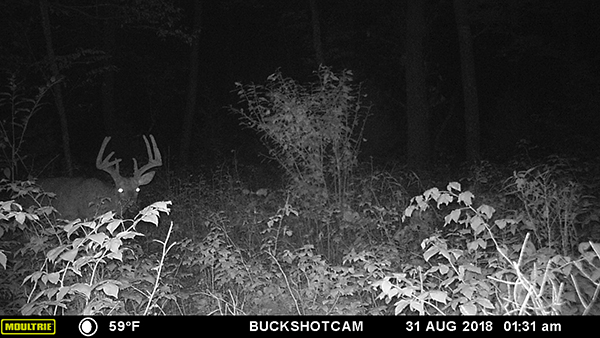 Ty Kinziger captures some great bucks pre-season in Adams County. Funny how these boys seem to disappear after opening weekend until the rut often lead them to a fatal mistake in November.
Just wanted to get you a little fired up as we head through the first week of the bow season in Wisconsin, with all the beautiful hunting seasons to follow soon thereafter. And then there's these photos of trail cam shots submitted by buddies Ty Kinziger and Scott Heitman from Adams County, where a large percentage of property owners do practice QDM. Although last week's opening weekend temperatures into the 80s left hunters running for the OFF and a reprieve from the woods.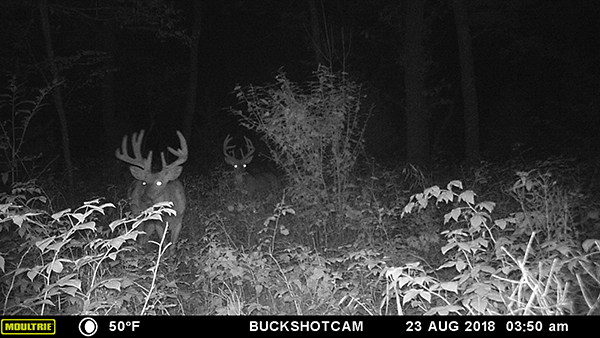 "Honestly it was the most miserable hunting I've ever done in my life," Ty writes. "We made the best of it and had fun but the heat was out of control and the mosquitos were the worst I've ever seen. You couldn't even stop walking in the woods or you would have hundreds all over you, and that's no exaggeration. I'm still swelled up from mosquito bites. Scott and I didn't see any deer but I think it was too hot for them to move. We call the bucks on the trail cam Bullwinkle, (the tall 8), and another one we call Crab Claw."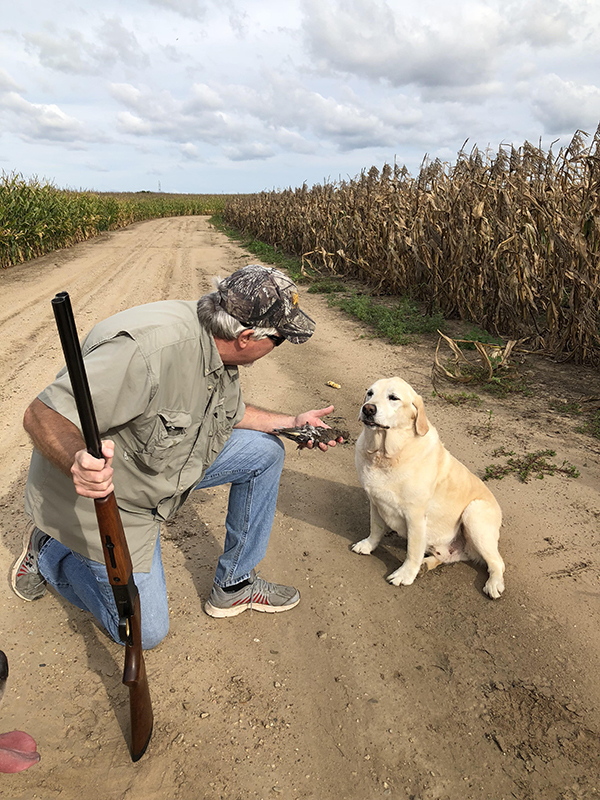 Dog work in the early season dove fields serves Dylan and Micah well through the waterfowl and upland game seasons to follow soon.
But what a state we live in. As is our habit, my brother John Ellis and I worked a Waukesha County farm for mourning doves, while I was at the same time taking in reports from bear camp in the far north. Because of the generosity of a local farmer in southeast Wisconsin, annually we are able to get our dogs in shape with a dove primer…or six… in preparation of grouse, duck and pheasant hunts looming just ahead. More on that in just a bit.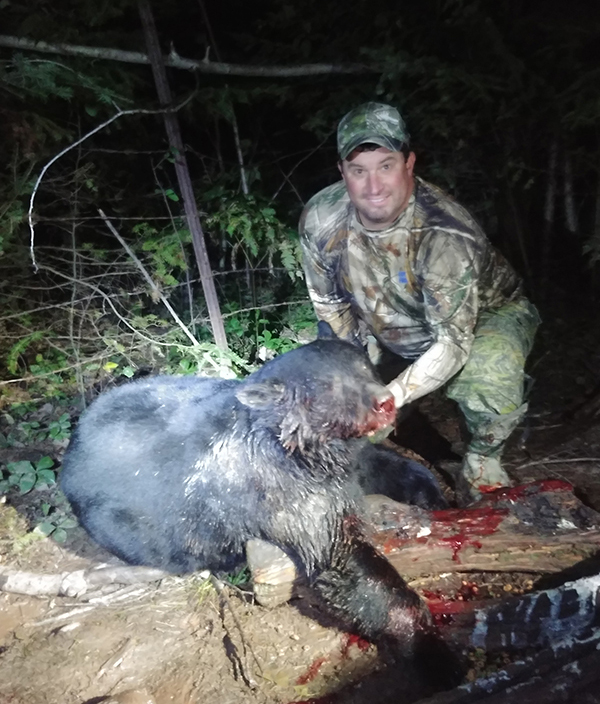 Tom Hart's 278 pound sow was one of many bears taken with Northern Wisconsin Outfitters. Five of the 23 bears tagged weighed between 300 and 417 pounds.
In the current September October issue of OWO, columnist and bear expert Mike Foss writes of the importance of using scent attractants to hold a bear for the shot even if your bait has already been consumed by smaller bears. We use the 100,000 copy print paper to send readers to our homepage video. If you have not seen it, take a look. The big boar rubs himself on the bacon gel scent placed by Foss the week before the season began in early September and stays for a few minutes even with no bait placed at this station. It's just worth your time to see this big boy smearing on the Hai Karate for the ladies. Actually, he just wants to stink nice. But the point is scent used correctly can hold a bear for the killing shot even when the bait is gone.
Speaking of the bear season, Foss sold his business, Northern Wisconsin Outfitters, a few years ago to his top guide, Robert Haas, who welcomed in 30 hunters this year. Foss still serves as an OWO bear expert and columnist and Haas is a very diligent and focused guide. I've seen him in camp over a decade of covering bear seasons. Robert is one passionate bear expert. He prepares stands over 40 square miles of Bayfield County starting in spring, and the hunters reap the benefits in early fall.
He's quick to point to his camp helpers as the reason he can keep so many hunters on active stands, obviously with a great chance to fasten the tag. Those helps included Rick Zwiers, Darrin Albers, Mark Shuh, Jason Hooks, Peter Zienty, Rick Shroyer, Bill Mustig, Tyler Schick, Mike Marx and Michael Haas.
During the 2018 hunt, 23 bears were tagged from the 30 hunters in camp bringing firearms or bow, including some very big bears to carry on an established tradition. The largest weighed in at 417 pounds, with other tagged animals coming in at 369, 358, 306 and 300-plus. Those are very big bears. The Northern Wisconsin Outfitters harvest also included numerous bears over 200 pounds.
One of my friends from southeast Wisconsin, Tom Hart, joined the list of successful hunters in Haas's camp when he dropped a very big sow on the bait pile with a rifle. He sent me the photo with a few interesting comments.
"The 278 pound sow was estimated by the taxidermist as 15 years old," Tom writes. "With four minutes left of legal shooting light left, she came in and offered a nice shot. A lot of good bears killed in camp. It was obvious the guide had done a good job."
Never to early to start planning for your hunt if you are expecting a tag in the near future. Connect with Northern Wisconsin Outfitters at 715-373-0127 or huntersson256@gmail.com.
Long time family friends Joel and Jeff Eckmann headed up to the Ellis family cabin in Boulder Junction to fish with brothers Steve and Jim Ellis and then head south to a big rivalry football game in New Berlin between Eisenhower and West, where we all went to high school. Brother Jim was in the first hall of fame athletic class for West, and Jeff Eckmann went in last year. He in turn nominated our longtime friend Tom Kolb, who went in this year. On the bad side, Ike beat West Friday in a battle of unbeatens, which is why we're done talking about that here. On the good side, the Eckmann brothers caught their share of walleyes and smallies. Nothing hall of fame like, but walleyes to 20 inches which I would take any day of the week. The photos below show the catch.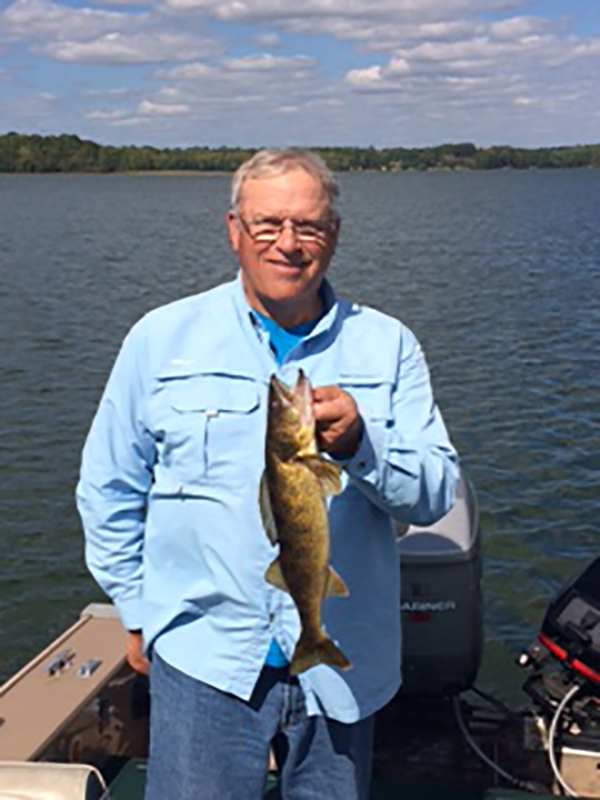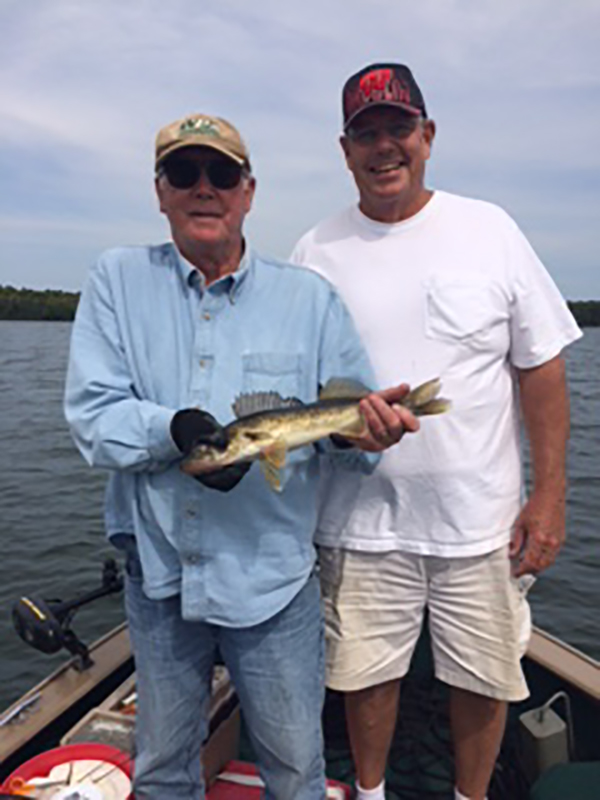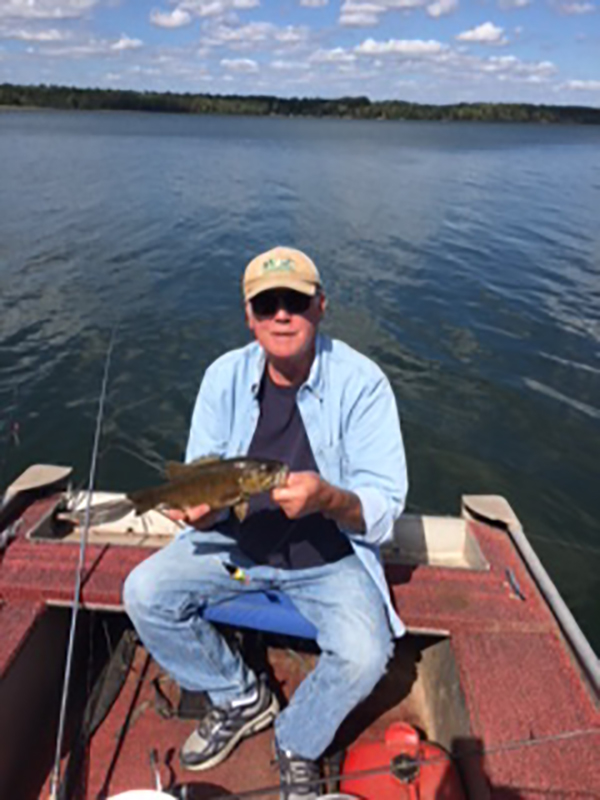 Joel and Jeff Eckmann find some Vilas County fish with Jim Ellis leading the way.
Back to the dove hunt. The dogs are in good shape already after a summer of swimming and running work and then these early fall excursions in acres of corn standing up to 10 feet. We choose primarily to walk irrigation paths cut in the corn and swing on the flushes. A hunter can very effectively set up decoys for doves, but that doesn't get the dogs in shape or the hunters. We bagged six doves in our trips, but that came with about 30 shots sent skyward. So, the dogs are in shape but we as shooters are not.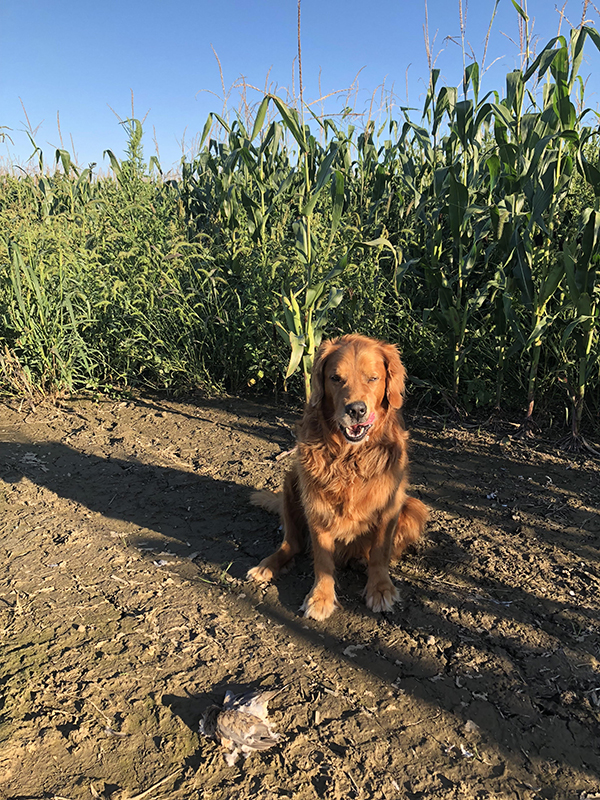 Micah watched the dove fall in tall corn before making one of several nice retrieves.
If you are asking yourself, why shoot doves… you can't eat them. Oh, but you can. Think of bluegills for size, and then think of doves on a shish kebab with marinated pheasant, turkey and venison, and all the veggies or as hor d'oeuvres. This is good stuff, especially when you get 25 or 30 birds, and a Badger party going. Also, 500 to 600 million doves migrate through North America, including 5 to 6 million through Wisconsin, and they produce multiple brood s because they die natural deaths even without hunting. Try it, you'll like it… in the field, and on the plate.
Thanks for connecting with On Wisconsin Outdoors. Shoot straight.
Dick Ellis