See You at DeerFest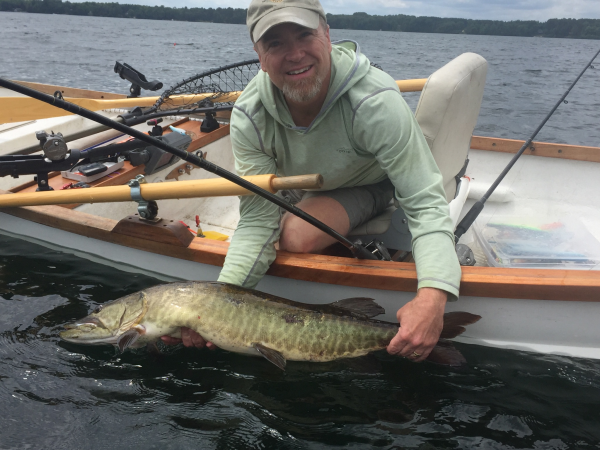 BEC Master of Ceremonies Kevin Wallenfang comes in big with his first fish in 10 years. The musky measured in at 38 inches before release and claimed 2nd place in the 14th annual event.
We will see you at DeerFest this weekend, Friday through Sunday August 4-6 at the Washington County Fairground. On Wisconsin Outdoors will be passing out our current issue of OWO in Muzzy Hall booth 709. Show hours for the nation's largest All deer festival will be Friday, 2-9, Saturday, 10-7, and Sunday, 10-4. Shoot all the new bows in the archery pavilion, meet Ted Nugent Saturday, August 5 in a non-musical appearance, and generally talk deer with the experts all three days.
On Wisconsin Outdoors and Henry Repeating Arms have teamed to donate a 30-30 caliber lever action rifle which will be raffled off at DeerFest. The Model H009 is valued at $850. Also at DeerFest, meet Cody Robbins, Jeff and David Lindsey, The Raised Hunting Family and Kendall Jones appearing all 3 days. For complete information on DeerFest, connect with www.deerfest.com.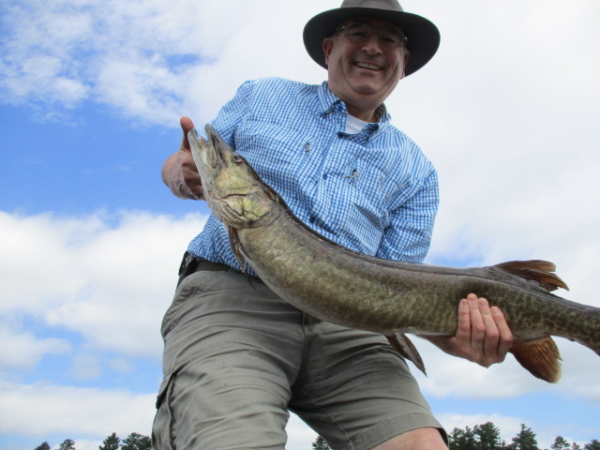 Ted Scharl not only caught a 30 inch fish at the Bob Ellis Classic, this 39 inch musky took high honors in the 2017 all-release tourney.
According to MC Kevin Wallenfang, the 14th annual Bob Ellis Classic is in the books for 2017 and it was a great day! "I want to thank all of you for attending, Wallenfang said. " Each year that goes by gets me more excited than the year before as I get to know many of you more. It's like a great family reunion. And speaking of family reunions, I want to say a heartfelt Thank You to all of the Ellis family who attended. Your attendance is a huge part of what makes this event special."
"I also want to thank everyone for their contributions of prizes! Holy smokes, I don't remember a year where we had so much to give away, and yet I somehow managed to come out of there without so much as a new box of hooks!"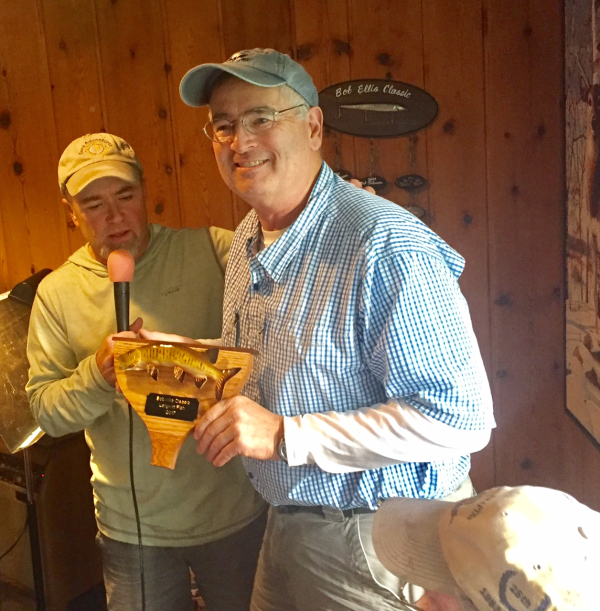 2017 Winner Ted Scharl accepts the 1st Place Award from Kevin Wallenfang at the Bob Ellis Classic.
Three fish were caught this year, according to Wallenfang. Congratulations to this year's Big Fish winner, Mr. Ted Scharl with not one, but a two fish day. Ted caught a 30 incher and won it with a 39 incher from Big Lake. Second place went to Kevin Wallenfang himself with a 38" from Presque Isle.
"I guess after going 10 years in the tournament since my last fish, I was due!" Kevin said.
"Congratulations also goes to this year's Bob Ellis Conservation Award winner, none other than Dick Ellis. Dick has a unique platform on which to tell the great stories of hunting and fishing in Wisconsin, as well as highlight many important conservation efforts in our state. To our benefit, he also knows what it's like to pull on the oars for a few hours. Congratulations Dick!"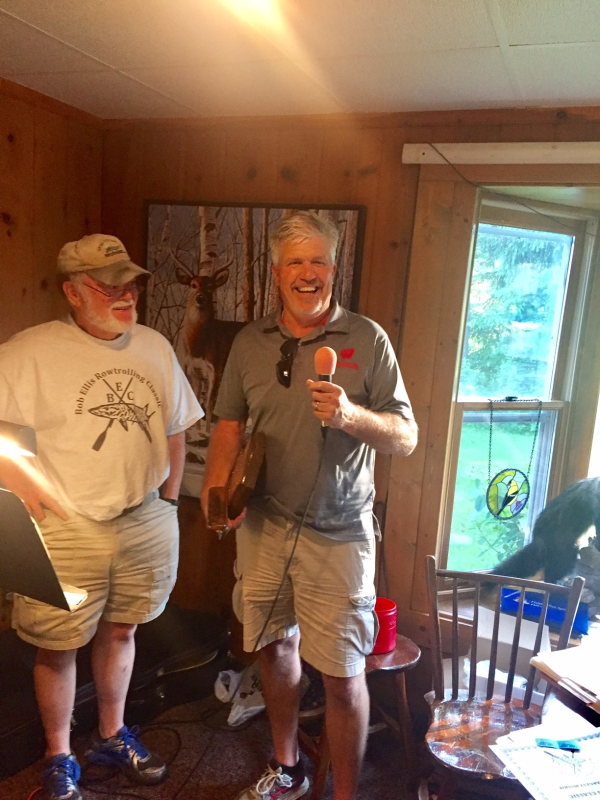 Dick Ellis was presented with the 2017 Bob Ellis Conservation Award named in honor of his uncle and Hall of Fame angler.
Kevin also extended a debt of gratitude to Geoff Crandall, Steve Reinstra, and Jeff Koser for promoting musky fishing, conservation, and the outdoors. "These are the real glue that keeps this event ticking," Kevin said.
The date for the 15th Bob Ellis Classic will be July 14th, 2018 with morning meeting and afternoon awards dinner again slated for the Skyview Lodge in Presque Isle. "I hope to see all past participants there, and hope that some of you who have fallen out the past few years will come back," Kevin said. "Until then, be safe on the water and keep dreaming of a 50 pounder!"
Thank you for connecting with On Wisconsin Outdoors. Shoot straight. See you at DeerFest.
Dick Ellis