Remember the Fallen
Morel Mushrooms Cooperate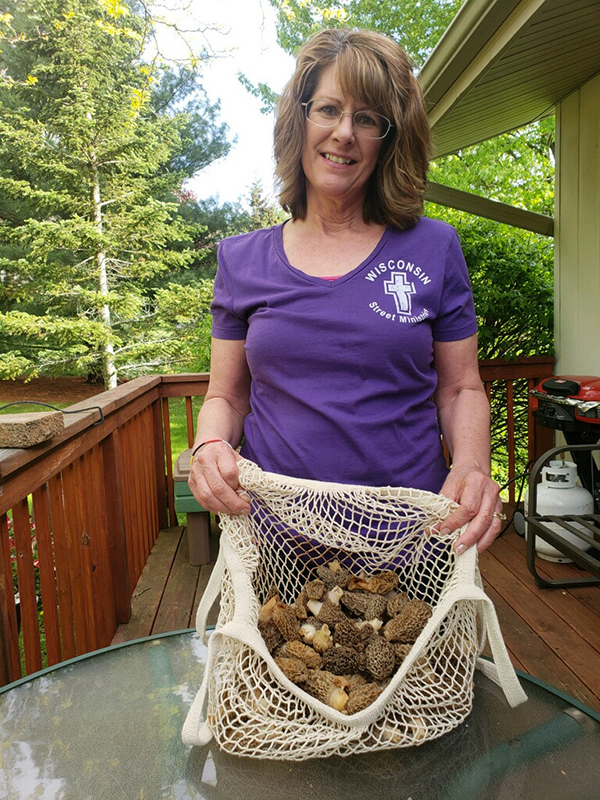 Lori Jurcek and husband Chuck score big during their first search for morel mushrooms.
Remember the fallen who allow us to do whatever we choose this Memorial Day and every day. This is the one date dedicated to those who died for you. I've written this before but by the very nature of war, 99 percent of the fallen were no doubt ages 18 to 30. That's a lot of living to give up for us. That's all I can say about that. Appreciate their loss and their families' losses.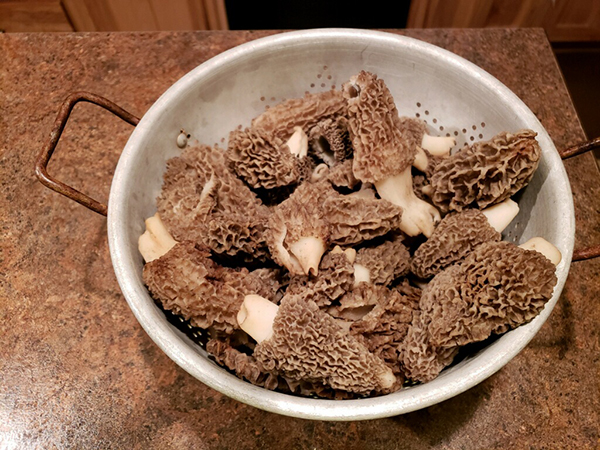 The Jurcek treasure is ready for cleaning and the dining table.
The morels cooperated for me last week, but better yet, they cooperated for my good friend Chuck Jurcek and his great wife Lori. Chuck was a rookie last week without ever having found a shroom before. But he was determined, and I fed him what I could to send him in the right direction after my own research two years ago that helped me to score for the first time.
I did a lot of googling and reading how to find morels without poisoning my family and guess what? It worked like a charm then and now. I told Chuck to look for partially dead elm trees as the trigger for spores of the morels and suggested too based on experience that he give creek beds a good look. I had asked permission on a tract of land in southeast Wisconsin and Chuck and Lori headed for public hunting grounds.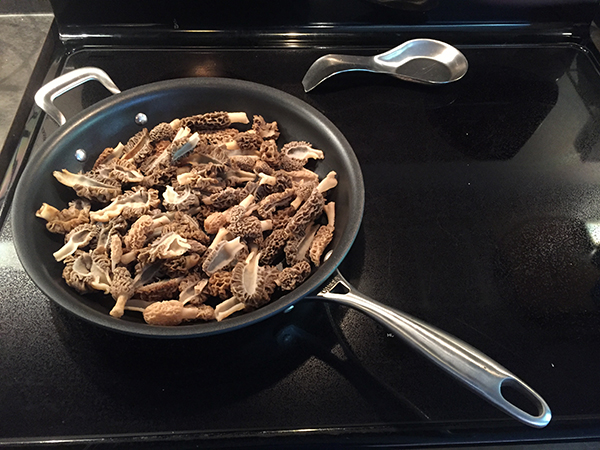 Dick Ellis finds his own share of the booty and feasts with his wife Lori.
It's kind of strange to think that finding these shrooms poking up through the leaves right where they should be (after a couple hours of failures) can give a hunter the same kind of thrill as any other hunt. I scored about 30 morels a few days ago and my Lori and I feasted two straight dinners on the harvest over two suppers. I'm pretty sure Chuck and Lori Jurcek found about 100 shrooms over three days and some of those were about six inches high.
Not surprisingly, they're hooked on the hunt.
"That was unbelievable and you were right," Chuck said. "Finding them is almost as good as eating them….almost. They're excellent. It was a great way to spend time with Lori. We'll be going back out and I'm going to learn all about the tricks to finding them."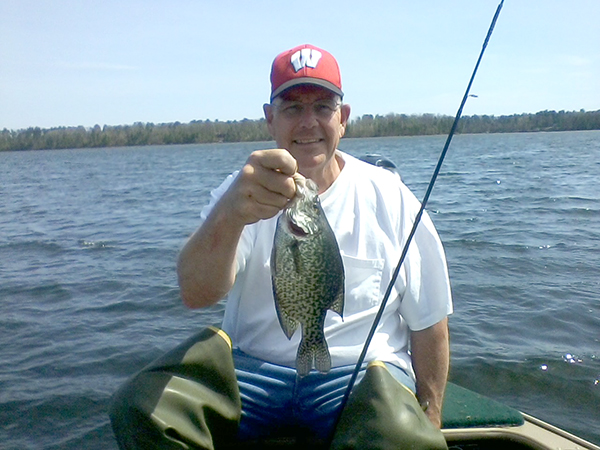 Jim Ellis shows another beautiful spawning crappie taken in a foot of water in Vilas County last week.
I'm heading north now to open the cabin for the season, and get some fishing in. Last week my brothers Jim and John Ellis caught 15 crappies in the spawning shallows up to 12 inches. Game on!
Thanks for connecting with On Wisconsin Outdoors. Shoot straight.
Dick Ellis