Planning Your Out-of-State Hunting Trip
Now is the time when Wisconsin hunters are planning their trips to other states to hunt mule deer, elk, pheasants or whatever pulls us, usually westward. In 2016, my brothers Steve and John Ellis and I traveled near Craig, Colorado to hunt mulies and elk. A return trip including brother Jim Ellis slated for fall of 2018 fell through recently when our 50-percent odds for receiving the group tags didn't go our way in the drawing. Our odds two years ago were 90 percent due to the herd coming through winter with better numbers.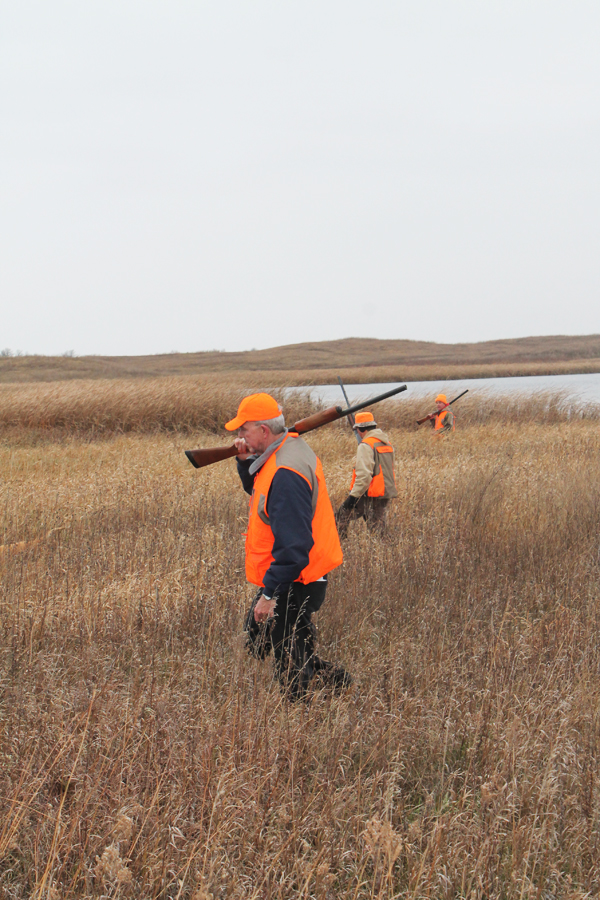 Wisconsin hunters Steve and John Ellis and Minnesota pheasant hunter Ron Prorok work typical grasslands near Marshall for wild birds.
So, we're turning our attention to western pheasants, a trip that brings with it the bonus of working with our dogs. For your consideration, in October of 2017, my brothers and I took a wild pheasant hunting trip to southwest Minnesota. 9-counties in southwest Minnesota are collectively inviting Wisconsin hunters to give them a "closer" look, literally, compared to the longer travel time necessary to reach western states with reputations for pulling in the non-resident hunter.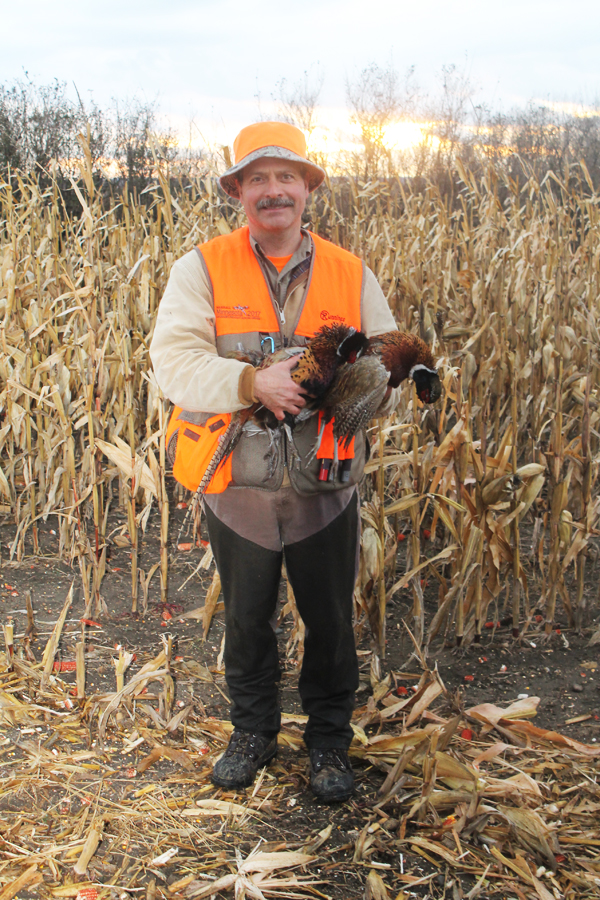 Ron Prorok of the Marshall Chamber of Commerce with a Minnesota limit of wild roosters after day one.
Hunt Southwest Minnesota (www.swmnhunting.com) offers 63,000 public hunting acres over the nine counties of Cottonwood, Jackson, Lincoln, Lyon, Murray, Nobles, Pipestone, Redwood and Rock, holding 340 Wildlife Management Areas (WMA) points, and 75 walk in access (WIA) points. Steve Ellis, John Ellis and I based our hunt from Marshall in Lyon County. Public land access within the 9-county territory is a primary reason why Wisconsin hunters should consider southwest Minnesota in 2018, according to our host, local bird hunter Ron Prorok of the Marshall Chamber of Commerce. The story will appear in the July-August issue of On Wisconsin Outdoors now in production. Some of the questions I asked Prorok are below. You may want to consider this trip in December, for reasons to follow.
What is the 2018 cost for an out-of-state Minnesota pheasant hunting license? Are their options for a few days to an annual?
Non-resident 72 hour Small Game includes State Pheasant and Duck stamps (excluding Federal Duck Stamp) $75
Non-resident seasonal Small Game (excluding State Pheasant Stamp $7.50, State Migratory Stamp $7.50 and Federal Duck Stamp) $102
What is the 2018 daily limit of roosters?
2 Rooster Pheasants per day until December 1 then 3 Rooster Pheasants per day until the end of the season January 1st.
How long have you hunted wild pheasants in this area?
I have been enjoying pheasant hunting all of my life and I have been hunting in the Marshall Area since I moved here in 2007. The first years without a dog.
From your personal perspective as a hunter, why should a Wisconsin bird hunter consider southwest Minnesota for a wild pheasant hunt?
The amount of public land in the area. I have been in Marshall over 10 years and I usually pheasant hunt several days a week throughout the season and there are still public lands in the 9 county area that I have never been on. I make it a point each year to get to new spots and I am still finding new Public Lands to hunt.
I find a lot of smaller areas that are under 200 acres that are a good hunt for one hunter and one dog. The small spots are also good for a hunter without a dog.
There are several large tracks of Public Access that I can utilize when my family comes to hunt and we have multiple hunters and multiple dogs.
I find birds. I don't shoot birds every time out, but it is rare that I go out and don't see birds.
I have been impressed with the dog friendliness of our local hotels. Several have bird cleaning stations.
Minnesota has a growing Walk in Access program that makes some private spots accessible to public hunting. This adds to the hunting opportunities.
From your experience, on average, during a day in the field, how many pheasants (Hens and roosters) can a hunter expect to see?
Most of my hunting excursions are less than 2 hours and I almost always see birds (and it is not uncommon for me to limit out in those two hours). Generally in two hours I will see a dozen roosters and hens combined.
When I do have all day hunts with family or friends we will see dozens of birds and it is rare that we don't get shots. You are not going to see hundreds of birds in a flush, most of my flushes are two or three birds, but occasionally you will flush a dozen at one time.
Although no hunter wants guarantees, on average, can a Wisconsin hunter with a good dog expect an opportunity for a limit of roosters?
Definitely if you are spending the whole day hunting and you have a dog (Minnesota season is 9 am to sunset). I have found limiting out is easier after December 1 when the limit changes to 3 because of snow cover, reduced hunting pressure and birds bunching up. The bigger the group, the harder it is for everyone to limit out.
Contact numbers (website, phone, etc.) for more information, lodging, meals, etc.
Any other comments?
The area Chambers and the local Pheasant Forever Chapters are excellent sources for information and possible "Hosts".
It is not unusual for local PF Members to meet up with outside hunters to offer tips
Thanks for connecting with On Wisconsin Outdoors. Shoot straight.
Dick Ellis