Opening Day Success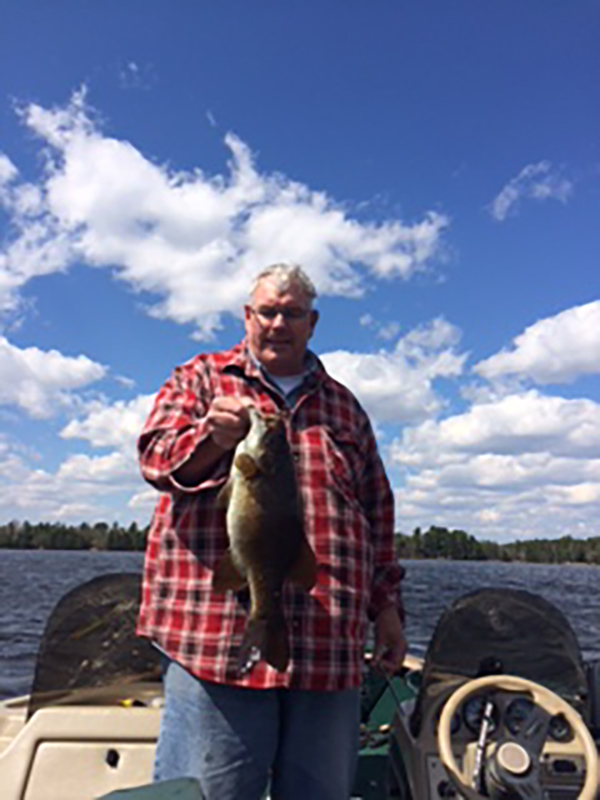 You might just call our opening day of the 2016 Wisconsin fishing season on the Manitowish Chain a stinging success. You know what I mean if you've ever felt the whack of a heavy smallmouth bass taking a crankbait, with the fish then refusing to surrender without a fight. Most notable of our consistent action was my brother Jim Ellis's 19 and 17 inch fish. Smallie season is not yet open and the fish were quickly released.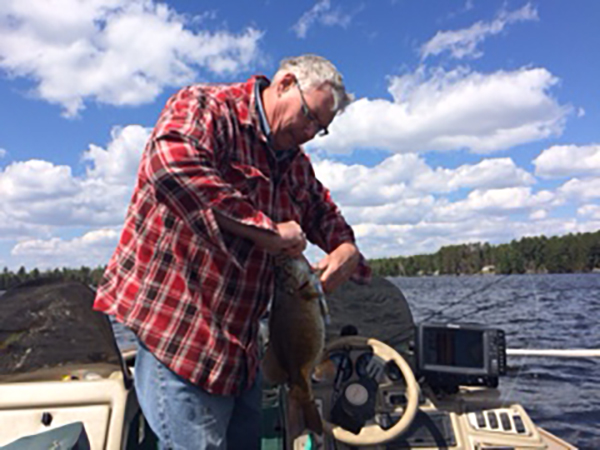 To offer some perspective to the photos, Jim is 6-3. He was working a shadow rap over rocks and weeds that came up from 11 feet to a center bar. When he was "stung" by the big girls, his rod stayed bent in half with no apparent need to run by the fish for at least a minute; just a beautiful bullheaded stalemate. Each fight was about three or four minutes with the smallies quickly released to trip another angler's adrenalin glands on another day.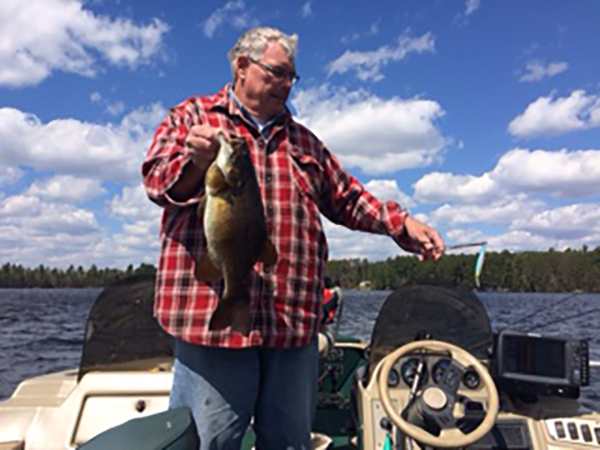 We were actually looking for walleyes without success, but that didn't stop some of our friends fishing the northland from finding them. Targeting walleyes early Saturday morning near Presque Isle, my longtime friend Paul Schulz of Waukesha showed nephews Nick Popp of New Berlin and Andrew Seltzer of Green Bay how to do it with jigs and minnows. What's really aggravating about this is that Schulz is also a good golfer. I think we should petition God….one or the other, Man! I slice my golf balls, and would probably slice my finger filleting a walleye but I can't tell you for sure cause I can't catch one.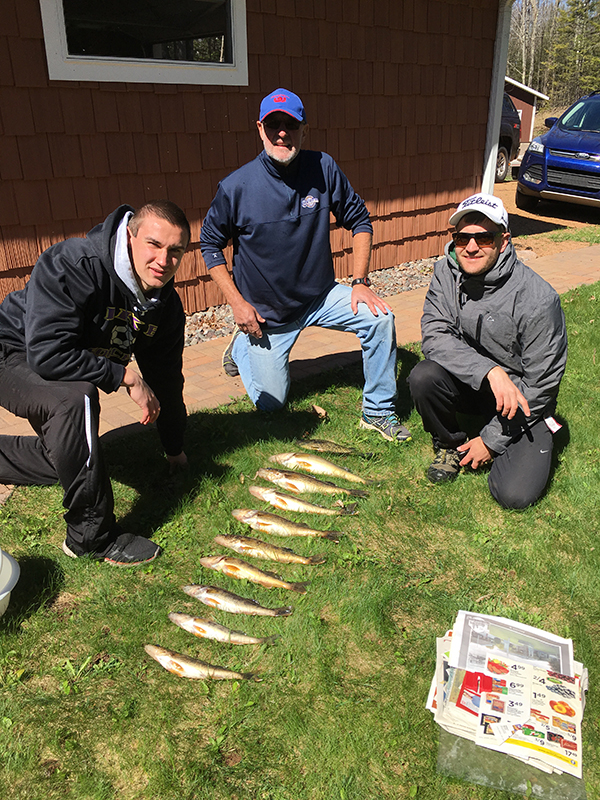 To the west of our Vilas County stomping grounds ,Ross Sports Shop (see their weekly reports on our Inland Fishing page) guide John Kleczewski put clients Chad and Kristi on this limit of walleyes . Fishing near Phillips in Price County, they also found some bonus crappies.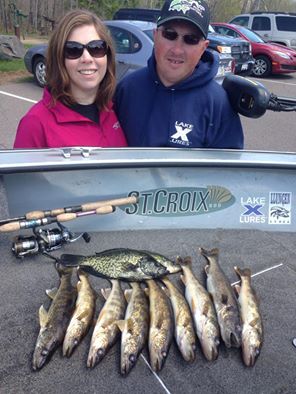 Check out Gary Greene's regular "Memories of an Old Hunter" posted under Upland Game and Waterfowl Hunting on this website. It's a new feature for OWO. We posted three already and I found each article highly entertaining. I think if you are a baby boomer you will especially relate.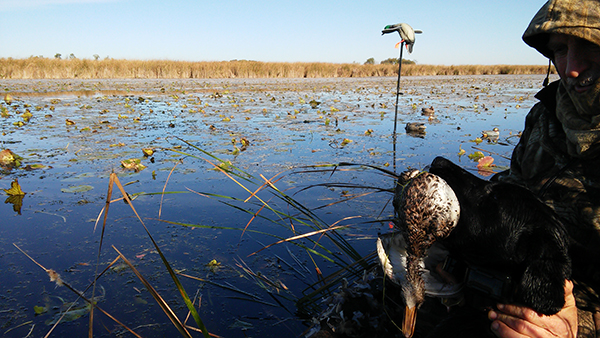 Check out Steve Ellis's perspectives under "Deer Hunting" or "Trapping" on why we should never leave important rulings to just one judge. Steve's writing was inspired by the decline of the deer population in his neck of Iron County in direct correlation with the increase in wolves. Steve took this photo of a running deer's tracks being hotly pursued by a wolf in an area that used to provide great hunting. Now, even deer tracks like these are rare. Wolf tracks, unfortunately, are not rare.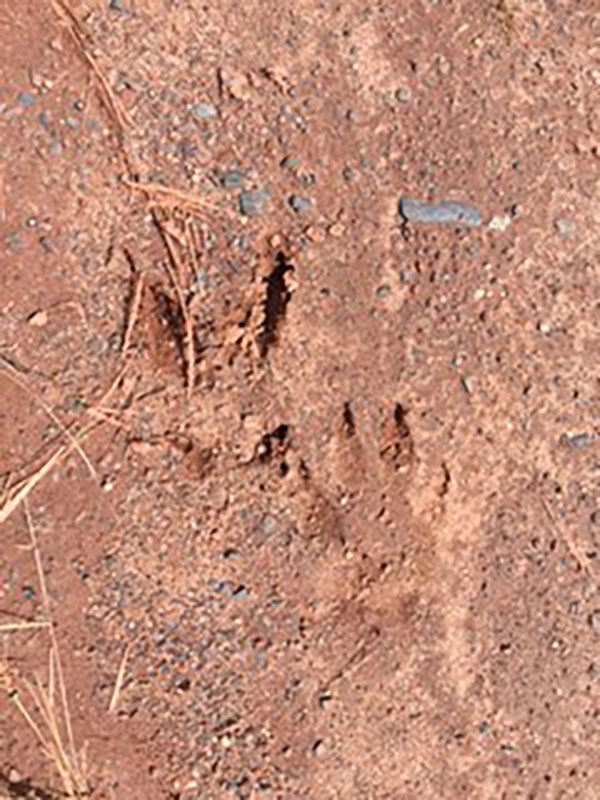 In Vilas County near Boulder Junction, these photos below were taken in late winter just down the road from our cabin. Seven lounging wolves really showed no concern with the presence of the photographer. Like most northern Wisconsin counties, Vilas is losing bear hounds and house dogs alike to wolves that are losing their fear of man due to judicial orders to place lobo back on the federally protected endangered species list because there are just too few of the animals. Really? Two questions; do you know that our cabin group has not hung a deer in eight seasons after 50-percent success over two decades in part due to predation? And, when will the first Wisconsin child be killed by a wolf?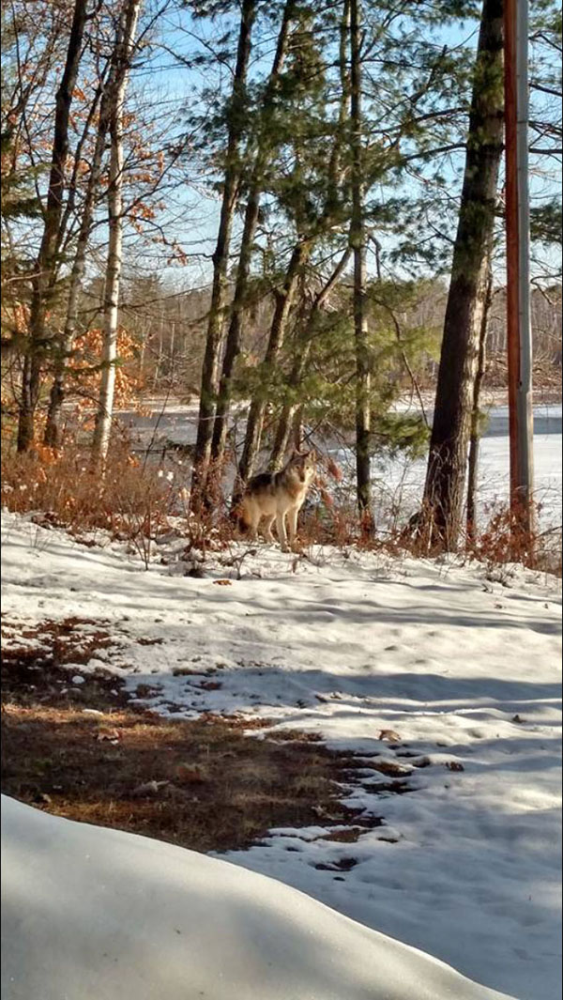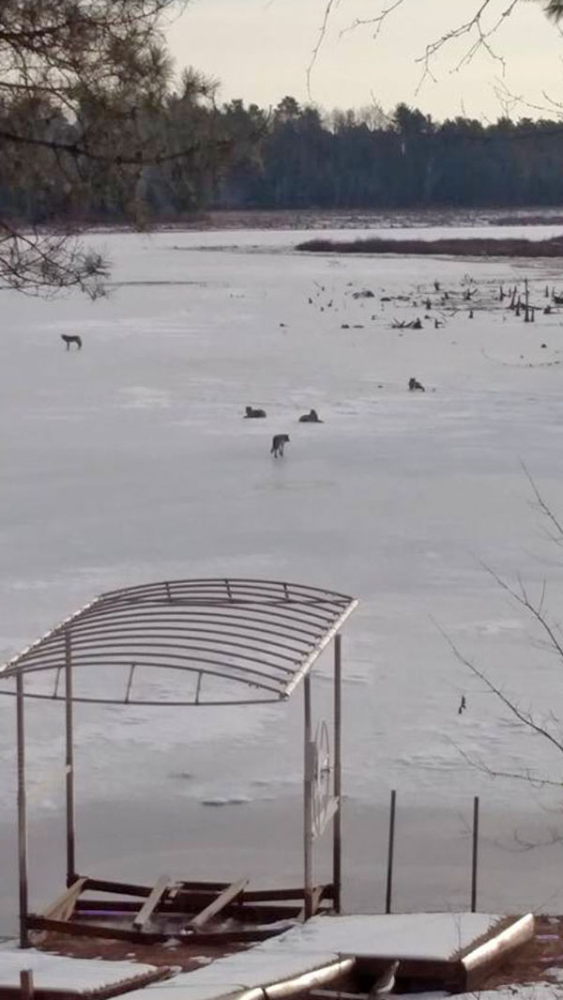 Speaking of my brother, I received another note after Steve and his wife Sandy took a bike ride recently in central Wisconsin; a trip made bad by the work of someone with no regard to north woods beauty. I'll let Steve tell it:
"Up here in Central Wisconsin, we're blessed with some of the best that us outdoors types can hope for.
Sandy and I went for a bike ride down River Road today, where we sometimes hunt turkey and deer. The Wisconsin River always provides incredibly good fishing....and just beautiful views."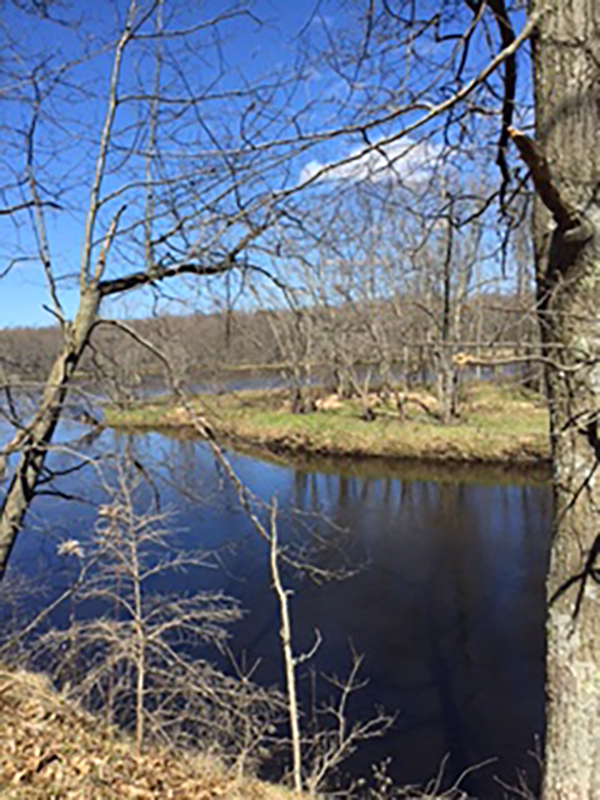 "And then we came upon two spots where some low life decided he just had to dump his old toilets.
It really makes you wonder...these people must know what they're doing, because it's always done when nobody can see it happening. To make it worse, twice a year in this township, a person can dispose of this junk for free at the local garbage drop off."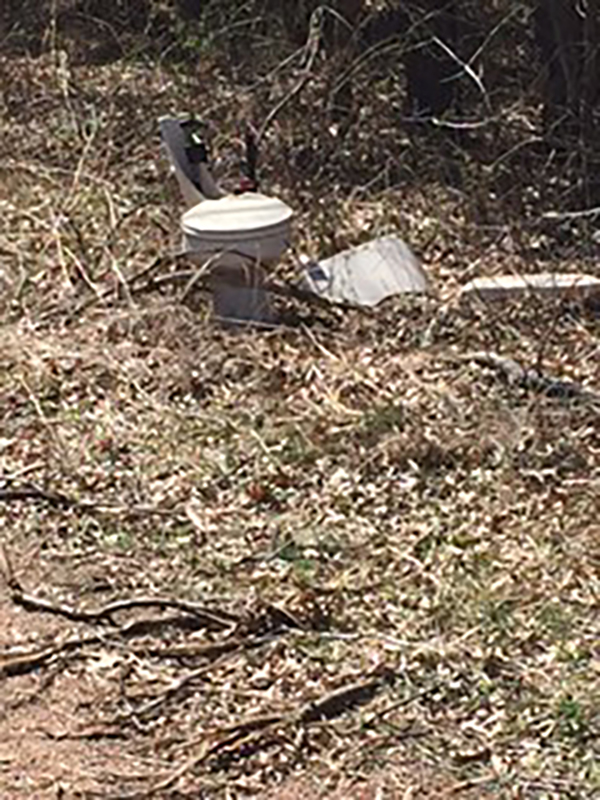 "A litterbug is surely one of the lowest forms of human being there is, and hopefully, if you put this in your blog, it'll help someone to do better."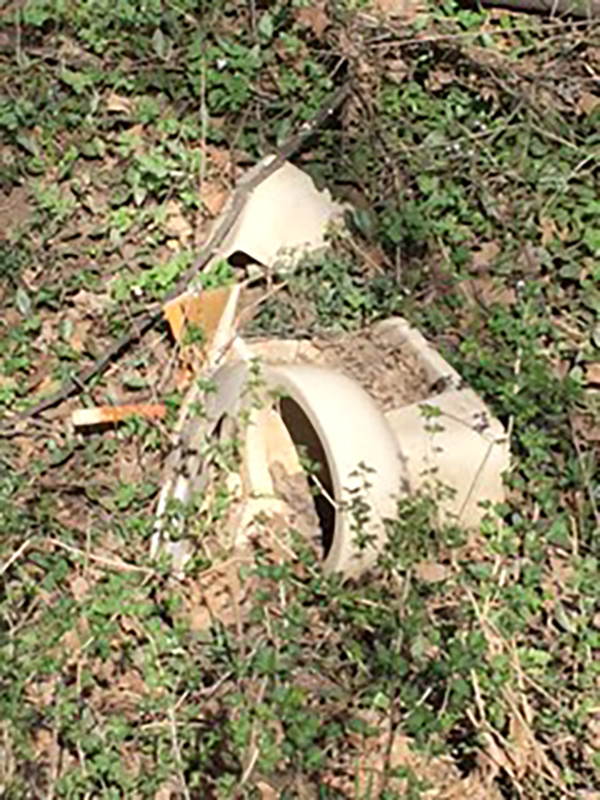 "I doubt it though."
OWO Bear expert Mike Foss sends us photos of a den that has been used across the years by different bears. "This cool bear den has been here on private land for years," Foss writes. "The den is located underneath a concrete slab where a very old silo once stood. Usually bear dens will collapse at some point in time but because it was dug out under this concrete slab it has withstood many years and many different bears have used this den over the years."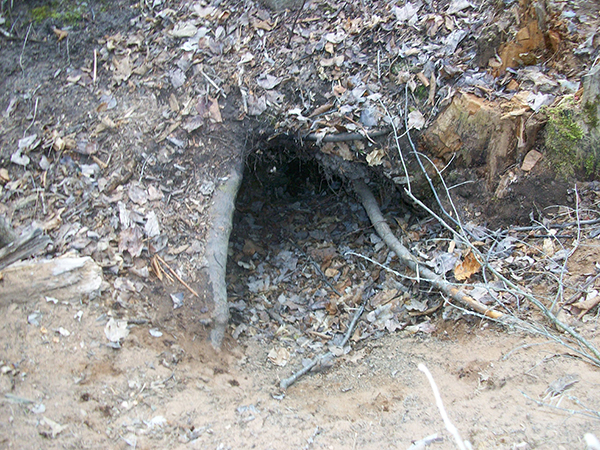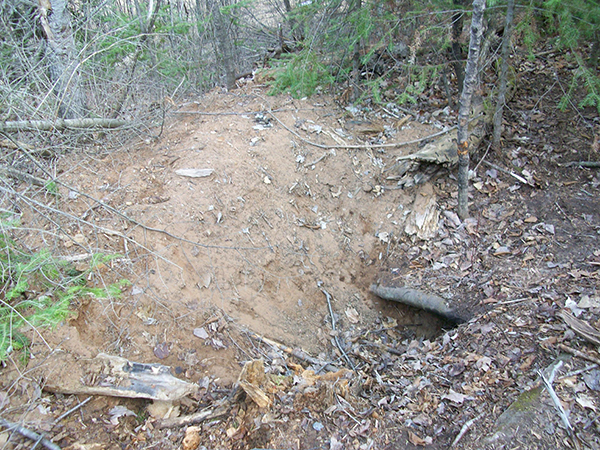 The May-June issue of On Wisconsin Outdoors is on the streets. We jacked up the press run to 70,000 (from 50,000). If they go too fast in the 270 Wisconsin Kwik Trip stores or seven Gander Mountain stores carrying OWO or so many other businesses, you outdoor maniacs in the far south can now find OWO in the Bass Pro Shops in Gurnee. Look for the rack at the front registers.
Thanks for connecting with On Wisconsin Outdoors. I'm going turkey hunting tomorrow. And I had better shoot straight. Regardless…like our politicians I will always tell you some version of the truth.
Dick Ellis