Open Water Time
The first Saturday of May falls on the 3rd this year, and about one million Wisconsin anglers will join the floating mass known as "opening day" on inland waters. Many fishermen though, won't be waiting another month to chase migrating walleyes on Wisconsin's main veins or browns, steelhead and lakers on the Great Lakes harbors. They will be waiting though, for ice to vacate the areas. Hard to believe that's really a possibility after the nasty grip the Old Man had on our throat this winter.
I have plans mainly as a photographer and reporter to invade the Milwaukee Harbor Sunday morning. I will say my prayers with the first light in God's best church. I doubt that I will have to pray for fish and photo opps, though, with friend Jim Olsson as our captain. He'll find them, if we get on the water. Randy Rydzik and Rob Tobin are filling out the boat. They are also fish magnets, but we will have to deal with my anti-fish magic.
| | |
| --- | --- |
| | |
Our arsenal will include Williams and Mooselook lures. Under the same umbrella with Brecks International (founded 1947), Lake Clear (1920) and Savant Lures (2002) Williams Lures dates to 1916 and Mooselook to 1938. The Canadian based companies have signed on to advertise in On Wisconsin Outdoors for the next three years. They are helping us place this paper in your hands throughout Wisconsin six times a year at no cost. What can you do for them in return? See their ads on pages 3 and 9 in the March-April issue of On Wisconsin Outdoors posted on this website, and connect with www.williams.ca and www.mooselook.ca to view their entire inventory. We'll also be posting periodic media releases on a variety of their lures throughout our website under "Outdoor News" and "Inland Fishing". While you're there, and at "Firearms" and "Explore Wisconsin" check out everything else new we've posted this week too.
If you plan on fishing the Wolf this spring, and you are a text communicator (I am not, that's why I haven't "spoken" to my college age daughter in 14 years it seems), see the ad on page 17 in the current issue. They are keeping you informed of ice-off on the river via text and also at www.TravelFremont.com. You can also read my experience on the Wolf on that page when a bunch of locals hosted our walleye assault. It's a beautiful river and generous with both walleyes and whitebass and I think you will find some good contact information for your own trip.
You may know that 257 Wisconsin Kwik Trip stores statewide began making On Wisconsin Outdoors available to its customers last week, supplementing its own outstanding Facebook presence introduced recently with Kwik Trip Outdoors.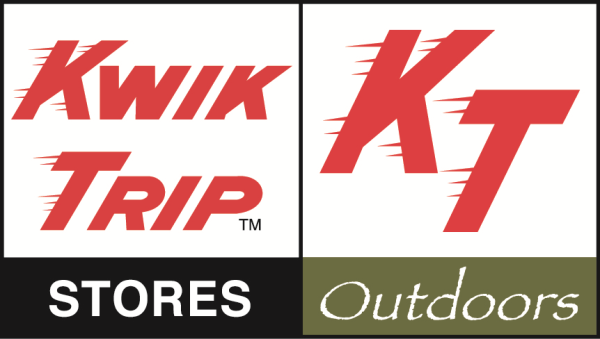 Kwik Trip Outdoors is ready to post your photos and stories from the field right now. And when you "like" KT Outdoors, you can also catch an opportunity to land a $100 Kwik Trip gift card. Click here to check it out!
We already had calls from the west side of the state from people who have picked up OWO at their local Kwik Trip and commented that they had never before seen the paper. One cabin owner looking for renters in prime turkey and deer hunting country near Boscobel in the southwest picked up the paper Tuesday and called to advertise Wednesday. We appreciate all of our advertisers, and the opportunity with Kwik Trip.
The 2014 Deer & Turkey Expo is April 4, 5 and 6 at the Alliant Energy Center 19119 Alliant Energy Center Way, Madison. It will be a great show, as usual. Grab the current OWO at a Kwik Trip or the distribution points nearest you listed on our homepage and on the Expo ad on page 20 clip the coupon for a $3.00 discount at the show.
Next week we should have fish photos from our inaugural trip of 2014 to the Milwaukee Harbor. Thanks for connecting with On Wisconsin Outdoors.
Shoot straight.
Dick Ellis