Of Kats & Fish…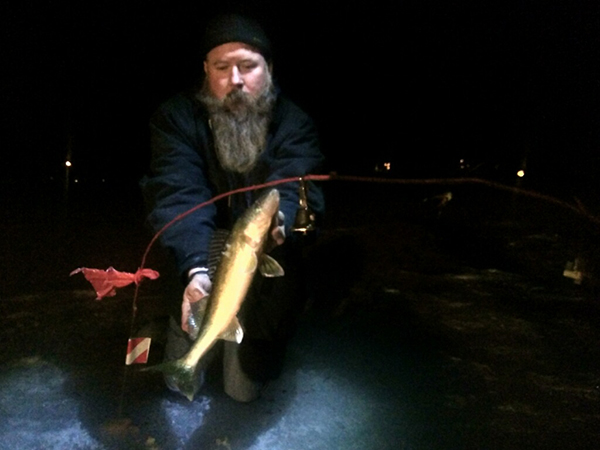 Ice angler Jay Hintzke, a New London, Wisconsin-based well driller, shows a 17- inch male walleye taken through the ice during the early spring run on the Wolf River near Johnny's Little Shop of Bait.
On Wisconsin Outdoors is badgering our friend and owner of Johnny's Liittle Shop of Bait in New London, John Faucher every few days now for updates on the Wolf River spring walleye run. Johnny boy is a true Wolf expert. I highly recommend staying in touch with him for accurate information. We're going to the Wolf and we will be coming home with walleyes.
The spring run in New London, as John puts it, is on now, but fishing remains a hardwater endeavor and anglers must be very, very careful despite good ice conditions. Better to wait just a week or two more for open water in this area, or head to Fremont where the water is already open.
"We continue to see good fishing in New London right now," John said Friday morning. "The ice will be tight here for another week or two but the water is open at Fremont. If you have a way to get out to the ice, it is really solid and the run is on, but be leery of old holes and use the buddy system. The sun is hanging high and the current will work on the holes like an upside down funnel. It's like a hole that a muskrat or beaver keeps open. If you step there you could go right through."
Call Faucher and connect with Johnny's Little Shop of Bait at 920-982-4802 or www.johnnyslittleshoppeofbait.com.
OWO contributor and traveling retired man about town Dick Henske from Manitowish Waters landed in St. George's Island in the Gulf of Mexico two weeks ago until the open water season pulls him back to Wisconsin. Dick will fish and hunt Wisconsin for a while before bouncing up to Canada for one or two trips, hunt deer in Montana or Wyoming and yadayadayada,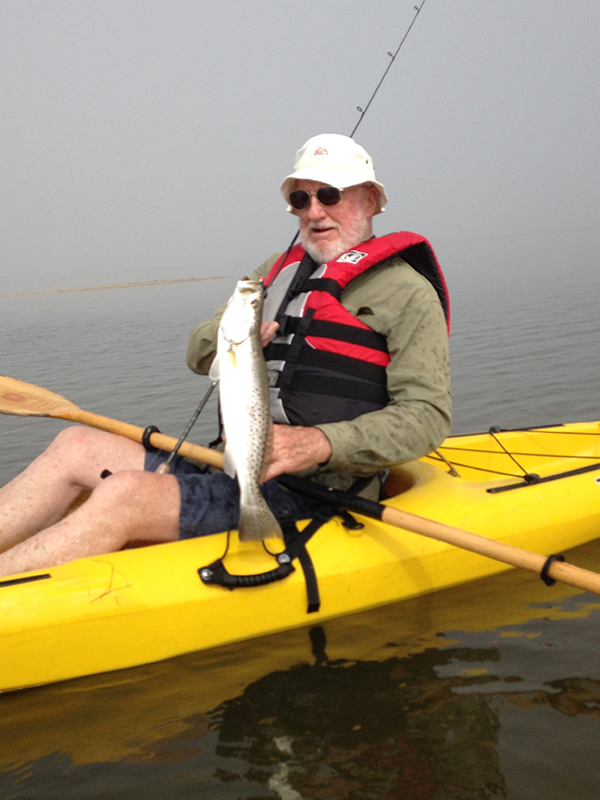 Anyway, here is the 82 year old Henske working St. George's protected bay with crankbaits from a kayak. This time the victim was a speckled trout. As Dick says, "If you rest, you rust."
On Wisconsin Outdoors QuietKat arrived from Colorado yesterday and was transported right to the Wonago Bike Shop in Mukwonago for proper assembly and overall check before we inaugurate it in the fields of Wisconsin. The electric fat tire bike, trailer and accessories will be used by our writing staff to quietly access back country for hunting and fishing stories.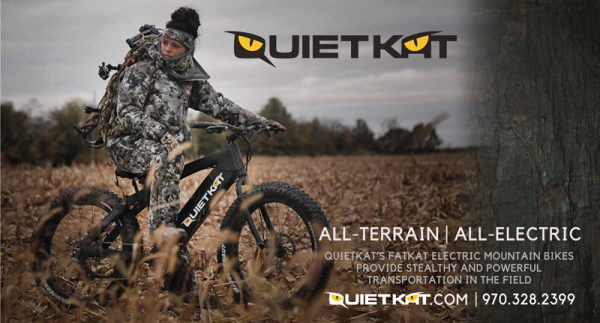 Use this code for FREE SHIPPING on your new bike from https://www.quietkat.com/: OnWisconsinOutdoorsFS
I'm taking the first trip to hill country in Zone 1 farm country for the period two turkey season. Instead of driving the truck back as far as seems reasonable before walking in to hunt, I will be biking in most of the way. I have visions dancing in my head of taking photos in the alfalfa with a huge gobbler sprawled in the trailer for a long ride out. I also have visions of 10-point bucks and sugar plums….
What's a sugar plum?
The QuietKat people also hope we can squeeze an ice fishing trip in on some good hardwater somewhere, but we will tread carefully in that area around southern Wisconsin…or we'll be treading open water I think. High sun and current you know. The good news is spring is coming in like a freight train.
A steelheading trip to a maybe the Menomonie or Sheboygan is also on the horizon, with expert OWO trout man Jerry Kiesow. He thinks maybe by late next week we will be trying for those hard-fighting Great Lakes rainbows. Stand by for the report.
Thanks for connecting with On Wisconsin Outdoors. Shoot straight.
Dick Ellis