OWO March-April Hits the Streets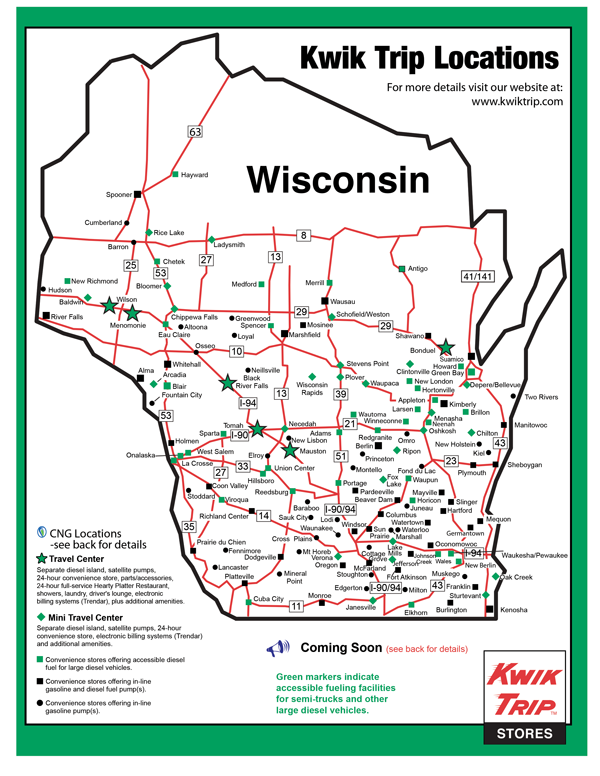 On Wisconsin Outdoors' March-April issue is being printed today, with 100,000 copies slatted to hit the streets of Wisconsin this week. Kwik Trip continues to open new stores for your travel needs, and don't forget to pick up your OWO when your gassing up and loading up with other KT merchandise.
We will post a new store location map from Kwip Trip so you know where to look. We are also posting the OWO issue as usual on our homepage for those of you who prefer an online read. Lots of fishing, hunting, hiking, trapping, maple syrup gathering, tourism, firearms features, dog talk, recipes, and so on.
We think you'll like it. Thanks for reading it.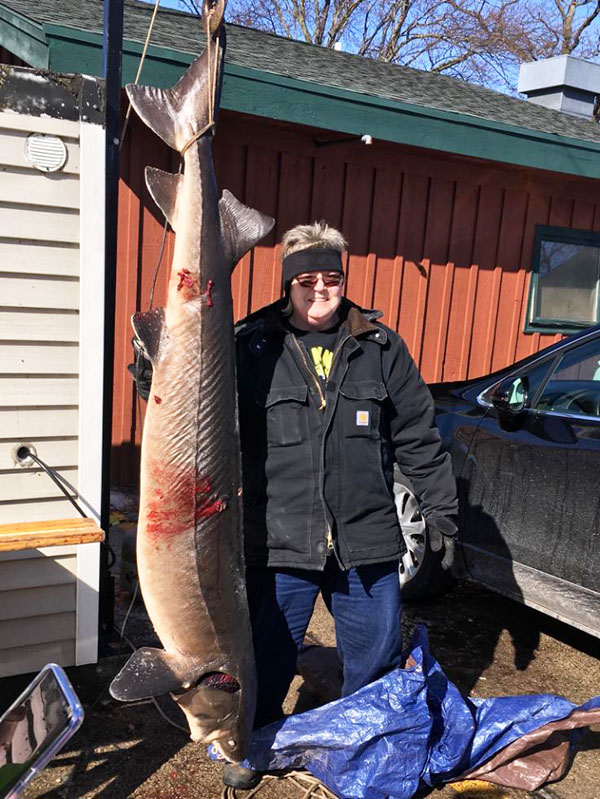 Kristine Halback registered the largest fish on the spearing season's last day, a 131 pound bruiser.
The 16th and final day of the 2018 sturgeon spearing season on Lake Winnebago concluded with 14 fish speared, or the lowest daily harvest of the season, 14 fish, according to Winnebago System Sturgeon Biologist Ryan Koenigs. The DNR Senior Fisheries Biologist has been keeping us informed every day with reports and photos of massive fish that have been speared this season.
If you have not yet, you can find all of those photos and follow the progression of the season from day one under Outdoor News or Inland Fishing on the website. WE post all reports every year due to the diligence of Koenigs and team.
Five of the fish registered on the final day came in at Calumet Harbor, four at Stockbridge Harbor, three at Payne's Point, and two at Wendt's. The largest fish harvested was 131.0 pounds and more than 76 inches, registered at Calumet Harbor by Kristine Halbach of St. Cloud, Minnesota.
According to Koenigs, there were 654 sturgeon harvested from Lake Winnebago this season. An additional 297 fish were harvested from the Upriver Lakes, bringing the system-wide total to 951 sturgeon harvested during the 2018 spearing season. This season's harvest from Lake Winnebago ranks 42nd out of the 78 seasons dating back to 1941.
Koenigs has provided a lot more information with this final that you can find on our website. Thanks to Ryan and staff for keeping us informed and keeping the system the world's finest for the Lake Sturgeon.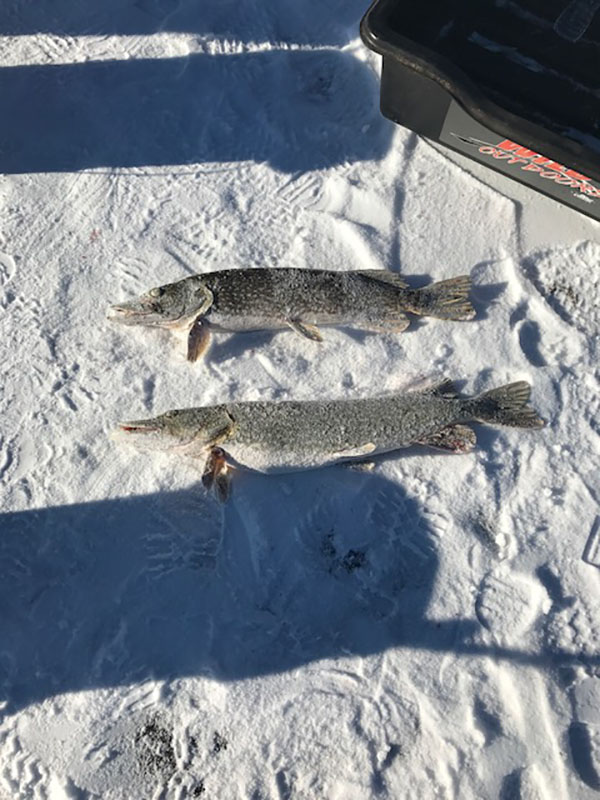 Jim Mikolajczak and Greg Falk kept two pike of nine caught as the gamefish season winds down in Wisconsin.
OWO sales representatives don't just sell, as Jim Mikolajczak shows us. Jim and lifelong friend Greg Falk spent eight hours on the ice recently in some cold weather without a shelter and went home with two pike stretching the tape to 26-1/2 inches and 27-1/2 inches. They threw back seven northerns that didn't make the grade.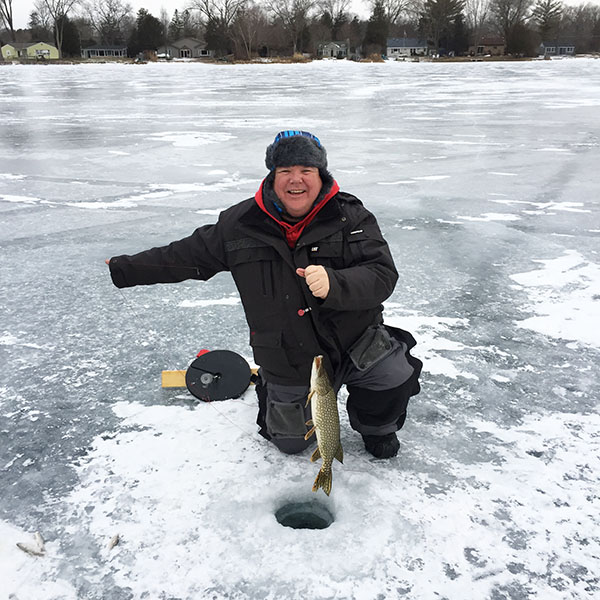 Another pike falls during the annual Mike Hart Classic on Pretty Lake.
I landed on Pretty Lake in Waukesha County recently with a bunch of friends to take advantage of Mike Hart's wildlife cooking on the hardwater. Oh and some people fished too, a few flags flew and a good number of fish were caught. No need to do anything but eat though and everything from venison tenderloins to sausages more than made the trip out worth it. The annual event has always great but keeps getting better and better.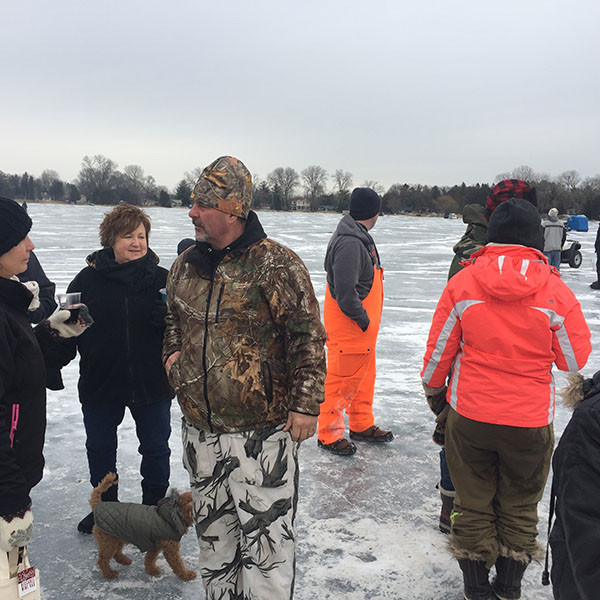 Mike Hart kept the coals hot and the good food coming on the hardwater.
We're moving into the final week for the Wisconsin gamefish season (March 4) and it's time to get those shacks off the water, depending where you fish. After the date for removing shelters from the ice, you may continue to use a portable shelter, but you must remove it daily when it is not occupied or in use. Shelters must be removed daily on the Fox River in Brown County from the DePere Dam downstream. All ice fishing shelters must be removed from the ice daily and when not in use:
• Lake Michigan, Green Bay, Lake Superior, and inland waters north of Highway 64
by the First Sunday following March 12.
• Inland waters south of Highway 64 by the First Sunday following March 1.
• Wisconsin-Michigan boundary waters by March 15.
• Wisconsin-Minnesota boundary waters by March 1.
• Wisconsin-Iowa boundary waters by February 20.
Thanks for connecting with On Wisconsin Outdoors. Shoot straight.
Dick Ellis