Now it Starts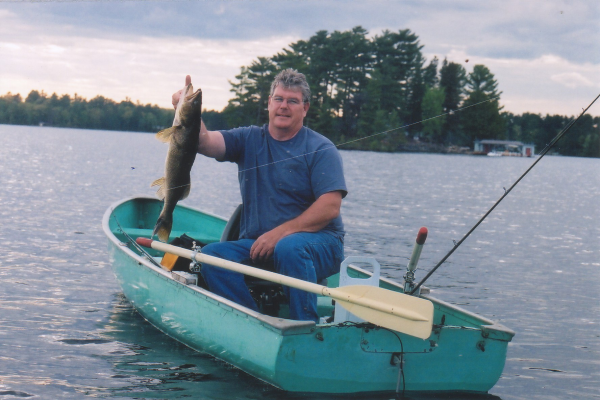 Row trolling will be on the Ellis boys schedule early and often this fishing season. Here Jim Ellis prepares to release a nice walleye.
I shouldn't really refer to the Wisconsin fishing opener as a new beginning like that, because really it never ends here for the hunter and fisherman does it?
Last week I was near the Mississippi River as a reporter snuggled in a woodline with the camera hoping to capture a gobbler kill for good buddy Todd Cook or my brother John Ellis in Grant County. Close, but no cigar. Actually John did have one of those too, but the real point is that after a ton of sunrise gobbling from I'm guessing six different Toms at different distances from every direction, the tag holders never got a shot. I know the hens closest to us didn't like the competition and what was very good seduction talk from the hunters slate and mouth calls, and led the big boys away from us after an hour or so. It was a one day field affair with Todd due for third shift punch-in at his place of work near Beaver Dam so…next time. Next time is this week's season 3 for my tag, but I won't return to the field until the season is almost up. I'm hoping Tuesday. Too much real work to do.
The week before that it was the walleye run on the Wolf River near New London, more shed hunting and my first crack of the year looking for morels. If you've never done that, finding mushrooms and preparing them with maybe venison tenderloin is really worth your time. It's fun, you feel like you accomplish something when you actually walk out of the field successful, and the payoff is delicious. Do what I did several years ago not knowing what I was doing at all previously; google "finding morel mushrooms". You'll learn all about looking for half dead elm trees as one key, and it works. I've found the shrooms at probably a 50-percent clip since my rookie trip.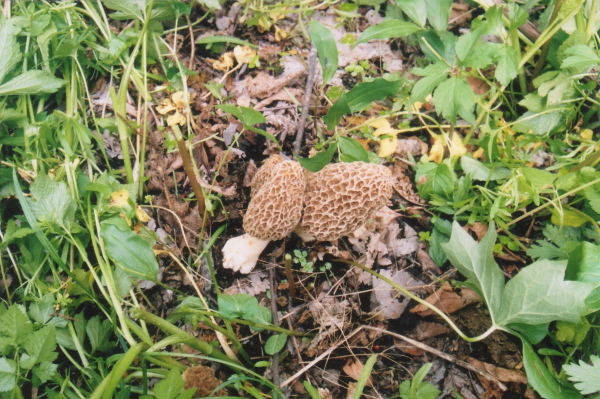 Ellis took this photo after finding his first morels two years ago.
Another option? Connect with the May-June 2017 issue of On Wisconsin Outdoors posted on this homepage and read "Meeting More Morels" by Jerry Davis (we will also have 100,000 print copies of OWO on the streets within one week…we're already half-way there) You'll find Jerry's tips to finding more of the too elusive mushrooms on page 24, and a whole lot more. Including 15 fishing features from bluegill to King salmon, bear, deer, duck and turkey hunting columns, Cochran cartoons, recipes with Suzette including two by new advertiser Lily River Foods, a dog training article by Tom Mueller with sponsor support from Fox Valley Retriever Club, firearms columns, Product 6-Pack, Badger Birds, Wisconsin tourism invitations, etc. etc., etc..
Don't forget to check out Kwik Trip's offer to text Brewers to 77887 for your chance to be Kwik Trip Brewers Family of the Game, or Kwik Trips offer to text Bernie to 77887 for your chance to slide down Bernie's slide at Miller Park.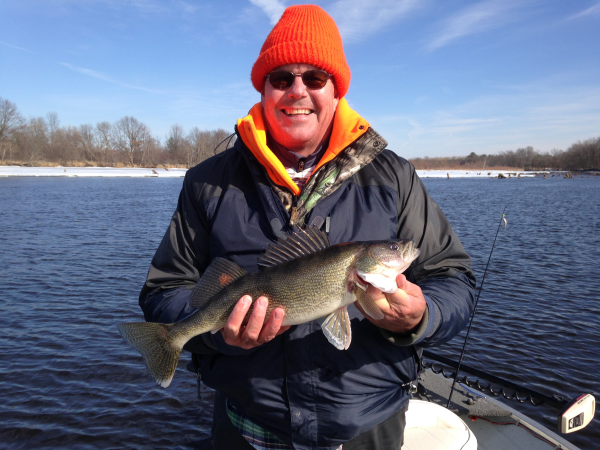 Temperatures in the 50s are expected in northern Wisconsin this opening day, unlike many seasons past.
Anyway, opening day fishing in Wisconsin might be just part of the great Wisconsin cycle of hunting and angling here through the four seasons, but it's always welcome. After helping my father-in-law Friday with some dock and boat work getting ready for the summer on the Manitowish Chain in Vilas County, I will be hunting smallmouth and walleyes with brother Jim Ellis all day Saturday. Last year, Jim knocked off 19 and 17 inch smallies throwing crankbaits, which were released with a bunch of other smaller fish. Jim's pumped on the eve of the 2017 opener. He's got close to an estimated 7 million potential hotspots input in the GPS system, and a boat that will do everything we ask. I'm still amazed that he can "tell" his boat to stay in 11 feet of water and we will circle rock bar rising to three feet while we work the suspended gamefish.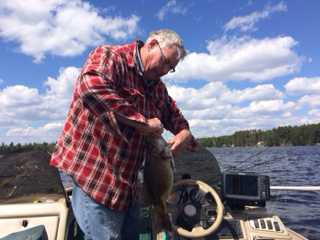 Jim Ellis prepares to release a fat smallie on opening day in 2016.
Last year after we called it a day I asked Jim if he could have his boat mix me a dirty martini. Well, yes, it did but it wasn't dry enough, and there were only two olives.
Next week, I hope to have some big fish stories and one Tom down. Talk is cheap. But, as always I will be bringing you the truth (like martini-mixing boats) regardless of whether we find success or failure in the fields and on the water. Thanks for connecting with On Wisconsin Outdoors. Shoot straight.
Dick Ellis