Muzzle Loading the North Country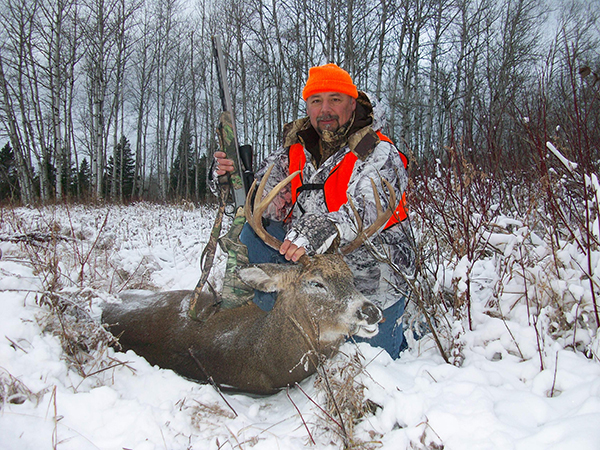 OWO Columnist Mike Foss had to take this buck from a bobcat which had claimed it as his own.
With four days of hunting the rut with my bow and four days of rifle hunting the north country but still no deer, I turned back to Vilas County for two days of muzzleloader hunting. The only problem with this was that my wife Lori, the world's best "present buyer", had given me the Knight Revolution in 2004. No excuses, I had used it once.
I spent the nights before the season re-learning the rifle. I took it apart twice and reassembled it, watched the DVD that came with the package, read the literature inside and out, and then traveled west to Jim's Sports Heaven in Oconomowoc for a little hands-on instruction from a true firearms expert. Before I walked out of there, owner Jim Appenzeller also bore sighted the Revolution for me.
I left for the north country with a commitment that if I could not hit a paper plate from 50 yards with open sights, I would hunt the two days with the bow. Well I did hit the plate twice with the bullets one-half inch apart, so I spent about nine hours on stands waiting for my freezer filler that never came. Maybe the southern Wisconsin doe season will send me some tenderloins in gray.
A side note when preparing for the muzzleloader season was that another Wisconsin gun shop told me to beware of the Knight Revolution. They said a recall on the model had caused the manufacturer to shut down. I pulled up the website and called Knight, and a real helpful employee let me know that they had purchased the company after shutdown due to the recall of the Revolution. He walked me through pulling down the trigger housing and verifying that I had a tooling imprints that meant my gun had gone through the recall and had the mark of approval.
I am now in for life with muzzleloading. It's a blast, although cleaning the gun after the blasts is a frequent necessity and quite a job. Instead of the ramrod, I purchased a .50 caliber bore snake and pulled the breech plug for a really slick and easy job. I could eat through that barrel. I do use bore snakes on all my rifles and shotguns.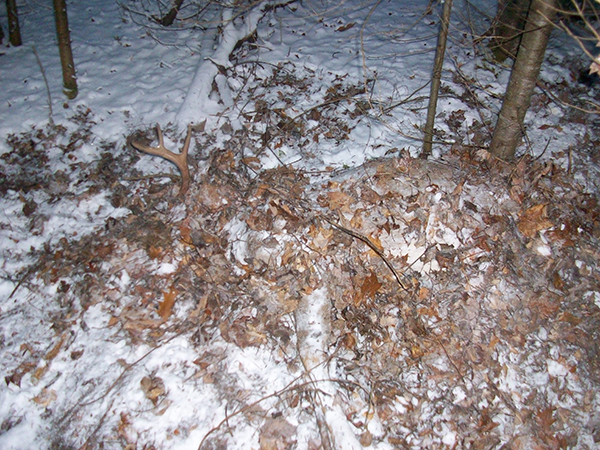 Foss recovered the buck in early morning but not before the cat had recovered it, and buried it, first.
OWO bear expert Mike Foss shot a buck with his muzzleloader in Bayfield County although he said it took days to see a deer. He also fell into an unusual story. With four inches of snow on the ground and the colder temperatures he likes, Foss was in his tree, but abandoned the perch after a short time. With winds gusting to 45 mph, Foss concluded, "I'm going to die if I keep sitting here. I was swaying back and forth like a pendulum in single digit wind chills."
With warm clothing, Foss hunkered down beneath a huge pine tree. "It was one of those where the branches form a canopy and touch the ground," Foss said. "I also remember from years ago I cleared out a spot underneath one of those trees for a ground blind. It was perfect."
Just before shooting hours concluded, Foss peeked around the tree and was somewhat shocked to see a buck with two does at 80 yards. Foss actually had to risk leaving his ground blind and walking toward the trunk to create the shot at 60 yards with shooting hours dwindling to the last two minutes. The hit was a little too far back, and after determining that he would risk pushing the deer by trailing it that night, he returned the following morning to make the final recovery,
"A friend and I picked up the trail at 7:15 the next morning and only 60 yards further I spotted something out of the ordinary," he said. "I scoped it and saw an antler sticking out. My deer was covered with leaves and sticks. My first instinct was that a bear had done this but as I walked closer I knew it was a bobcat that had claimed the kill. Never did I expect I would walk up on three deer that paid me no mind and later find my deer hidden so well by a seldom seen cat. One of my best solo hunts ever. Just wanted to share it with our readers."
You know what one of my highlights of the three journeys to the north country was during the deer seasons? Visiting the Kwik Trip stores and listening to the mental debates raging in my head…breakfast sandwich or Angus burger, breakfast sandwich or Angus burger…ahh, the life of the traveling Wisconsin outdoorsman.
Thanks for connecting with On Wisconsin Outdoors. Shoot straight.
Dick Ellis