More Nice Bucks!
OWO contributing writer and film man Jimmy Olsson (no relation to Superman) and bow hunters Karson Korth of Clintonville, Nate Baron of Ashland, Eric Biesek and Joe Jenz from central Wisconsin, and Ohioan Glen Sheetz all score big in the archery fields this week and send us the results.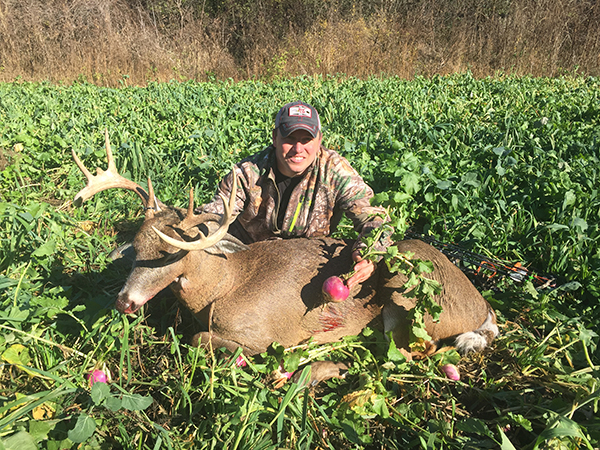 Jim Olsson
Olsson took a great buck after getting worried that he should have never passed on what would have been his best buck with a bow earlier in the season. Olsson is on the pro staff for Antler King and is also New Car Sales manager for Lynch GM Superstore in Burlington. Go see Jim to talk cars, trucks and bucks.
Antler King helps hunters after the Big Boys establish food plots. Jim shot his 10-point Iowa County buck with 16 inch spread at 10:15 Sunday morning, November 8 hunting over an Antler King Lights Out food plot.
Olsson has been chasing big bucks for years, and has a thing or say on the rut on this website too. Link with his thoughts under Deer Hunting on this website.
"He was cruising and looking for does," Olsson tells us about the kill using his Mathews ChillR. "We have the entire hunt and the 55 yard shot on video that will be available in the near future."
Stand by. OWO will let you know where to view the video.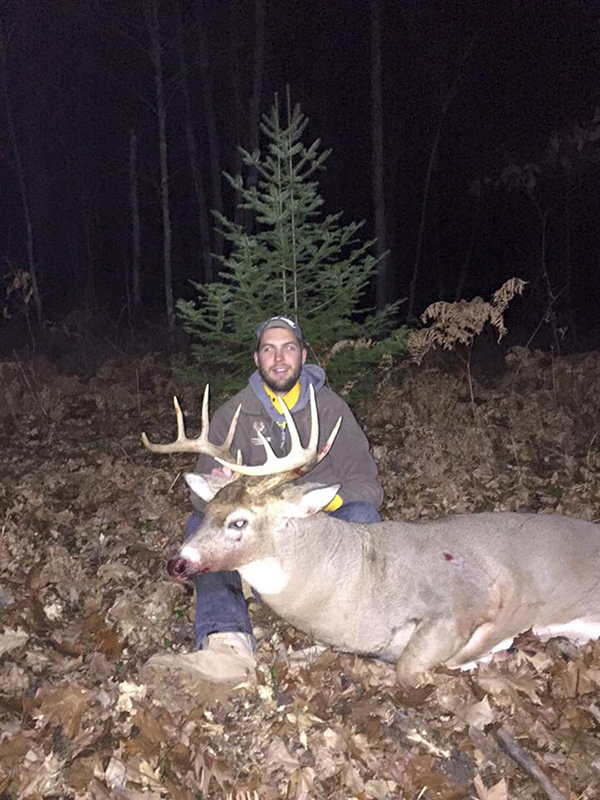 Eric Bieszk
Each week we post the Phil Schweik fishing report on this site under Inland Fishing, but Phil is also a deer hunter and bear guide and hangs with hunters who know their way around the central Wisconsin forest. This week, along with his usual impressive fishing photos he also sends Eric Bieszk and Joe Jenz bucks taken with bows near Wausau.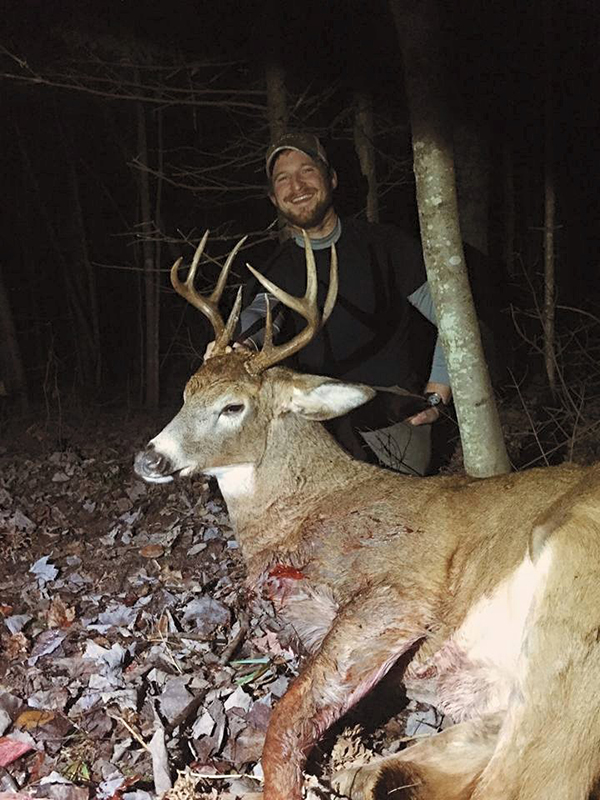 Joe Jenz
"Deer hunters are anxiously waiting for next weekend to arrive with over 600,000 people getting ready to take to the woods in anticipation of tagging that big buck," Schweik writes. "With near perfect conditions in the central Wisconsin area and a delayed rut, hunters should find deer movement strong opening weekend of the 2015 gun deer season. Most of the activity will start out in transition areas and funnels between open areas of fields and select cut forests. As the day or day's progress start looking for the thickest areas in the woods to hunt. These are safety areas that big bucks will head to when the pressures of human presence start to infiltrate the woods."
Mike Duffin, who you will see in this week's Schweik report with a nice central Wisconsin musky, also sends us this photo of the Karson Korth buck from Clintonville. If you like surf and turf, these boys know how to make your time outside productive. Connect with Schweik and Hooksetters Fishing services at hooksetters.biz, hooksetadventures.com, 715-693-5843 or pschweik@dwave.net.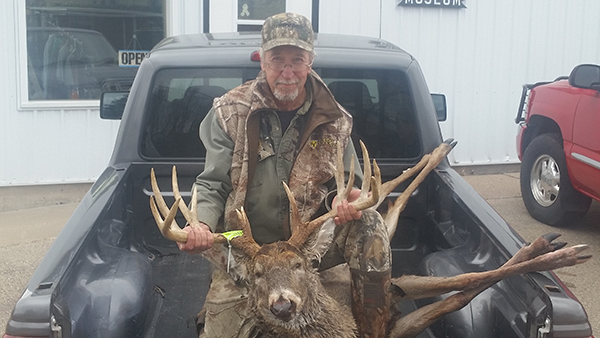 Karson Korth
Bob Mercier, author and creator of the Dominance is Everything deer hunting system, sends this photo of Glen Sheetz from Ohio with his impressive buck. Sheetz is another hunter Mercier "taught to be invisible to deer in Ohio while walking his private land to discover the whereabouts of the king of the herd. This king hunted Glen two weeks ago and he shot him at 25 yards after the buck followed the dragline in."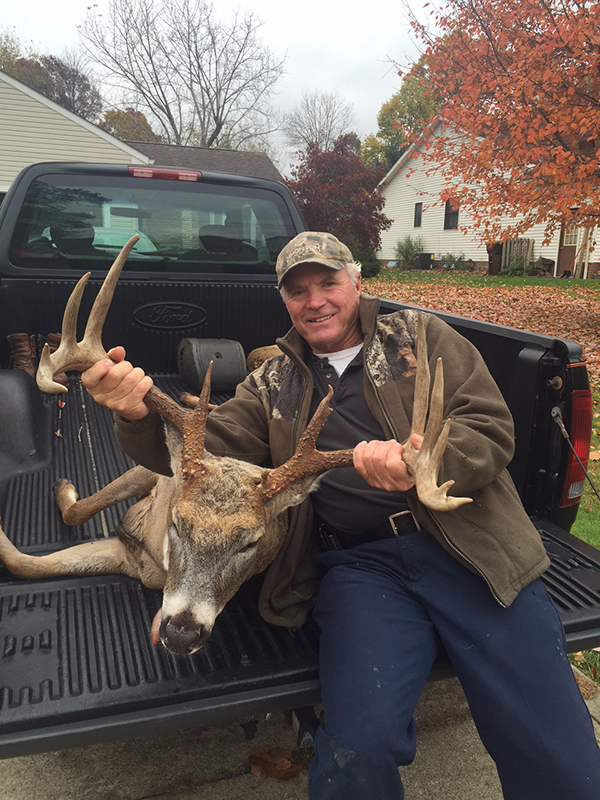 Glen Sheetz
For more information or to buy Mercier's book online, connect with Dominance Is Everything. Books are ON SALE in 2015 for $39.99 per book and FREE SHIPPING. Sale Ends 12-31-15
Nate Baron of Ashland, owner and operator of Up North Guide Service near Ashland guides both fishermen and hunters. Here's Nate's buck taken November 11. Sporting a 20-inch inside spread between the G-2's, the monster came into a grunt call and was taken at 37 yards,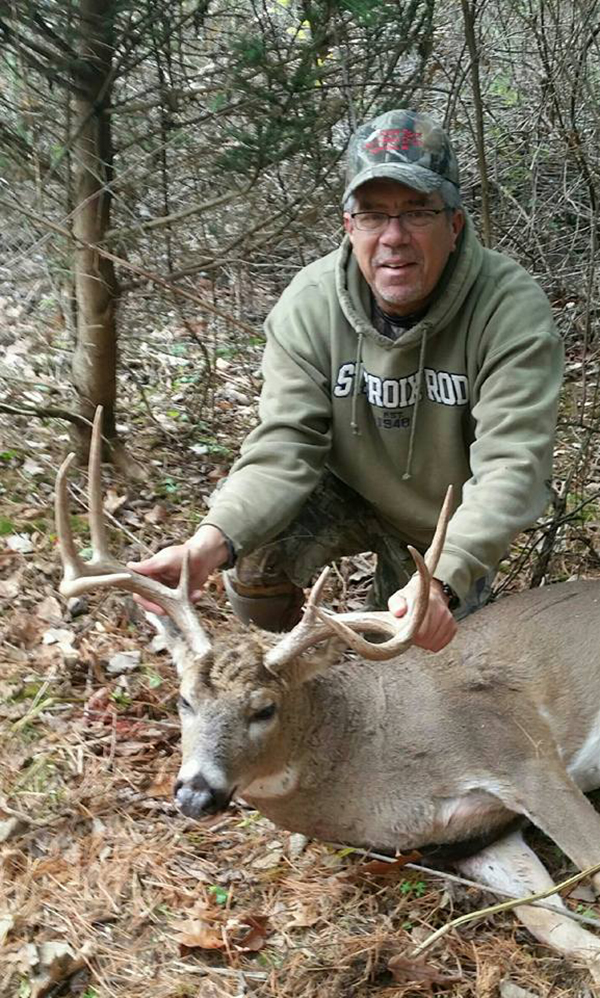 Nate Baron
Send your fishing and hunting photos to ellis@onwisconsinoutdoros.com. If you have not picked up your November-December issue of On Wisconsin Outdoors at any Wisconsin Kwik Trip or O'Reilly Auto Parts store, you better hurry and I'm serious. I have never seen the paper disappear this fast and that is saying a lot. I placed the last 3000 of our 50,000 today. You can always read online on this website too.
Thanks for connecting with On Wisconsin Outdoors. Shoot straight.
Dick Ellis