Merry Christmas, Healthy New Year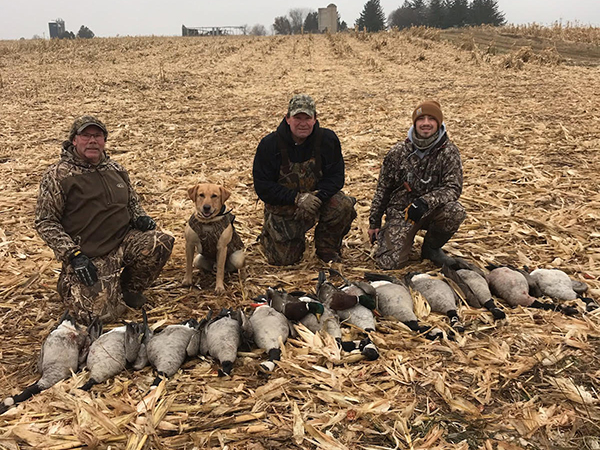 John Volkman's hunting buddies Todd Schnetzer, Bob Matzke and Ben Hoida (L to R) with a nice day of late season goose hunting near Neenah.
We said goodbye to the 2018 waterfowl season with trip to Neenah to tap into the duck and goose hunting expertise of buddy John Volkman and few of his good friends, Volkman is a three-time Wisconsin goose calling champion and I have hunted in the northeast with him in seasons passed when literally hundreds of mallards dropped in on our layout blinds and decoys set in the recently cut corn.
My brother John Ellis and I were hoping for a repeat performance on our way to Vilas County to work the muzzleloader and late archery season for deer. The late waterfowl hunt can be hit or miss, with Volkman and crew scouting to visually locate the flocks on the wing moving from roosting area on the open Wolf River system to food sources offered by farmers' combines. A successful hunt requires cooperative birds and generous landowners.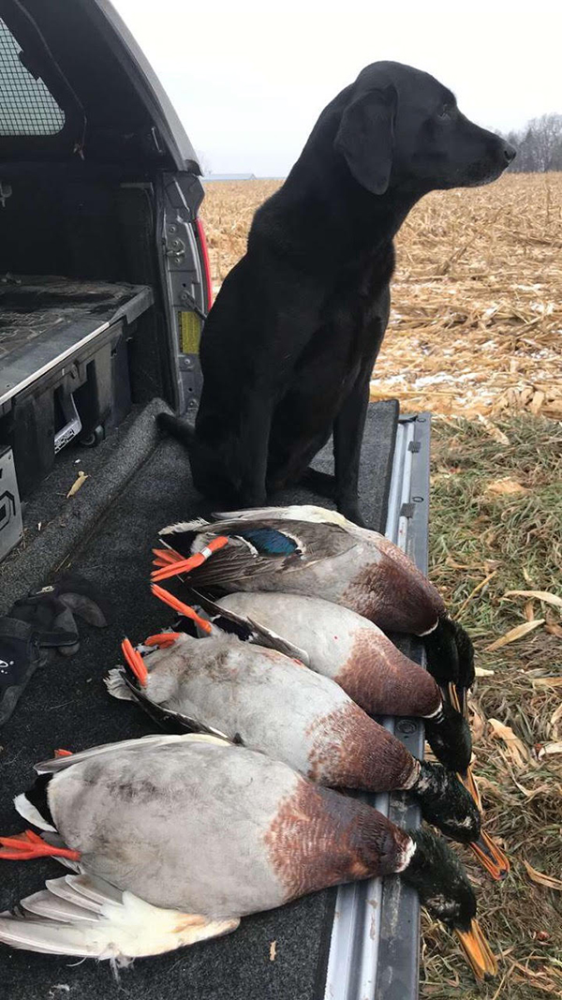 The greenhead mallards picked out for harvest included one banded drake from earlier capture.
We had the latter and the blinds and scores of geese and duck decoys set in the cut corn. We only had two flocks of 20 birds or so flirt with dropping in to visit while we were there, and walked away with two mallards. Uncannily in the heart of goose country, in four hours we never saw a single goose airborne, even in the distance. The Volkman crew did do better on both mallards and geese the next day.
A few of my friends sent us photos of bucks taken during the recent hunts which you might call early Christmas presents, especially if you like venison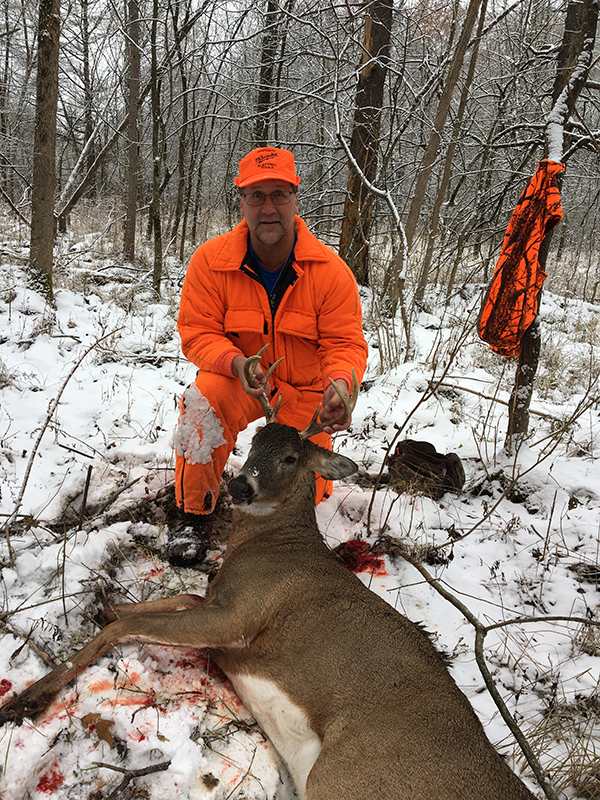 Dean got a little help from a new friend first to get a shot on this buck, and then during field dressing and removal from the field.
"I got a nice, not big, 8 pointer with the muzzleloader opening morning (of the statewide deer season) at 8:30 in Washington County, writes Dean Pavletich in response to my "how'd you do?"
"Got a little lucky too," Dean continued. "On public land a guy sat about 80 yards up a ridge from me 10 minutes after the opener. I was in the bottoms, down by a river. When he stood up and stretched, the deer was only 10 yards away from him. He spooked the buck down by me and I got him. Good to be lucky sometimes!"
In this day and age when we might hear too much about competition on public land for stands, Dean also said this to say about the hunter who didn't tag the buck in the field…this time.
"It turned out that the guy, 'Jeff' who walked in late was a real nice guy," Dean said. "Helped me gut the deer and drag it out of the woods. Jeff even offered to get his truck because it was a mile walk back to where my truck was parked."
Now that is pretty nice. A Wisconsin hunting story with a Christmas-like twist.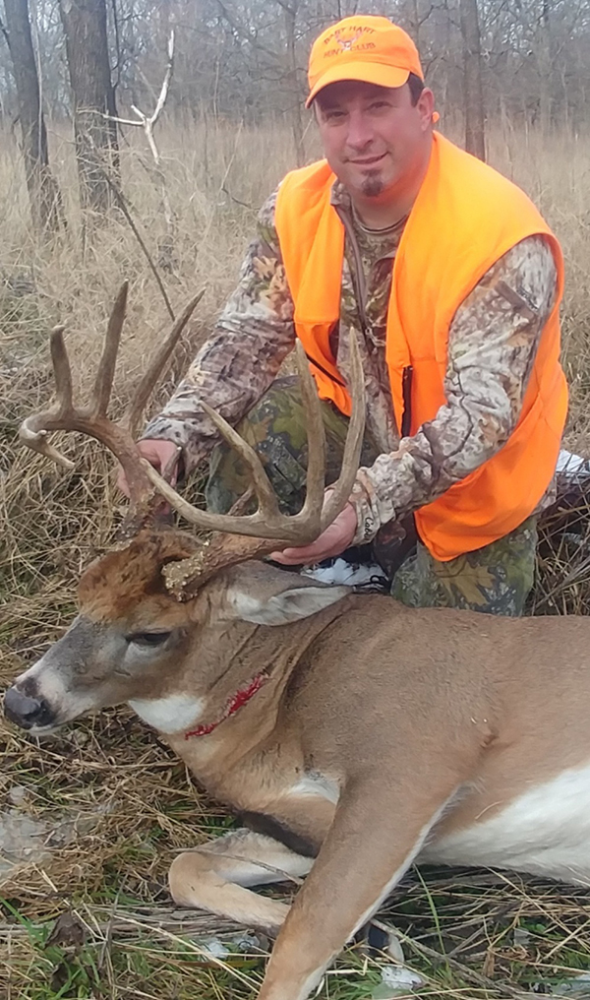 Tom Hart made a trip to Missouri pay off big.
It's also pretty nice… like the buck Tom Hart tagged when hunting the 2018 season in Missouri.
"I leased land in Missouri the last two years," Tom e-mailed. "I shot this buck on Sunday with the rifle. He hasn't been scored yet but should gross in the 170s and there's a chance he could net Boone. I think he will be short of that. Unreal hunting though."
Tim Sadowske from the old high school days in New Berlin tagged a real beauty with his rifle while hunting near Vernon Marsh the day after Thanksgiving. Tim made the shot over 100 yards on this 8-pointer, but after watching the buck move a short distance in the cattails was unsure of the hit s and did not attempt the retrieve for two hours. The buck was dead though, near where he last lost sight of it.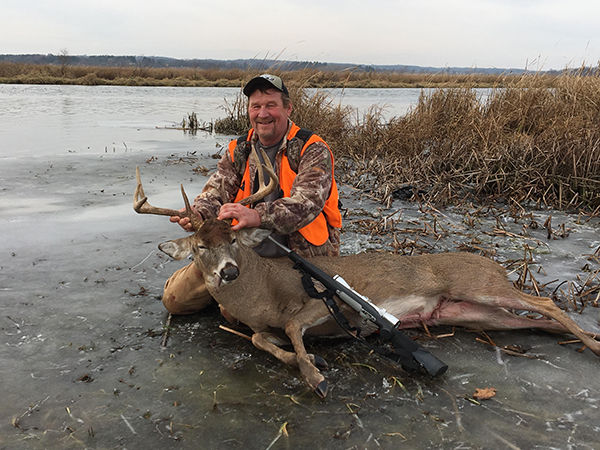 Tim Sadowske tagged this 8-point buck the day after Thanksgiving while hunting in Waukesha County.
I am venison-less after the muzzleloader hunt and not seeing any antlers in Vilas County, where John Ellis and I were both were looking for bucks only. I fully endorse the rules they have enforced in the North Country pertaining to bucks-only in trying to bring back the deer population over the last 10 years. Numbers will take care of themselves if we leave the does alone when necessary They did give out some doe-tags in Vilas this year, but mainly it's been hands-off and that is the ticket to recovery anywhere.
Friend and WDNR Big Game Ecologist Kevin Wallenfang was hunting the muzzleloader season in Vilas too and came to the same conclusion that we did after spending several days in the woods. The deer are there, based on sign, but they sure were nocturnal after the regular season. Kevin didn't see a deer with the smoke pole. We saw a very few does.
Well, it seems like it's the late season with the bow or nothing if I am to put any venison in the freezer this season. I'm almost certain to have walleyes after a trip to the Wausau area later this week though.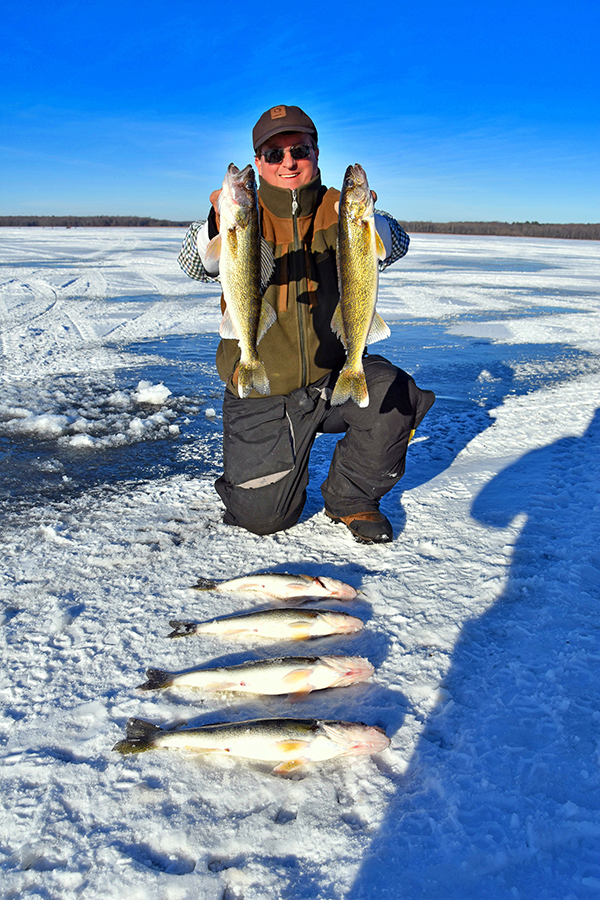 Kevin Munson knows what it's like when Phil Schweikl says he's on the best walleye bite of his life.
Hooksetters Guide Service owner and OWO columnist Phil Schweik called and invited me to participate in what he labels "the best walleye bite of my life." To put a comment like that from Schweik in perspective, it would be like Brett Favre or Aaron Rodgers saying, "I played the best game of my life. Schweik is as talented a guide on the open water and hardwater that I know after spending 30 years in the fields of Wisconsin with many, many experts. If he makes that comment, I am heading north. Check out Schweik's fishing reports under "Inland Fishing" on this website the last few weeks and you will see what he's talking about.
Speaking of icefishing, great nephew Grant Ellis says he had the most productive day of his long career as a professional angler on the hardwater last week in the North Country. This beautiful perch was one of 10 that fell to a red maggot and some nifty jigging by the Grant man.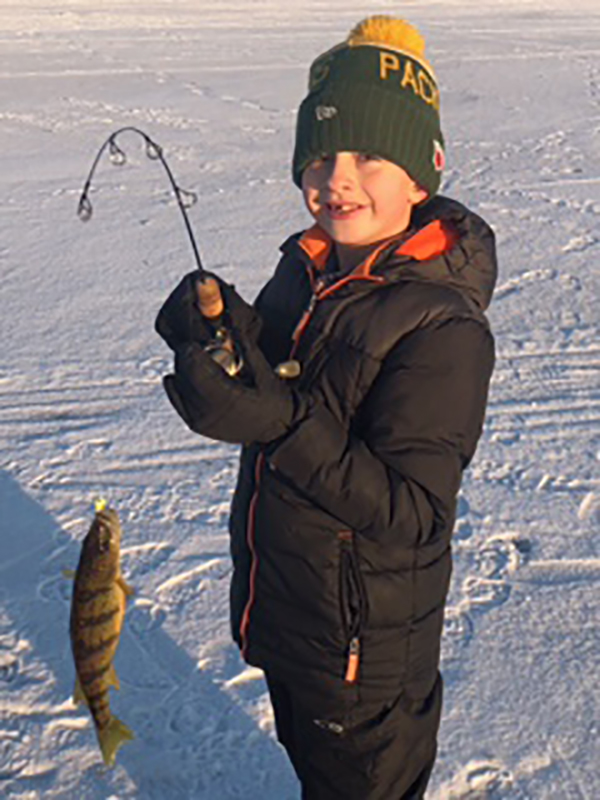 Grant Ellis and a red maggot teamed up to take another perch.
Announcing On Wisconsin Outdoors' 2018 "How Good of an Outdoorsman Are You?" contest. Winners must answer correctly both questions below to be eligible to win. Contest ends December 31, 2056.
First prize remains uncertain but rest assured we will have one by the contest deadline and it will be darn good. Two tie, all tie.
Questions:
In the photo below…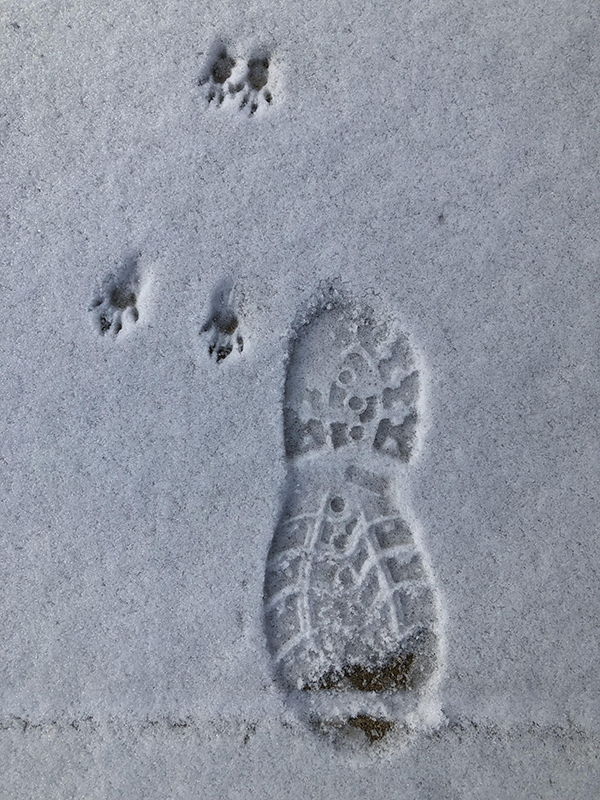 A) What print was made by a squirrel?
B) What print was made by a UPS man?
We understand that Minnesota Vikings fans may need a little help. Hint (that means "clue"): UPS is not really a spelling…it stands for something.
Alright then, Merry Christmas. Healthy New Year.
Thanks for connecting with On Wisconsin Outdoors. Shoot straight.
Dick Ellis