Memories of a Bear Hunt, OWO Hits the Streets.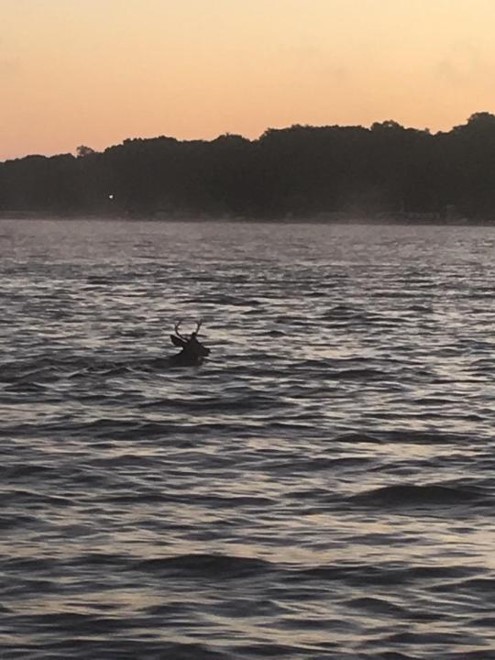 Common questions passed among hunters during these days of the whitetail rut include"are the bucks chasing yet" or simply "are they moving?" I couldn't help but think of that when On Wisconsin Outdoors fishing columnist Dave Duwe sent me this photo while working Delavan Lake. She must be one beautiful doe on the other shore.
The November-December 2017 issue of On Wisconsin Outdoors comes off the presses today, with 100,000 copies soon to hit the streets throughout Wisconsin. Lots of deer hunting stories, a column spotlighting 20 of 23 successful bear hunters in Northern Wisconsin Outfitters Bayfield County camp, and hardwater/open water fishing tales literally from Algoma to Lacrosse. For the online reader, our website version will be posted on our homepage today.
I sat in an Iron County treestand with my brother Steve in his quest to tag his second bear in as many tries during the September hunt. I'm going to let Steve tell his story below, because the kill came after he passed up several bears with me on stand, and many days after I abandoned his camp and left him solo. I think his time invested in baiting and preparation and then time on stand best shows the dues often paid before a hunter sees an opportunity to tag the bear he wants; if that opportunity comes at all. Thanks for connecting with On Wisconsin Outdoors. Shoot straight.
Dick Ellis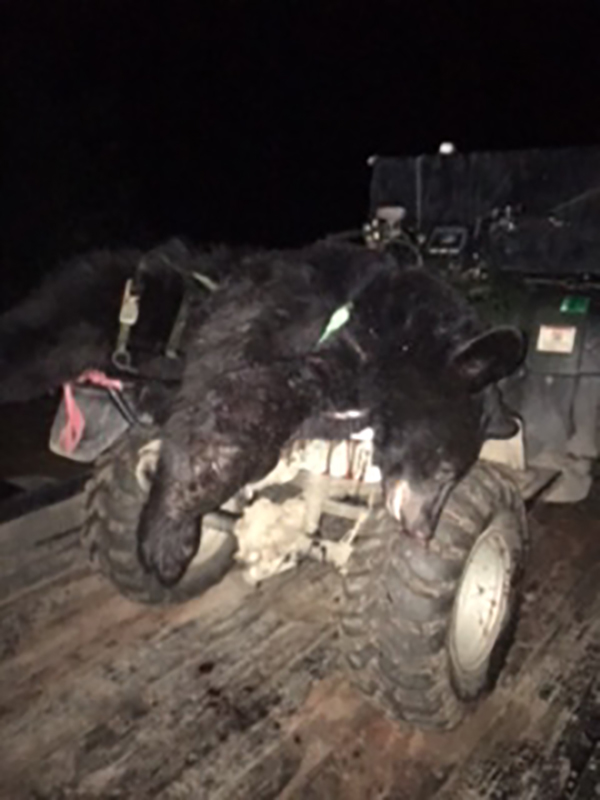 Steve Ellis tagged this bear with a double-lung shot after waiting long days and long hours for the right opportunity.
I shot a pretty big little bear this year....
Steve Ellis
When I applied for a Wisconsin bear tag for 2017, I had 8 preference points. Usually enough.
I'm 67 years old now, but feeling good. So even though the dog hunters go first this year, I felt like I should do it now because....who knows about next year?
I got the tag for Zone A, and, of course started daydreaming about the big one I'd shoot on the first or second day.
I started a few baits in May, and got some nice pictures on all of them right away.
As the season approached, I was sending some of the pix to Mike Foss at Northern Wisconsin Outfitters to get his thoughts. He's a guide at this excellent bear camp, and he knows bears.
Out of the blue, he told me they had a good stand going in zone A that they couldn't use. He offered it to me.
I went up there, and met Robert Haas, the owner of NWO. He showed me the stand, and some of the pictures, which looked interesting.
These guys do a great job. There were clearly a lot of bears around, and the stand itself was skillfully placed. Well tucked into a nice Hemlock and rock solid for safety.
I decided to hunt there on day 1, and see where it went.
I had 4 bears come in, but 3 were too small. The fourth, which looked bigger, came in directly downwind and defeated me. It was 80 degrees, and in spite of being careful about scent control, I was probably smelling like a human. He turned around and left leaving no shot.
I kept hunting there. Some days seeing nothing, and other days seeing multiple bears, but all smaller than I wanted.
My early dreams of a big one on the first day or two gave way to reality and I settled in for a grind.
In the end, I hunted there for 12 days, with long hours on stand. (8 or more hours per day). I saw a LOT of bears, smaller than I wanted, but it was so much fun!
I even took to videoing some of the activity with my phone.
Here's the thing...I'm an old grampa now but these fun days were making me feel strong and alive. I have 2 artificial knees; however I was up and down that tree with ease. I was out of the cabin early, and back well after dark. Hauling in bait every day, along with the rifle and other gear. I dragged the 4 wheeler behind the truck, and rode that to a point well short of the bait, where I'd walk in quietly with the gear.
This is my idea of life worth living, and I felt so grateful for all of it.
On the 12th day (cool perfect weather), I was feeling the pressure of all my other duties and decided it was time to shoot or go home.
At 1:40pm the first bear showed up but he was still too small so I let him pig out and leave. Around 3:30 he was back for more (or one just like him).
At 5:45pm a bigger one (not BIG big, but at least not embarrassing) came in from the south, and soon after, another about the same size came in from the north.
They actually boxed with each other a bit, and then chased each other around a tree standing upright. Very comical.
Then suddenly, they were sharing the bait like buddies and I was thinking about shooting one of 'em.
Oh Oh... I heard another one approaching from behind me and a little to my right. Both bears at the bait were at attention watching the intruder, so I dared not move to see what I had going on here. The 2 at the bait would see me.
I don't know why, but the newcomer didn't like something and I heard him turn around and walk away. I believe he either saw me (he was very close) or he didn't like the empty bait bucket at the base of the tree. Who knows? He was gone.
The 2 at the bait looked unhappy and I could see they were going to blast off, so at 6:35pm I decided to end my season and I shot one of them.
He didn't go far, and the recovery went smooth, but if you've ever dragged a bear by yourself, you know even a smaller one can be a chore.
As I was field dressing him, and getting him out of the woods in the dark, I was once again struck by the gratitude for being able to just do this.
In the end, I didn't get the monster I had envisioned at the start of the year, but because of the quality of the effort, and all of the memories, I feel like I shot a pretty big little bear.
He was 53 inches nose to tail, and 114 lbs. dressed out.