Kwik Trip Takes "On Wisconsin Outdoors" Statewide
257 Wisconsin Kwik Trip stores statewide began making On Wisconsin Outdoors available to its customers this week, supplementing its own outstanding Facebook presence introduced recently with Kwik Trip Outdoors.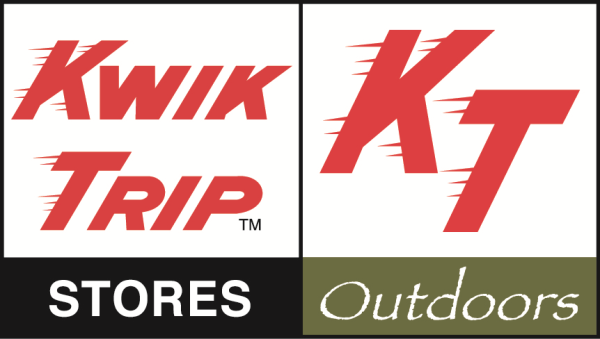 Kwik Trip Outdoors is ready to post your photos and stories from the field right now. And when you "like" KT Outdoors, you can also catch an opportunity to land a $100 Kwik Trip gift card. Click here to check it out!
"We hope to have the Kwik Trip Outdoors Facebook page be a place where fans have the opportunity to share their photos and stories with others across our tri-state area," said Kwik Trip marketing team member David Jackson. "We have a large number of outdoorsmen and women that visit our stores and we'd like to use Kwik Trip Outdoors as a 'first step' towards making our stores more convenient and engaging with those guests to determine what they'd like from us."
This partnership makes the free issues of On Wisconsin Outdoors available to the Wisconsin hunter and angler from Spooner and Hayward in the northwest, to Green Bay and Shawano in the northeast, to Lancaster and Platteville in the southwest, and Kenosha and Burlington in the southeast. If you want to know the location of the Kwik Trip store nearest you, we've posted every store on our homepage, via map and alphabetically by city.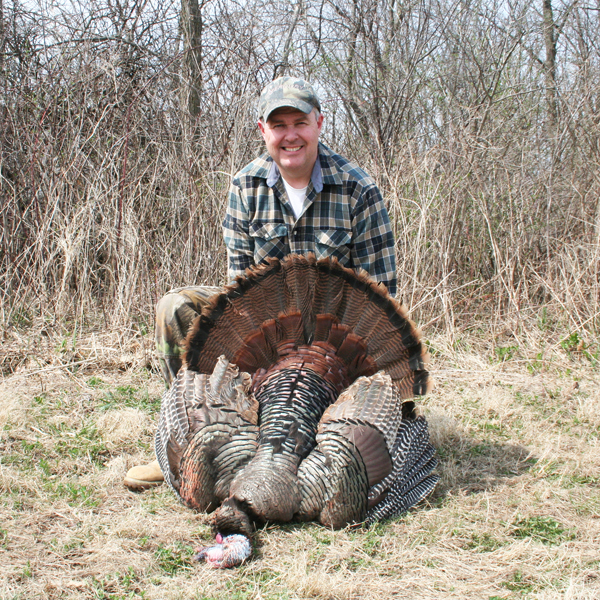 John Ellis celebrates his first
Tom in Grant County. Or is the smile
from remembering the Kwik Trip
glazer a few hours earlier?
Most likely, you're already visiting Kwik Trip on a regular basis. For my field partners and me, Kwik Trip stores in New Berlin or Muskego jump start virtually every hunting or fishing trip that starts in the pre-dawn black, and have for years. Traveling under a billion stars, and the anticipation and quiet banter in a truck heading out to target turkeys in Grant County or Sheboygan County woodies is a great part of hunting and fishing Wisconsin. A hot cup of coffee and fresh breakfast sandwich is also a welcome part of the established routine for this crew. Now, we're just very grateful to have a unique opportunity with this Lacrosse, Wisconsin-based, family-owned company widely recognized for customer, employee and vendor satisfaction.
The very first Kwik Trip store opened its doors in 1965 in Eau Claire. Today, they have over 11,000 co-workers serving guests in more than 450 stores throughout Wisconsin, Minnesota and Iowa. At every location, pick up bakery goods made and delivered by Kwik Trip daily, milk, snacks, hot sandwiches, fresh coffee and everything else you may need at a moment's notice…especially when a gobble or a first-light strike wait somewhere out there over the horizon. Don't forget the gas and now….don't forget your copy of On Wisconsin Outdoors.
"We're very excited to start offering OWO in our stores," Jackson said. "Not only do we believe this will be a great product for our guests to enjoy, but this should be an excellent way to work with a fellow Wisconsin-based company that can provide some insights on how to make ourselves more convenient to our outdoorsmen and women."
On the Kwik Trip website, you can read about the founding and journey of the little company that could, and did. It states, "great things happen when you treat people right". My brother John Ellis and I traveled 200 miles to corporate Kwik Trip in Lacrosse March 10 to deliver our first load of On Wisconsin Outdoors. We were treated right on the loading docks by the shipping workers, and left them a few bundles of OWO for the boys; a paper that they had never before seen. We were treated right in the corporate offices. And I'm willing to bet if you haven't yet introduced yourself, you'll be treated right at your local Kwik Trip too.
Even if you don't grab the paper, do yourself a favor; grab a roller off the grill, a Glazer donut and a Royal Kona blend….
Oh, man. You can thank me later.
Thanks for connecting with On Wisconsin Outdoors. This just off the wire! We're on Facebook too! Come visit us at www.facebook.com/onwisconsinoutdoors.
Shoot straight.
Dick Ellis