Kwik Trip Contest Winners Appreciate Time with Top Guide
Lake Wausau, a 1,851 acre impoundment of the Wisconsin River, served as the perfect match recently to host the winners of the Kwik Trip-sponsored contest to fish a day with talented guide and On Wisconsin Outdoors' columnist Phil Schweik.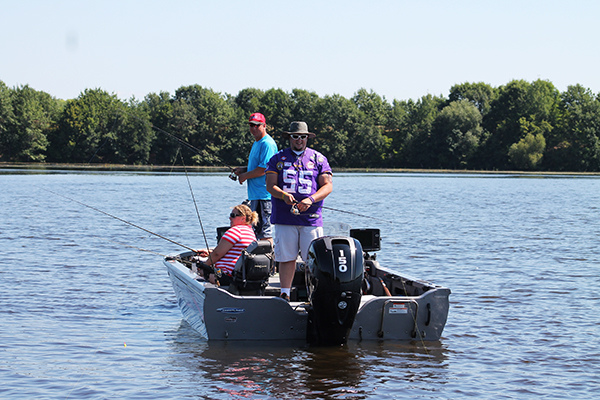 Marie Rose, Guide Phil Schweik and Dan Rose wait for more crappie action on Lake Wausau.
Contest winners but novice anglers Dan Rose and his wife, Marie weren't asking much. A little time together in beautiful northern Wisconsin, a bit of Angling 101 from one of the best, and maybe a fish or two.
"Marie told me that if she caught just one fish she would be happy," said Schweik, the owner of Hooksetters Fishing Services. "We fished with slip bobbers, and drift-fished with jigs and minnows keeping the bait right near the bottom. They caught 15 crappies and a half-dozen walleyes."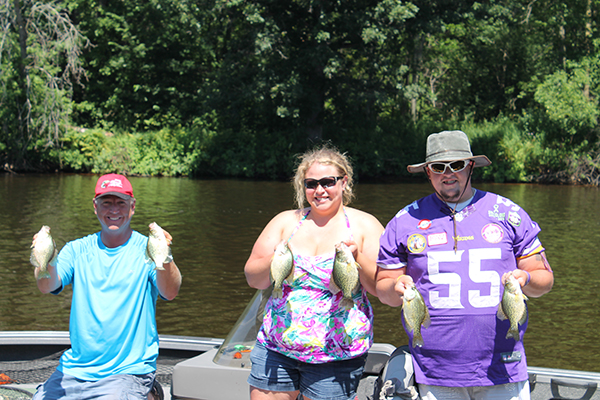 Guide Phil Schweik, Marie Rose, and Kwik Trip contest winner Dan Rose show some of the crappies taken on Lake Wausau.
The Kwik Trip contest invited patrons to sign up for a chance to fish with Schweik, who donated his day guiding. Customers could text in a series of numbers to the fishing contest for a chance to win, or personally fill out entrée forms in any of hundreds of Kwik Trip stores spread throughout Wisconsin.
"It's always a goal of ours to find new and creative ways to give back to our guests, and a true Midwest fishing trip with Phil and the Hooksetters team aligned well with that goal," said Kwik Trip Marketing Associate David Jackson. "Phil has been great to work with during the contest and was very flexible with getting the trip scheduled with our winner. We're looking forward to working with him in the future. The most important part of this was making sure the winners had a great time. We're delighted to hear that Phil was able to make that happen."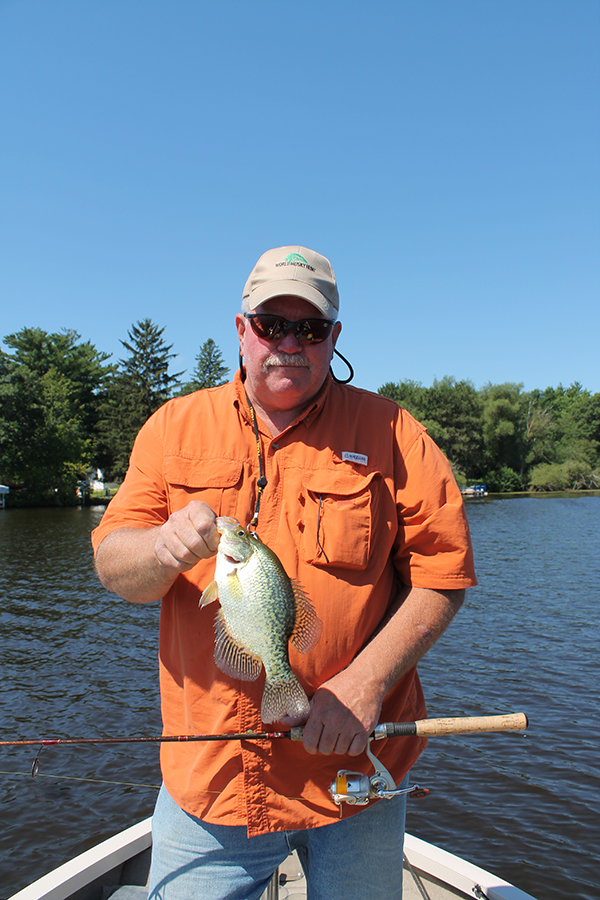 Guide Glenn Moberg shows a nice crappie caught during the Kwik Trip trip.
The group which met at a Wausau Kwik Trip store also included Steve Ellis and this reporter who would fish from Hooksetters' guide Glenn Moberg's Crestliner and photograph the trip. Lunch would be on Kwik Trip at Trail's End on the Rib River.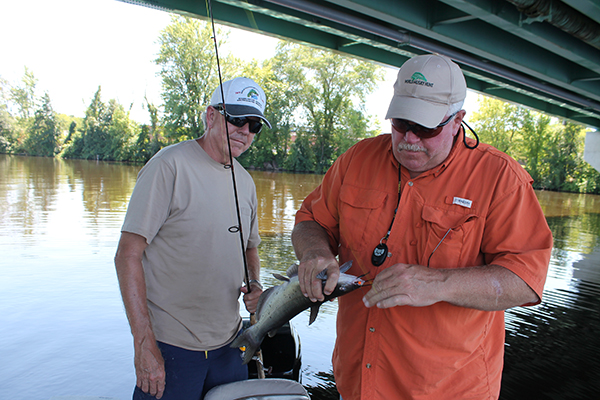 Guide Glenn Moberg unhooks a cat taken and released by Steve Ellis.
Dan Rose showed up wearing a purple Vikings' jersey, but we treated him with Wisconsin respect. "Do you think", I asked, "that Haley's Comet or a Viking Super Bowl trophy will arrive first?"
Dan is an ultimate Viking fan, to the extent that the Rose household adorned in Viking paraphernalia has been the focus of television news feature stories in Minnesota. On the back of Dan's Viking jersey was the name "Grizzly", a tribute to his father, Donald Walter Rose, a truck driver who used Grizzly as a CB handle. Donald Rose lost his battle with cancer several years ago. As a member of the Viking World Order, fans pledging unwavering support for the Vikings, no matter the season record, Dan helps with support benefits for sick children and disabled veterans.
"My father was my best friend," Dan said. "Everytime I wear that jersey, I have him right on my shoulder."
By day's end, Dan had learned to baitcast and to jig fist, Marie had caught crappies and the largest walleye of the day, and they both took home an appreciation of Schweik's ability, and fishing. In fact, Schweik received a call that the Roses had to stop on the way home…to look at a boat.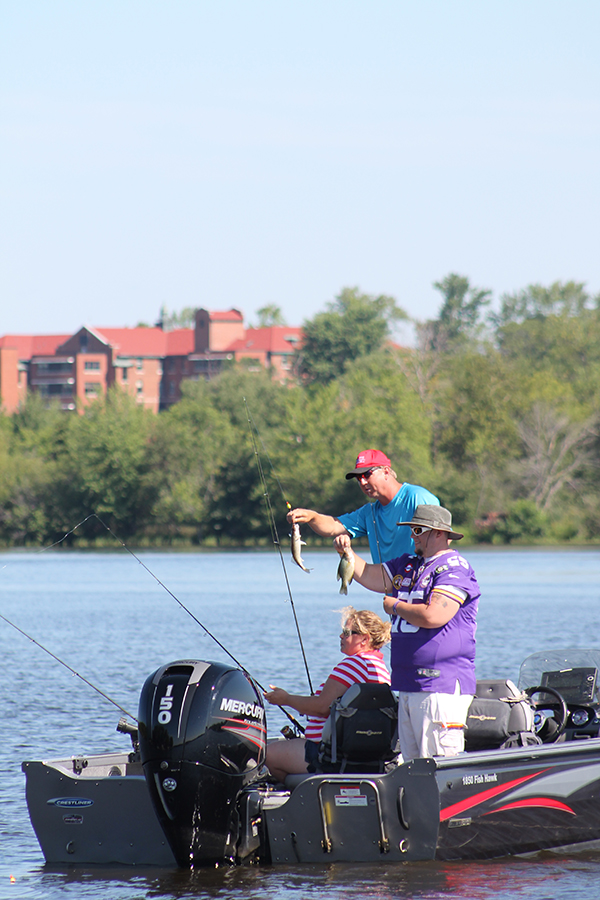 Marie Rose, Guide Phil Schweik and Kwik Trip contest winner Dan Rose welcome aboard more walleyes and crappies.
"That tells me they had fun and it made me feel good," Schweik said. "I was happy to be able to teach such nice people the basics. Enough so that they could take what they learned home and fish themselves."
"I just can't say enough about how great fishing with Phil Schweik was" Dan Rose said. "It didn't feel like a guided trip. It felt like I was fishing with a buddy. I can definitely see why he is so successful. For me the trip was made just watching Marie and the smile on her face when she caught fish."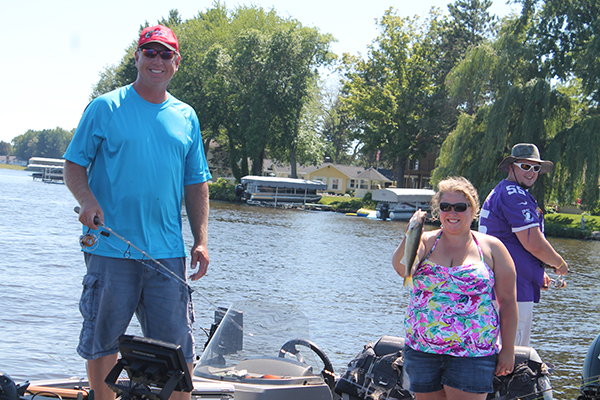 Marie Rose takes the last laugh and the largest walleye of the day while fishing with guide Phil Schweik and Kwik Trip contest winner Dan Rose on Lake Wausau.
"I loved it," Marie said. "I'm not much of a fisherwoman, but I did learn a lot from Phil. I got a few fish, most of them on bobbers. I like Wisconsin, but I still don't like the Packers. It's beautiful over there, and so nice to see the scenery. It was an awesome, wonderful opportunity. We're pretty loyal to Kwik Trip. And that's not changing."
Bob's Bear Bait Serving Hunters as Season Looms
"We will continue to provide scents and attractants to hunters until the season begins in September and after," said Bob Spierings, owner of Bob's Bear Bait in Appleton. "Attractants are a very important part of the hunt. As of today (August 20) we are still able to sell customers over 98% of the products listed on the website. We still have cookie products, trail mix, cherry granola, regular dry granola, as well as the fast-selling bear mix. We also have smaller sized and ready-to-go bagged products for the convenience as well of the hunters that don't need large barrels this time a year."
Bob's bear Bait is located at 3000 Apostolic Drive in Appleton, 54913. In addition to the website at BobsBearBait.com, connect with Bob at 920-419-1238 or sales@bobsbearbait.com.
The September-October issue of On Wisconsin Outdoors is the biggest and best yet with tremendous stories submitted by 25 of our top hunting and fishing writers from throughout Wisconsin. We are grateful to our many Wisconsin-based and national advertisers for making our paper and website available to you at no cost.
Get your copy at any Kwik Trip or O'Reilly Auto Parts store. Or read online at www.onwisconsinoutdoors.com.
Thanks for connecting. Shoot straight.
Dick Ellis