January Games-ice fishing and upland game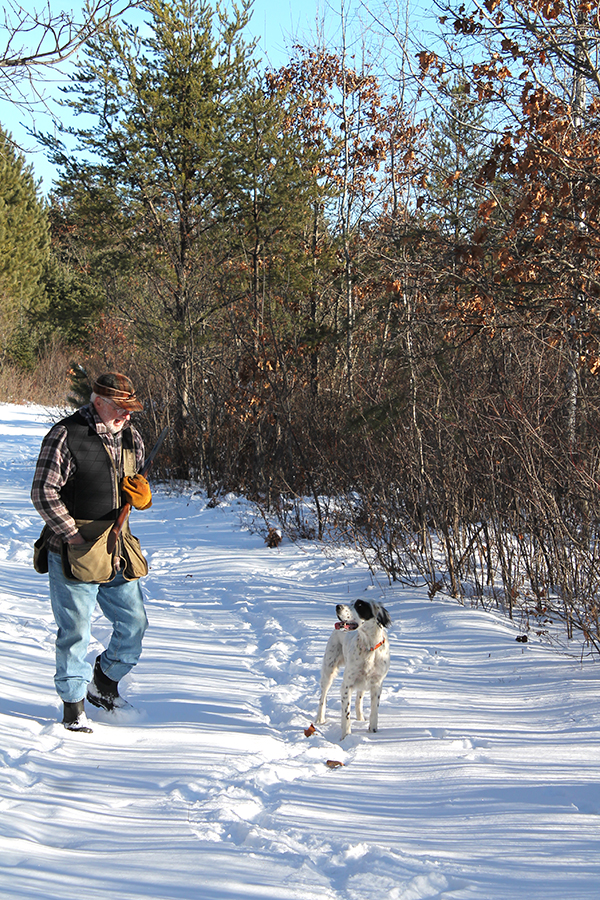 Dick Henske and English Setter Lucy work a January morning near Manitowish Waters for grouse.
Although January's severe cold weather has sent us running more and more for the tip-ups and the hardwater, we have not forgotten dog work and upland game. Grouse remains open in the north country through the end of this week, closing January 31, and we continue to chase pheasants in the far south at Waukesha County's Wern Valley.
Grouse numbers as we have said several times this year, have been exceptionally high in Vilas and Iron counties where this family mostly hunts. Perhaps God is giving us more birds in this region because no one has seen a deer here since 1956. I tagged along with the camera following 80 year old bird hunter Dick Henske recently on a cold, still, blue morning.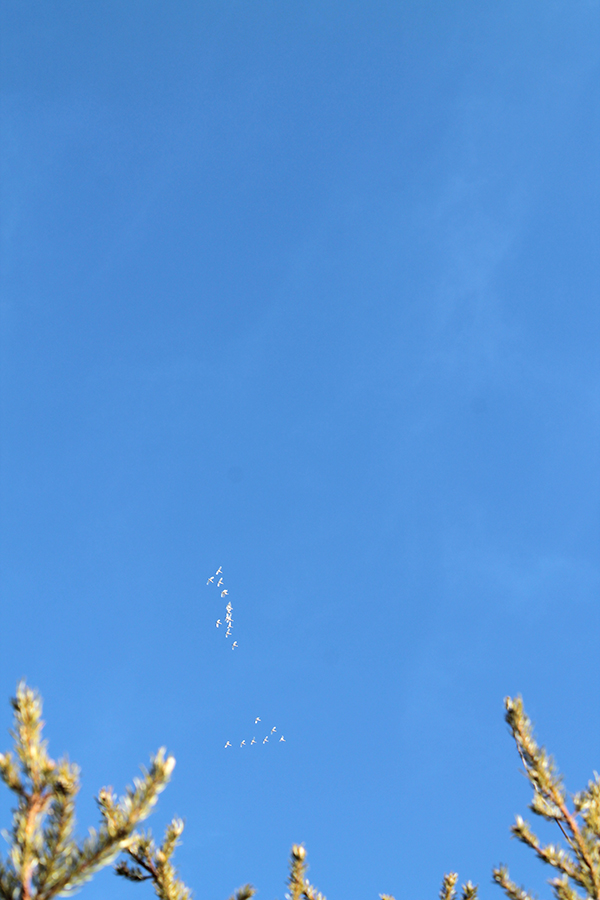 A flock of snows serenade the hunters below.
I always thought that any biologists searching for evidence on reasons for low grouse numbers during the cyclical population swings should take a good look at Henske and tenacious English Pointer Lucy. They raise havoc on the population. Lucy doesn't let much by her nose, and Henske doesn't let much by his over-and-under Satori.
On this frigid morning, we found grouse but the birds were not holding for Lucy. Henske never did squeeze the trigger despite distant encounters with four birds. They blew out of the deep snow and branches with almost no noise to warn the hunter. Henske would have had snap shots across the logging road we walked had he known the birds were there. But he didn't, and I did learn a few new words from my partner when he realized the birds were busting early.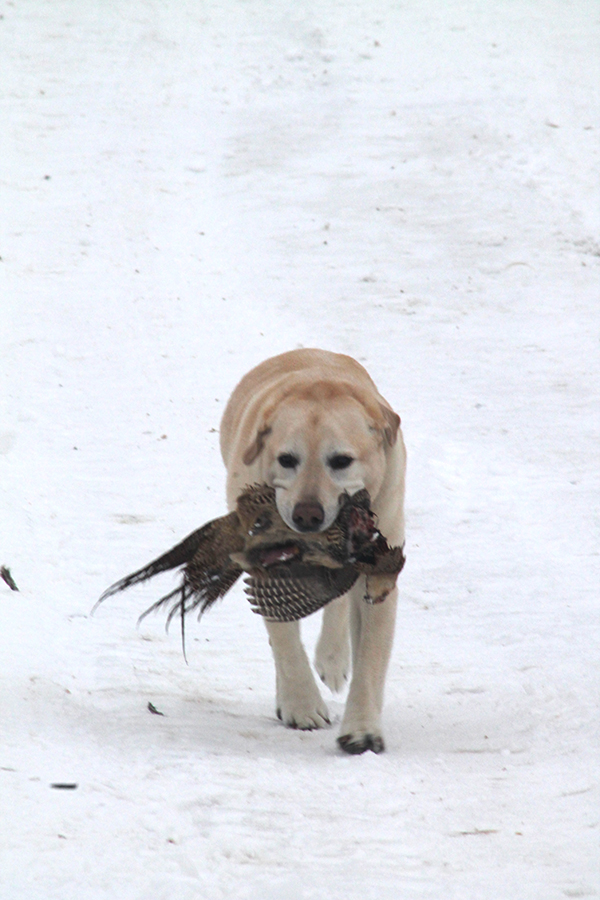 Dylan earns his keep.
Back home in Waukesha County, brothers John and Steve Ellis ventured out on Wern Valley property to give labs Dylan and Rocko and retriever Micah some field work. The bonus to that trip is pheasants in the freezer. I followed with the camera again.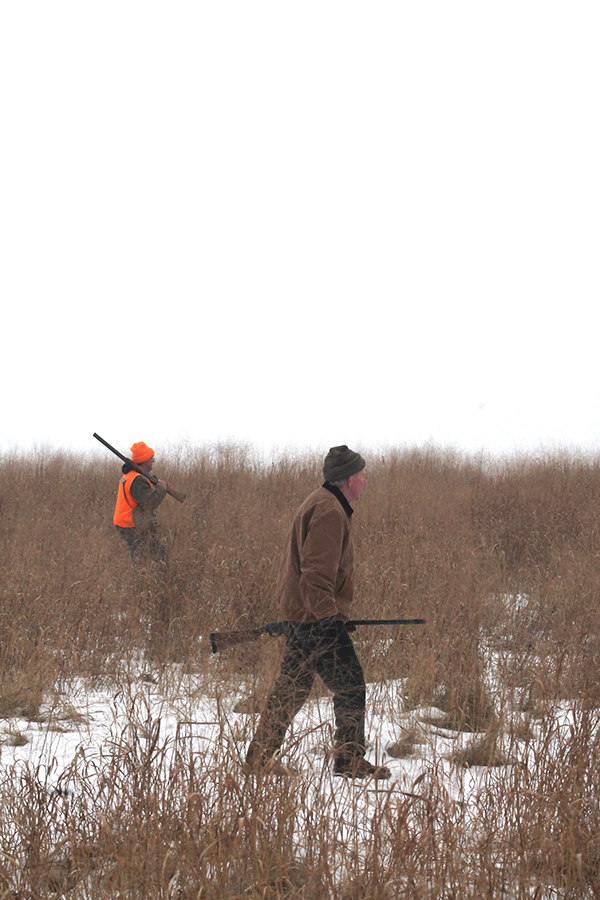 Working the grass at Wern Valley.
At day's end, it was Rocko who had gained a baptism into pheasant hunting. The veteran northern Wisconsin grouse lab did a fine job of both retrieving and flushing. Dylan and Micah did their usual no-nonsense jobs, and we came home with a half-dozen birds for the skillet.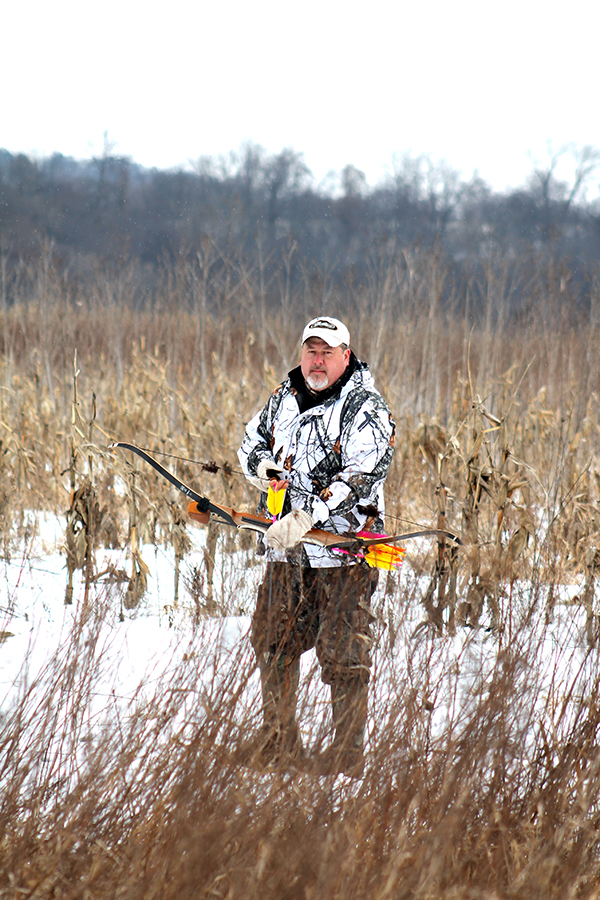 Fred Schaffhauser is ready for pheasant action with recurve and flu-flus.
A week later, Fred Schaffhauser, our archery columnist at On Wisconsin Outdoors and co-owner of Westtown Archery, put a new twist on pheasant hunting at Wern with buddy Scott Heitman, who also works at West Town. They brought their recurves and flu-flu arrows. Because Micah and Dylan would again do the flushing honors, I thought this was going to be interesting. The hunters would not even have the advantage of readying their shot over a pointer, the kind of dog you would think would be crucial to having any kind of possible success with archery equipment.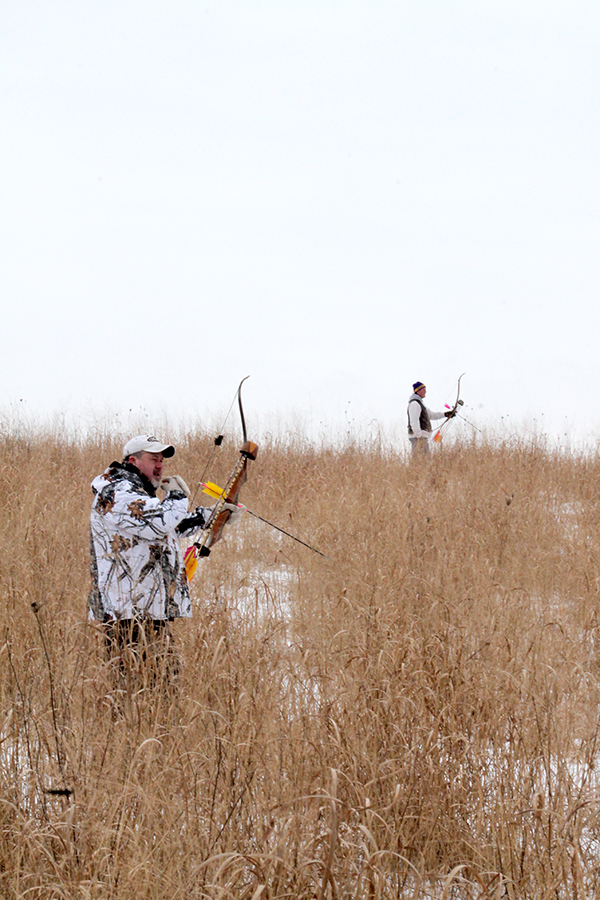 Heitman and Schaffhauser work the birds like Robin Hood.
In the end, Micah cooperated by locking up twice over roosters instead of flushing them. Heitman and Schaffhauser missed nine shots in total, but they didn't miss by much. In fact, the birds that flushed after the points took a slow, vertical line to the sky and both arrows didn't miss by more than a few inches. I have to say it was one of the most entertaining mornings I have ever spent pheasant hunting. So much fun, in fact, I'm going to try it myself. This from a guy who often misses with the camera.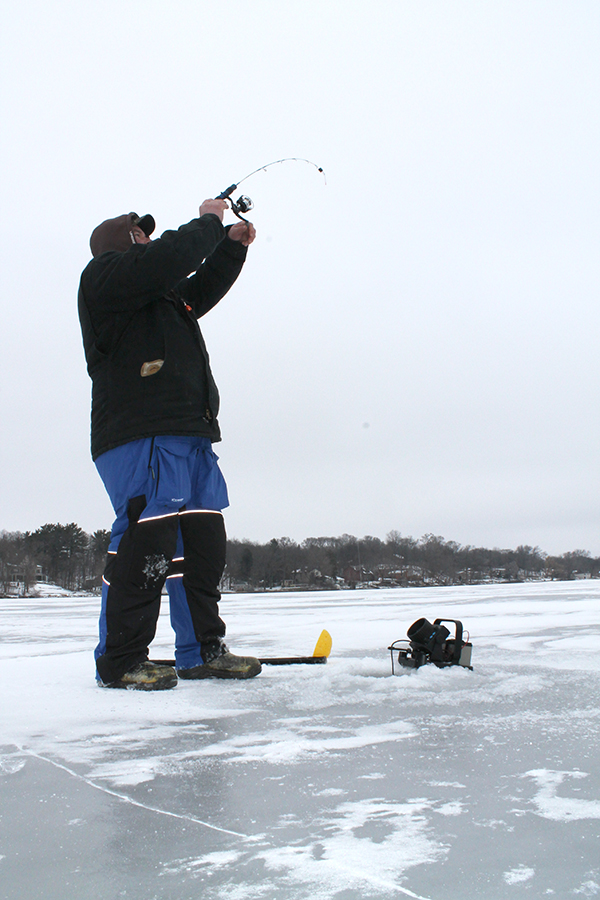 Randy Rydzik sets the hook.
I was invited by the boys from Lynch GM Superstore in Burlington and their friends Sunday to join them on the ice of a Waukesha County Lake to target northern s and walleyes, an annual event that usually sees about a dozen guys on the ice chasing tip-ups. The gang Sunday included Jim Olsson, Randy, Art and Wyatt Rydzik, Craig Roffers, Brian Roffers, and Dan Dotzler. The only reason I'm not telling you the name of the lake is so they don't kill me.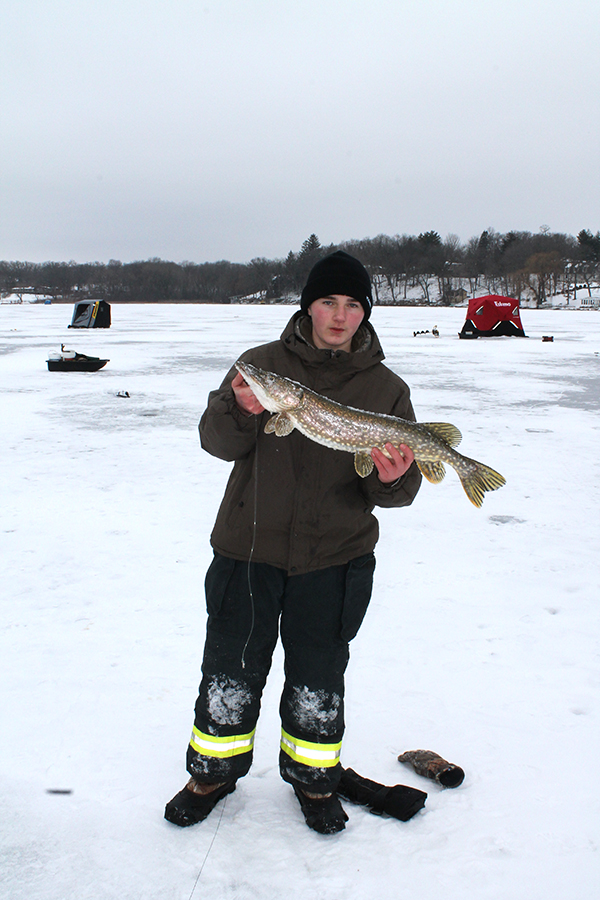 Wyatt Rydzik, 13, lands a 30-inch pike.
10 pike were caught before I left in early afternoon after a 10:00 a.m. arrival. Three of those fatties stretched the tape from 26-1/2 inches to more than 30 inches. The boys grilled brats and burgers and had a great time ripping on each other during the idle times. But there was plenty of action to keep them waiting for more flags. Annually, the low light transition also sends a few nice walleyes their way.
I also had a very interesting discovery on an isolated shore of the lake. I took Micah for a walk near a distant, large cattail stand so he wouldn't leave a soft land mine on the ice among the fishermen. Near shore, we crossed more coyote tracks than I have seen before, which ultimately led to a root system of a blowdown that I would bet was a coyote den. The problem, until I figure it out, is that when googled, the information I read stated that coyotes only den up to have their litters. Since the mating season is just now underway, I'm thinking this is awful early for a litter.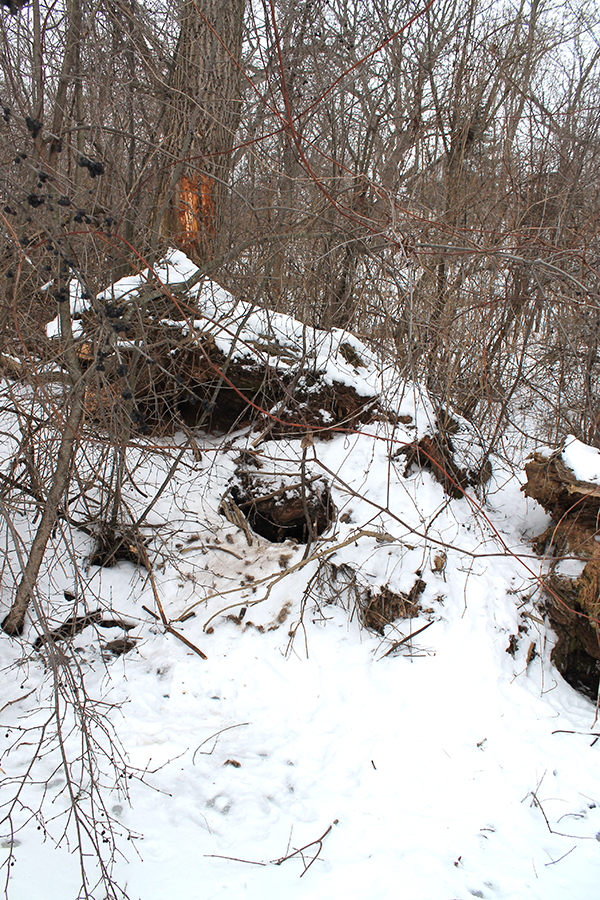 The coyote den has an apparent scratching post above.
I'm still betting we were looking at coyote lodge. Outside the root system among a thousand tracks, a large intestine of four or five feet long lay stretched out on the ice outside the den opening, the remains of an earlier banquet. Another piece of guts lay to the side. The entrance mud was packed down hard, and the edge of the entrance was matted with shed fur. The tree trunk that stood over the root system was ripped raw, much like the scratching of a bear marking his territory.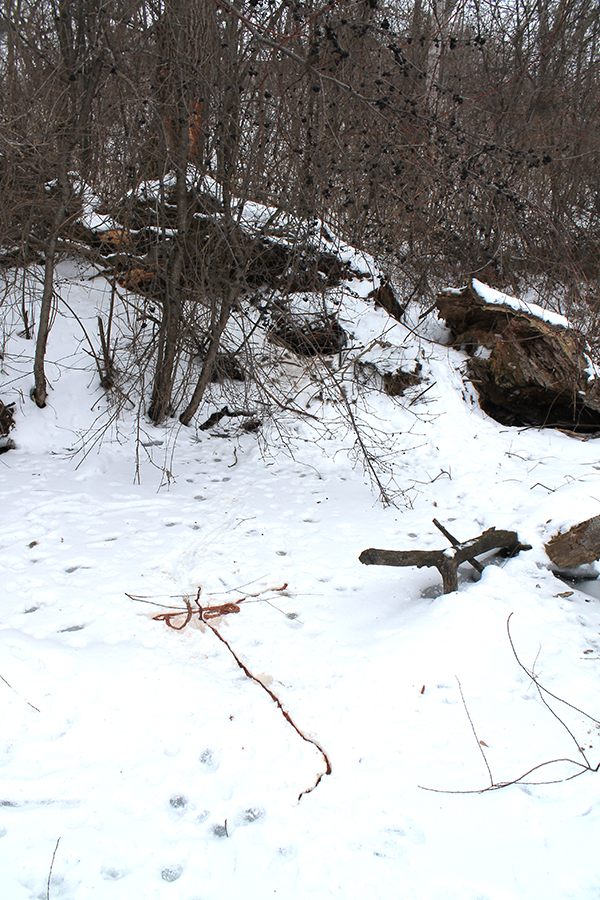 The intestines of a recent kill lay outside the coyote entrance.
That's all I know for now, but I intend to find out more from our trapping friends at OWO. Maybe next time I'll just stick my head in the den hole like any Minnesota outdoor writer and ask if anyone is home. Maybe I'll stick one of my venison sausages in my mouth and hold real still with one of those miner's flashlights on my head and a hammer in my hand. Hopefully it's not coyotes at all….just a nice wolverine or badger.
These photos will give you more detail until we find some answers. In the meantime, thanks for picking up our paper at any KwikTrip store in Wisconsin. We appreciate your time with On Wisconsin Outdoors.
Shoot Straight.
Dick Ellis