In A Rut…and Loving It
The later the better it seems to bowhunt northern Wisconsin prior to the gun deer season. For us, the best hunting in Vilas County has always been week two and three of November. In the hey-day of Wisconsin deer hunting meaning the 1990s and early 2000s, we routinely would not see any scrapes entering November and then find 20 or more scrapes on the same terrain in just a day or two.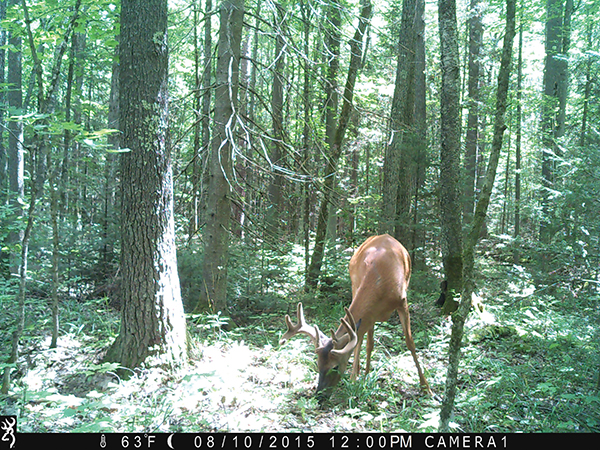 Hopes of seeing a buck like this one keep Dan Moericke coming back to his treestand in northern Wisconsin. Read his story, An Up Nort Report in the November-December issue of On Wisconsin Outdoors.
The big boys would then be seen on the move with their harems or chasing shortly afterward. This all followed what we call the pre-rut lull of October. Virtually nothing moved. The calm before the storm.
Vilas County is not what it used to be, when our cabin would hang deer at about a 50-percent success rate. In fact, an average of five hunters have not hung a deer in six seasons. This is season seven. Like the majority of northern Wisconsin units, a bucks-only approach is helping bring back the population and we hope the state keeps that mentality for years to come. We also don't bait or feed and I hope both are permanently banned statewide.
Where are we now? I saw numerous does on private property near Fond du Lac. I am heading north too, and will hunt public property in both the north and south until I fill a tag or am interrupted by the gun hunt. The bucks will be extremely vulnerable over the next two weeks. I purchased a turkey tag for zone 3. There are so many birds I am hoping to have venison and turkey to supplement the pheasants and ducks already in the freezer. So many birds, in fact, that I now use a mouth call even in the tree to disarm approaching deer. They hear the turkey talk on this property as often as songbirds, geese and crows. It works. The deer give my yelps and clucks absolutely no time.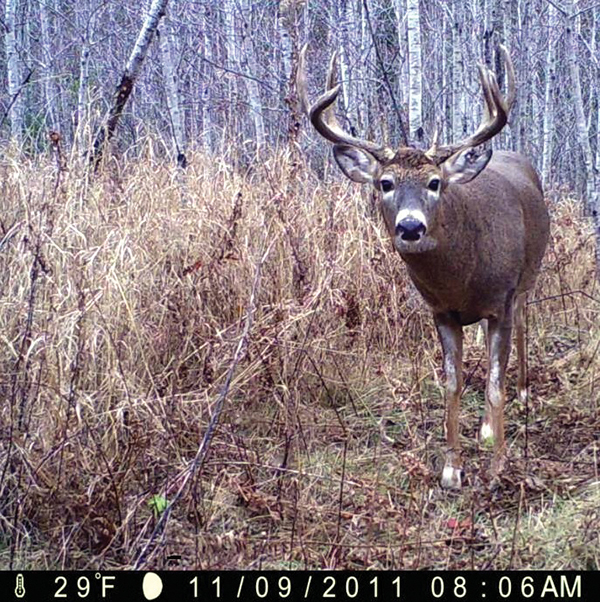 This buck was captured on film numerous times throughout September and October, but it was not until November 9 that he was filmed in daylight. Read Fred Schaffhauser's column, The Rut; Bowhunting's Most Magical Time, in the November-December issue of OWO.
The best story of the week comes from my brother Jim Ellis, in northeast Minnesota. Jim and his wife Colleen own a cabin next to us near Boulder Junction and fishes Wisconsin hard. This year, he won't hunt Wisconsin because he is done giving a lot of out-of-state license fees to Wisconsin in exchange for what has been virtually no chance at harvesting a deer.
His practice arrows have been in a softball size kill zone routinely up to 45 yards. Seriously. He practices almost daily. He purchased doe and forkhorn silhouette decoys and in late October strategically set them on his hunting terrain, and rattled. The plan was to bring in a buck, which would approach the doe from behind and the buck head on. The plan was that the buck would move around a large elm in its approach, where Jim would come to draw and shoot the buck at about 20 yards.
Jim rattled in an 8-point which caught him immediately when he tried to move. He rattled in a forkhorn, but no shots. He rattled in a dandy 8-pointer that circled the decoys for five minutes. The buck finally moved around the elm, allowing Jim to draw as the love-sick buck approached the doe from behind and the forkhorn decoy head-on. Perfect plan…. now in play.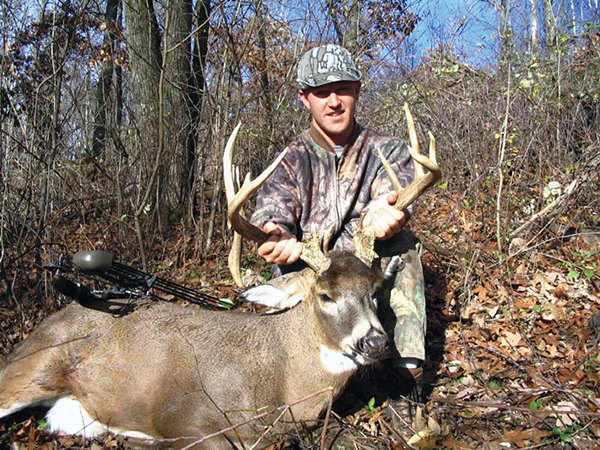 Tom Gatzke's birthday present carried an 8-inch droptine and 13-point rack. Read Lee Gatzke's NextBuk Outdoors column in the November-December issue.
"There was no way I would have been able to draw on him if he didn't have his attention on the decoys," Jim said. "My arrow even rattled on the bow once and he never even looked up."
Jim missed. 21 yards. "You know when you are chipping on to the green and you pull your head up to see where the ball lands and make a bad shot?" Jim asked me. "It was the same thing. Instead of watching the arrow hit the buck through the site, I dropped the bow and didn't follow through."
I feel bad for Jim. My money is still on my brother. But for now….
Loserrrrrrrrr….
As I'm writing this blog, word just came in from Loser Jim that brother Steve Ellis just missed a wall mounter in Iron County.
I feel bad for Steve. My money is still on my brother. But for now…..
Well, you know the routine.
Thank God for brother John Ellis to uphold the family honor. He didn't buy a license.
The November-December issue of On Wisconsin Outdoors is now posted on this website at www.onwisconsinoutdoors.com and will be available this week at all Kwik Trip stores, O'Reilly Auto Parts stores , and all the local businesses that your regularly pick up your OWO issues. I personally delivered 7,000 papers in southeast Wisconsin Thursday through Saturday. At 40 pages due to increased advertising, it is the biggest and best issue ever. But we also keep our publication at least 50-50 ratio of hunting and fishing articles to advertising. Please remember to thank our advertisers by looking closely at their products and services before making your own decisions to buy.
Do you know that in September, our most recent website visitor statistics showed that more than 27,000 unique visitors (you) left more than 497,000 hits on our website? Your time on our website is appreciated. Send your hunting and fishing photos directly to me at ellis@onwisconsinoutdoors.com and we will post them.
Thank you for connecting with On Wisconsin Outdoors. Shoot straight. Like my brothers.
Dick Ellis