If I Could Only Shoot…..
No one with the exception of Micah would play with me last week for the opening weekend duck opener in the southern Zone, so we ushered in the season with a walk-in hunt in Sheboygan County Kettle Moraine country. The wood ducks were there…if I could only shoot.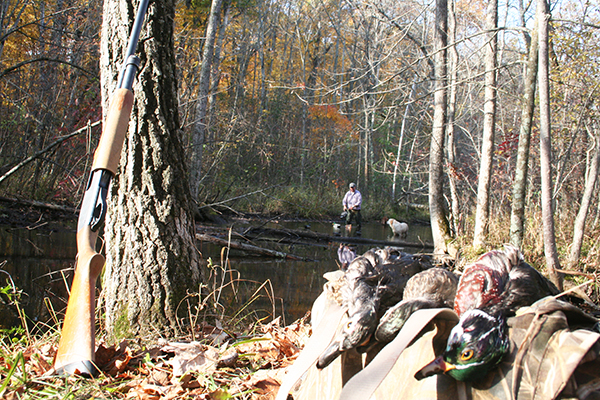 Better days. John Ellis picks up the decoys on a Kettle Moraine creek with several woodies down in the foreground.
It's a quality hunt that requires little work. Wood ducks are in Wisconsin in high numbers after a productive nesting season and with mild weather keeping them here. They will skedaddle south with cold weather. Look for creeks or ponds near oak stands with good acorn crops.
On my back in the darkness of pre-dawn I packed in three decoys, a call, facemask, gloves and a shotgun. We left at 4:30 am and with an hour drive north, 15 minute walk in and first ever first-light opening day start, were ready to hunt 10 minutes before the legal season.
In Sheboygan County, shooting pressure was heavy all around us on the area lakes as expected with the opening bell, but petered off quickly with only sporadic shooting heard for the next two hours. That was a surprise.
Woodies like to use these creeks to access the acorns, and navigate the twisting waterways like fighter pilots. For me, they make tough targets. With my brother John the expert caller absent without leave, I worked the Woodie call. Now I know dogs can't talk, but Micah's look clearly communicated his thoughts that maybe "quiet" would give us a better chance. Regardless of the tune I played, woodies did talk to me and came in. I missed twice.
When John did join me two days later, the birds really came with his calling and I missed seven shots. That's the dirty truth of this story. As a side note, gun powder hanging over a Kettle Moraine creek against the colors of September and sunlight of early morning is like a piece of artwork. I helped paint that artwork.
Grouse numbers in the north counties of Vilas, Ashland and Iron Counties seem very good. Heavy vegetation has made early shooting difficult (as if I need help) but flushes are many.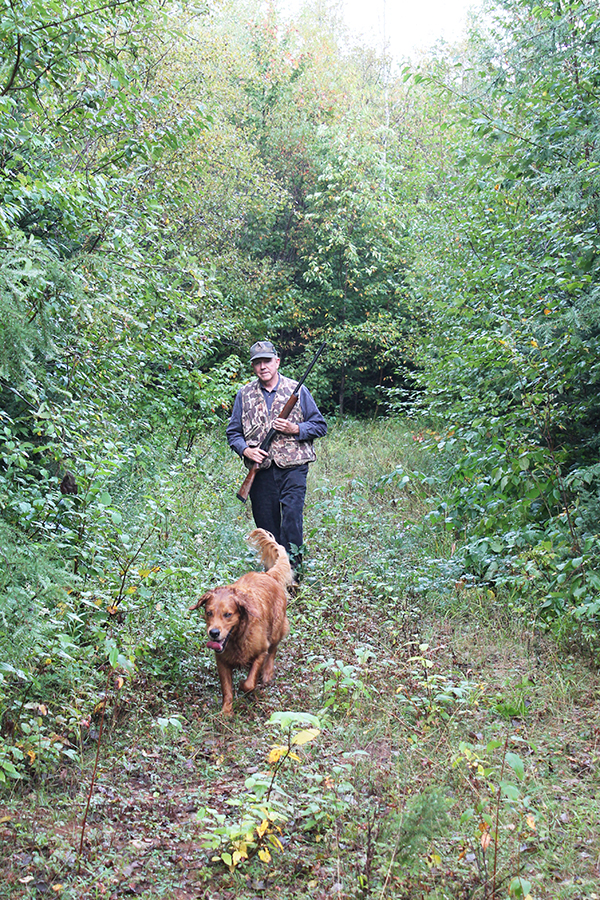 Heavy cover in Wisconsin's northland makes for tough shooting, but the grouse are here. Steve Ellis and Micah work old logging roads hoping for a clean shot or two.
I did connect with one grouse, but that was with the camera. The bird flushed by Micah sat in a tree posing for about 30 shots, and we eventually left it to flush another day.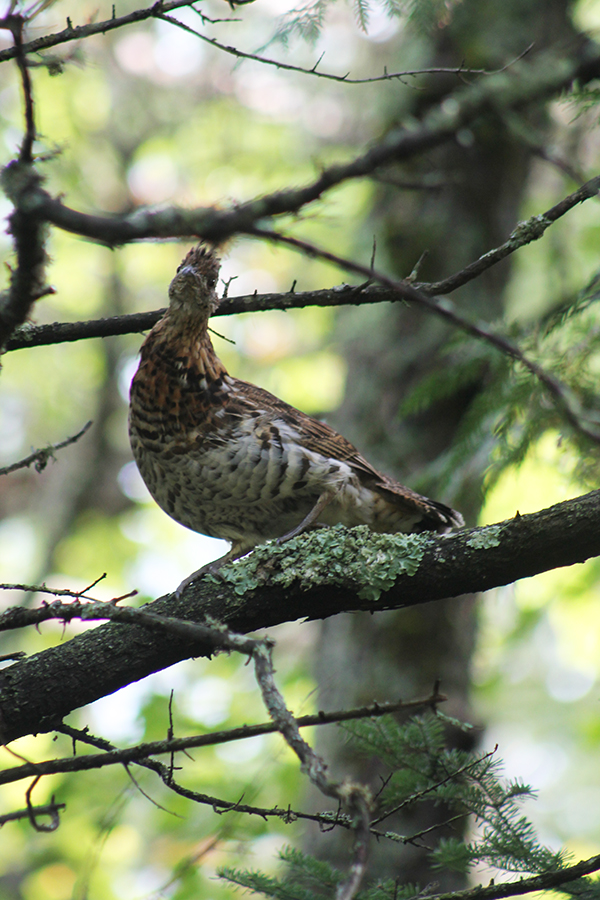 This grouse stayed on his roost for 10 minutes posing for the camera, and lived to flush another day.
Northern Wisconsin Outfitters guides Mike Foss and Robert Haas report that 15 bears are down in Bayfield County from their 17 hunters, with all hunters having opportunities to shoot. One hunter is returning to camp and is expected to score.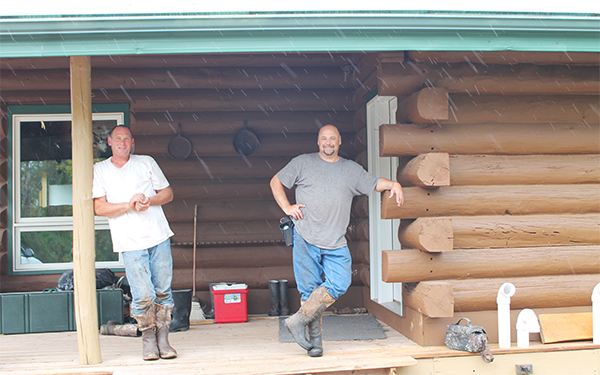 Haas and Foss. Guides Robert Haas and Mike Foss of Northern Wisconsin Outfitters record another great bear season in Bayfield County.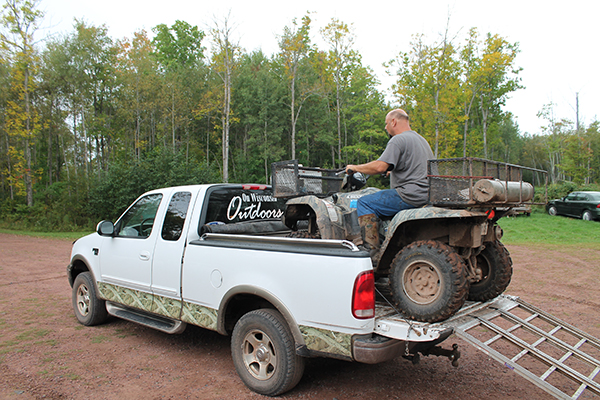 Mike Foss loads the ATV for another baiting run.
We're in production for the November-December issue of On Wisconsin Outdoors. Look for your copy the first few days of November at any of Wisconsin's Kwik Trip stores or any O'Reilly Auto Parts store. Or, read it right here online if you prefer. Thanks for remembering our advertisers who bring you OWO at no cost.
Thanks for connecting with On Wisconsin Outdoors. Shoot Straight.
Dick Ellis