Ice Out! Almost Anyway!
With warm weather come thoughts of open water on the inland lakes, at least here in southern Wisconsin where ice conditions are deteriorating rapidly. Some fishermen are venturing out on the rivers including the Wisconsin at the Dells and north to Wausau and the Fox at DePere in search of walleyes. Expect the spring barrage to magnify too on the Wolf and Mississippi and all rivers with the spawning runs.
Sunset falls on another inland lake gamefish but the rivers still offer ample opportunity.
A while back I closed out the gamefish season with longtime friend Mike Hart and many others on Waukesha County's Pretty Lake. That was as much a chance to eat Mike's venison brats and Italians on the grill as watching tip-ups and jigging the augured holes. Let me just make an observation. Middle aged men with no creepers on their feet, who have had more than one alcoholic beverage, mixed with an unending sheet of ice with no snow cover, is not a good combination.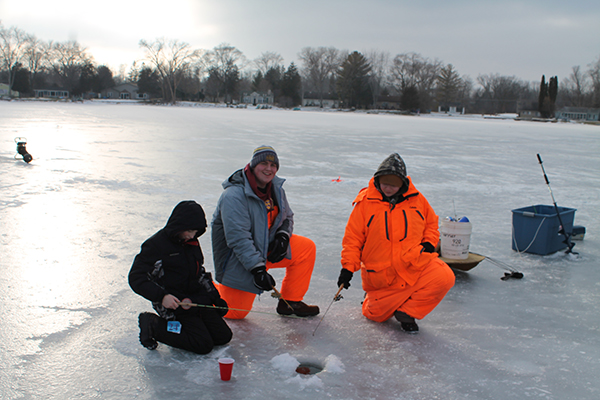 Trevor Hillman, Adam Rhode and Jacob Lange work Pretty Lake.
The quote of the day, heard over and over by this keen reporter?
"Let me help you up there…"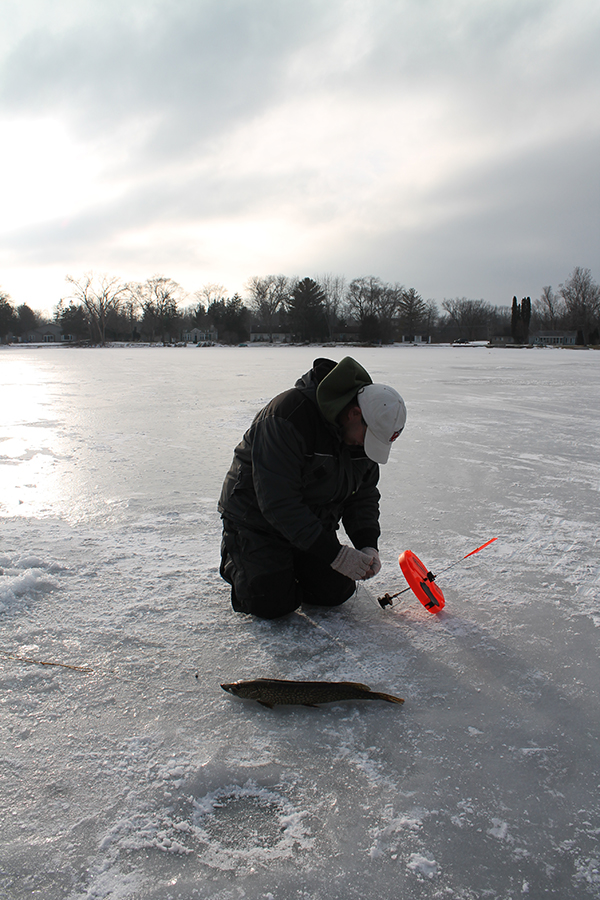 Another pike loses the fight on Pretty.
Although the pike were not big on Pretty, they did cooperate, as well as some panfish for those who had the patience to work those jigs.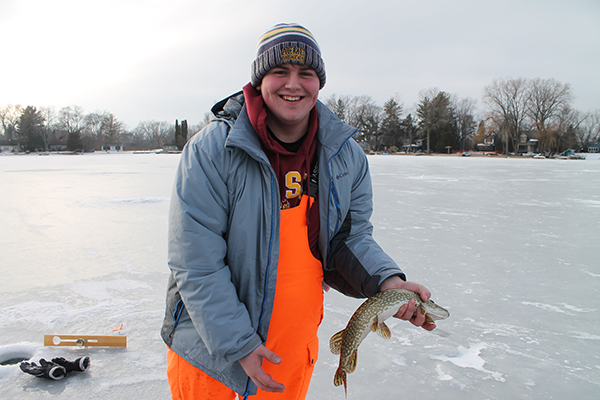 Adam Rhode puts another Pretty pike on ice.
In central Wisconsin, the hard water anglers are still enjoying hot action inland. Phil Schweik and company with Hooksetters Fishing Services once again show us how it's done. Ice conditions have started to diminish, Schweik says, but good safe ice remains on many area lakes.
"Ice thickness ranges from 13 to 18 inches on most area lakes, but the river systems are opening up and bodies of water that are associated with the river and or current have substantially less ice if any in some areas," Schweik said.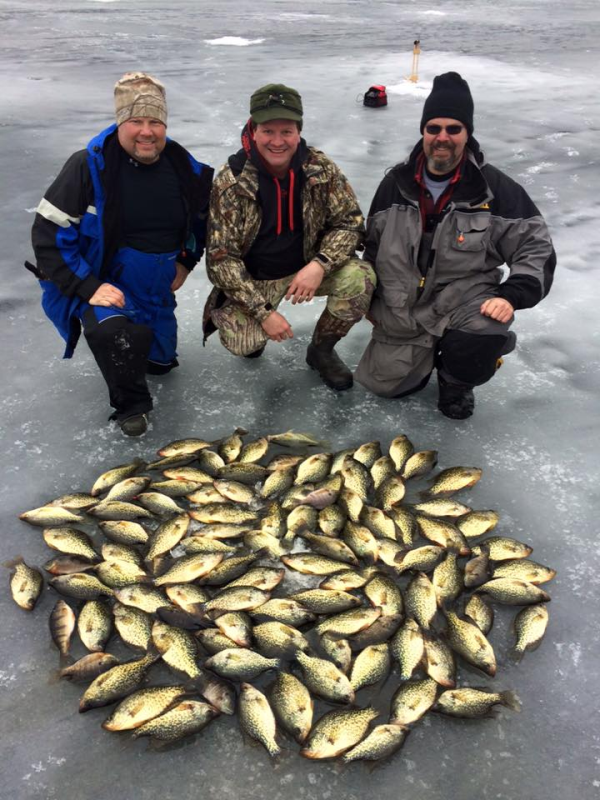 Mike and Pat Duffin and buddy Todd show the results of day fishing with Phil Schweik near Wausau.
"The panfish action has been outstanding with limit catches of slab crappies and big bull bluegills not to mention jumbo perch, he said. " Most of the action has been out over deep flats in 16 to 20 feet of water. The crappies have been suspending high up in the water column and the perch and gills are holding tight to the bottom. Having good electronics is a must if you are targeting the crappies and they can be very beneficial when searching and fishing for the perch and gills. Most of the panfish are coming on small northland spoons tipped with spikes but in some cases no added bait is necessary."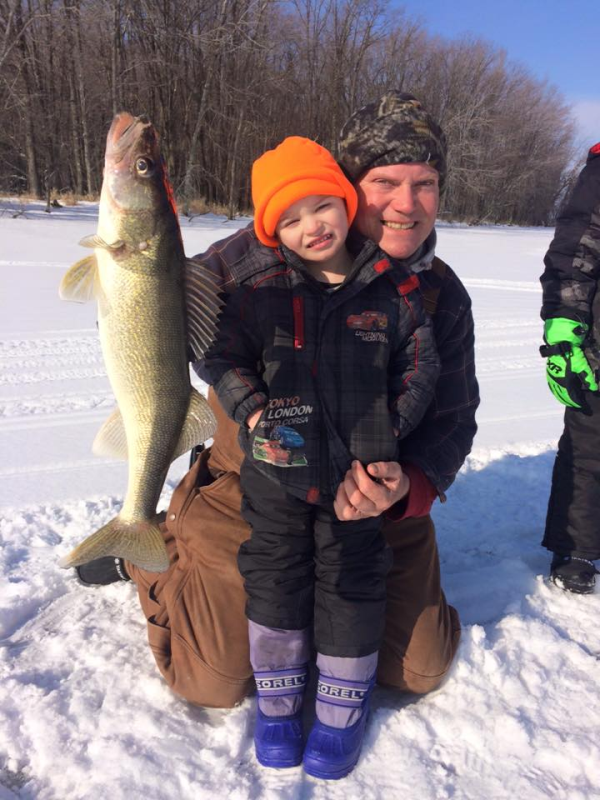 Father/son team of Brent and Bryce with a big walleye taken with Hooksetters Fishing services.
The Wisconsin River system still has some fishable water that is still open to gamefish year round. According to OWO writer Schweik, the northern pike and walleye bite has been phenomenal this past week with not only numbers but some really big fish too. A lot of the big fish are coming on tip-ups baited up with large golden shiners set about 18 inches off the bottom in 4 to 8 feet of water. Schweik is targeting shoreline areas with projecting sand flats that are adjacent to deep water.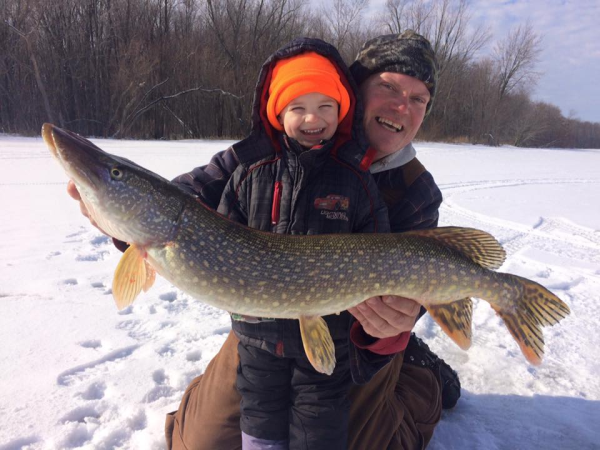 Brent and Bryce with a great Schweik pike.
Connect with super guide Phil Schweik and Hooksetters Guide Service at www.hooksetters.biz or phone: 715-693-5843.
Thanks for connecting with On Wisconsin Outdoors. Your March-April issue of On Wisconsin Outdoors and some great bargains are waiting for you at Kwik Trip.
Shoot straight.
Dick Ellis