Hunting the Rut
Hunting the Rut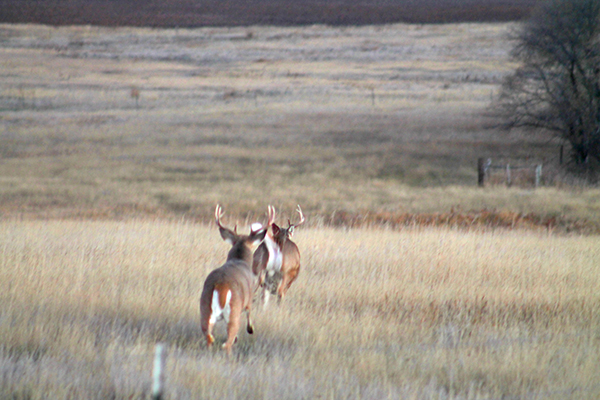 Oh the things we see during the rut. After watching these bucks clash during a North Dakota bird hunt in late October, Ellis snapped this shot of the victor looking for more as the half-rack headed for the hills. We believe the antler was lost in the fight.
If you're a bow hunter, you look forward to these precious but fleeting days of November, and late October, like no other. As a writer, I've always labeled the Wisconsin whitetail rut when boys chase girls as the Great Equalizer. You don't have to be an expert to run in to a trophy buck. These are the days when the best bucks are so driven with passing on the royal genes that they make mistakes and just may run into you, the patient hunter on stand.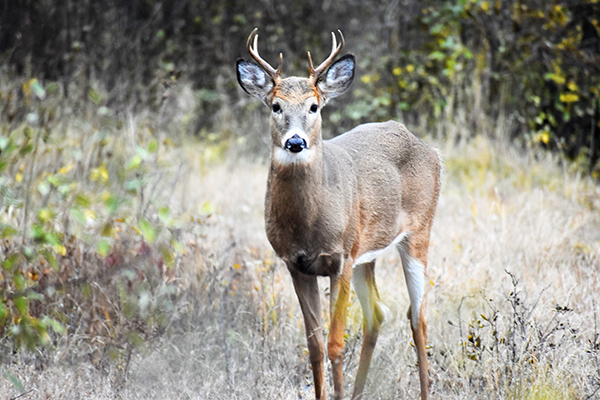 OWO columnist John Luthens headed into the woods of southeastern Wisconsin with camera this week specifically to run into a buck. He did just that with the next two shots
I am fine-tuning the bow but too busy to hit the field until next week when I have time to stay put on my own stands in southern and northern Wisconsin. Right now, I'm living vicariously off the stories of brothers, close friends and writers for On Wisconsin Outdoors who are living the rut. There's been a clean miss or two, but also stories of tags fastened on bucks on the move.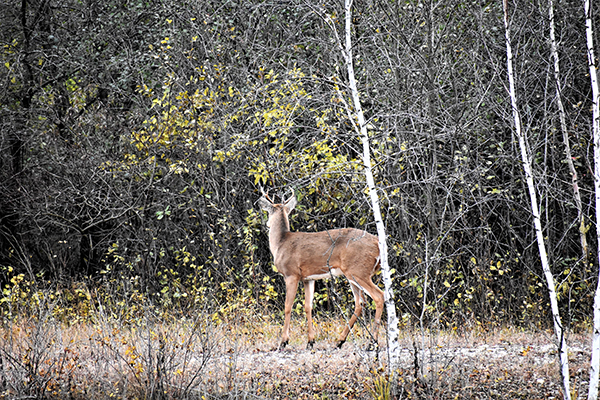 The buck stops in the Heitman camp. In fact twice. Both bucks taken by Scott Heitman and his nephew Zak Mackin in Adams County weren't the biggest, but I particularly like the endings. Scott and Zak practice year round, know their limitations, and made great shots with each buck traveling less than 30 yards after the hit. Give me that scenario any day of the week. In fact give me a buck like either of those any day of the week. Please. A clean kill and a freezer full of venison? It just doesn't get better for a Wisconsin outdoorsman.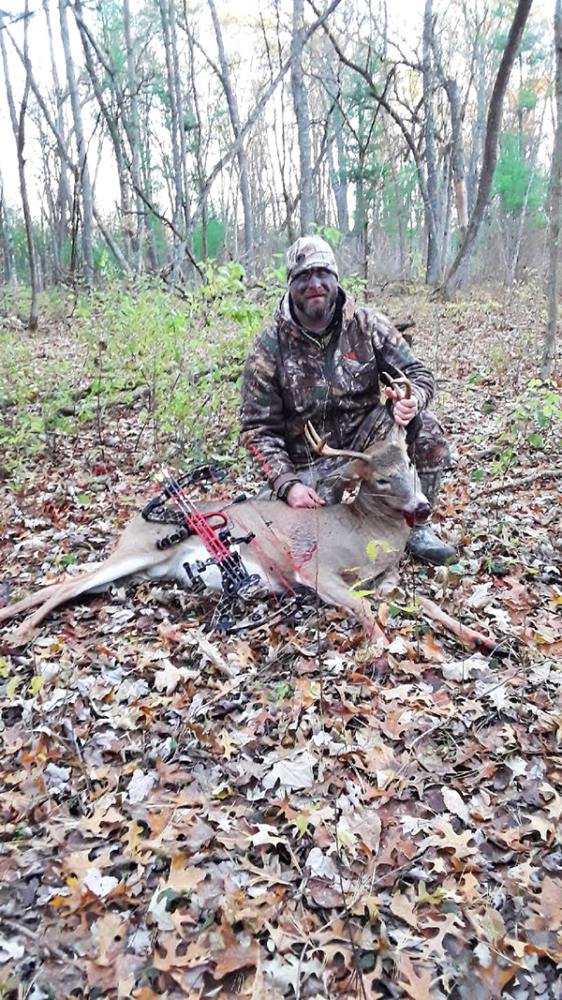 Zak Mackin made a perfect heart shot on this 6-point buck in Adams County.
Zak started the action with the rut heating up in late October. The 6-pointer would have been an eight but both brow tines were broken off. He's an Appleton area resident who shoots almost every day. Zak's heart shot at 20 yards made for an easy recovery and drag.
Scott was texting me periodically yesterday, November 1, to let me know that no deer live in Adams County. Scott sits and stays on stand for days on end during the rut, often reading an entire book or four during rut week. He's your stereotypical Wisconsin Nut, a traditional archer as well as an avid compound archer, and I don't remember him ever making anything but a heart shot. That's Scott on page 2 of our current November-December OWO (posted on this website homepage) several years ago after I took a photo of his heart shot doe that ran 25 yards.
When yesterday dwindled away through the hour glass and night was coming in hard on the 6:15 express, I texted Scott that he would be gutting within 15 minutes. Honestly I also told him it would be the biggest buck of his life. So I was half right. The buck in reality was down within five minutes of the text.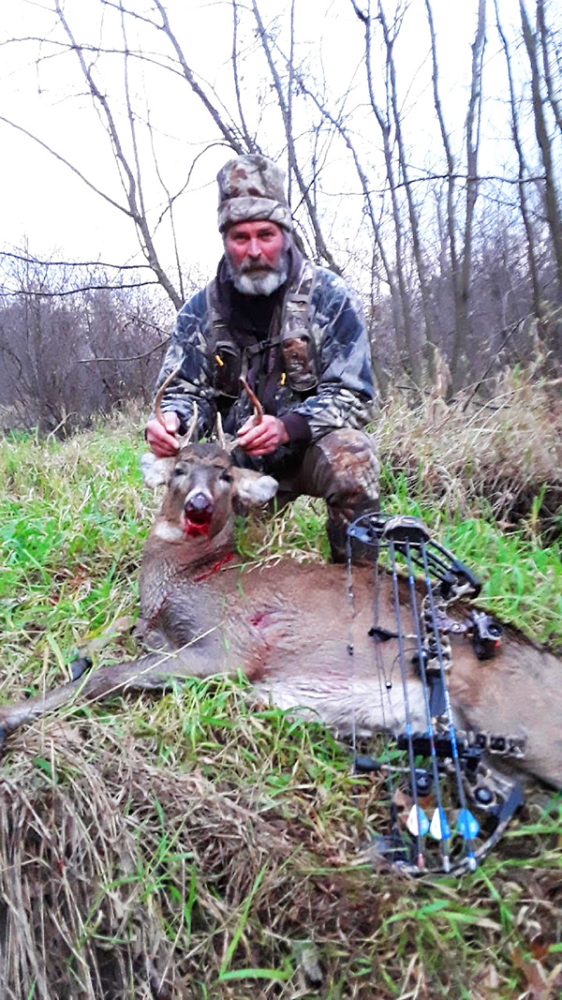 Scott Heitman made a long but true shot after waiting on stands for 40 hours without seeing a deer. The 8-pointer traveled 30 yards.
"I had put in 40 hours on stands and had not seen a deer," Scott said. "You made that last text, I read it, and heard him stand up and start thrashing branches on the river bottom. I knew it was a buck. You know that sound. I grunted three times and he came right in across the creek."
"He was at 42 yards. It was the longest shot I have ever taken in my life, but he was standing completely in the open. It was the only place I would have taken a shot that long. I've been practicing to 50 yards and went to Ojibwa (Bow Hunters Club in New Berlin) again to shoot specifically at 50 before this trip. I hit him in the heart and watched him go back 30 yards and drop."
The 8-point buck will not only be good eating, it proved there was at least one buck left in Adams County. Actually, the Heitman family's trail cams are showing so many bucks, with several monsters on the move, that Scott's son Ty Kinziger and daughter Savanah Heitman will be joining Scott and Grandpa very soon.
Makes a guy want to close the office door doesn't it? Well do it. I will too.
Look for your OWO deer hunting print issue, gas up and fill up with all the food and drink you'll need in camp, all at your local Kwik Trip store. The buck stops there too you know.
Thanks for connecting with On Wisconsin Outdoors. Shoot straight.
Dick Ellis