Hot as Ice….Fishing Fanatics Find Fish
When I have too much work to do and can't find my way into the field, like right now with the March-April issue of On Wisconsin Outdoors in final production, I like to live vicariously through our own writers and guides. You can too by connecting with this website and clicking on "Inland Fishing". Phil Schweik, Wayne Morgenthaler, Dave Duwe, and many guides and other experts from Ashland, Hayward, Washburn, the Department of Natural Resources and many other sources contribute on a weekly basis. For instances, we post daily reports regarding the sturgeon spearing on Winnebago and Upriver lakes from the DNR experts and our own field reporter, John Luthens. It all means good reading for you…and me. I would also recommend our website pages like "Outdoor News" and "Firearms" for heavy new posting every week.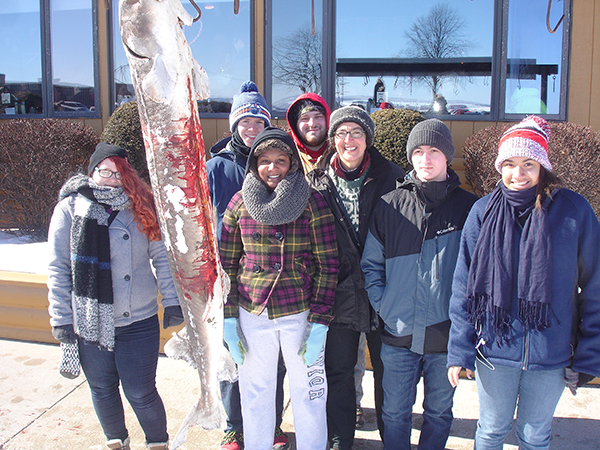 Students from Ripon College receive hands on experience regarding the sturgeon spearing season on the ice of Winnebago. Read the whole story on this website. (John Luthens Photo)
Back to the water, our own guides and writers blow me away with the amount of fish they ice, or put in the net, every week. I'm including a few of the photos that arrived today from Phil Schweik www.hooksetters.biz with his weekly report from the Wausau area, and from Wayne Morgenthaler, our recently retired fish magnet from Richland. I am also including some family photos from the northland, where brother Jim Ellis took some of his grandkids…Sammy, Grant, and Tate to stare down the pike who dared to take a shiner. I think Tate shows us how to smile correctly when a fish is defeated.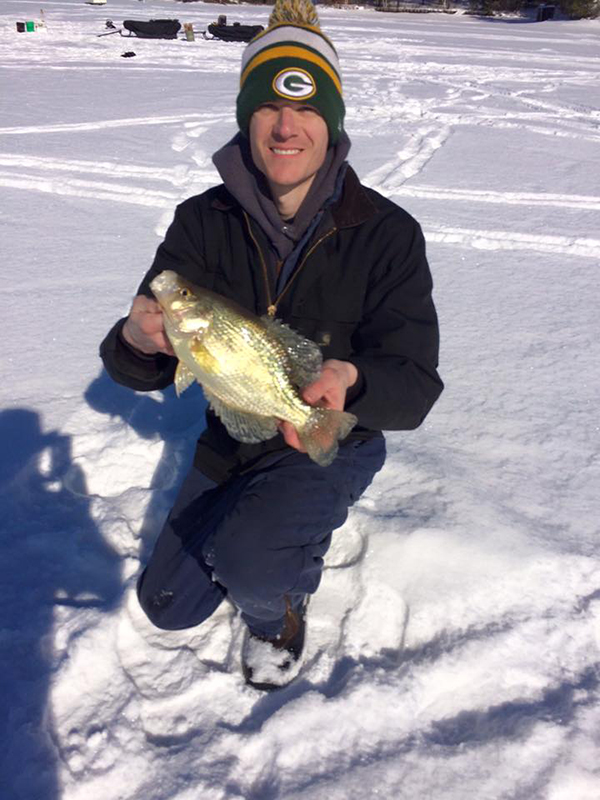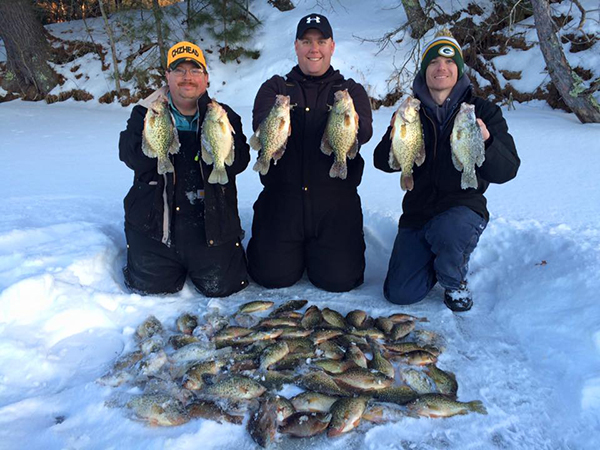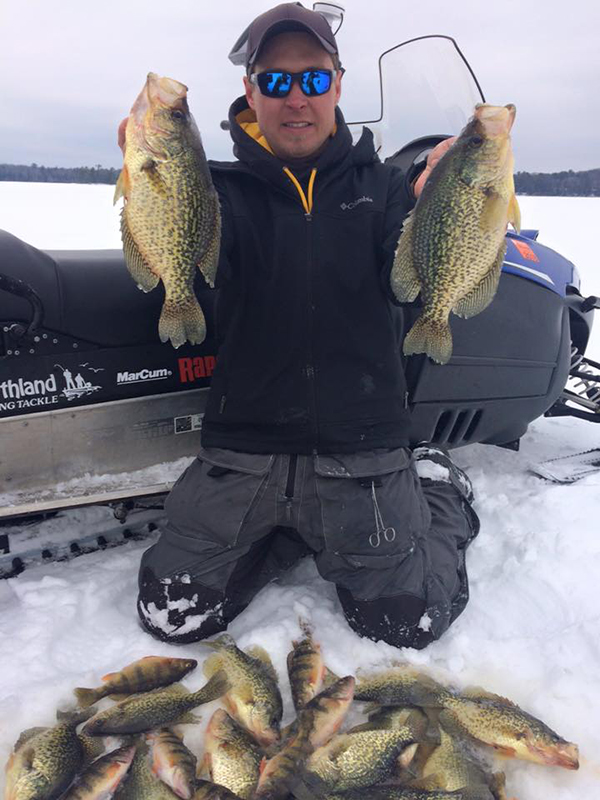 OWO writer and master guide Phil Schweik knows how to catch fish. Crappies and other pannies through the ice of mid-state Wisconsin are no exception.
We have such a big and beautiful OWO issue coming out next week that we had to increase page count to keep our vow (to ourselves) to make sure that we have at least as many pages of stories as we do advertising. We do! Including deer hunting, bear hunting, turkey hunting, coyote tips, all kinds of shooting sports and firearms, fishing from pannies and brookies to giant inland pike and Great Lakes browns from all over the state, recipes, Cubs Corner, cartoons, etc. We have so much "stuff" in fact, that we are going with even more additional pages of stories with our online version too, always posted on the homepage.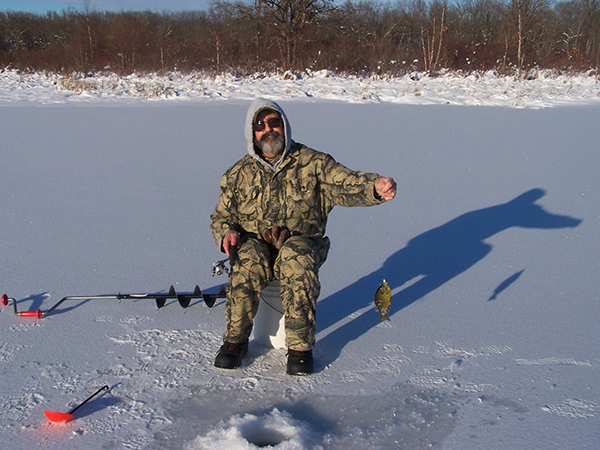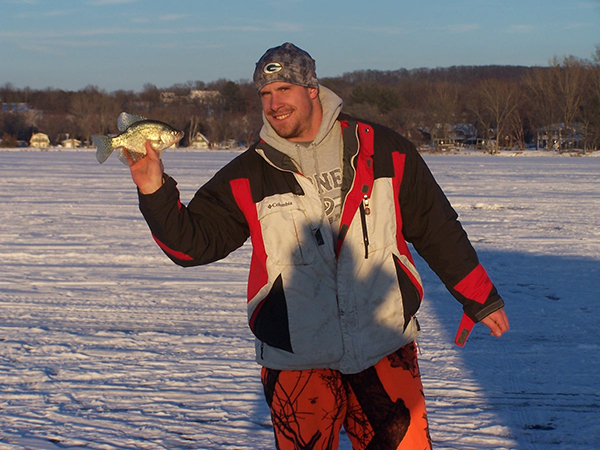 No one knows Richland County river backwater like OWO writer Wayne Morgenthaler. Follow him online and in print.
You will see that the advertising continues to grow thanks to state-based and national companies that recognize your enthusiasm to pick up and read our paper from cover to cover. FYI, we received a note too this morning from Kwik Trip that they will once again be distributing more than 30,000 papers for you statewide. As a thank you to all of our advertiser/partners, we appreciate that you say thank you with your own business, and certainly take a close look at what our advertisers are offering before you make a decision to buy what you're looking for. We could not offer this paper and website at no cost to you without them. So…thanks for looking!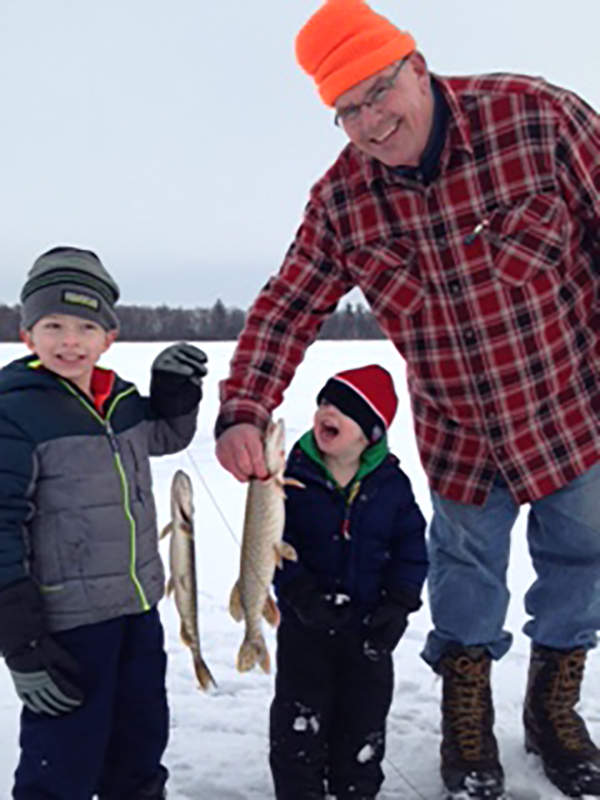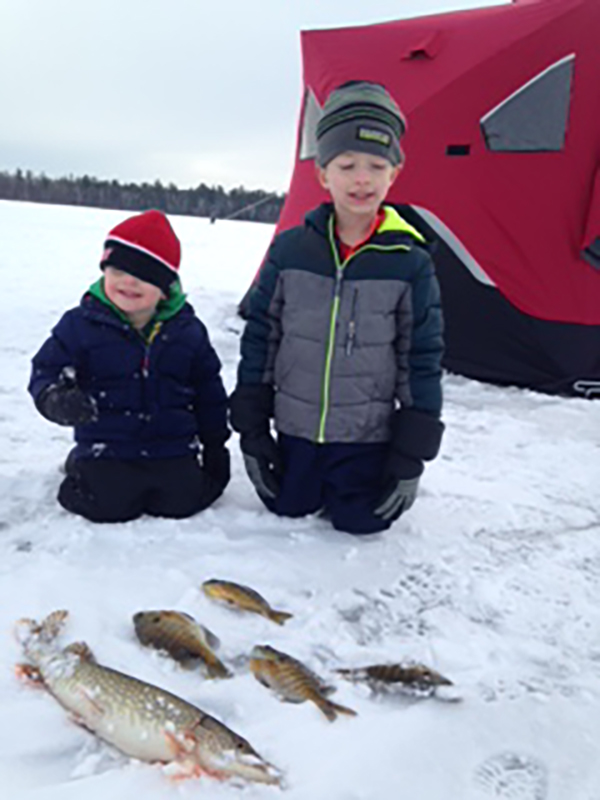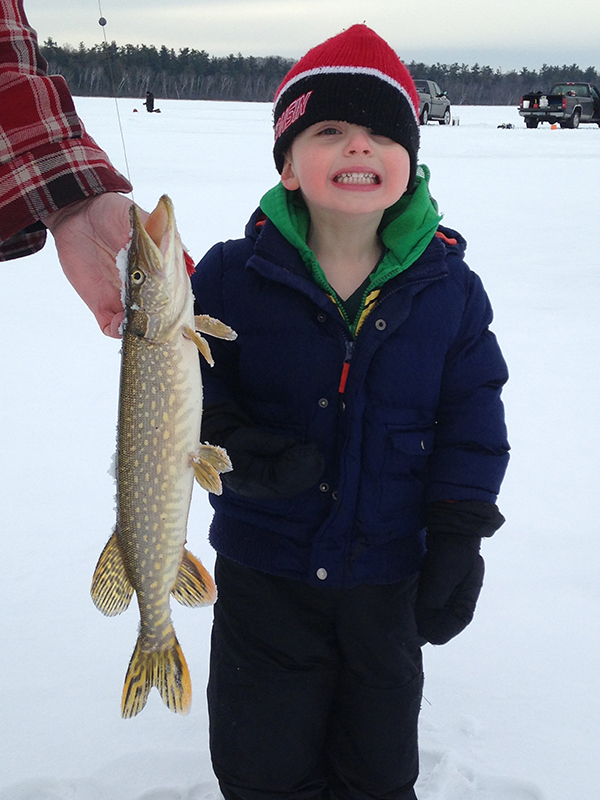 Sammy, Grant, and Tate beat the cold, and beat the pike with Grandpa Jim!
Thanks too for connecting with On Wisconsin Outdoors. Shoot straight. I get to be a paper boy with 10,000 papers next week. My truck hit 337,000 miles this week, and I'm very excited. It also has heat for the first time this winter. Yes!
Dick Ellis