Girls Win!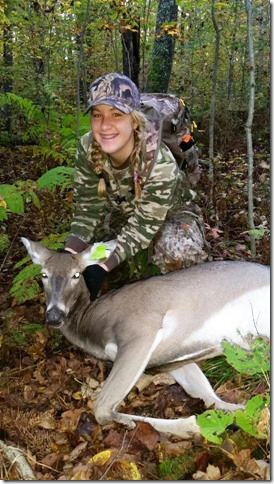 Schaffhauser niece Sophie with a beautiful doe taken in northwest Wisconsin.
Okay, women win. Got that boys? It's appropriate that some more deer photos came in with women and their kills with much of the gun and archery seasons complete; I just finished reading the column slated for the January-February issue of On Wisconsin Outdoors written by our archery expert, Fred Schaffhauser who owns West Town Archery with his brothers, Paul and Rob.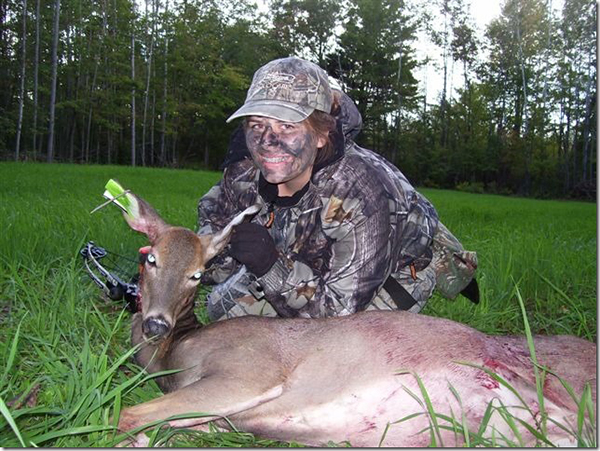 Fred's niece Stephanie after a great shot taken with a crossbow while on stand near a food plot.
Fred's focus this issue is "Bowhunters, the Next Generation-Passing on the bow hunting tradition". As usual, Fred provides a good read, and offers some tips on how to keep things fun and ultimately productive in the field for new, young hunters. Included in the photos (along with Fred's 11-year old son Ben) are his young daughters and nieces and a cousin who have reaped the benefits of learning the not-so-easy sport of bow hunting from their uncles and dads.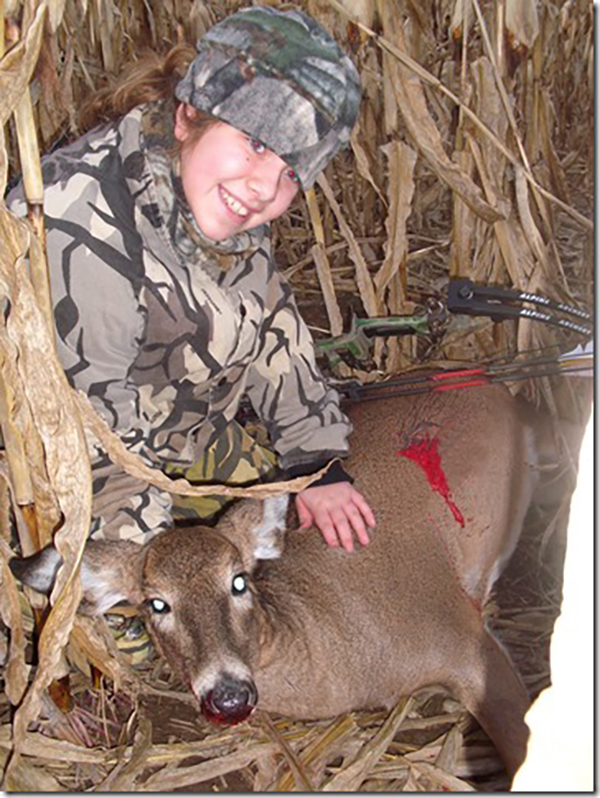 A 10-year old Schaffhauser cousin took this Crawford County doe from a tree stand on the edge of a cornfield in early November.
Here are some of the tips that come right from Fred's column, including his advice to take your kids hunting with you early. "Years before either of my kids could legally hunt I had them out in ground blinds with me and eventually two-seater tree stands," Fred writes. "Ground blinds are an awesome way to introduce kids to hunting. The concealment of movement, scent control and safety of being on the ground is a great way for them to experience hunting with you while not jeopardizing your success. At age five my daughter was in a ground blind with me when I took a deer. She had a sleeping bag to keep warm and book in case she got bored. She didn't."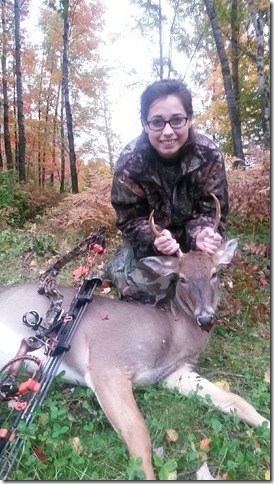 Fred's daughter Rachel, 16, took this young buck with a perfect shot.
Fred also stresses to start your kids shooting early. "It's never too early to start them shooting archery equipment," our expert says. "I started my kids off at about age three with a small fiberglass longbow painted up camouflage to look like 'Daddy's Bow.' At that age you will need to do most everything from loading the arrow to helping them pull the bowstring. They will, however, catch on quickly. "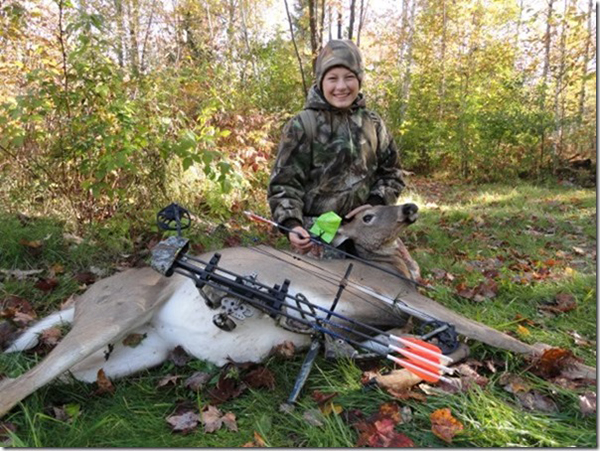 Schaffhauser's son ben tagged his first deer from a ground blind from 22 yards using a bow with 37 pound pull.
I guess these photos prove Fred right about that. There is a lot more to read but we don't want to steal Fred's whole column here. The new issue is in production and will be available online just after Christmas and on the shelves the first few days of 2016. Every Kwik Trip and O'Reilly Auto Parts store in Wisconsin will have them for you, and it's obvious from the amount of feedback we're hearing from all over the state that you are getting the message…and the paper.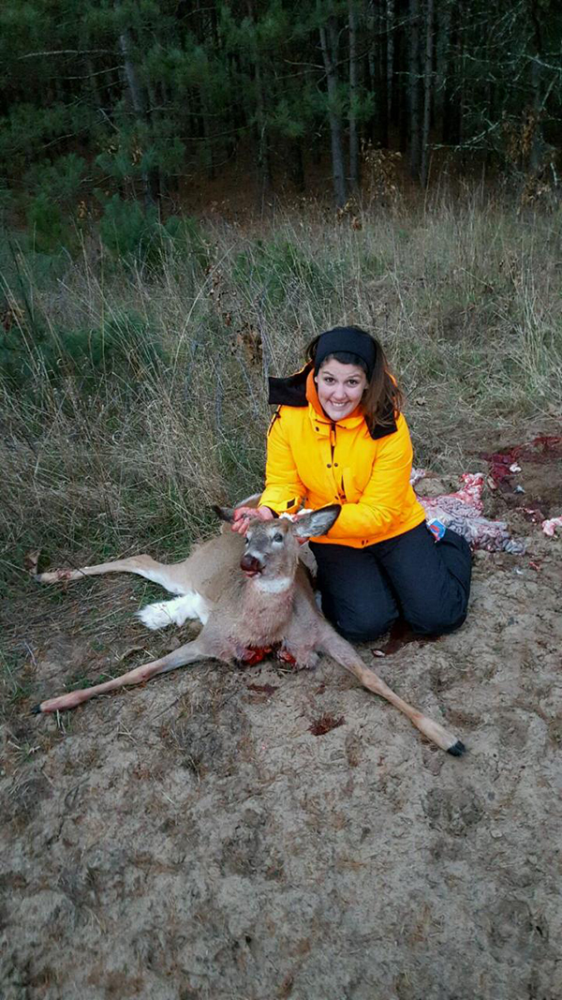 Back to the young ladies with bows and guns. My long time neighbor and friend of my daughter, Emily Kerr, scored with her first deer during the gun season. I always liked Emily. She is all woman and always has been. But if any of the neighborhood boys gave her trouble she was also more than willing to kick their butt. That's a great combination. So, way to go Emmy, on your first deer taken near Sparta.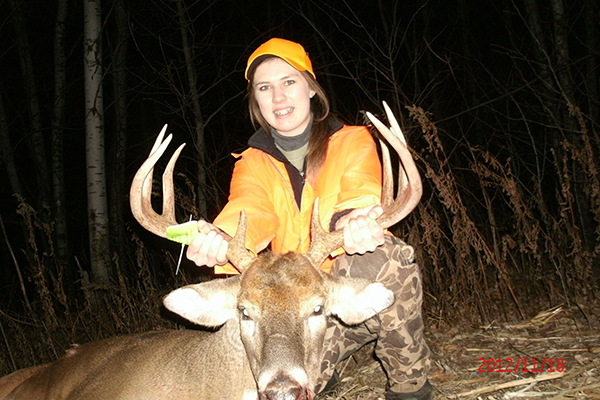 Brittany Tetzlaff with her 140 class buck.
Finally, we received these photos of Brittany Tetzlaff of Iola, who has tagged a deer every year since she started hunting in 2012. Her first deer was a 140 class buck. And this year, Brittany keeps her impressive string going with this fine 10-pointer taken in Wisconsin's northwest.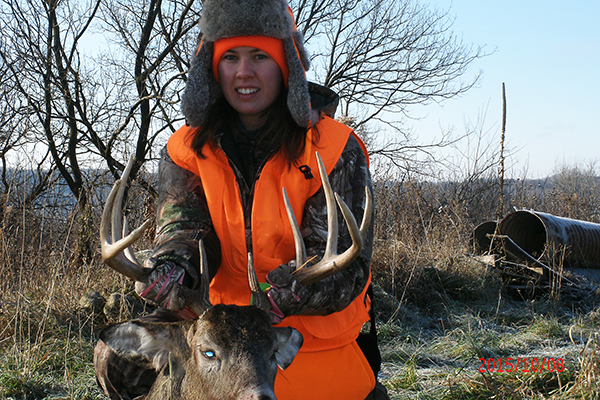 Brittany tagged this 10-ppointer during the 2015 gun season.
I'm still out there trying to put one in the freezer. I never saw a deer in Vilas County. Sometimes a guy just wishes he was a girl born into the Schaffhauser family. Is that wrong of me?
Thanks for connecting with On Wisconsin Outdoors. Shoot straight.
Dick Ellis