Fabulous Wisconsin Winter Trip Ideas
Ellis Blogs 1-3-2020
Fabulous Wisconsin Winter Trip Ideas
Hurley up here, Wisconsin snowmobilers!
This northern Wisconsin gem in Iron County already has ideal snow conditions, groomed trails and is waiting to welcome you with open arms. According to Rita Franzoi, Marketing Director of Events Coordinator for the Hurley Chamber of Commerce, if you don't own a sled just yet, or would prefer to play other kinds of games in the snow or on the ice, Hurley is still the place to plan your winter trips.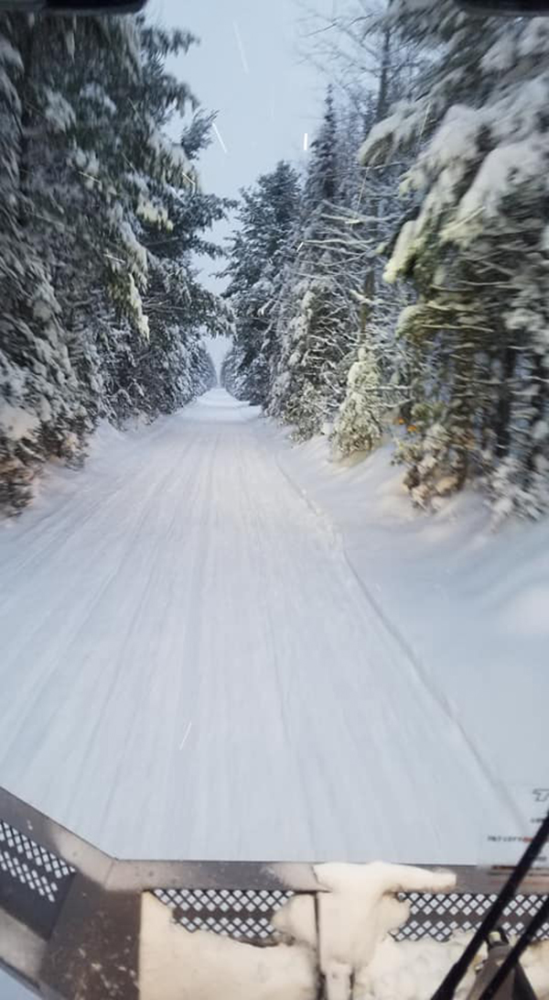 Iron County snowmobile trails already with 101 inches of snow officially opened December 5 and are waiting for you!
Iron County, Rita said with emphasis, is THE snowfall capital of Wisconsin with an average of 180 – 200" of snow per year. As of December 17, 2019, the North Iron County area has received a total of 101". With that snowfall amount, the Snowmobile Trails were opened officially on December 5. And the riding has been excellent.
Recently designated a Snowmobile Friendly County from the Association of Wisconsin Snowmobile Clubs, she said the Hurley area offers miles of groomed trails to snowmobile maintained by the White Thunder Riders Club. For 50 years the club has devoted hours of volunteer time all throughout the year to ensure that trails are safe and signed correctly. Call the Hurley office (below) for a 2019-20 Iron County Snowmobile Map and plan your trip today!
White Thunder Riders
50th Anniversary Celebration Saturday January 11
Speaking of the White Thunder Riders, come celebrate with the snowmobile club January 11 as they celebrate those five decades of grooming the Northwoods. Enjoy a tour of the facilities beginning at 2:00 pm and kids can take a FREE Groomer Ride between 2:00 – 4:00. There will be food, drinks and raffles. At 4:00 pm, local band Grey Goat will entertain until 7:00 pm. Everyone is welcome to come out and learn more about the club, volunteers and celebrate the success.
"Knowing what to pack is key for your North Iron County adventure," Rita said. "From snowshoeing to cross country skiing we have trails to explore. Some of the area waterfalls are accessible in winter with a little hike, but well worth the journey."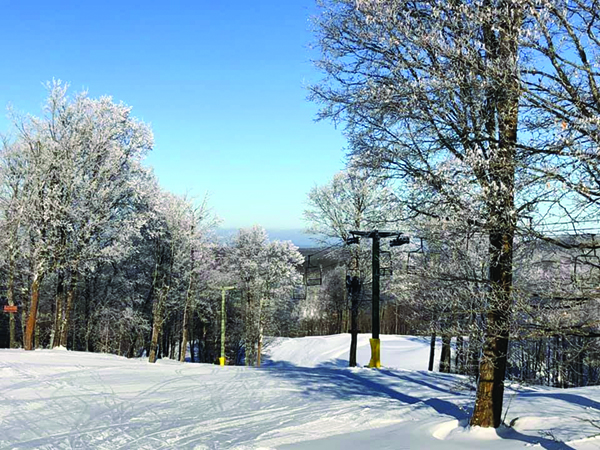 Don't forget cross country, snowshoeing and downhill ski opportunities in Iron County including Snowcap!
Along with significant snowfall, Iron County now has ice on the 214 inland lakes which includes the Gile Flowage. Spanning over 3380 acres with a maximum depth of 27 feet, the flowage is home to walleye, smallmouth bass, muskie, northern pike, crappie, bluegill and perch.
"After a day of adventure be sure to stop at any of the local establishments," Rita said. "A variety of cuisine is available from fresh homemade pastas and pizzas to prime rib or a fresh hand packed burger. The locally owned bars and restaurants specialize in fantastic food and friendly service."
Plan a getaway and enjoy these upcoming local events:
Willy's Still Ice Fishing Challenge, January 18, 2020
Bank Club Ice Fishing Jamboree, January 18, 2020
The Dam Bar Ice Fishing Tournament, January 25, 2020
Join us soon in Hurley! www.hurleywi.com
Plan for Ferryville's Eagle Day Program March 7
A bit closer to spring, Ferryville offers a close look at both the Mighty Mississippi River and the Majestic Eagle. Eagle Day, said Executive Director Sherry Quamme of the Ferryville Tourism Council, will be held March 7 and is fun and educational with something for everyone.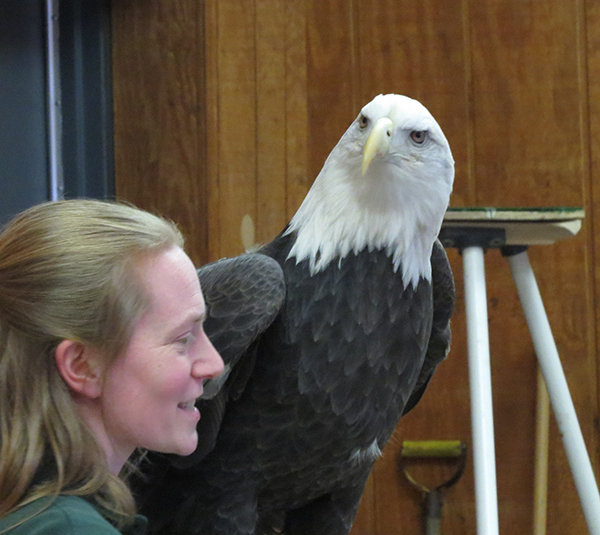 Raptor Research Project member Laura of the University of Minnesota works with an Eagle in Ferryville.
Eagle Day is offered by the Ferryville Tourism Council and Friends of Pool 9, the section of the Mississippi River between Lynxville, Wisconsin and Genoa, and is a must, she said. The program is free of charge and is held at the Ferryville Village Hall/Community Center/Fire Department located at 170 Pine Street, Ferryville, Wisconsin. Ferryville boasts a population of 182.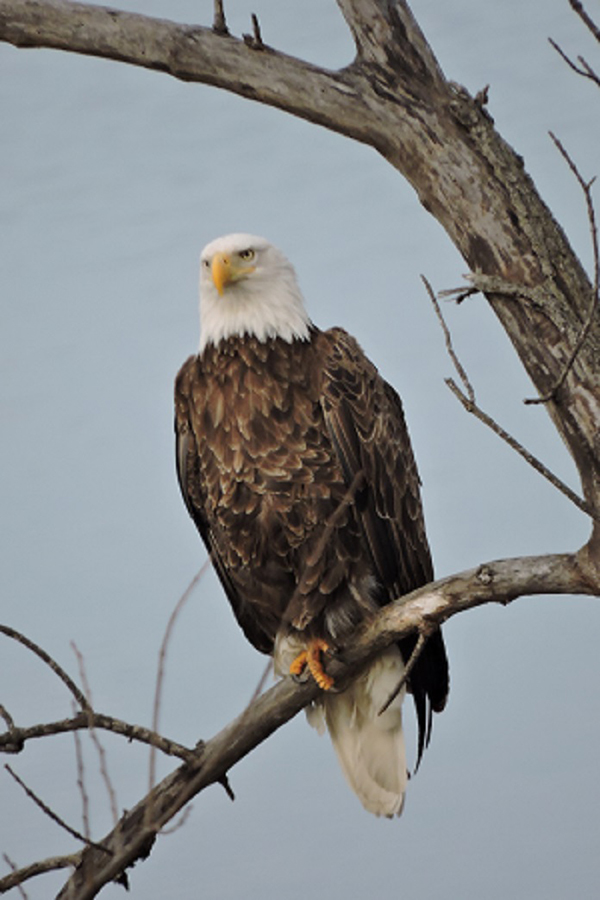 Another eagle looks down from his perch near Mississippi River Pool 9 (Photo by Patty Sampson).
"There will be live Eagle and other bird programs at 11 a.m. and 1:30 pm," Sherry said. "There will be treats, eagle nest building for kids, a hooting contest with awards, presentations by the Decorah, Iowa Raptor Resource Project – with Director John Howe, Amy Reis and staff talking about rehabilitating injured eagles, preserving habitat and more."
For a full program, go to www.visitferryville.com. "Book a place to stay, find a weekend vacation rental, explore Ferryville and join us to celebrate winter and the coming of spring, 2020," Sherry said.
The January-February 2020 issue of On Wisconsin Outdoors is now posted on this homepage with many more ideas for planning your winter trip, whether you are a spectator or participant. And of course, read the usual stories by our hunting and fishing and firearms experts and a whole lot more.
Thank you for connecting with On Wisconsin Outdoors. Shoot straight.
Dick Ellis