Dog Days Are Great Days
Lots of fishing and even preparations for fall hunting going on out there in Wisconsin's Big Outside during the Dog Days of summer.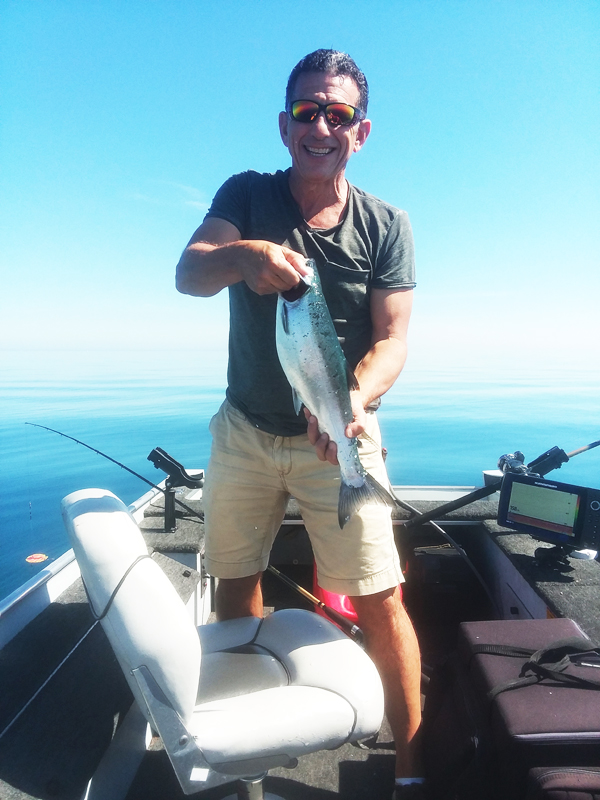 Mike Martino with a 20" Coho taken on a silver and black trolling spoon in 150' of water. The Coho was tough...but Mike was tougher!
My first revelation after talking to friends and family is that you don't always need guides, or the biggest boat on the water to take advantage of Wisconsin's Great Lakes, as long as you're careful. John Ellis has been hitting Lake Michigan with life-long buddy Mike Martino in his 16-Foot Alumacraft Backtroller with 40 horse Johnson as long as weather conditions permit it. John is a United Airlines pilot and I think his "safety first" attitude in the air rolls over to his approach on the big lake.
"I watch the Near Shore Marine Forecast," he said. "If they're calling for 5 to 10 mile per hour winds and one foot waves, I have fished as far as five miles out and catch fish in 100 to 150 feet of water. I have a season pass to launch at McKinley for $100."
Using various spoons and crankbaits with Dipsy Divers, Mike and John have taken coho, rainbow and browns. "Lakers and Chinook are out there but we haven't landed them yet this summer," John said.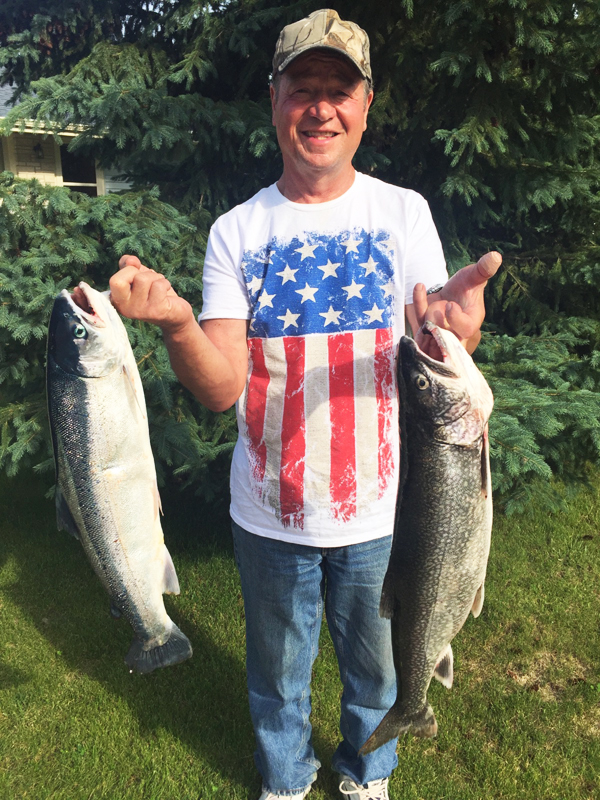 Lenny Young shows off two more trout taken with Pete Limberatos in July on Lake Michigan.
Good buddy Lenny Young also launched out of Milwaukee's McKinley Marina at 9:30 am on a hot July morning. "No early fishing on this day for someone who stayed up too late the night before," Lenny said. "The water was mirrored glass and we could travel the seven miles out at 42 miles per hour in no time. Our 18.5 foot Lund provided all the comfort desired. By 12:15 using planer boards, dodgers, pro-weights and peanut-flies we had four fish in the boat; two lakers, one rainbow and one coho."
"Pete and I had two fish each and decided to go home and cook a delicious fish dinner for our very lovely and understanding wives."
You know what that last sentence sounds like to me, a friend of Lenny's for many years? It sounds like Lenny had a tee-time and he was going to break the news to wife Velta that he wouldn't be home for supper the next night.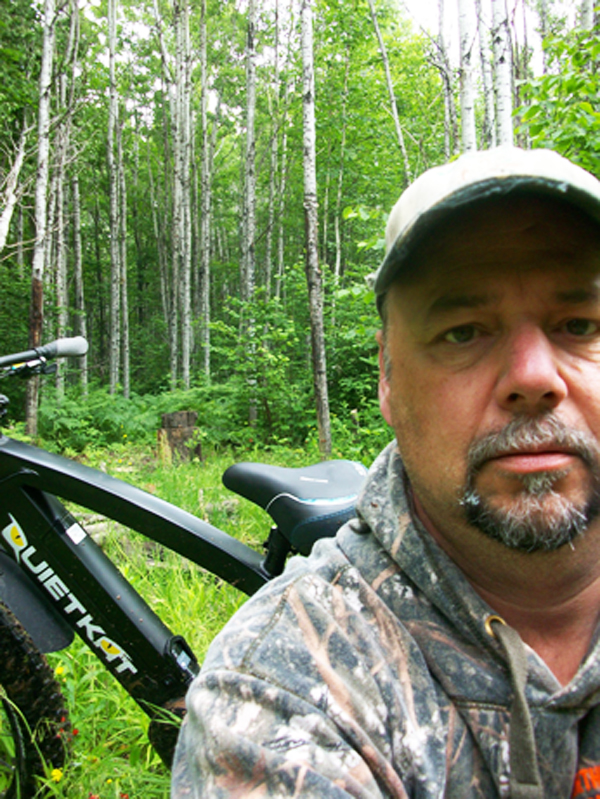 Mike Foss works Bayfield County bear bait seen in the background. Foss will put on 26 miles on his backcountry route in a single day.
Mike Foss is on the trails of Bayfield County baiting and working to make those bears habitually coming to the stations for another meal by the September season. He is using the QuietKat electric bike for those duties, but even that great ride can't keep Mike from being really bugged about summer in the woods.
"It's been a tough three days of baiting bears this week," Mike e-mailed. "Bugs are so bad had to spray down each time I baited. Many ticks, mosquitoes, flies, etc. The heat was unbelievable. Drank lots of liquids. Sore and tired. Back home now."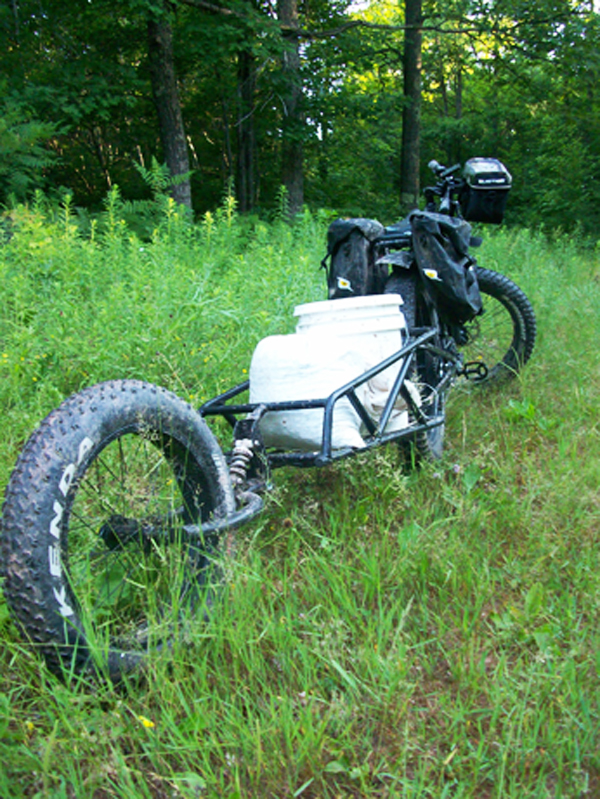 The QuietKat is loaded for bear, literally, as Mike Foss works to bring bears to the bait for September hunters.
Check out the video Mike sends us from the field on our homepage at www.onwisconsinoutdoors.com. A young boar with a sow, old enough to breed, rubs himself on the Bear Scents Bacon Gel placed on the tree by Foss during a baiting run. It's pretty hilarious.
Green Lake County buddy Roger Mayer found more than he bargained for when rigged for crappies with minnows, a slip bobber and 4-pound test line. This little kitty, actually a channel cat weighing in at 15 pounds and 31 inches, gave up the title belt after an epic battle from a dock.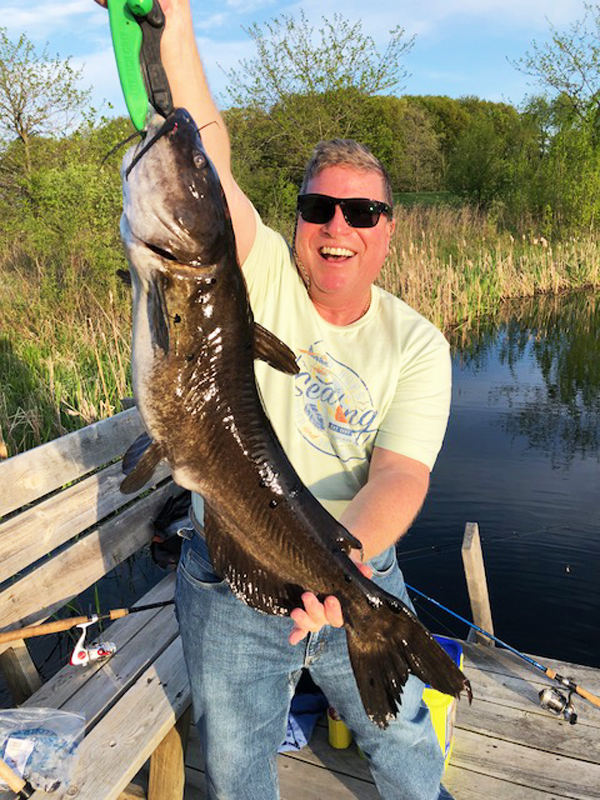 My nephew and super Dad, Luke Ellis found some great fishing with his sons, Grant, Tate, and Beau recently in the north country. A 45 inch muskie, pike and bass all cooperated.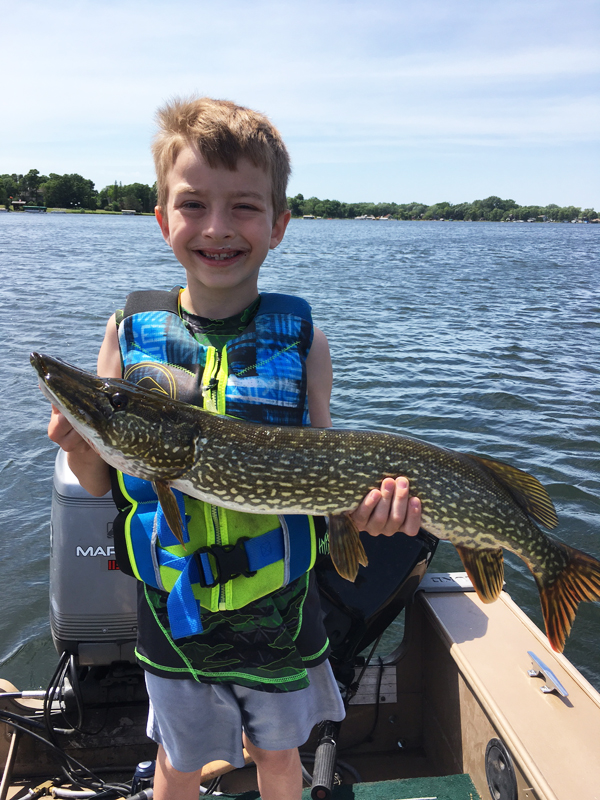 Grant Ellis, 8, takes a pike!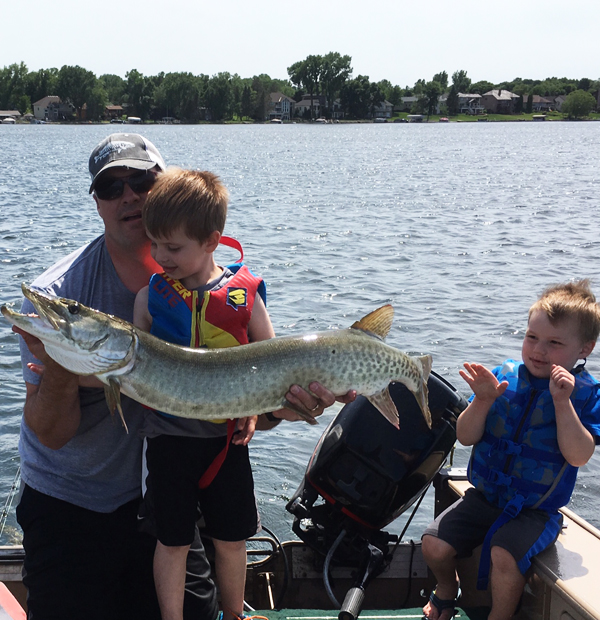 Tate Ellis catches and releases a 45 inch musky with a little help from his Dad, Luke. Beau Ellis, 3, approves of the whole scenario.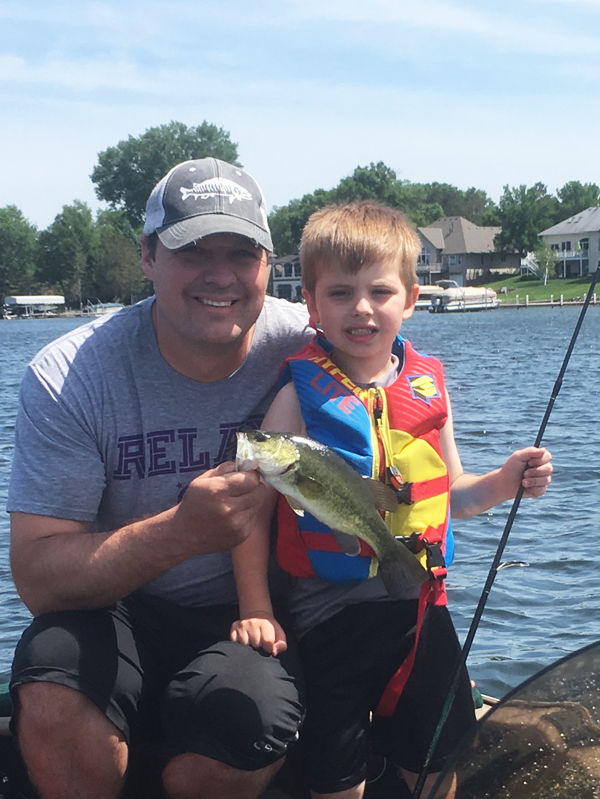 A bass also cooperates for Tate during the two hour trip.
Speaking of Dog Days, the West Allis Training Club will hold its Hunters Jamboree August 25, 2018 in Big Bend. Work your dog, trap shoot, enjoy the pig roast and gun raffle and so much more. Check this out for all the details.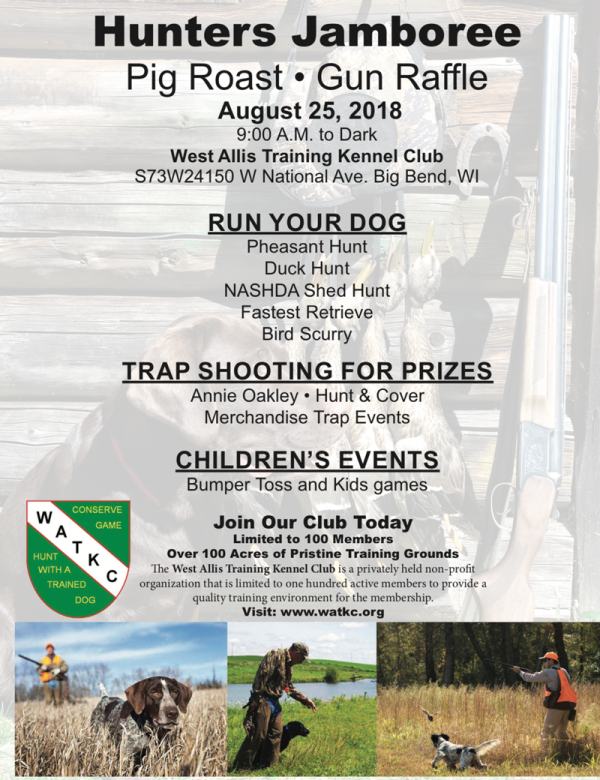 If you have not picked up your July-August copy of OWO, visit any Kwik Trip in Wisconsin. Don't forget those rollers and donuts.
Thanks for connecting with On Wisconsin Outdoors. Shoot straight.
Dick Ellis