Come Now for Walleyes!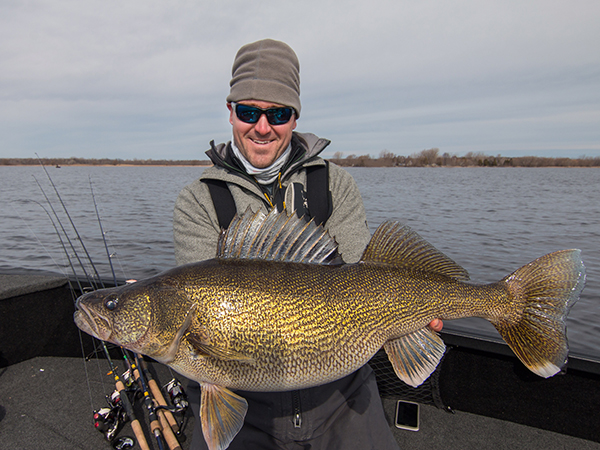 Guide Spenser Samplawski will put you on big walleyes.
OWO contributing writer Jim Olsson tells us the walleye bite on Green Bay out of DePere is hot right now. Fishing with Guide Spenser Samplawski, Olsson said a large number of males are present with more and more big females being taken every day.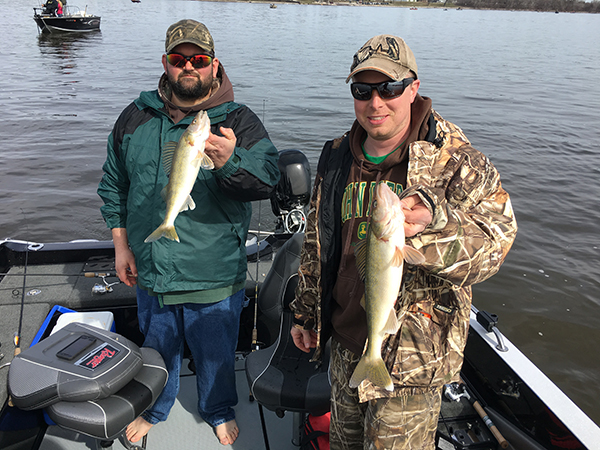 Randy Rydzik and Brian Roffers enjoy a growing Green Bay good bite.
Farther north near Oconto the prespawn bite is picking up with large numbers of big females there for the taking. Samplawski will be guiding the bay every day until May. Connect with Spenser at 952-797-3841 or bigbiteadventuresllc.com to book a trip.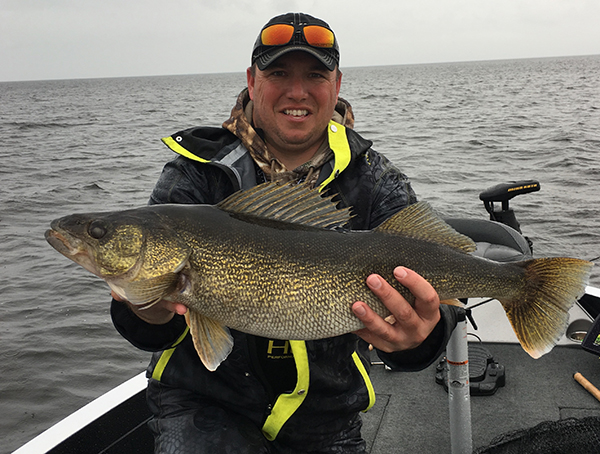 Jim Olsson shows another big walleye taken with guide Spenser Samplawski.
"The bite will be on fire for the next week," Olsson told me. "Book now while there are still spots available and tell Spenser, Jim Olsson sent you."
"Tell your readers to come to the Wolf over the next week," said long -time friend, river fishing expert and New London bait shop owner John Faucher Friday morning. "If I saw one fish moving through on the camera, I saw 2000. And the large majority of the fish are pre-spawn. It's going to be great weather and people will catch fish going either way on the Wolf."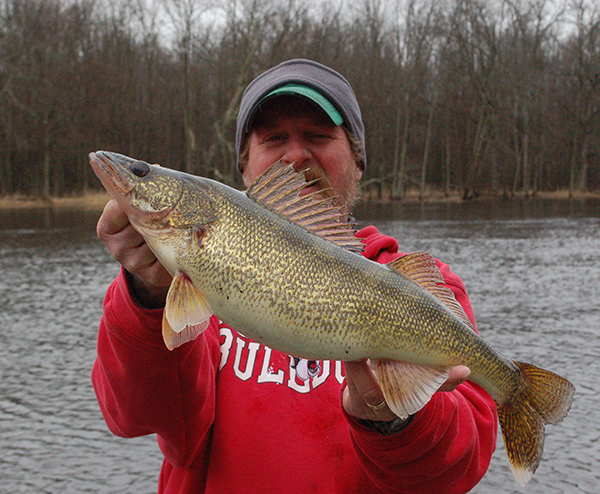 John Faucher, owner of Johnny's Little Shop of Bait in New London, will put you on walleyes right now.
Faucher owns Johnny's Little Shop of Bait at 1205 W. Wolf River Avenue, County Highway X, New London, 54961. Connect with him and his great advice at 920-982-4802 or www.thelittleshoppeofbait.com.
"Last week was unbelievable. I've never seen it so busy in the shop in 27 years," he said. "There was not even time to use the bathroom. In years past, people knew that they could fish the Wolf and catch something between March 1 and May 31. Social media has changed that. Now a school comes through and with GPS fishermen can put a pin on it. In a 300 foot area, there will be 50 boats. And we have seen substantial schools come through."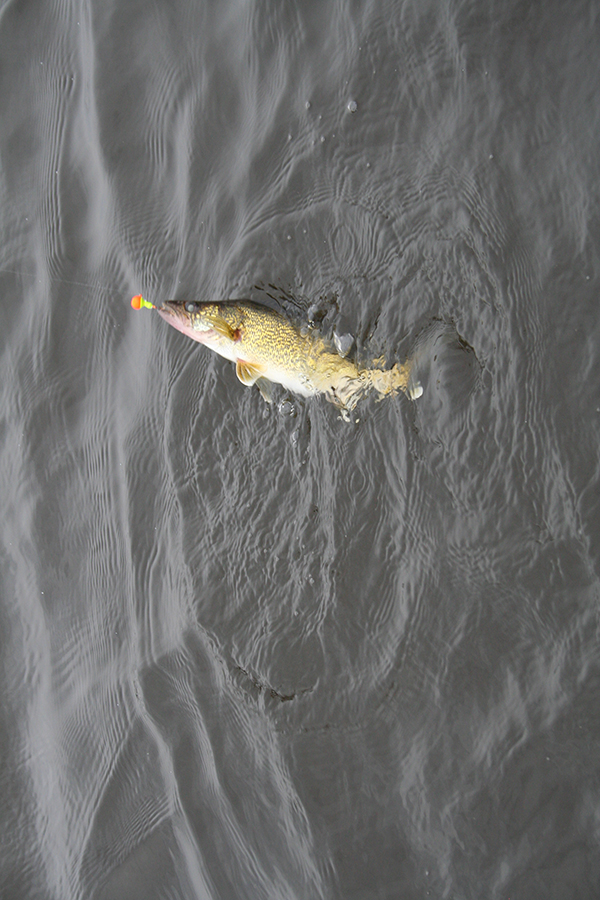 Nice weather, walleyes galore say this is the week to hit the Wolf.
Faucher called 2017 a borderline low-water spring, meaning the river is not flooding its banks and anglers can use that knowledge to refine their search for walleyes to the "deep current seam". Fish will be found in the 9 to 10 foot water depth and up to 12 foot, he said, and not as readily found in the shallow depths of 2 to 4 feet.
"The water is what I call bank-full," Faucher said. "It's not as high as years past and can come up 6 to 8 inches to flood the banks. It's not flood current but it is fast current and guys are using heavier jigs to get to the fish. They're going with 3/8th or 5/16th ounce instead of 1/8 or ¼ ounce. Colors don't really matter. Pink, purple and white are still the go-to colors and the water clarity is amazing for the Wolf. You'll catch walleyes going both ways now by drifting right down the middle. And I wouldn't rule out a night crawler bite either."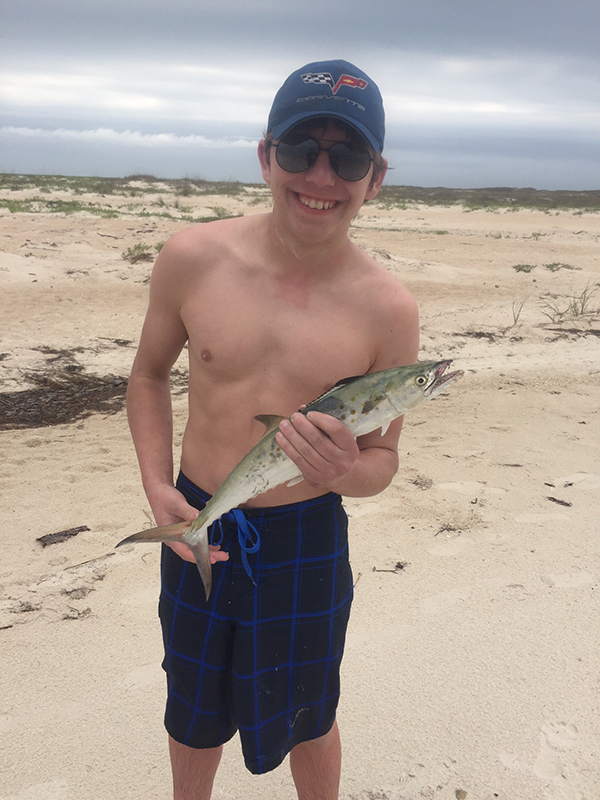 Cole Ellis and a Florida mackerel.
My brother Steve Ellis, his son-in-law Eric Pacey, and grandson Cole Ellis from Wausau are hitting the Gulf Waters around St. George Island hard this week, and finding the ocean fishery as diverse as advertised. Pompano, flounder, sheepshead, whiting, cats, stingray, mackerel and redfish have all been among the catches. From experience, I can tell you that a spring break family vacation is worth it, and the shore fishing doesn't drain the wallet.
Eric Pacey and a fine-tasting Gulf Sheepshead.
In fact, the fishing is a shore bet. Check it out.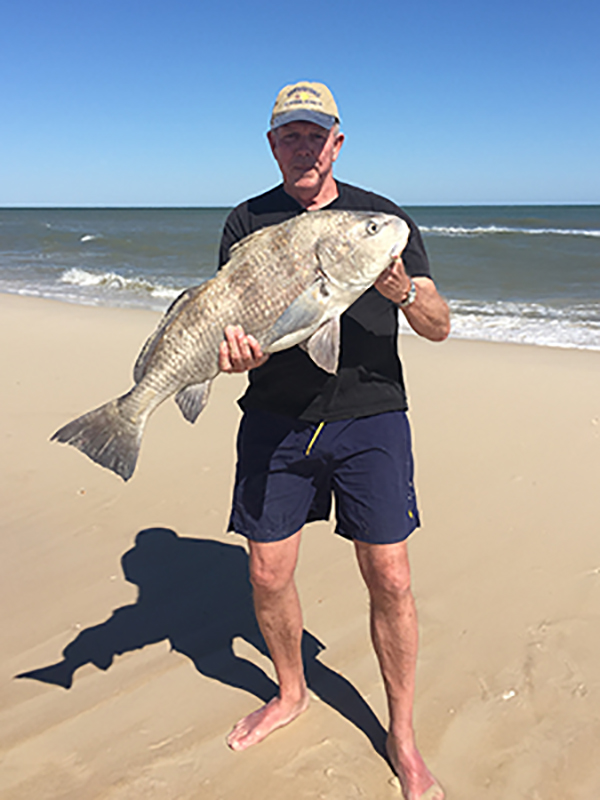 Steve Ellis just before release of a very large Florida Black Drum.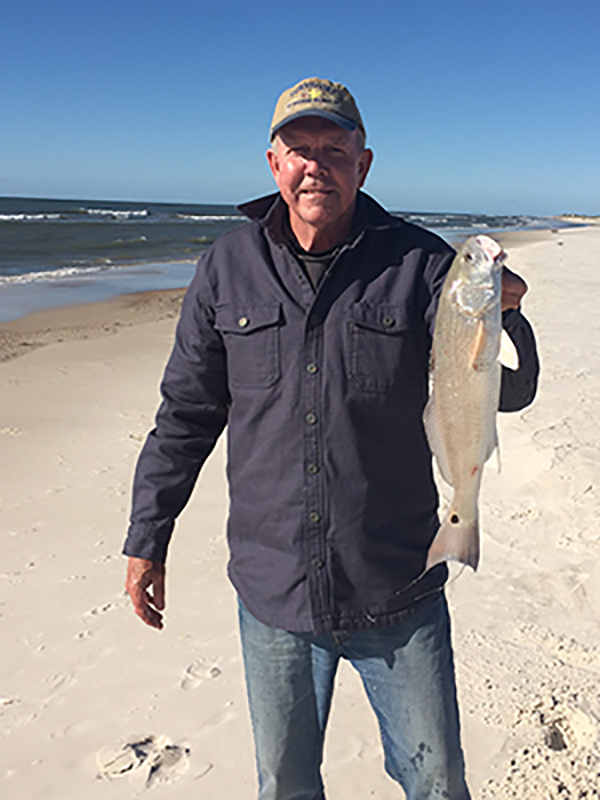 Steve Ellis and a great tasting Redfish.
Not only are the walleye runs going strong on main veins all over Wisconsin, spring turkey season is just on the horizon and the open water fishing season begins May 6. That mean you're on the move and just about 280 Kwik Trip stores are waiting to take care of your every travel need from gas to great food. The only thing that can match it is…their own service.
You've got my word on it.
Thanks for connecting with On Wisconsin Outdoors. Shoot straight.
Dick Ellis