Calling All Shooters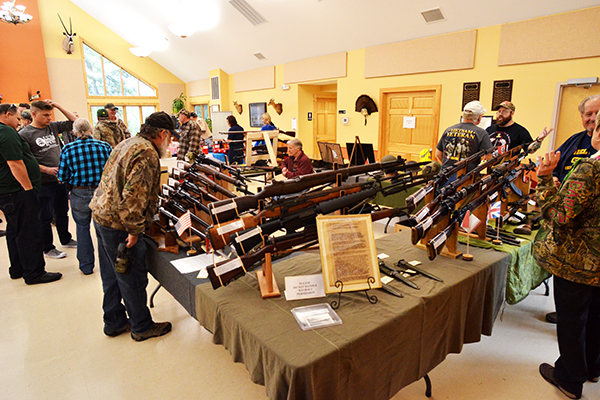 A Military rifle exhibit will be one of the attractions offered at the public fundraiser to assist veterans at the Daniel Boone Conservation League facility September 22.
If you like the shooting sports and you like our veterans, you will love the 3rd Annual Daniel Boone Conservation League Public Fundraiser slated for Saturday, September 22 in Richfield, Washington County. According to Coordinator Teri Peterson, the event honors our military veterans and specifically benefits the Fisher House-Wisconsin, Heroes Hunt for Veterans and CAMP Hometown Heroes; Healing hearts & restoring hope for children of fallen U.S. service members.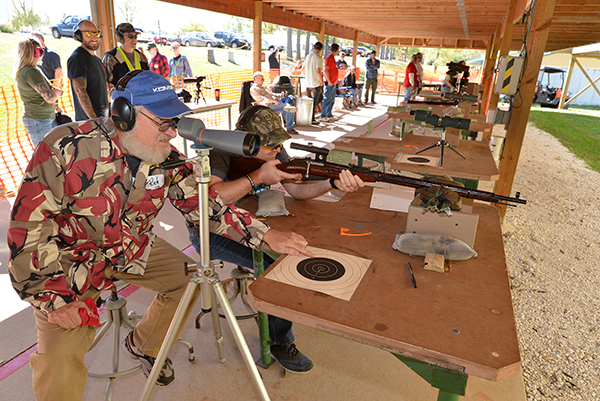 Participants will receive expert firearms training prior to taking to shooting on the trap line and various ranges.
"This is a rain or shine event," Peterson wrote. "All guns provided by Daniel Boone Conservation League. No carry-ins. How-to training provided by professionals and NRA representatives. All ages welcome! Great BBQ and bake sale too."
In addition to auctions and raffles, military display and food and beverages, range events will include shotgun, handgun, vintage military rifles and moving targets. Firearms and ammunition are included with event's range fee. Celebration runs from 10:00 am to 4:00 pm with shooting events coordinated from 10:30 am to 2:00 pm.
Daniel Boone Conservation League is located at 4694 Highway 167 Hubertus, WI 53033. For event information, contact Jill Marton at jill-vrc@charter.net or Patti Nehs at nehsps@charter.net.
Big lake trout must have had a full moon craving from the UP to southern Wisconsin recently. On Wisconsin Outdoors writers and friends pulled in some beauties while fishing the Sylvania Wilderness, Big Green Lake, and Lake Michigan.
Longtime family friend Roger Mayer was on Big Green using pink buckshot in 150 feet of water when this girl he didn't measure and estimates between 10 and 15 pounds started a wrestling match. Roger says the fish "truly made it a wonderful day."
OWO columnist Dan Moericke, who has been penning "An Up Nort Report" sponsored by Leinenkugel's for us for years, got into it with several Lake Trout in the Sylvania Wilderness area while paddle trolling from a canoe with his wife, Kay. I will save Dan's details for the September-October issue which will be out this week, but you'll get the idea from the photo with Kay below.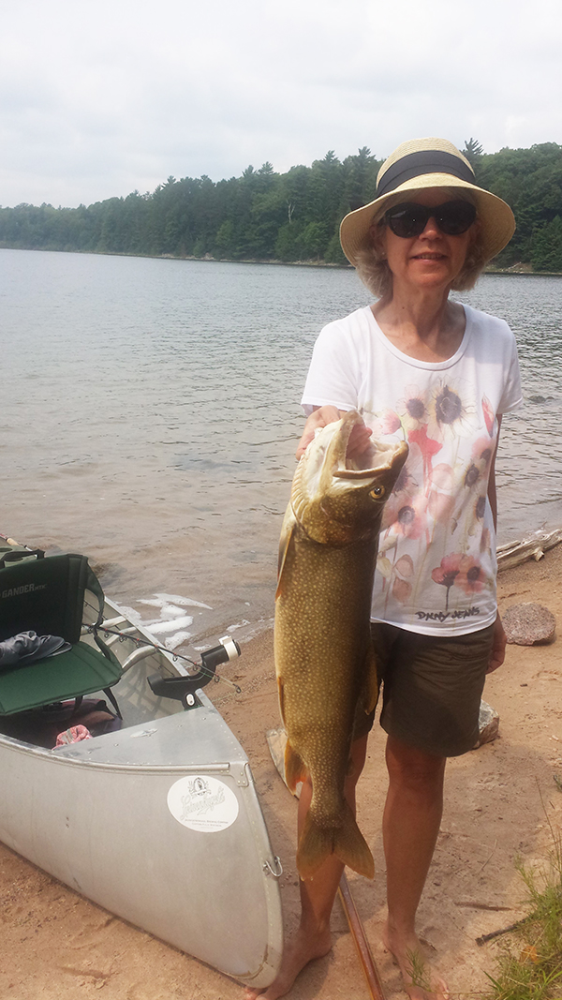 Firearms expert and OWO columnist Ron Stresing who is sponsored in our paper by SKB Shotguns was manning our table at DeerFest when he was given a sample of a fish scent/attractor by Ogre Manufacturing. I wrote a column as a syndicated columnist years ago on Ogre Owner John Thompson, who also produces excellent gun cleaning products that Stresing said are very much worth purchasing. And Stresing is one of our several firearms experts.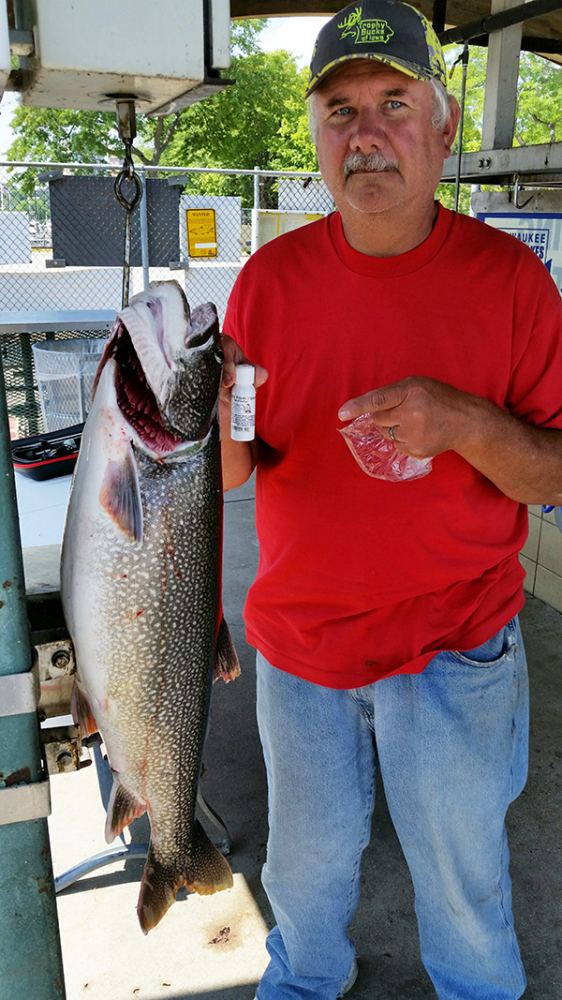 Regarding the fish formula, this is the e-mail I received from Stresing:
"I was given a sample of Ogre Manufacturing fishing scent at DeerFest. It works. Fish hit a black/green fly behind a pearl dodger. It was out on 10 colors of lead core line on a planer board. Yes, I know that's a lot of 'Lake Michigan' speak. We dosed one-half the lines with Ogre scent, and ran the other half as is. The only hit all day was on the Ogre-scented fly. The lake trout went 13.2 pounds and just swallowed the fly! Per a pelvic fin clip it was a 2009 plant. One can only imagine how many baits this fish saw in the 9 years of swimming around Lake Michigan before it grabbed that fly."
Connect with John Thompson of Ogre Manufacturing at 414-881-2953, ogremfg@aol.com or www.ogremfg.com. He is also a good guy to shoot the bull with.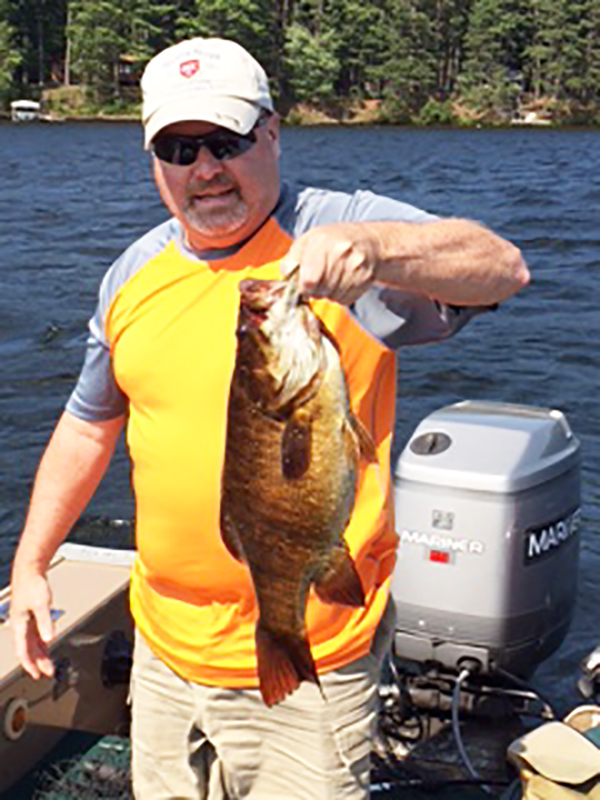 Chris Hanthorn is ready to release a 19-plus inch smallie.
My brothers Steve, Jim and John Ellis and buddy Chris Hanthorn had some great bass fishing recently in Vilas County, catching and releasing dozens of smallies and bigmouths in short order up to near 20 inches. Most of the bass were taken on wacky worms. In front of some nasty thunderstorms, other fish joined the frenzy and muskies, walleyes and very nice crappies up to 12 inches were also caught one after another on tube jigs, spinners and wackies.
It was fast and furious action, and the brothers asked me to stay away in the hope that it continues. I'm still waiting on the pier with my gear and peanut butter sandwich but they refuse to pick me up. The last word is that they will see me in October.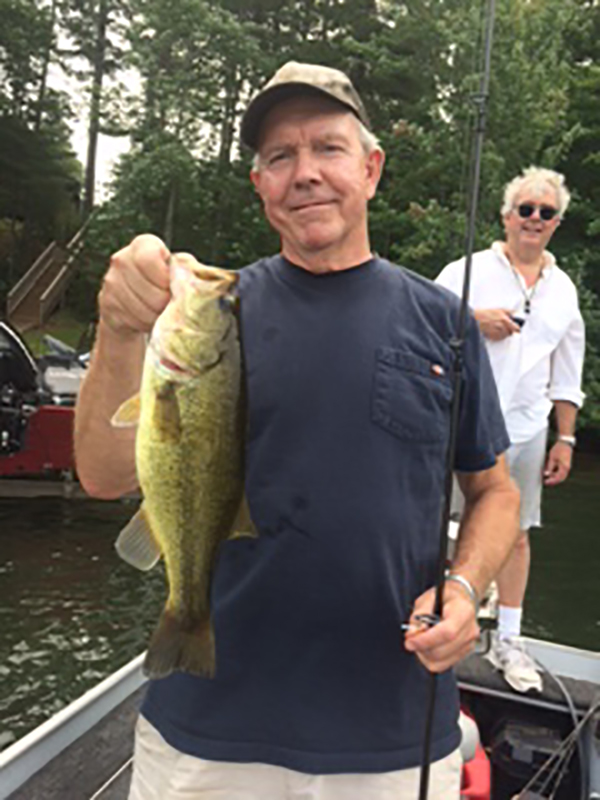 Steve Ellis with one of many largemouth bass caught and released. John Ellis waits for the next strike that was always just minutes away.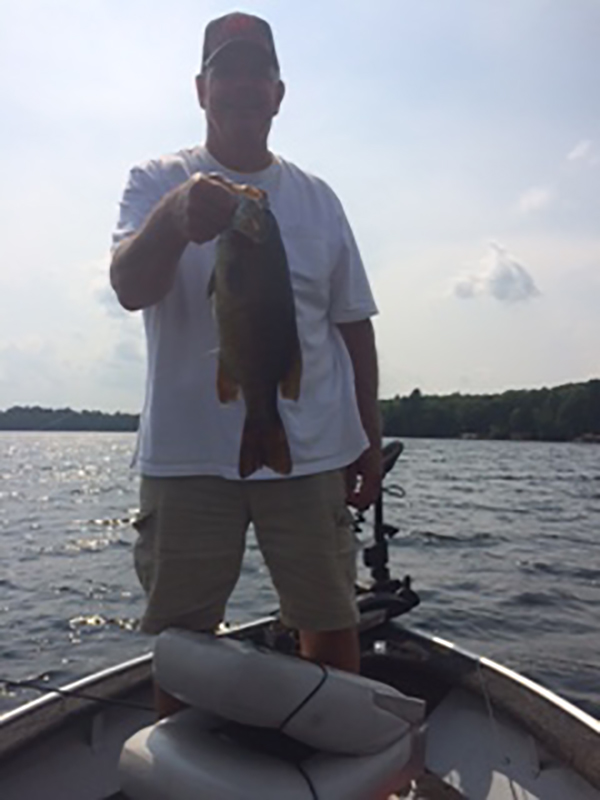 Jim Ellis and another smallmouth taken on a wacky worm.
With the OWO September-October issue (100,000 copies) coming hot off the presses August 27, look for the print issue at your local Kwik Trip or other usual pick up point anytime beginning August 30. We will have your online issue posted by Thursday on the homepage at www.onwisconsinoutdoors.com. It's a 40-page issue jammed packed with hunting, fishing, Wisconsin paddling destinations provided by our Explore Wisconsin tourism partners, humor, recipes, product reviews, and a lot more. I followed co-founder Tom
You know that every issue is made available to you at no cost by our advertisers, right? We have great local and national advertisers and we appreciate it if you look at them before buying your needed products or services. Thanks for that.
And thanks for connecting with On Wisconsin Outdoors. Shoot straight. Especially on the line at Daniel Boone September 22.
Dick Ellis