Bluegills to big game, Autumn brings it all
Fall brings with it something for everyone in the field from the angler to the hunter. Just a few recent sessions of shooting the bull tell me that autumn is for the youngest of outdoorsman just learning the games to those of us more seasoned with our eyes focused dead ahead on for example, the whitetail rut.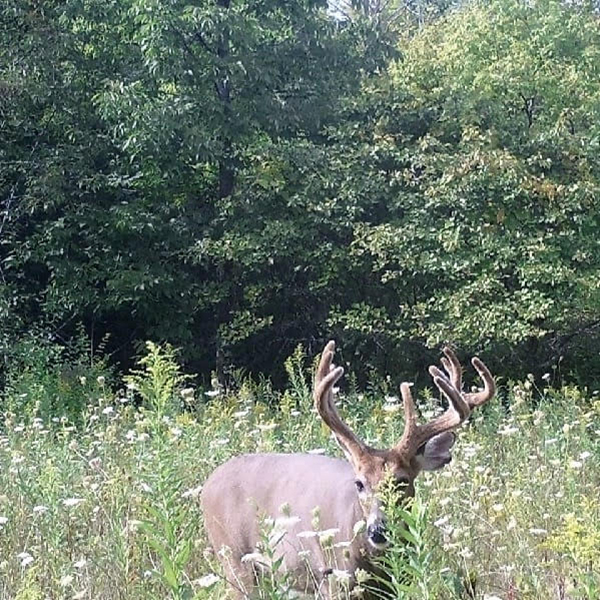 James Wallace captured this great buck on trail camera during summer scouting.
James Wallace, my nephew-in-law (is there such a thing?)…okay my nice niece Angie's husband…didn't wait around for the fast approaching whitetail mating season, or rut. The bowhunter had secured permission to hunt on private property in Waukesha County, and used trail cameras to locate several very good bucks during summer scouting. James hunts other properties from portable treestands, but the topography of this land wasn't going to allow him to take any stand off the ground.
"It would be hard to find any tree you could put a stand in," James said. "There are no mature trees to set a stand…just apple trees, overgrown land and a lot of prairie grass."
James set a ground blind near trails between bedding and feeding areas, and heard a deer moving near dusk during an opening day vigil. The 10-point buck would match one of the big bucks he had caught on trail cam during the summer, and actually moved too close to his blind for comfort; especially during a few seconds when the hunter's draw brushed the inside webbing of the tent and momentarily drew the attention of the buck.
"He was only four yards away, and he looked at me before looking away again," James said. "It was close and intense. So close I shot him instinctively instead of using a sight."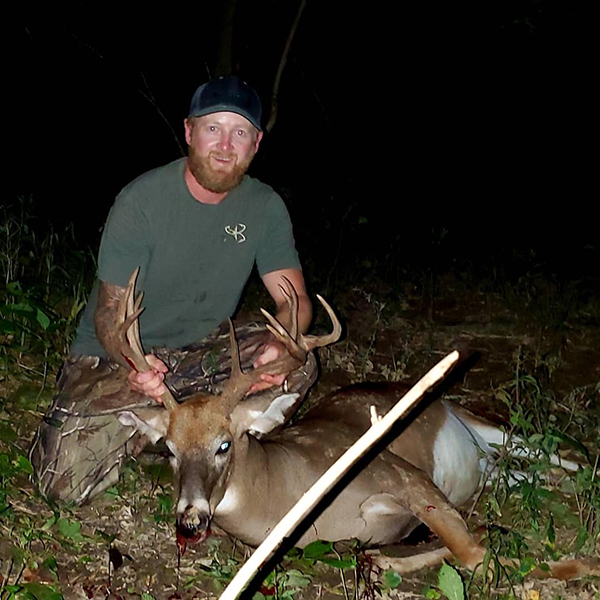 Wallace caught the same buck just four yards from his ground blind on opening day.
The double lung shot put the buck down quickly, and archer James Wallace had his first buck ever, with bow or gun.
Nicely done young man.
My good neighbor and friend Peter Deinlein's son-in-law Rick Callies found a Waukesha County pothole that apparently hasn't been fished hard in some time. A treasure of bluegills to 10 inches…or better… was waiting. Rick is a young father already instilling the love of fishing from shore or boat to his 4-year old son, Carson. Carson showed his family and those monster gills just how things should be done with a rod and a can of worms… and a little help from his Uncle's patented invention.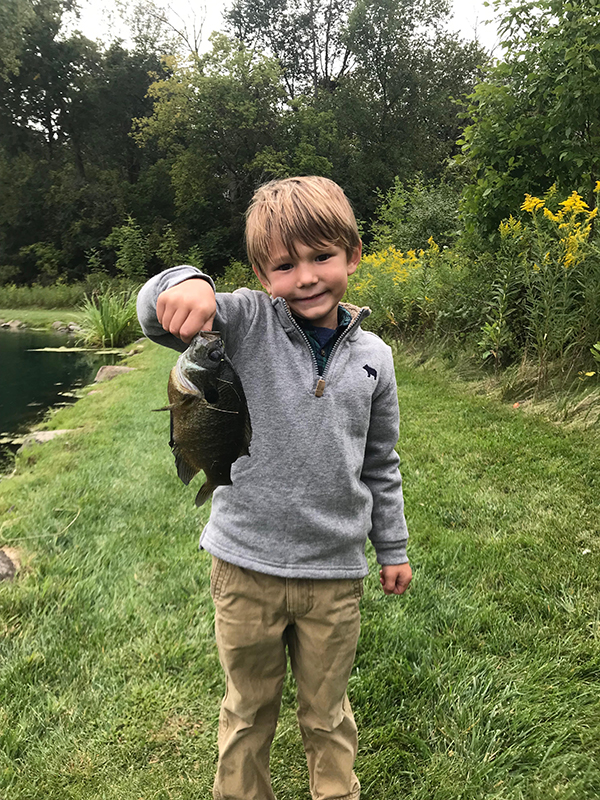 Carson Callies with another 10-inch gill.
Because the group is also into catch and release, Rick's brother Mark in recent years had developed a fabulous tool for anglers who can't stand the idea of wasting fish when they devour the hook. We featured Gill Shield in On Wisconsin Outdoors' Product 6-Pack last year, and I wanted to remind you with this blog to check out their website to order your own. I'll let the Callies speak for themselves, right off of the website at GillShield.com:
Why Gill Shield?
Fishing with Children or Inexperienced Anglers:
"Make long-lasting memories with your children. Panfishing can be one of the most fun and relaxing activities to do outdoors, especially when children get involved. Using a Gill Shield when panfishing with inexperienced anglers can save you and your child the frustration that is brought on by swallowed hooks. The Gill Shield is a revolutionary fishing aid for those who are still learning to set the hook properly, or for those who have slower reaction times. No more swallowed hooks! "
Editor Note: Carson Callies endorses that philosophy!
Avid Anglers:
When panfishing, Gill Shield allows you the freedom to fish multiple lines at the same time. Having a bobber go down while you're busy reeling in a different line is no longer a problem-Gill Shield will prevent panfish from swallowing the hook, ensuring a clean hook up.
Conservation - Catch and Release:
Great for catch and release only ponds or for anglers with a passion for conservation. When panfish swallow the hook, they often die on the water when released. Gill Shield prevents panfish from swallowing the hook, allowing anglers a smooth and easy catch and release experience.
Nicely done Carson…the man, the legend.
Finally, we had longtime friend Bill Radek as a guest to our Vilas County cabin recently to target smallies…and an apparent 20-pound home-made, obscene meatloaf with too many ingredients to mention here. Put it this way…if a 200 pound bear came to the bait pile for my brother Jim's "invention" (okay…cheese, sausage, pepperoni, bacon…etc. etc. etc.…) he would leave as a 500 pounder.
Bill and Jim played football for the Wisconsin Badgers in the late 70s. As for fishing success…well they eat meatloaf with more skill…and yesteryear…they played football better too.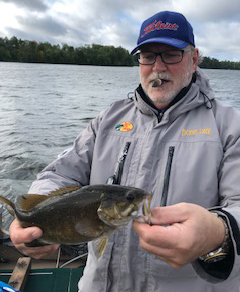 Some smouthmouth did fall to Bill Radek (pictured) and Jim Ellis.
Thanks for connecting with On Wisconsin Outdoors. Shoot straight.
Dick Ellis