Blue Birds Mean Happiness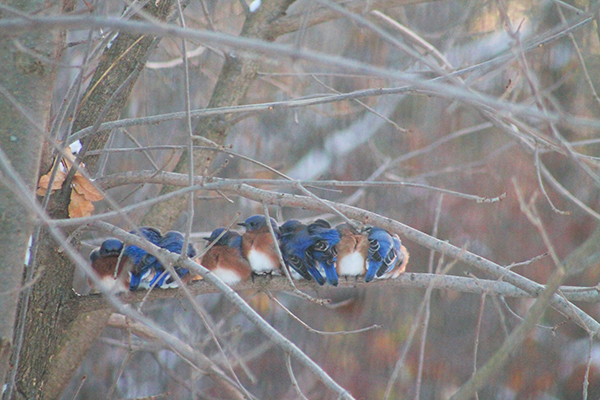 In the near future after 100,000 copies of our March-April 2020 issue are on the streets throughout Wisconsin I will be adding to this blog, but wanted to post these photos now of 11 bluebirds on a tree in our backyard. The photos are referenced in OWO's Badger Birds (Tom Carpenter column) in the new issue as being posted in this blog and I don't want readers traveling to this website and being…bluebird-less.
I don't think I've ever seen a bluebird in southeast Wisconsin. I've seen lots of blue jays terrorizing other birds, but I had to go on the internet to identify these guys after our unexpected introduction on a cold winter's morning. I looked out the window and saw about a 3-foot line of blue and light browns across a branch slightly moving. I thought, well that is some animal that is alive and kicking but had no idea what I was looking at.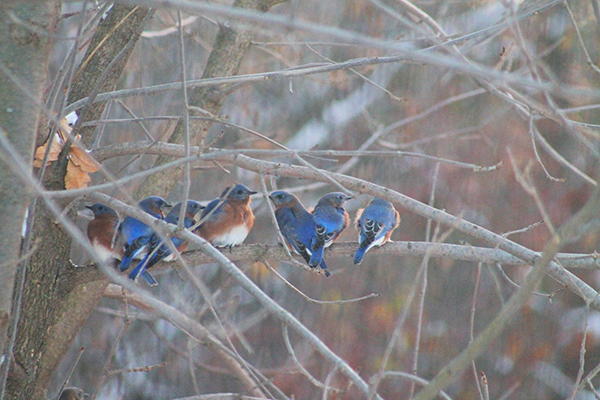 I try to keep a loaded camera with telephoto lens on my desk ever since I got caught coming out of the shower during the November whitetail rut with one of the biggest bucks I have ever seen in my life coming right through my front yard in search of female companionship. True story. I ended up chasing that buck in my underwear for 50 yards after digging the camera out in a panic. That was fairly safe because I live in a wooded area and when it got dangerous that I might be seen by a terrified neighbor and inspiring a cop call, I gave up the chase. That was so disappointing to not capture that buck that was so close, so far, that I am more prepared these days.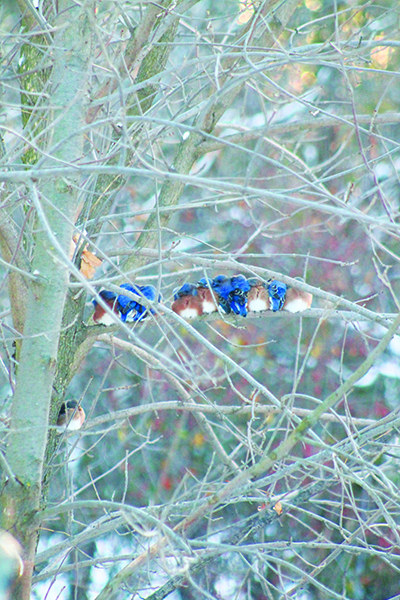 I was able to snap about 5 quick shots of the bluebirds before they exploded in a bomb burst. Note the one bluebird that seems to have been sentenced to his own branch below and the space he left among his friends. Rumor has it he was a bear fan…
Thanks for reading On Wisconsin Outdoors. Shoot straight. But not at these bluebirds.
Dick Ellis
According to a quick search, when a bluebird appears…
A bluebird is perceived as a symbol of joy and happiness that are awaiting you in the future. If this bird has appeared in your life, it will remind you of all the beauty of the nature around you. You should enjoy the nature and all beautiful things that you have in your life.