Birds of a Different Color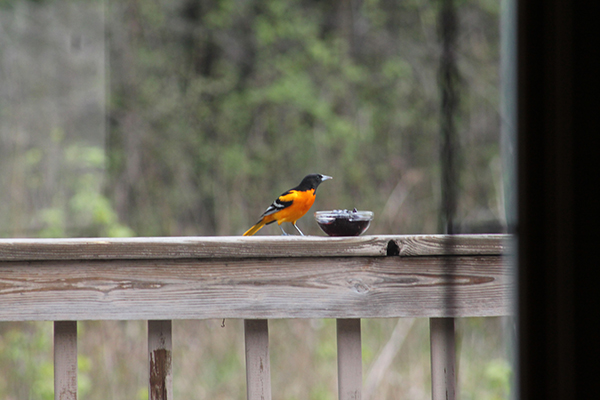 Ellis took this photo of an Oriole breakfasting at a grape jelly bowl on his deck railing.
You know what is really a fun and easy thing to do at this time of year in Wisconsin? Attract birds that we really don't see all the time, like Orioles and Cardinals and many more migrators that the experts know much more about than I do.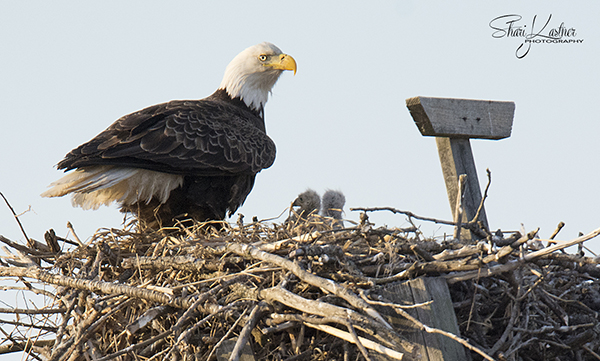 Eagle young have hatched, even at Big Muskego Lake, with at least two eaglets.
Lori and I just place small glass bowls full of grape jelly outside our deck window, slice an orange or two in half which we spike onto a feeder or tree, and watch the orioles come and stay for weeks. They're pretty friendly critters too, not scooting every time we head out on the deck, and actually jabbering out there with us from the surrounding trees. Because we also fill up the bird feeders with various seed, we also attract a bunch of other species including cardinals and red hooded what's-you-ma-call-its. You see I'm not an expert, but I can tell you that the female cardinal and the female robin that are sitting on eggs in my yards bang their heads into my office window over and over almost like their saying, "I'm pregnant and I don't like it… I'm pregnant and I don't like it." I'm sure they are attacking their own reflections in reality, and they certainly are good mothers the way they tend to the eggs through heck or high water.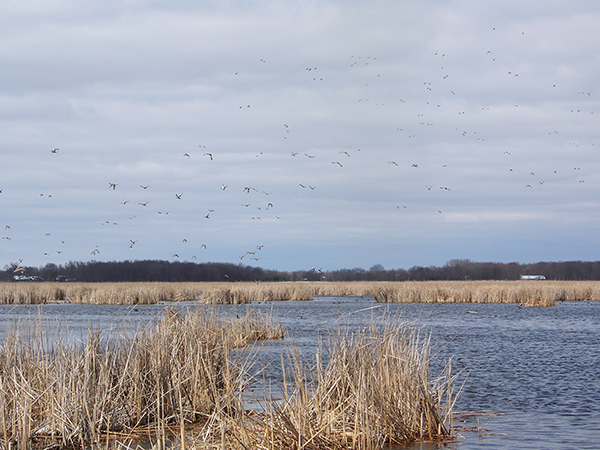 Thousands of migrating ducks and birds use the Big Muskego Lake and marsh as a stopover. Photo courtesy of Tom Zager
If you are in southeast Wisconsin, you may want to consider a visit to Big Muskego Lake to find your fill of birds. On Wisconsin Outdoors helped promote International Migratory Bird Day and Muskego's recognition as a Bird City, Wisconsin at Big Muskego Lake State Wildlife Area last week.
"May is peak migration time in this area and provides an outstanding opportunity to see several dozen species of birds in one day," wrote Lisa Niles in promoting the event. "International Migratory Bird Day brings awareness to approximately 350 species that travel from their wintering grounds in South and Central America, Mexico and the Caribbean, and the southern U.S. to more northerly reaches of North America. Both experienced birders and beginners will enjoy observing birds hiking trails through woodland, prairie, and wetland habitats."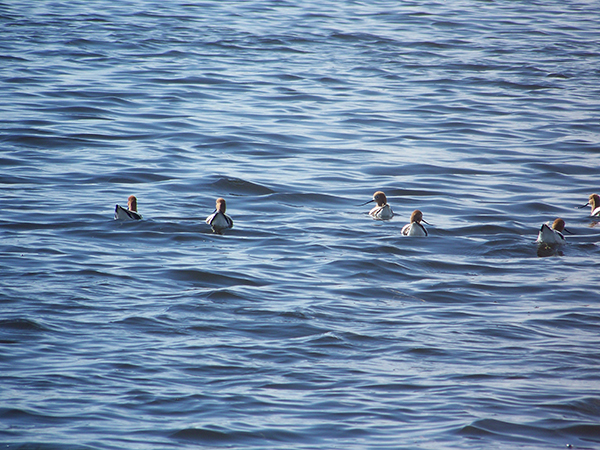 American Avocets were swimming in the bay near the nesting eagles and ospreys on Sunday. This is a very rare bird siting for this area. Photo courtesy of Tom Zager
According to Ashland-based Conservation Biologist Ryan Brady Warbler migration is likely at or very close to peak across southern Wisconsin, where birders from Milwaukee to Green Bay and Madison to La Crosse reported outstanding diversity and numbers. Many were found foraging lower than a typical year, he said, and thus offered especially spectacular views. Baltimore orioles, rose-breasted grosbeaks, and ruby-throated hummingbirds continue to adorn feeding stations, now joined by good numbers of indigo buntings. Ruby-crowned kinglets were abundant earlier in the week, while a couple olive-sided flycatchers and common nighthawks made somewhat early arrivals. American avocets at several locations were among the most noteworthy shorebirds.
Big Muskego Ospreys are also nesting on a platform near the eagle platform. Photo courtesy of Tom Zager
"Snowy owls continue to linger statewide with at least a dozen reported this month from as far south as Oshkosh," Brady writes. "This week's list of rarities is again long, including a scissor-tailed flycatcher in Milwaukee, snowy egret in Dodge, blue grosbeak in Racine, white-faced ibises at multiple locations, northern mockingbirds in Milwaukee and Ashland, white-eyed vireos in Milwaukee and Walworth, yellow-throated warbler in Door, Kentucky warbler in Dane, worm-eating warblers in Dane and Milwaukee, yellow-crowned night-heron in Dodge, summer tanagers in multiple locations, piping plover in Sauk, and lastly both eared grebe and cattle egret in Portage. The next couple weeks will offer the peak of spring migration so be sure to get out and take advantage of events across the state. As always, find out what others are seeing and where they're seeing it at www.ebird.org/wi."
All trails in the Chequamegon-Nicolet National Forest are now open including the multi-use Flambeau Trail System, according to the Price County Tourism Department.
Updates are posted to the Reports page on the Tourism Department's website (www.pricecountywi.net) on an ongoing basis; check the page periodically for the most up-to-date information.
For information on all your travel needs including fishing, hunting, trail use, camping, dining and lodging, and more, you can also connect with the Price County Tourism Department at 126 Cherry Street, Room 9, Phillips, WI 54555. 715-339-4505. 715-339-3089 (fax).
Washburn County Current Trail Conditions: Wednesday, May 16, 2018
ATV Trails:
Washburn County ATV Trails are closed at this time, including the Wild River Trail and the Railroad Grade to Shell Lake due to the current fire danger rating of Very High. (Please note that all trails will close when the fire danger is rated at Very High or higher.) To check the current fire danger please refer to the link below.
Normal spring trail closure runs through the first Friday before Memorial Weekend. ATV trails are aniticpated to re-open Saturday morning of Memorial Weekend. In units of the Forest open for motorized uses, ATVs/UTVs are also prohibited now through the first Friday before Memorial Weekend.
Fire Danger Level: http://dnr.wi.gov/topic/forestfire/restrictions.htm
Washburn County is home to the ATV Scenic Tour, highlighting over 35 points of interest along the 100+ mile ATV system. Find out more about the scenic tour here. For assistance in planning your ATV getaway to Washburn County, visit our "Request Information" page and order your ATV map, scenic tour brochure and more!
To order your FREE ATV/Snowmobile map, visit: http://www.washburncounty.org/request-info
My great-nephew Beau Ellis, 3, was fishing with his grandparents Jim and Colleen when this world record picked a fight with the wrong man. Photo by Grandma Collen.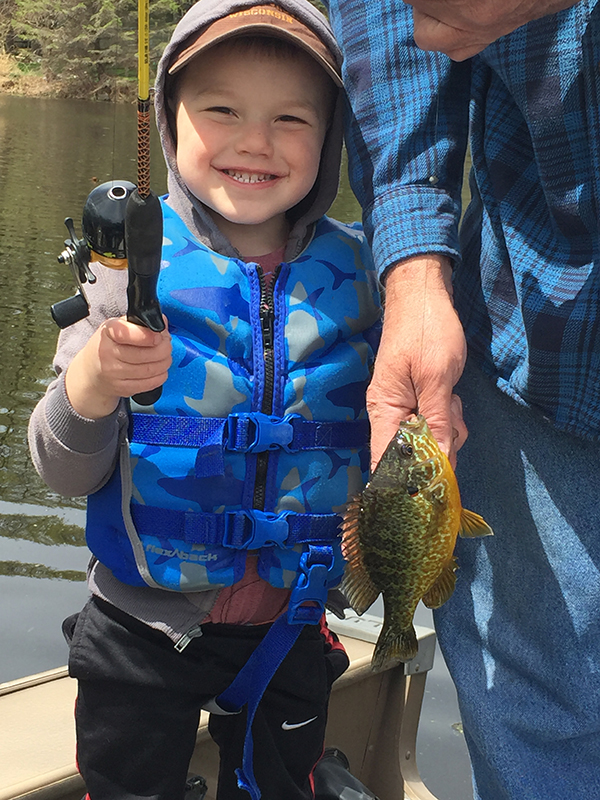 Tom Hart made it 6 for 6 for the Hart boys hunting turkey on family property in Adams County when he called in and tagged this nice gobbler with outstanding beard.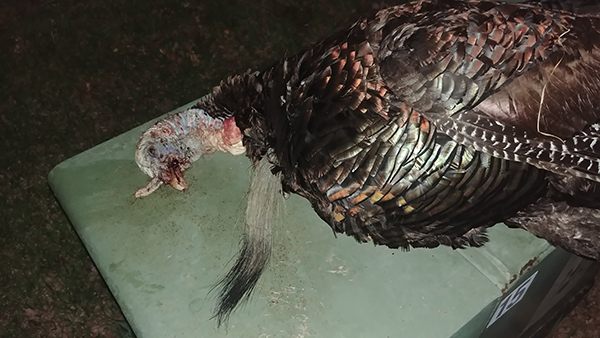 34th Annual Great Walleye Assault
On Wisconsin Outdoors columnist Dan Moericke and a regular crew of Wisconsin fishermen are currently enjoying the 34th Annual Great Walleye Assault (GWA) in the Boulder Junction Area. Moericke in particular seems to be enjoying it since he landed this 28-inch plus walleye using a jig and minnow on 4-pound test line May 15th.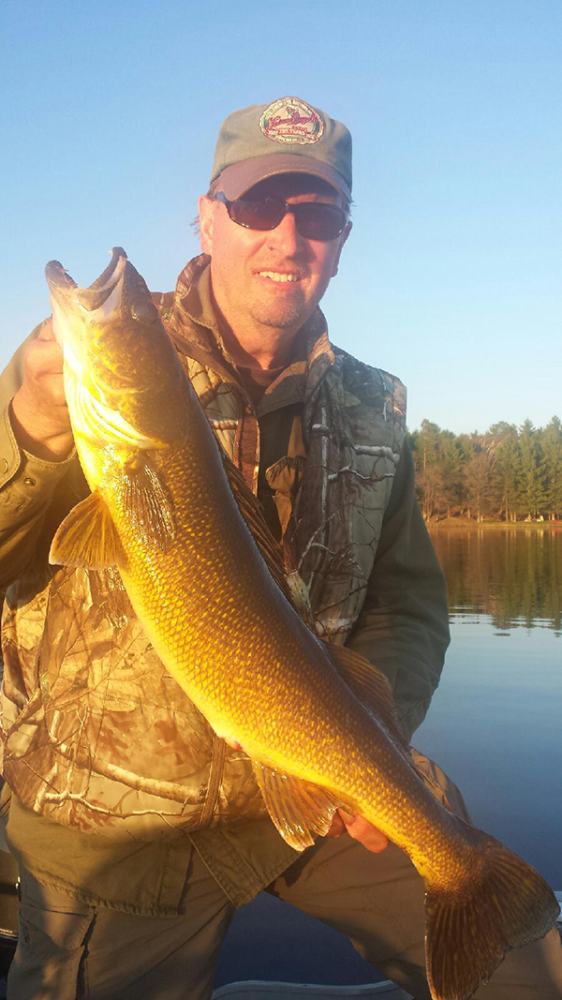 For interested Wisconsin fishermen, criteria for joining the GWA include enjoying fishing, and enjoying Leinenkugel's adult products. Currently, there is a 4 million person waiting list.
Thanks for connecting with On Wisconsin Outdoors. Shoot straight.
Dick Ellis