BEC Musky Classic is Just That
Bob Ellis is shown in the 12 foot skiff he used to catch hundreds of muskies row trolling.
The 2017 Bob Ellis Rowtrolling Classic (BEC) will be held Saturday, July 15. Make your plans now, and find out why a no entry-fee, no prize money, catch-and-release tournament chasing muskies exclusively with the row trolling method can be so much fun.
Trollers have numerous lakes in Vilas County from which to choose to target muskies. Like every year, starting location for participants to meet and have coffee or breakfast prior to the 2017 tourney will be the Skyview Resort in Presque Isle. Anglers also gather again at Skyview following the tournament for dinner and awards banquet, tell stories from the day, and generally to feel the verbal rip and wrath of Master of Ceremonies and avid row troller Kevin Wallenfang.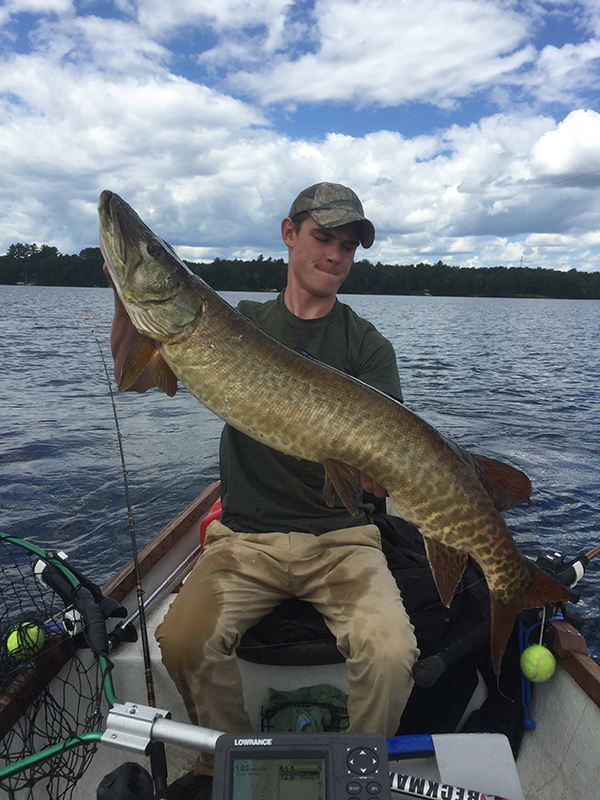 David Morton shows the 45-inch fish taken and released on Presque Isle with his father, John Morton that wins the 2016 Bob Ellis Classic. The father-son team also won the 2015 BEC.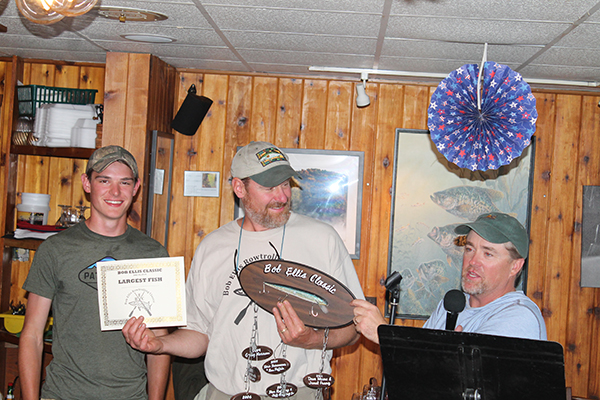 The father –team of John and David Morton accept the prize for their repeat win at the 2016 BEC from MC and Event Coordinator Kevin Wallenfang.
The tournament honors our uncle and Hall of Fame angler Bob Ellis. Bob was a tremendous musky angler who is recognized for first targeting suspended fish in deep water and looking at baitfish as "structure" instead of rock, weed, wood, or depth changes. Find the baitfish forage, like cisco, and find the musky ready to feed. And he did it all in a 12-foot Shell Lake rowboat from May through ice out. In fact, many times he pushed that little skiff over ice to reach the open water. His largest musky was 41 pounds, taken on a cold November on Papoose Lake where he would lose his life in 1989 in a collision with power boat while fishing in that same skiff.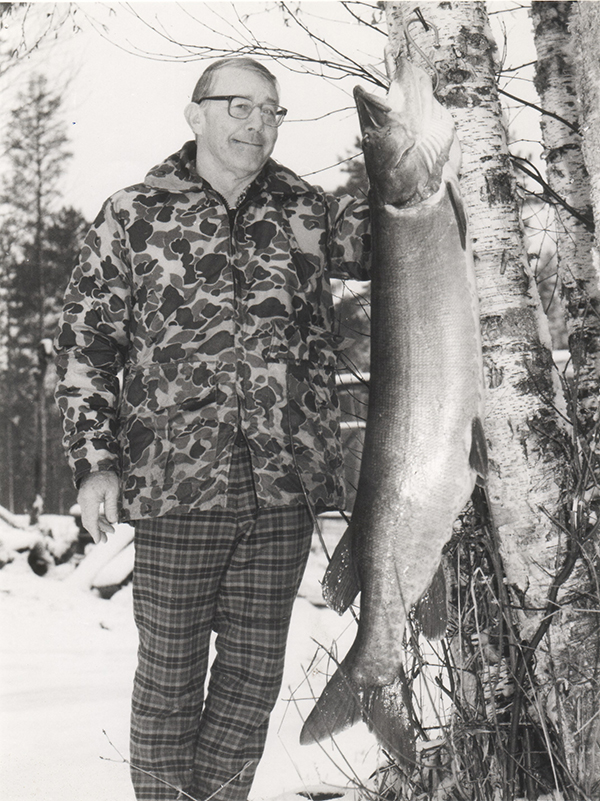 Bob Ellis was not only a great musky angler and pioneer of the row trolling method; he was obviously a snappy dresser who inspired all his nephews to this very day. Uncle Bob is shown with his largest fish taken on Papoose Lake in Vilas County on a cold November morning.
Row trolling because of Bob is a family affair. This year, trolling started in earnest for me over the Memorial Day weekend, with all eyes on mid-to-late June as the hoped for and established time for large, suspended walleyes to become active. It's just personal experience, but this family has caught many walleyes in the 25 to 30- inch class pulling musky-sized lures like Bucher depth raiders or Pete Mania's Jake bait as two examples.
Looking back to my Uncle Bob Ellis's practice, who row trolled large homemade lures to many trophy fish in the 1970s and 80s but found time to also target big crappies and walleyes using the rowing method, I did just that over the Memorial weekend. Trolling the shallower mud flats that lead to deeper water a few hundred yards from our cabin on the Manitowish Chain, I pulled black and silver and black and gold three-hook Rapalas over the mud. Bob used to find monster crappies starting post-spawn and into summer, and once boated three walleyes in the upper 20-inch class before losing a fourth.
"I was almost glad I lost the fourth fish or I would have been rowing all night trying to catch that fifth big walleye for a limit," he said at the time.
I did pick up one 17 inch walleye to start the season but there are a lot bigger girls waiting for us, I hope, as June moves on toward Independence Day. Some of this row trolling is done at night.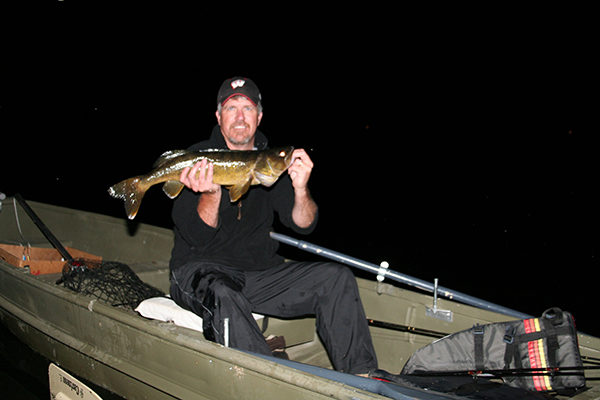 Dick Ellis prepares to release a June walleye taken several years ago row trolling at night on a Jake Bait.
We shall see. Thanks for connecting with On Wisconsin Outdoors. Shoot straight.
Dick Ellis