April-A Good Month to be Alive in Wisconsin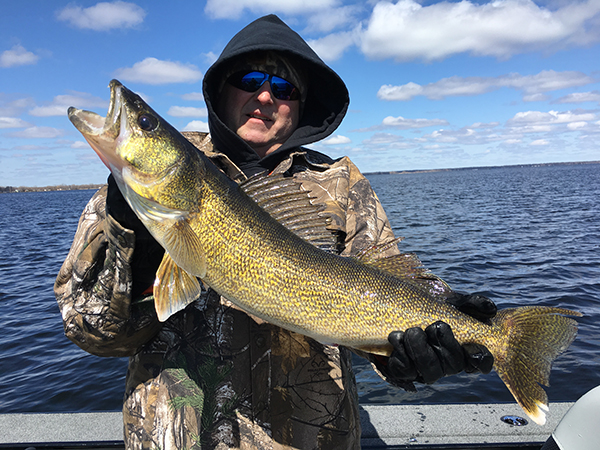 The surf and turf games are erupting nicely all over this fine state. April is for breaking out, and a great month to be alive and an outdoorsman in Wisconsin.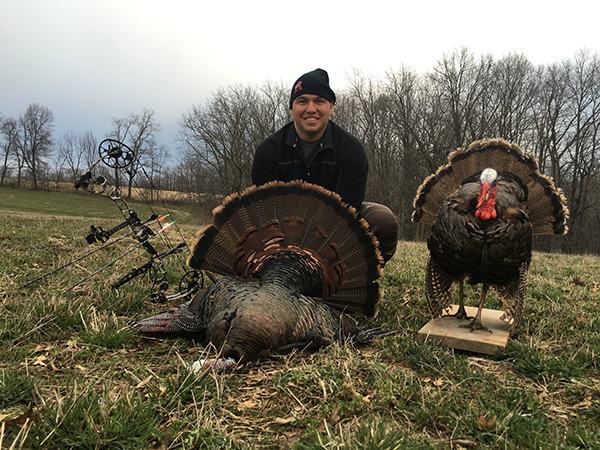 Good buddy Jim Olsson is back at his usual antics terrorizing the fish and game of Wisconsin. The photo below is of Jim with his 27 pound monster Tom taken with bow and arrow during the season one after his Jake decoy got the dander up on the local brute. He probably should have stayed in the tree. Jim's hunting partner was John Ford and camera man was Brad Schneider. Both John and Brad also filled their tags later with 24.5 pound gobblers taken as a double on film. Stand by and we will tell you where to watch all three kills soon.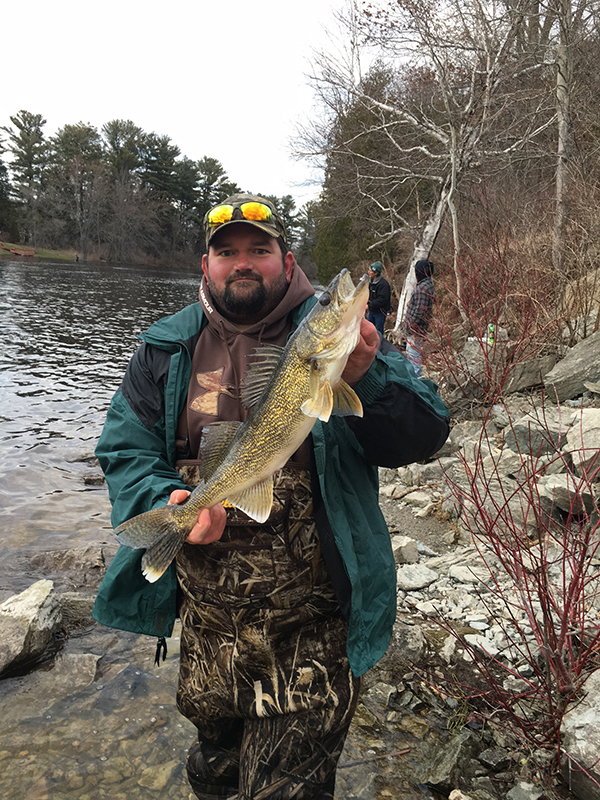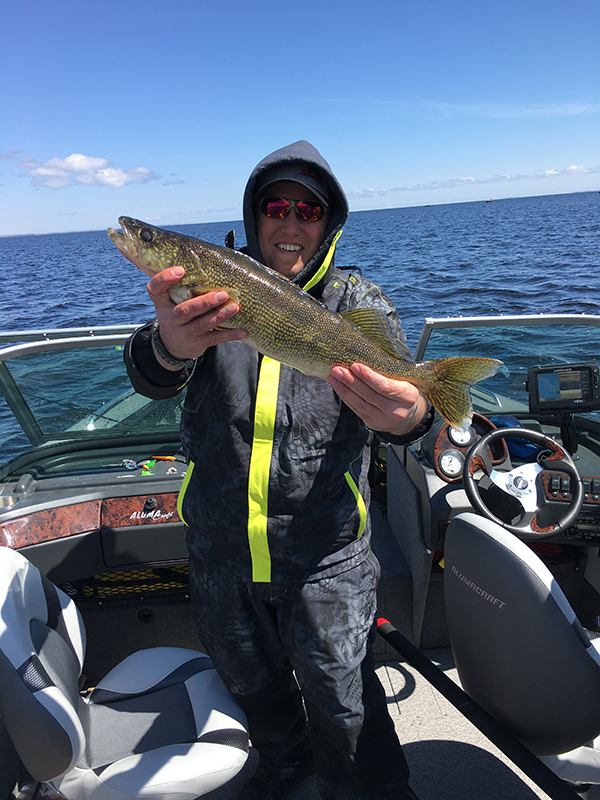 Olsson's crew including Randy Rydzik, Tom Olsson and Jim's dad, Mike Olsson also enjoyed some great action chasing walleyes on the Oconto River, on the Fox at Depere, and at Green Bay. Here's a few of the fish taken from shore and the boat during the past week.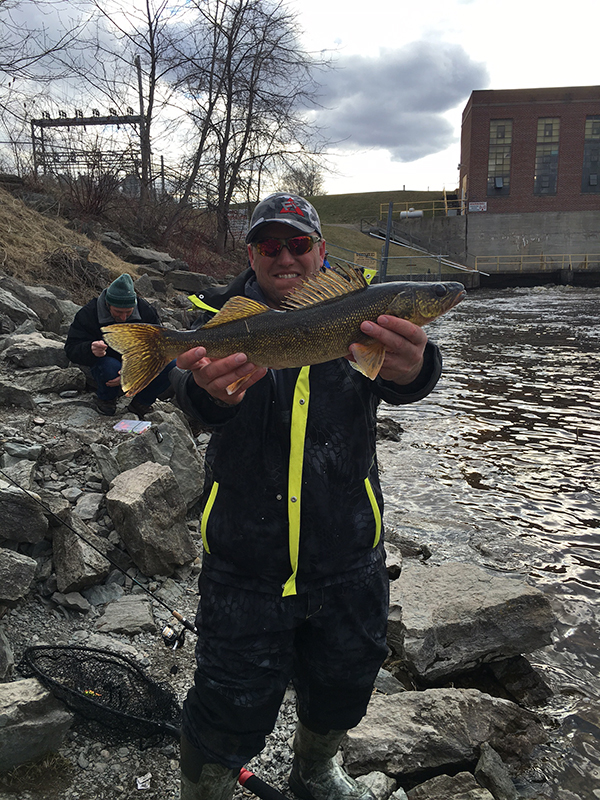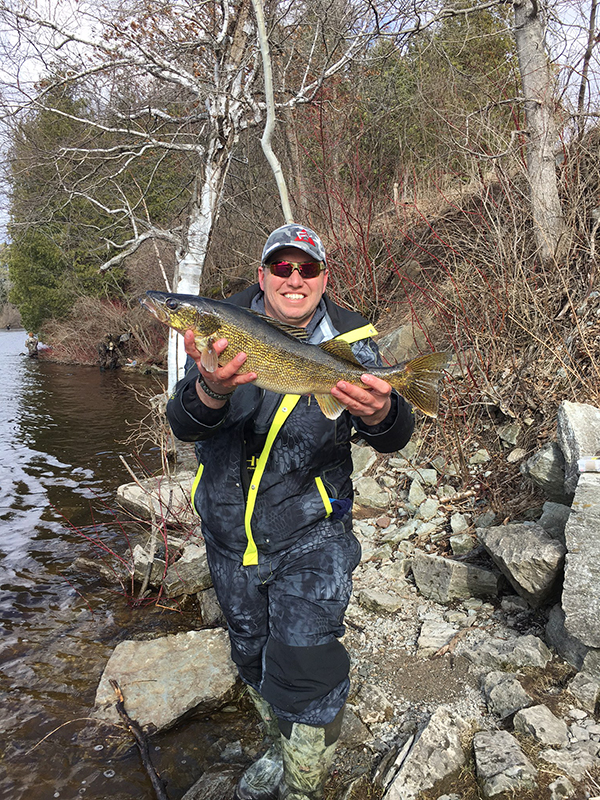 Long-time friend John Faucher, owner of Johnny's Little House of Bait in New London, says people who think the run is over on the Wolf River "could not be more wrong." Johnny is watching hundreds of walleyes on camera heading upstream full of spawn today (April 20). I will be in John's boat Saturday afternoon…which means expect t the whole bite to turn right on Saturday morning.
Got the word early this week from brother Jim Ellis that crappie fishing in northwest Wisconsin is may be three weeks ahead of the usual schedule with the mild winter and spring warm-up. Jim and his wife Colleen put the boat and took in the 70 degree day over slip bobbers and minnows. They got a half-dozen fish to 12 inches so things should really be heating up in the coming week.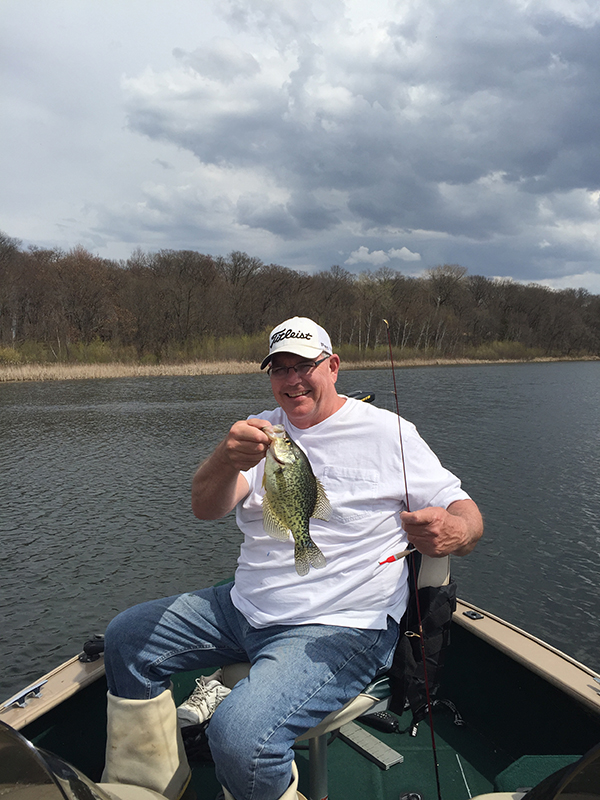 Brother Steve Ellis (these aren't men of the collar….believe me… Just brothers) had a season two turkey tag and ventured out well before first light today (Wednesday) in Marathon County. After placing a jake decoy with two hens, Steve called with nothing going for an hour. He thought he heard Tom talking back from a far distance, and that was verified quickly as the gobbler never stopped talking, or walking.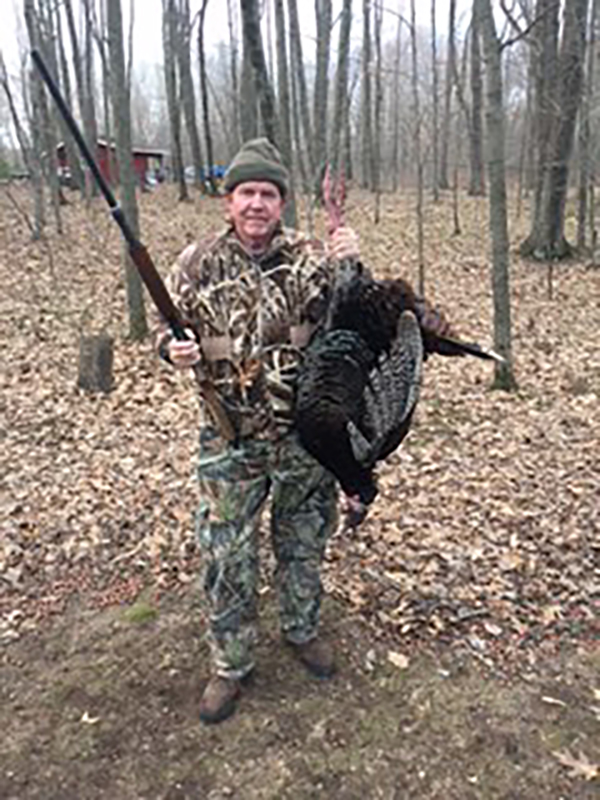 The big gobbler was strutting when he came over the rise, adjusted his path when he saw the decoys, and walked right to Steve at 20 yards. The bird had an 11-inch beard…and 4 inch sideburns.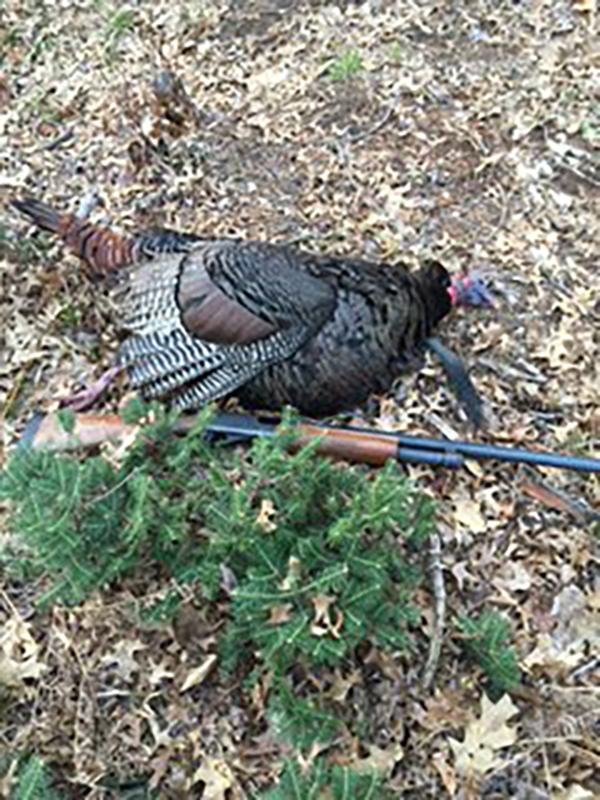 I will be in Grant County Friday as a reporter capturing my brother John Ellis's turkey hunt on the Go-Pro and with the still camera. John headed to Wern Valley this week to make sure his turkey chokes and loads are behaving as expected. Let's just say if Tom gives John an opportunity, he can't blame any miss on the equipment. Hi mouth calls are sounding outstanding too. When I first heard that I couldn't help myself…I broke right into a strut.
The Hart Boys are finding success in Adams County. Big Mike Hart came in with a 22-pound Tom with 9-1/2 inch beard with a little calling help from son Tom Hart. Mike had to wait for the strutting bird with hens to deflate before taking a shot.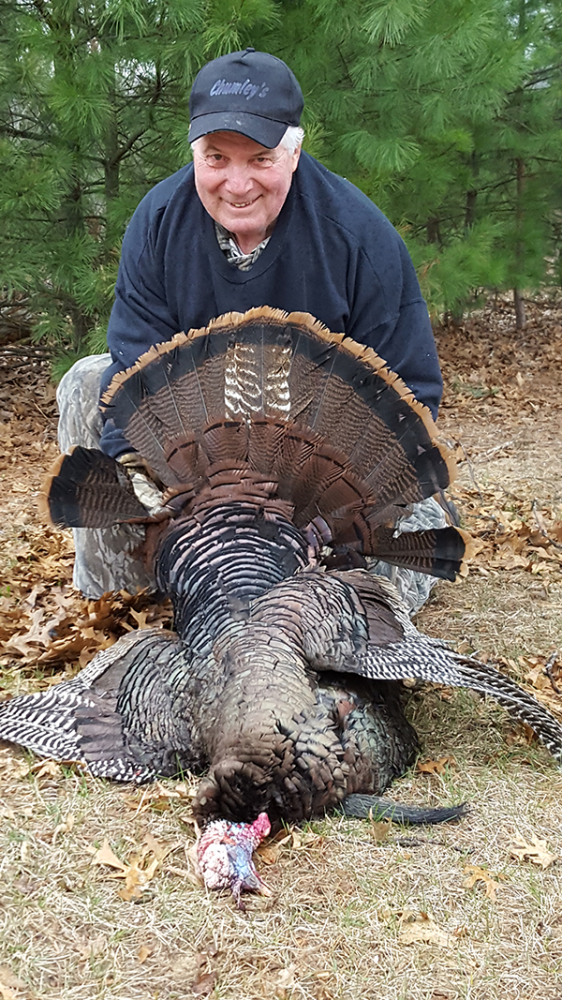 Tom's son, Peyton came in with a nice 23-1/2 pound gobbler with 10-1/2 inch beard and sporting spurs longer than the family has seen in years of successful hunting on their own property and neighbor's adjacent land. The spurs measured at longer than 1-3/8 inches.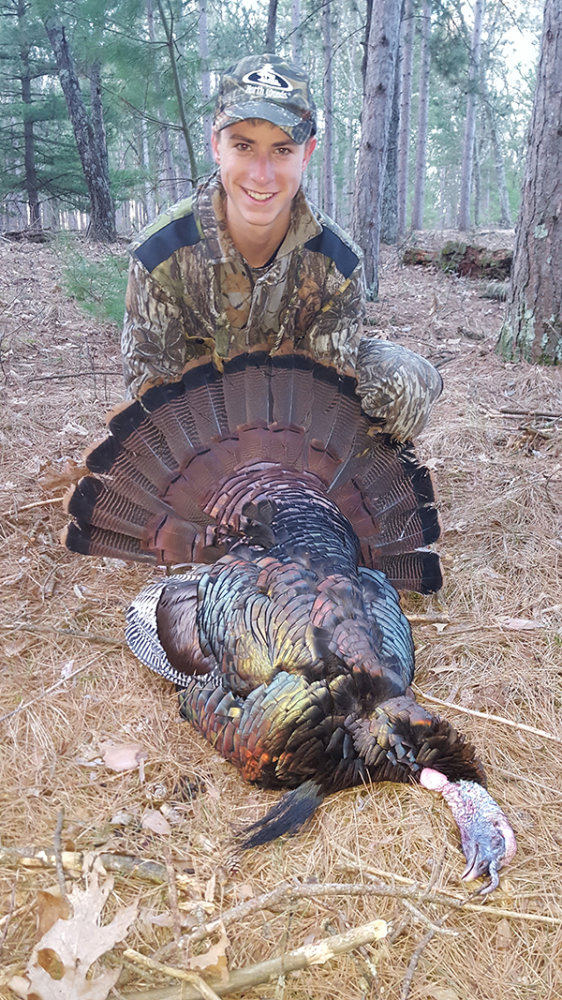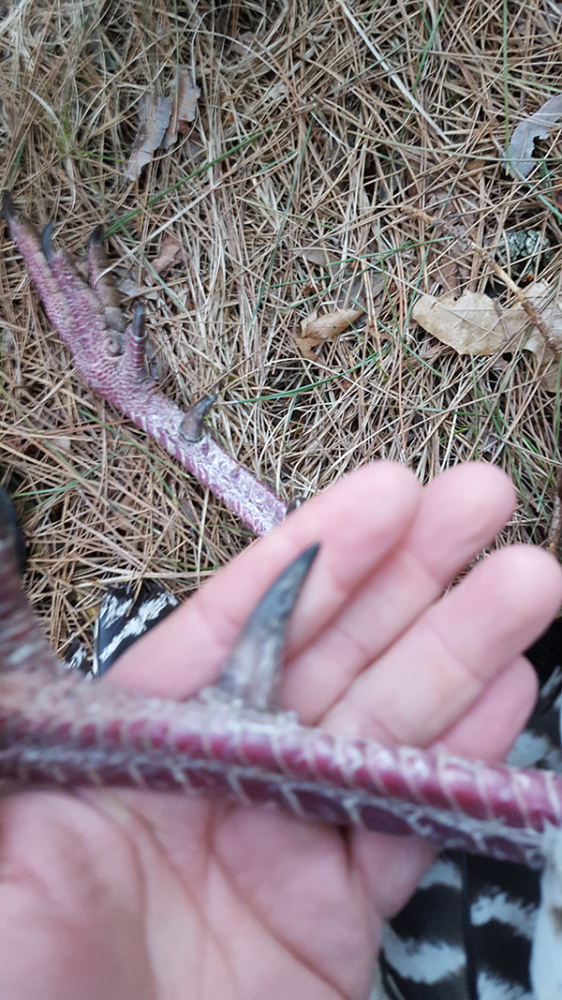 Plan to join the Manitowish Waters Chamber of Commerce Memorial Day Weekend for their inaugural Antique & Classic Wooden Boat & Car Show at Little Bohemia Lodge.
Stay for adventure, relaxation, romance, business or pleasure….. Shop, dine and play….. in beautiful Manitowish Waters!
Find all your travel information at ManitowishWaters.org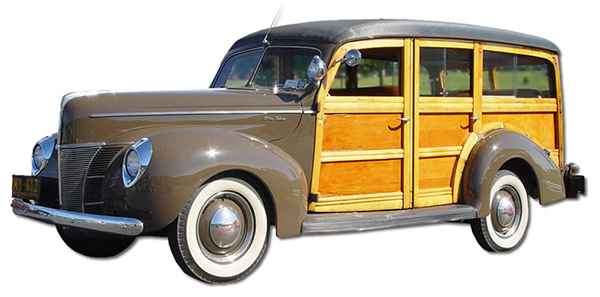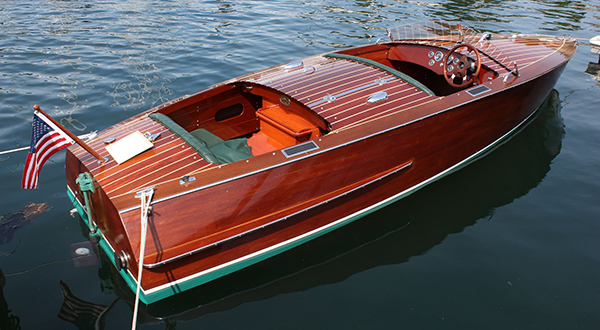 We are in the final stages of production with the May-June issue of On Wisconsin Outdoors and print next week. Pick up your copies at any Wisconsin Kwik Trip. Check out the Kwik Trip ads in the paper, and go into the store hungry. Here's a hint: If you're like me, and end up skunked during the walleye run, think Kwik Trip burgers, and a big, cold soft drink. That's all I'm saying.
Thanks for connecting with On Wisconsin Outdoors. Shoot straight….he's sporting a 12 inch beard and he's only 25 yards out….
Dick Ellis