A Hunter's Mental Toughness
The long drought continued; it was getting too easier not to expect a nice gobbler to show up than to keep the faith that he was coming. Isn't it so easy to lose the mental edge when you haven't seen a turkey of any kind, or maybe a deer during that season, for hours or even days?
I had traveled from the ecstasy to the agony. One of the most memorable turkey hunts of my life a few weeks ago had ended with my brother John's 23 pound Tom tagged in the alfalfa of Grant County. It was five hours of pure bliss; non-stop gobbling, close encounters with gobblers and jakes, chatter with boisterous hens looking for a cat fight, and ultimately drawing the nice, strutting bird from a large group hundreds of yards to our decoy and the kill.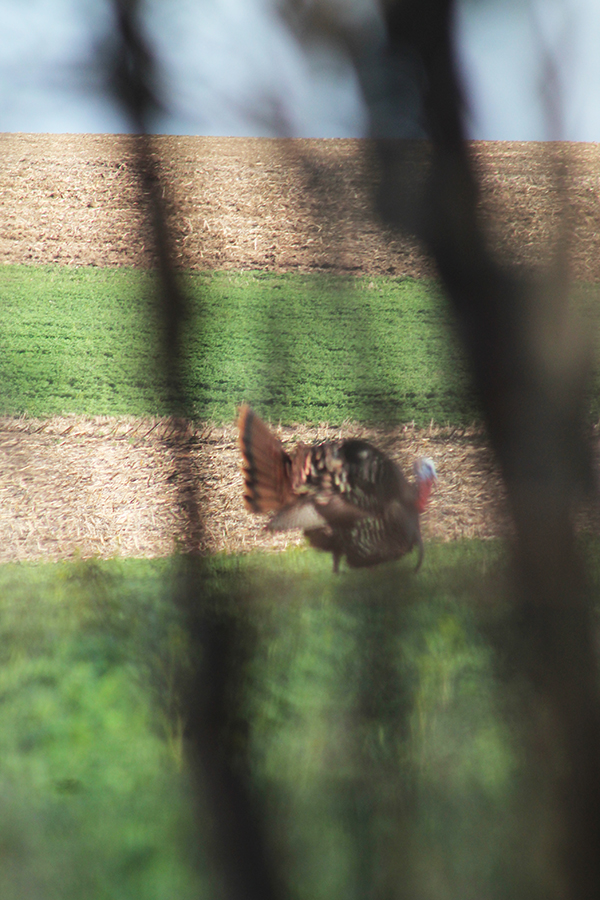 Not wanting to risk interfering with a possible shot by his brother situated 50 yards to his right during the period 2 season, Ellis took a photo through the brush of this gobbler with beard dragging. John never saw the bird before it backtracked and exited the field, but tagged a 23 pound Tom later.
Now it was my turn to move from caller to hunter. In Adams County last Saturday in zone 3, I had hunted Tom in high winds and cold on buddy Scott Heitman's property while he trout fished and adjusted deer stands. His fly line wouldn't cooperate in the nasty breeze, and I didn't hear a gobble or see a turkey over 6 hours of moving and hard hunting. Just a few deer, including the buck below that I didn't realize sported a trophy rack until I took a close look at the photos later. Estimated Pope & Young score is being calculated by Wisconsin Buck & Bear Club.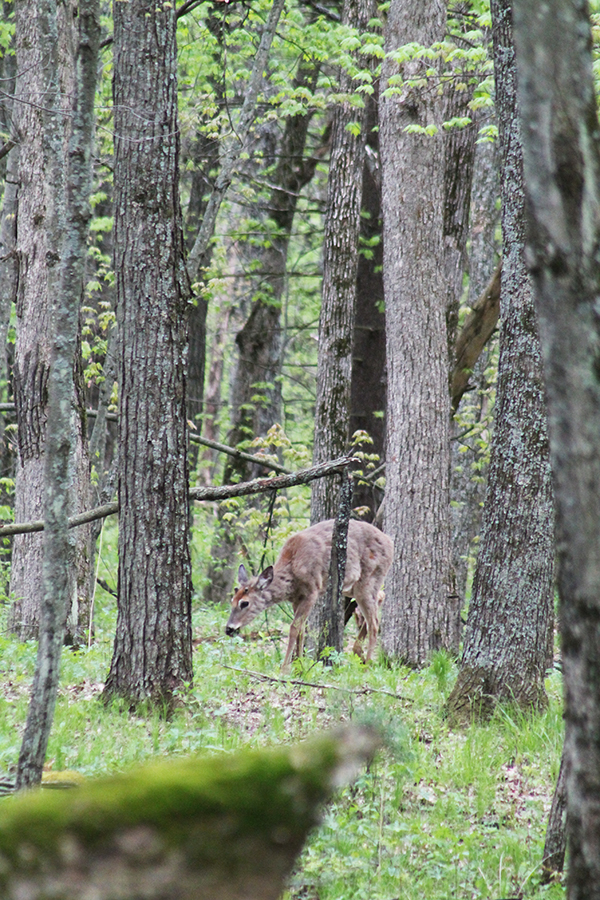 Several deer crossed paths with the hunter on Heitman property in Adams County including this future trophy, but turkeys were nowhere to be found during a period 5 hunt in zone 3.
Thursday, I traveled back to zone 1 with an over-the counter period 6 tag to hunt the crops and woodlots of Grant County. This time John would help me call and I would be the shooter. He was doing such a good job; I basically lay off my own diaphragm call and waited in ambush 50 yards to the left of his position. The plan was, in theory, to draw a lonely Tom in to a decoy with all the hens already serviced and on the nests. It's an approach that has ended with big Toms tagged on the final season in the past.
The alfalfa had grown since out last visit to a knee-high plants splashed with flowering yellow. Foliage was thick, and so were the insects, with honey bees and bumble bees constant companions during our long vigil. Sometime we choose to move and call. On this day like deer hunters we sat tight, called and waited. After an early few distant gobbles, things shut down completely. No chatter, no gobbles, no hide-nor-feather sighting of any kind.
The ambush dragged to four hours…a nice nap in the 70 degree sunshine sure would feel good. After talking myself out of that and keeping tuned to the task at hand, I stared out at the same now boring scenery and the listened to the occasional beckoning of John's mouth call mingle with the buzz of bees on the honeysuckle. 10 hours in two counties is a long time with no visits from Tom, or even Henrietta. But isn't that hunting sometimes?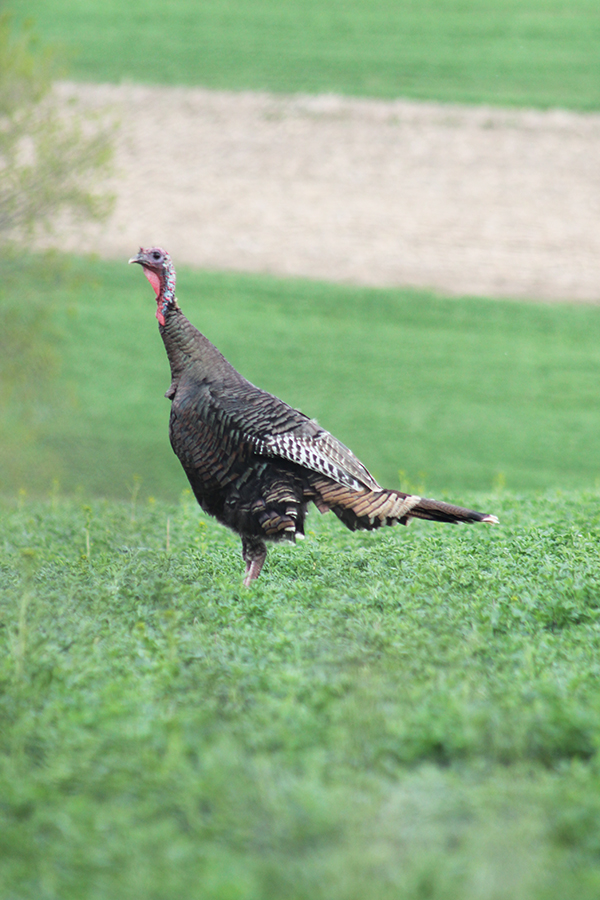 This big Jake was one of two that ushered a Tom off the field.
When the birds did come, it was like a floodgate had opened. In 60 minutes in late afternoon, we watched perhaps a dozen jakes and Toms take the stage. We were correct. Not a single hen entered the scene. And the boys didn't disappoint. They talked generously in response to John's banter. Two large jakes aggressively chased a large Tom from a rolling dirt strip where they fed. A group of four jakes imitated the Keystone Cops in their ambling, senseless travels, and a very large Tom came in late to show off his impressive beard.
It was pure enjoyment to simply watch the birds and enjoy the distant commotion. Now this was hunting! It was also very important to make sure to keep watch on the alfalfa corridor located exactly opposite of where all the birds worked. I fully expected the quiet approach of a big gobbler who would certainly know a "hen" was here after so many hours of John's occasional calls for companionship. Nothing came. And isn't that hunting?
I will try to return one more day next week, Tuesday, the final day of the sixth and final season. I already look forward this time to running the circuit of the farm; setting the ambush, calling, waiting for a gobble, sitting 30 minutes, and moving again. If the hunter isn't busted, and gets his gobble, I know that he might fill the tag as soon as one minute after Tom answers. I also know how to get busted as the gobbler comes in.
And isn't the no-guarantee what makes hunting so good too? Yes sir, it is. Keep the faith. He's coming.
Thanks for connecting with On Wisconsin Outdoors. Shoot straight.
Dick Ellis